Ethereum Name Service (ENS) domains have seen a sharp rise in interest over the last six months. New registrations hit 437,000 in September alone. On secondary markets such as OpenSea, the domains are being traded for millions of dollars.
Why the sudden interest? We try to answer this question by looking at the top five ENS domain sales of all time.
According to data compiled by ENS Domains, registrations climbed 57% in September from 301,000 the previous month. Since May, the number of ENS domain names registered has more than doubled to 2.6 million. Before, it took the protocol five years to reach one million.
Peer-to-peer non-fungible token marketplace OpenSea accounted for 97% of ENS domain volume, generating $5.5 million in revenue for the protocol. Revenue is up 17% from a month earlier, in August.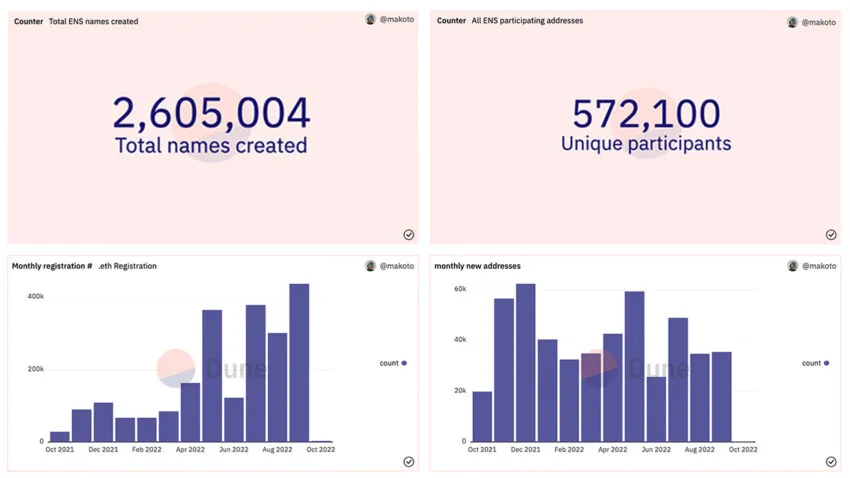 What are ENS domain names?
You could think of an ENS domain as your personal website in web2 (e.g johndoe.com). Only this time, it's in web3 (johndoe.eth). Web3 is the idea of an Internet that is decentralized and powered by blockchain technologies and token-based economics.
Built on the Ethereum blockchain, ENS domain names are a type of custom crypto wallets that contain recognizable names or numbers within them. They simplify the typical Ethereum address, which is just a long list of alphanumeric characters, allowing users to send and receive funds more easily.
ENS domains can also be used for website addresses and apps and can be sold as NFTs. The native name suffix for the domains is .eth. Users can register domain names on the Ethereum Name Service website for a fee of between $5 and $640 in ETH.
The fee is based on the number of characters within the domain name – five, four, three, etc. The fewer the characters, the more expensive the name. ENS is an open-source decentralized autonomous organization (DAO) that has run the domain naming system since its inception in 2017.
A number of prominent people in the crypto industry, like Ethereum co-founder Vitalik Buterin (vitalik.eth), have adopted personal ENS domains.
Large companies have also started to register or buy their ENS domains on secondary markets — for example, chanel.eth, nike.eth, hermes.eth, and others. Tens of thousands of dollars have been paid for these. However, the highest-value ENS domains have been those with only three digits.
$2M paradigm.eth leads ENS domain top 5 sales
According to data from nonfungible.com, the most expensive ENS domain so far has been "paradigm.eth." In October 2021, a buyer paid a cool 420 ETH, or more than $2 million, to take ownership of the domain name.
Paradigm, a leading cryptocurrency venture capital firm, dismissed speculation it had made the purchase.
On Sept. 22, pjfi.eth domain was sold for 350 ETH, worth $463,200 at the time. It is now the second most expensive ENS domain name of all time. The seller had bought the domain on OpenSea only a few days earlier for just 0.12 ETH or $161.
The third most valuable ENS domain is 000.eth, sold for around 300 ether on July 3, 2022. That's about $317,000 in total. The seller, who goes by the moniker EtherOS on OpenSea, originally bought the domain on June 10, 2020, for 2.6 ETH or $638.
The 000.eth domain has had six unique owners in its lifetime, and its first recorded sale was for just $52 on Nov. 9, 2019, per nonfungible.com data.
To date, the fourth most expensive domain name is abc.eth, sold for 90 ETH (~$254,000). The domain has had four unique owners and was first sold for 4 ether or $763 on Oct. 31, 2019, per non-fungible.com data.
The NFT tracking website records one curious ENS domain name, an "unknown" one, which went for 127 ETH or about $249,000 on May 21, 2022. It would be the fifth most valuable ENS domain if we could actually put a name of any kind to it.
So, that makes 09jul.eth the fifth largest. The domain sold for 95 ETH (~ $240,000) on May 8, 2022. The seller had bought the NFT ten hours earlier for just $10.
Other domains like adult-themed porno.eth sold for a lot more in Ethereum terms, at 184 ETH, but the dollar value was $204,000. That's on account of the decline in ETH prices. This particular domain was sold at an average of $1,108 per ETH.
Interest in ENS domains surges?
Nick Johnson, founder and lead developer of Ethereum Name Service, told industry media that the surge in "new registrations and secondary ENS sales have been driven by an interest in the 999 Club or the 10k Club."
These are "online social clubs for the owners of three or four-digit ENS domains", the most popular, scarce, and expensive of the domains. Buterin, the Ethereum co-founder, said as much in 2020, pointing to scarcity as a major factor.
"Three and four-letter ENS names: they're a fixed-supply asset and you can do things with them!" he wrote on Twitter.
Crypto research firm Delphi Digital noted that the hype intensified when the 000.eth domain name was sold for a then-record 300 ETH in July. The suggestion here is that traders began to FOMO (fear of missing out on the unique and limited .eth domains.
Parsa Abbasi, the cofounder of blockchain creator platform LivelyVerse, told Be[In]Crypto that speculation could be at play.
"Ethereum has been updated, and this update will make it more scalable. This means that web3 businesses are going to be developed on ETH blockchain," he said.
"So having a domain with a good and easy name is something that people would need in the very near future to promote their businesses. It's like the 90's and .com domains. Buyers just invested in domain names so that in future a business could buy it at a higher price."
For Be[In]Crypto's latest Bitcoin (BTC) analysis, click here
Disclaimer
In adherence to the Trust Project guidelines, BeInCrypto is committed to unbiased, transparent reporting. This news article aims to provide accurate, timely information. However, readers are advised to verify facts independently and consult with a professional before making any decisions based on this content.