Despite being launched as a parody coin, Dogecoin (DOGE) has demonstrated remarkable strength and has outperformed many more-serious digital assets on numerous occasions.
Interestingly, Dogecoin is frequently one of the best performers when the market grows — often experiencing greater gains than even popular digital assets. In fact, DOGE can be considered quite the enigma. Despite having very little utility outside of online casinos and trading, DOGE has managed to maintain an over $200 million market capitalization.
As of writing, Dogecoin sits comfortably as the 25th largest cryptocurrency by market capitalization — exceeding several other heavy hitters, including TrueUSD (TUSD), Zilliqa (ZIL) and Nano (NANO).

Much of its popularity stems from the fact that the value of DOGE often varies quite dramatically on the myriad online exchange platforms — making DOGE a prime target for arbitrage traders.
To the Moon and Back
Curiously, DOGE is one of the few cryptocurrencies to convincingly break its negative trajectory during the 2018 crash after the coin witnessed an incredible 250 percent pump between August and early September of last year.
However, shortly following this pump, Dogecoin relapsed back into a negative trend — quickly falling to lower than its pre-pump price before falling to reach its lowest price in over a year in February 2019.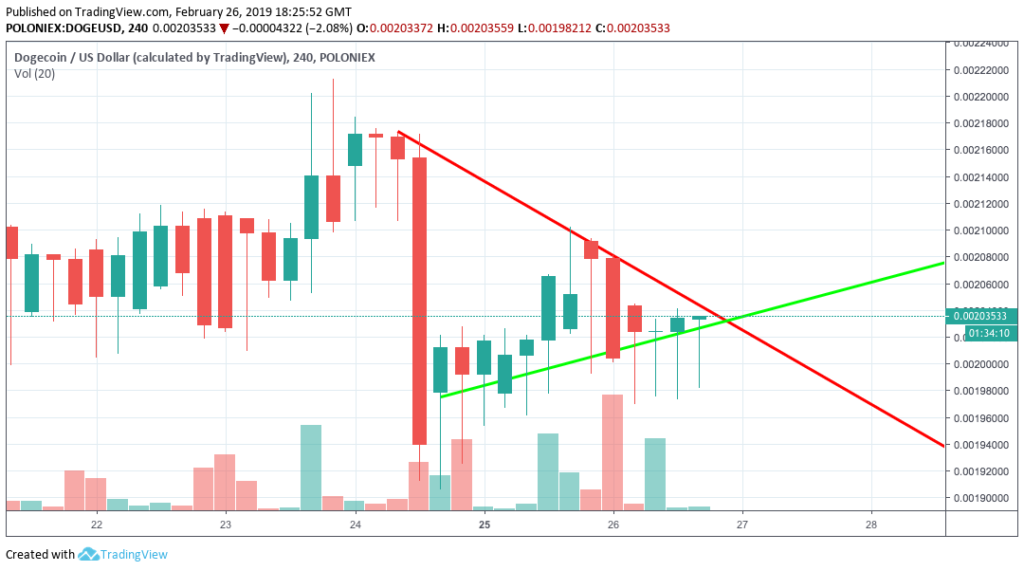 Currently, DOGE is hovering around 0.002 USD — a value reached after shrugging off most of its February gains — as close to 10 percent of its value was cleaved without warning on Feb 24 as the market rejected the recent spike.
Currently, the exponential moving average (EMA) and simple moving average (SMA) both indicate the worst is yet to come for Dogecoin — with further losses likely to lie ahead over the next week or two.
In all likelihood, Dogecoin will continue its negative trajectory to reach close to 0.0019 USD as February draws to a close, with an upshot being quite unlikely.
Against Bitcoin (BTC), DOGE — like the great majority of altcoins — is performing poorly, with DOGE/BTC falling more than five percent in the last 24 hours. The entire market, including Bitcoin, has seen losses.
#Dogecoin #memes #crypto #cryptocurrency #doge #tothemoon #wow #moonsoon #dogecoinmoon #thegoodstuff #wallet #update #dogecoinisdead #spongebob #sarcasm #nogithubupdates #rip #inactivedevs #dogecoindevs pic.twitter.com/fy6yef4N1W

— Dogecoin Memes (@DogecoinMemes) February 26, 2019
In the past few months, Dogecoin has frequently been criticized for having no business being one of the largest cryptocurrencies by market capitalization. Some argue that the complete lack of development and integrations make Dogecoin essentially dead on its feet.
What is your opinion on Dogecoin? Can it ever become more than just a novelty, or does the coin lack the substance to really grow? Let us know your thoughts below! 
---
Do you want to BeInCrypto? Join our Telegram Trading Community for exclusive trading signals, educational content, discussions and project reviews! Images courtesy of Shutterstock, Trading View and Twitter.