According to
Deloitte's 2020 Global Blockchain Survey
, more than one-third of global establishments are incorporating blockchain in their operations.
In addition, many organizations recognize blockchain as a "strategic priority" in maintaining competitive advantages in their respective markets. Blockchain technology is seeing greater adoption by organizations across the world as the emerging digital economy continues to mature. Conglomerates in different countries say the novel tech will play a significant role in the evolution of the industrial landscape. While enthusiasm continues to increase, issues surrounding regulations, governance, and security remain. Also, organizations need to figure out the interface points with their legacy systems as part of the deployment of blockchain in their business process.
From Buzzword to Integral Production Tech
Deloitte's 2020 blockchain survey featured 1,148 respondents from 14 different countries across North and South America, as well as Germany, China, and the U.K., among others. According to the research, 83% of participants say their organizations risk losing a competitive advantage if they don't adopt some sort of blockchain tech. By tying blockchain adoption to market relevance, it appears the emerging technology is moving from buzzword status to a more significant part of the global business process. Indeed, 39% of the respondents say their organizations are already running blockchain-based protocols. This figure represents significant growth from the 23% recorded during the
2019 survey
.
"While blockchain was once classified as a technology experiment, it now represents a true agent of change that is affecting the entire organization."
Apart from leveraging blockchain in existing business processes, some organizations also view it as a means of creating new market segments. Additional production and service niches can provide new revenue sources for companies around the world.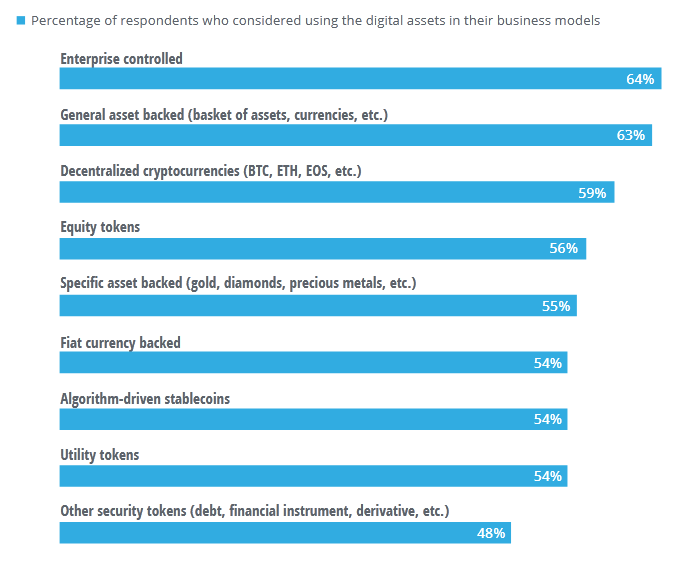 This expanded view of blockchain is also evident in the way organizations view the technology not as a cryptocurrency but as a layer for creating their own digital assets. According to Deloitte, asset tokenization is the future, and organizations are actively developing protocols to facilitate the adoption of digital assets in their business. More than 64% of the respondents identified enterprise-controlled digital assets as the best suited for their business needs.
Industrial Blockchain Enthusiasm Growing in China
The Deloitte survey also highlighted the trajectory of
China's growing blockchain ambitions
. About 70% of Chinese respondents described
distributed ledger technology
(DLT) as a top-five strategic priority while also revealing that it plays a major role in its staff hiring process. According to another recent
survey published in Chinese media outlet Xinhua
, 70% of the respondents agreed that industrial blockchain would thrive despite the ongoing COVID-19 pandemic. As previously reported by BeInCrypto,
Beijing's positive stance towards blockchain
is allowing Chinese companies to pursue blockchain adoption aggressively. Back in April,
the government approved 224 new blockchain projects
from major Chinese conglomerates like Alibaba and China Mobile. At the time, it was already the third greenlighted approval. Most of the projects involving fintech-based DLT implementations are situated in Beijing. Such is the growing appeal of blockchain in China that corporate giants like Tencent and Alibaba are exclusively earmarking massive amounts of capital. Earlier in the year,
Tencent announced a $70B investment war chest
aimed at blockchain, artificial intelligence, cloud computing, and other cutting-edge technology solutions. China's growing blockchain adoption narrative has also put other significant economies on notice. After months of stringent regulations that effectively stifled its local digital scene, South Korea is noticeably softening its
stance towards crypto and blockchain
. In May, the country announced plans to
invest $400 million in blockchain-based R&D projects
.
Navigating Regulatory and Security Concerns
The increasing industrial blockchain adoption trend does pose a few difficulties, especially in areas like regulation and
security
. Take China, for instance. Restrictions over cross-border data transfers present significant hurdles for multiparty blockchain implementations across several countries. While DLT deployment can work within mainland China, networks that require participants from outside the country will have to navigate the country's strict data monitoring and control laws.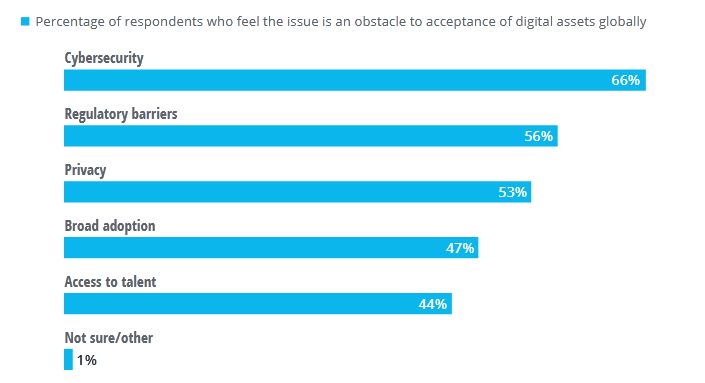 Outside China, organizations are reportedly becoming increasingly aware of the need to comply with tax, financial reporting, and other industry-specific regulations. However, in countries like the U.S.,
the patchwork of State and Federal laws
contribute to making regulatory compliance difficult for organizations. According to Deloitte, these issues create an interface point for all stakeholders to establish a concrete regulatory framework for blockchain technology. An excerpt from the report reads:
"An absence of regulatory harmony in a blockchain and digital assets construct offers management, regulators, standard-setters, and professional service providers the chance to work together in forging common guidance and establishment of best practices."
Apart from the tax and other regulatory hurdles, 66% of the respondents in the Deloitte survey say cybersecurity concerns are also hampering more broad-based adoption of blockchain technology. Indeed, 58% of the participants in the poll identified security as a major component of their DLT strategies. Almost a third declared that cybersecurity risks were enough to scupper their organization's blockchain plans. Amid the flurry of national blockchain initiatives as well as private inroads into leveraging the novel tech, it's evident that DLT adoption is gathering steam. Corporate organizations and government parastatals are investing in blockchain-based solutions that are, in theory, more efficient that the current legacy systems. However, challenges such as security and government regulations are still standing in the way of broader blockchain adoption.
Disclaimer
All the information contained on our website is published in good faith and for general information purposes only. Any action the reader takes upon the information found on our website is strictly at their own risk.
Osato is a reporter at BeInCrypto and Bitcoin believer based in Lagos, Nigeria. When not immersed in the daily happenings in the crypto scene, he can be found watching historical...
Osato is a reporter at BeInCrypto and Bitcoin believer based in Lagos, Nigeria. When not immersed in the daily happenings in the crypto scene, he can be found watching historical...
READ FULL BIO
Sponsored Sponsored