Binance and CoinGecko remain the only crypto services to break into the Financial Services category, which is still dominated by heavyweights like PayPal, Stripe and Alipay.
The financial sector generally includes a large group of industries associated with banking, lending, insurance, investment, and different business activities related to allocating wealth and cash. But now, there's a change in trend. There's a growing feud between the traditional industry's heavyweights and the upcoming and relatively newer crypto services.
That's primarily because of the differences between the two categories.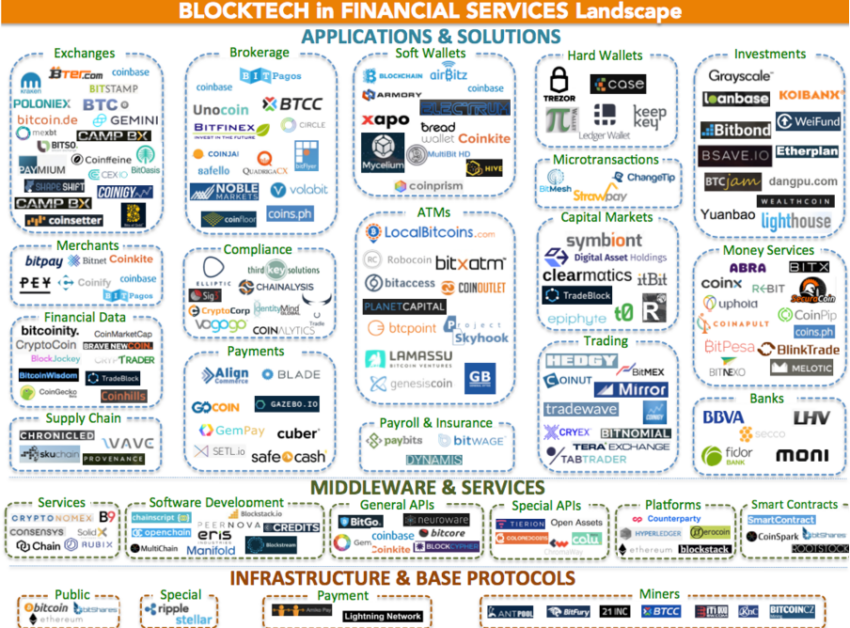 Crypto: Decentralized Nature of Financial Services
What stands out for crypto financial services as compared to traditional financial assets?
The first attribute is transparency. Consider the private placement markets, bond issuance, and equities. The transparency of where those assets sit isn't readily available to the average person. How they can be found is something fundamentally different compared to blockchain.
Assets on the blockchain, such as Bitcoin and Ethereum have transparency in terms of how they move and what wallets are holding different types of investments. There is transparency in terms of where those assets exist in wallets. That's a fundamentally different mode of operation.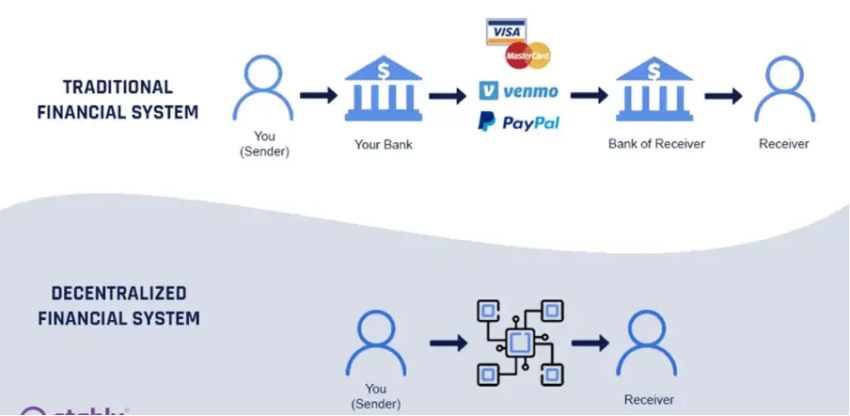 The second is the settlement and clearing models between traditional finance, blockchain, and digital assets. In conventional finance, outside over-the-counter (OTC) assets, most of the significant products are centrally cleared assets sitting at large financial institutions.  
Last is the actual control of the asset. Traditional financial institutions use IOUs; promising institutions will issue assets when needed. Meanwhile, the former controls the leverage or lends it out. For the latter, the digital asset space has the ability and technology, like ledger devices, to manage assets to hold assets physically.
Crypto financial services have taken a significant hit, given events such as the rise in illicit activities and the collapse of crypto institutions.
Cons of the (Decentralized) System
The fall of FTX dealt a big blow to the credibility of crypto exchanges, with investors second-guessing the safety and security of their money, many of them reverting to traditional payment services. Bosses of other businesses have since sought to reassure investors that their platforms aren't at risk of facing the same problems as FTX.
For customers, it highlights an issue of liquidity. Individual consumers have much more faith in accessing their funds from traditional payment services than crypto services. Sam Bankman-Fried made things harder for crypto exchanges by posting his comment stating that many third-tier exchanges are "secretly insolvent," fearing investors of their funds getting locked up in fraudulent exchanges.
People are resorting to intermediate solution hardware wallets, which also come with complexities. They are less user-friendly than crypto exchange services, and few people can use them efficiently. Ultimately, the success of crypto exchanges depends on the risk appetite of the pool of investors, with the risk-averse ones sticking to traditional payment services. In contrast, the risk-friendly ones are more open to putting their money into crypto exchanges.
Falling Down Hard
Given the fear, uncertainty, and increasing doubt (FUD) against crypto, the rankings of renowned service providers have also taken a hit compared to traditional giants. Dataset shared with BeInCrypto shed some light on the narrative. This data comes from Cloudflare Radar, a free tool that lets anyone view global trends and insights across the Internet.
FTX fell from the number 7 most popular crypto service to number 21 in Nov. 2022 after declaring bankruptcy. Binance, CoinGecko, and Coinbase dominated the most popular cryptocurrency services in 2022. 
According to the data shared:
"Binance and CoinGecko were the only crypto services to break into the Financial Services category, alongside industry heavyweights like PayPal, Stripe, Chase, and others." 
The overview of the rankings stood as follows: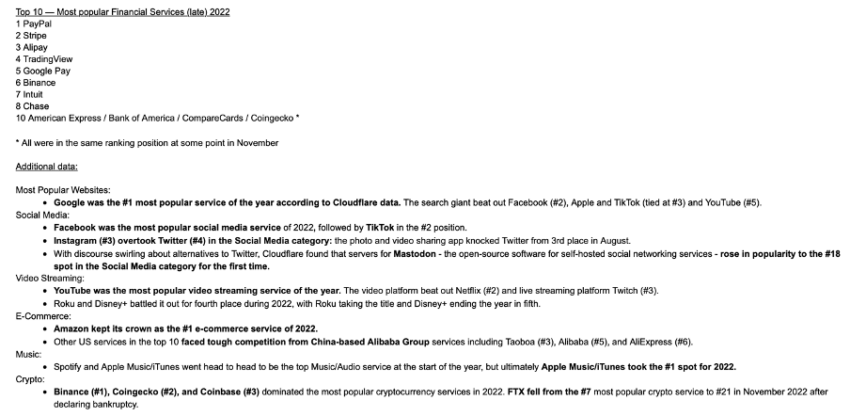 This shows that crypto institutions offering services remain fragile compared to traditional financing giants. That crypto sector will take months or maybe years to move on from 2022's haunted past. Let alone compete.
Disclaimer
Following the Trust Project guidelines, this feature article presents opinions and perspectives from industry experts or individuals. BeInCrypto is dedicated to transparent reporting, but the views expressed in this article do not necessarily reflect those of BeInCrypto or its staff. Readers should verify information independently and consult with a professional before making decisions based on this content.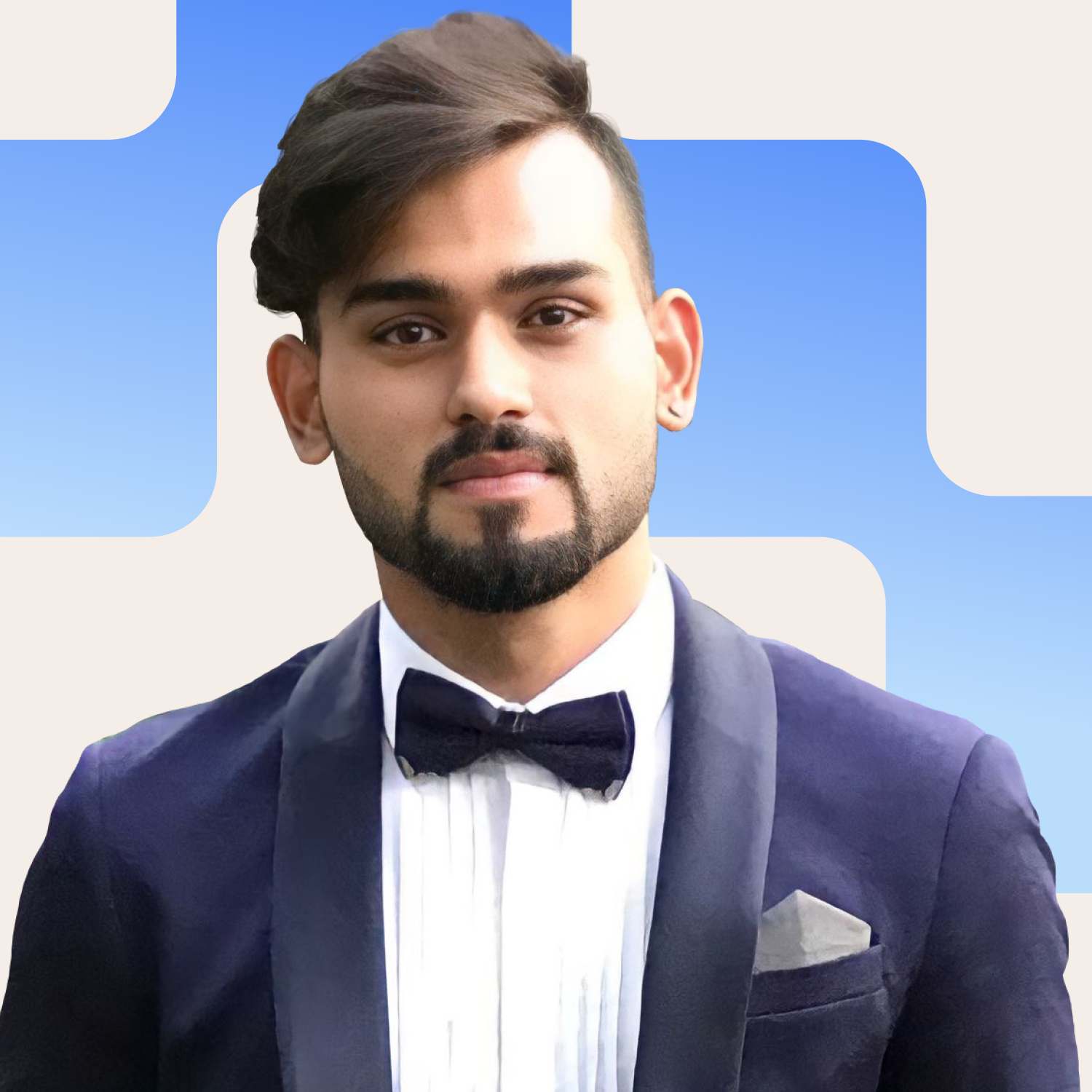 An engineer and an accountant by degree, Shubham ventured into the crypto world to pursue his passion. He believes digital currencies will redefine our economies in the decades to...
An engineer and an accountant by degree, Shubham ventured into the crypto world to pursue his passion. He believes digital currencies will redefine our economies in the decades to...
READ FULL BIO
Sponsored Sponsored