Deloitte surveyed over 1,200 executives in the financial services industry, learning that a vast majority believe that crypto will become important in the next two years.
Professional services firm Deloitte released its 2021 Global Block Survey report this week, noting several trends in the market. The report covers the role of cryptocurrencies in the future of the economy. The analysts go so far as to say there is "a seismic shift in financial services" that is taking place.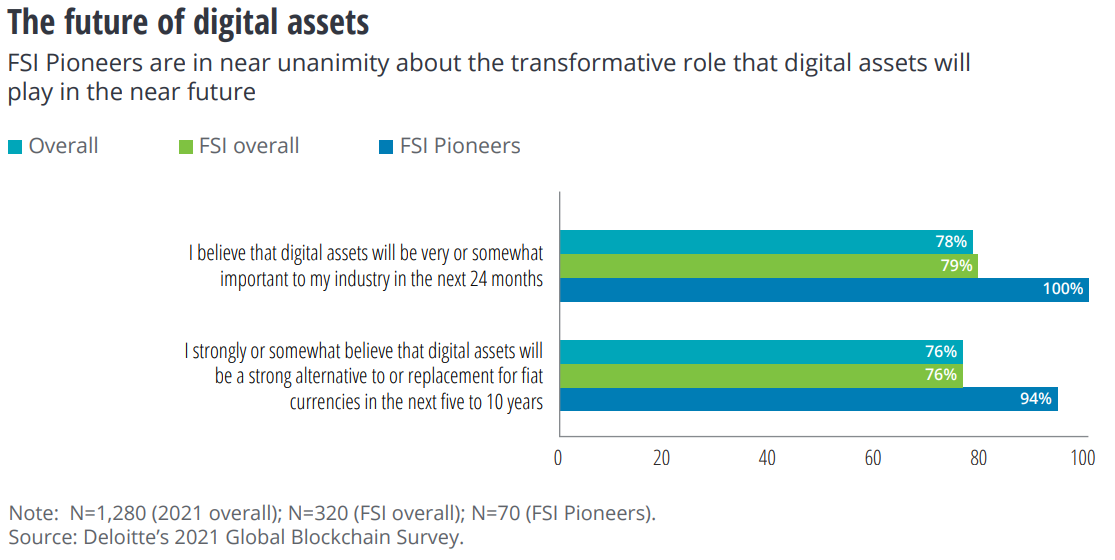 It opens by saying that the COVID-19 pandemic has had a profound effect on the crypto market. It calls this digitization of life a major factor in shaping interest in crypto. The report also details thoughts and opinions of those in the financial services industry, and there too is sentiment upbeat.
Nearly 80% of respondents say that digital assets will be very or somewhat important in the next two years. This is a remarkable improvement over sentiment from a few years ago when most incumbents dismissed the asset class.
Deloitte conducted the survey during March and April 2021, questioning 1,280 senior executives from ten regions across the world. Specifically, it asked these individuals how their organizations could employ blockchain technology, in applications such as banking services and general transfers.
When asked whether digital assets would have a future in the economy, 785 said that agreed with a time frame of 24 months. Financial Services Industry (FSI) pioneers overwhelmingly agree, with 96% responding in the affirmative. As for the general opinion on the technology and asset class, 81% believe that it's broadly scalable and has achieved mainstream adoption.
Cybersecurity and crypto regulations the biggest barriers
Unsurprisingly, the executives believe that cybersecurity and regulatory discussions as being the biggest obstacles to market growth. 71% think of cybersecurity as a barrier, while 63% feel the same way about regulation. The lack of value propositions, i.e., the usefulness of crypto, is only seen as a problem by 43% of surveyees.
Most of the respondents believe that their roles with respect to digital assets will be custodianship, followed by new payment channels and investment, over 40% for each of these. 39% believe that asset tokenization will play a part. All of these will be subject to influence from regulation.
Regulation continues to haunt the market, though mostly out of a sense of uncertainty. The world's largest economies are only now moving onto broad regulatory decisions. South Korea, Japan, and, most recently, the United States, are working on frameworks to keep the market in check.
The decisions made by the U.S., in particular, will have an effect on the market. So far, there are no signs of any harsh measures. The SEC seems intent on coming up with regulation, a "cop on the beat," as described by Chairman Gary Gensler.
Disclaimer
In adherence to the Trust Project guidelines, BeInCrypto is committed to unbiased, transparent reporting. This news article aims to provide accurate, timely information. However, readers are advised to verify facts independently and consult with a professional before making any decisions based on this content.