Crypto trading strategies, such as the copy trading technique, have been trending for years. Successfully implementing it can result in a profitable trade for novice traders, as seen for a time. But some obstacles lie on the path despite the surge in interest.
Crypto trading is difficult. Learning to trade and manage a portfolio takes a lot of time and effort. That's why investors, particularly novices, are often tempted to let a fund manager trade for them. However, this comes with its own set of risks, and this is especially apparent when dealing with crypto.
Copy trading can allow for a safer environment for amateur traders to be introduced into the space. Pro traders are incentivized to help novice traders as it gives them an opportunity to make more money on top of their trading profits by getting a cut of any profit they generate for their followers.
Cryptocurrency day trading has been booming for years now. This is mostly because crypto trades 24 hours a day, and the market is always open. Traders can adopt unique trading techniques and strategies that wouldn't necessarily work in traditional finance markets.
One of the things that sets the crypto market apart is that all the activities are public. One can see what big money (or whales) are doing and can give other traders an edge if they know what to look for.
For those that don't want to spend too much time researching and following the market, copy trading could be a beneficial strategy.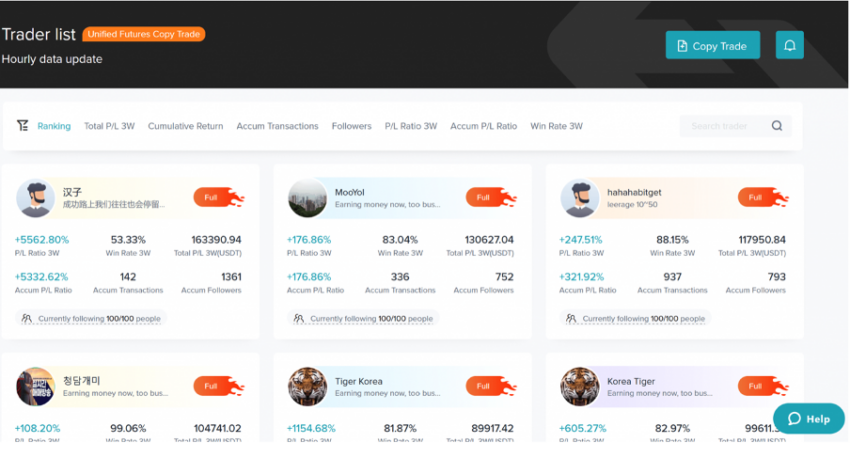 Picking the Best Fit
As the name suggests, the copy trading technique is when a trader (mostly beginners) copies the positions of an experienced trader. This not only helps to save some time but also boosts the possibility of a profitable trade.
Once both entities are connected, all the trading orders and setups automatically appear on the copy trader's account. 
Different pro-traders will have different rules of engagement to follow. It might take some time, but it is essential to pinpoint a trader that fits the beginner's trading style and approach. The latter can look for factors such as a good track record with a consistent profit record and frequent trades over an extended period. 
Quantitative metrics include ROI, total P&L, AUM, number of followers, and slot availability. Qualitative indicators refer to things like how risky or aggressive the trader behaves. Some may force many trades per day, while others only open and close positions when the market provides an opportunity.
Copy trading has become more popular as more beginners jump on the crypto bandwagon. Google Trends data also shows the term recently hit an all-time high.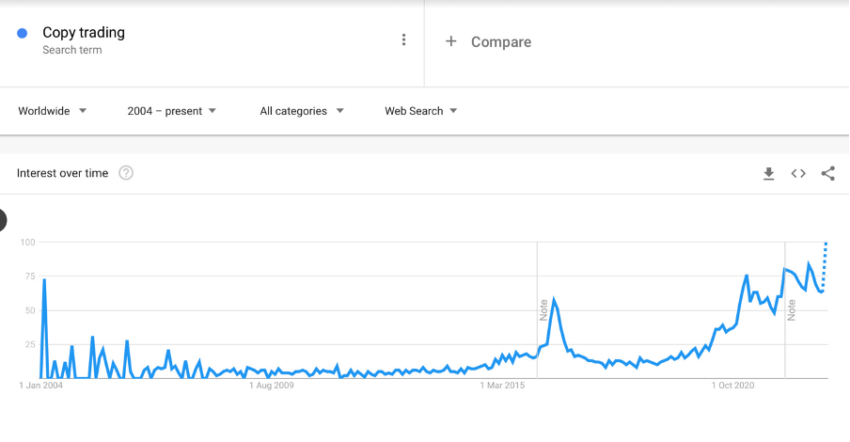 Key focus points for Copy Trading
The said increase shows the strategy's traction over time and the apparent increase. Speaking to BeInCrypto on the matter is Cryptocurrency expert Anton Palovaara from Trading Browser. He offers a comprehensive guide on copy trading, the best platforms to use, and the pros and cons of the investment type. In crypto trading, beginners can utilize copy trading in their quest to become more confident traders.
'As a copy trader, you rely purely on the performance of the trader you are copying for both profits and losses. When the trader makes a profit, you also profit and share a part of your winnings with the trader,' he told BeInCrypto.
Given the demand, multiple platforms have begun offering copy trading on their respective platforms. One of the leading names and the latest entrant is Bitget, with the launch of its copy trading in the spot market.
When it comes to choosing the best option for you, Palovaara shared a few key attributes to pay attention to: 

Tips for Beginners Entering the Trading Arena
Needless to say, there are some essential points for any novice trader traveling the trading route. For instance, it is imperative to research the traders thoroughly. Quality over quantity should be the focus, and you should be sure to check each platform's revenue margins. Platforms with higher margins generally have higher-quality traders. 
The other essential points aired by the expert were using mobile-friendly applications for convenience and first testing the water with a small denomination in case of any losing trades. 
In his concluding words, the executive stated: 
"As long as you can make the time to research the different traders at the top, copy trading can be a great way to make some passive income. It offers many advantages, such as convenience, flexibility, and affordability. What makes copy trading stand out compared to other ways of investing your money is that you don't have to worry about the complicated technical aspects of trading the markets. All you need to do is choose a reputable platform and copy the trades of successful traders. It is a new way of managing your crypto finances and can be highly profitable once you find a professional who knows how to trade."
Pros and Cons to Consider 
Diversification, saving time, and professional guidance are some of the obvious pros of this strategy. However, nothing within the crypto sector comes without its risks and drawbacks. This case is no different. 
The share of profit is smaller- trade experts are entitled to receive a significant percentage of earnings from different novice followers copying their trading techniques. This also highlights another concern—control. Beginners don't normally have much say in the trades and essentially sit on the sidelines, hoping for profits. Even experienced traders can make bad plays that also end up costing the copy trader.
It's up to each individual to weigh these pros and cons and assess their risk tolerance to decide if this might be a strategy that they will employ.
Disclaimer
Following the Trust Project guidelines, this feature article presents opinions and perspectives from industry experts or individuals. BeInCrypto is dedicated to transparent reporting, but the views expressed in this article do not necessarily reflect those of BeInCrypto or its staff. Readers should verify information independently and consult with a professional before making decisions based on this content.