New concerns have emerged about Binance's BNB after the US Securities and Exchange Commission labeled FTT as a security in a recent filing before the US District Court Southern District of New York.
The SEC highlighted that FTT has a buy-and-burn program similar to a stock buyback program, and they both achieve the same goal of increasing the asset's value. Binance also has a similar program for BNB with the BNB Burn, which it launched in 2021.
Binance BNB Security Fears Emerge
Cory Klippsten tweeted that Binance.US could delist BNB because of the SEC's designation of FTT as a security.
The same view was shared by Dave Warburton, who said BNB and every other exchange token should be treated the same. According to Warburton, the SEC's credibility would be "totally undermined" if it failed to label the coin security.
Most exchanges have avoided listing digital assets that the SEC might consider security. For example, when the SEC filed a lawsuit against Ripple over XRP, Coinbase immediately delisted the coin. The only major exchange supporting BNB in the US is its parent company subsidiary, Binance.US.
However, several members of the community countered that BNB was not similar to FTT. According to a Dec. 23 Twitter thread from B, a core contributor at Floki Inu, FTT was just the native token of the bankrupt crypto exchange FTX, while BNB is not just the native asset of Binance but also that of BNB Smart Chain. B added that BNB value comes from being the token of the world's most-used exchange and most-used blockchain.
Meanwhile, Binance CEO Changpeng Zhao chimed that many people "think all 'exchange tokens' are the same." CZ said:
"BNB has utility on Binance CEX. BNB is a native coin on two blockchains, BNB is the DEX (beacon chain), and more."
BNB Price Struggles
BNB lost 0.8% of its value in the last 24 hours to trade at $244.36 as of press time.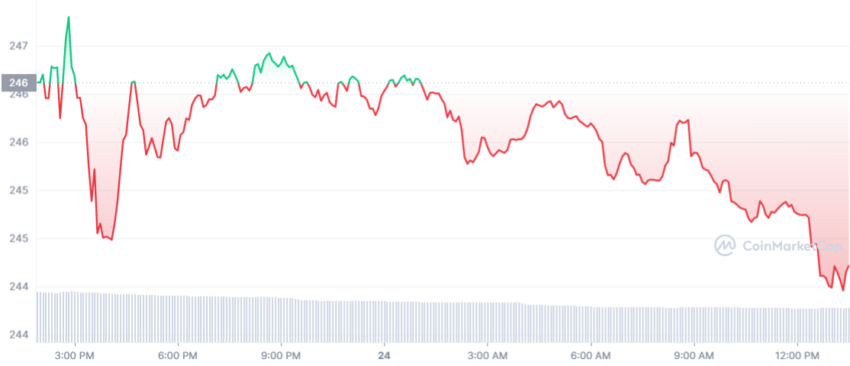 Over the last seven days, the Binance-backed coin's value had grown by over 7%. However, its price has declined by more than 17% in the last 30 days over growing anxieties about the solvency of the exchange. The CZ-led firm recorded strong outflows of around $6 billion as users began withdrawing funds en masse.
A recent report also disclosed that Binance was under investigation by US prosecutors over money laundering charges. Besides that, its auditor Mazars removed its audit for the exchange on its website while revealing that it would stop its audit for crypto firms.
Disclaimer
BeInCrypto has reached out to company or individual involved in the story to get an official statement about the recent developments, but it has yet to hear back.