Crypto Christmas spirit is here. It's a good thing too, seeing as Halloween is now dead to us. Here is a crypto gift card idea worth considering.
Mariah Carey is defrosting her wildly annoying Christmas song, and people are starting to shop for presents. Decorations are growing on malls like a seasonal mold. (Wait… Do we even go to malls anymore?).
You are reading this because you are already a crypto enthusiast. High five. Wow, you are so sexy with your crypto enthusiasm. But what about that Luddite in your life that refuses to bend to better ideas? How do you force them over to the crypto life?
Christmas crypto present ideas
Here's an idea. This is a crypto gift card, but it's a little different to a normal gift card. You can give a loved one a gift card that lets them spend their gift in crypto.
Called Giftcoin Cards, you don't need to already hold crypto to use them. The recipient doesn't need to have a crypto wallet.
Using a Giftcoin card, with a few taps, you create a gift card, and then send it to anyone in your contacts. You can add a note too that goes with the card. Like, "Hey grandad go spend this crypto, it won't kill you, everything will be okay."
After they receive it, they can tap and go… but instead of spending gross fiat, they are spending super lovely crypto.
This can stop grandad from saying that crypto is just for speculation. NO GRANDAD YOU CAN BUY AN IRISH COFFEE AND A BROKEN BISCUIT OKAY.
Retailers range from Starbucks to Louis Vuitton to Doordash. Gift card buyers choose their preferred shop, preferred cryptocurrency, like Bitcoin, Ethereum, or Cardano, for example, and off they go. The card can be topped up with a credit card or with Apple pay/Google pay.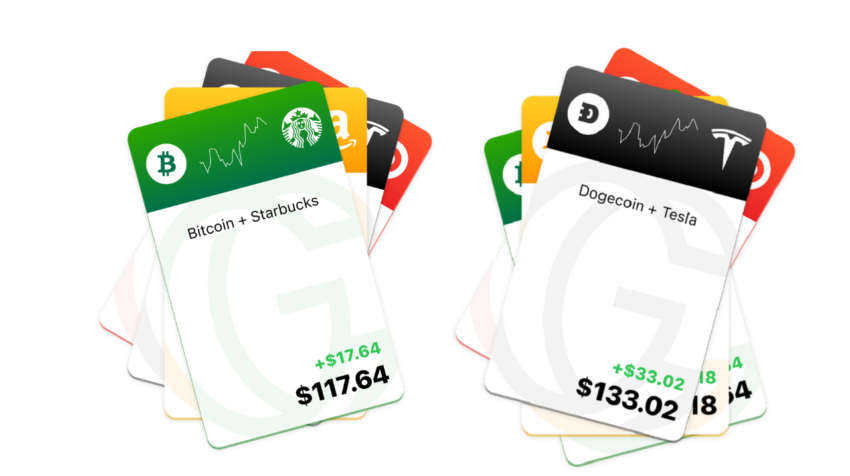 And the good thing here is that grandad can't lose his wallet or key code. It doesn't work like a crypto exchange, so it is an uncomplicated introduction to cryptocurrencies
Crypto Christmas can be volatile
While the crypto gift card is a very sexy idea, the amount on the card is as volatile as the market is. Say you give your loved one 500,000 Satoshi to spend at Starbucks. They might wake up one day being able to buy double the coffee that they could on Christmas day.
They can also watch as the crypto winter goes full Antarctica on them and drives their balance to zero. Then, they will be lucky if they can afford a crumb from a broken biscuit. But that's the joy of the wild ride that is crypto. The recipient can watch the price of their crypto in real time. And you are sharing this rollercoaster with them because you are a generous god of gifts.
Flexibility
Usual gift cards mean that the person who receives them can only spend it in that particular shop. Giftcoin cards can be traded for a different shop, or a different crypto.
Justin Lockwood is the CEO. "We wanted to give people a fun and easy way to get started with crypto and a way to use it in their everyday lives."
Grandad will be annoyed with you – like you are a Mariah Carey Christmas song. And then he will come around and then love you and you will hopefully stay in the will.
Got something to say about crypto Christmas ideas or anything else? Write to us or join the discussion in our Telegram channel. You can also catch us on Tik Tok, Facebook, or Twitter.
Disclaimer
Following the Trust Project guidelines, this feature article presents opinions and perspectives from industry experts or individuals. BeInCrypto is dedicated to transparent reporting, but the views expressed in this article do not necessarily reflect those of BeInCrypto or its staff. Readers should verify information independently and consult with a professional before making decisions based on this content.