The CC Forum, being held in London, England, this week, became the scene of an outburst as an audience member verbally attacked Craig Wright whilst he presented to the crowd.
Although the cries of "pumpkin man" may be seen as hilarious to some in the crowd, such squabbles that bring a negative light on the still-young digital asset industry are decidedly less amusing. The outburst came during a question and answer session following a Craig Wright's Fireside Chat at the London blockchain and AI conference. YouTube technical analyst and a frequent speaker at digital currency conferences Tone Vays took the microphone to decry the decision made by conference organizers to include Wright as one of the speakers. Vays claims that Wright had admitted to not writing the Bitcoin whitepaper himself during the preceding presentation:
So CSW "FakeToshi" just admitted on stage that Satoshi plagiarized his paper from 2008 that the university is not releasing until he wins the court case 😂.
* I'm sure someone has the video pic.twitter.com/WnAbrvapEB

— Tone Vays (Unconfiscatable.com) (@ToneVays) October 16, 2019
Fraudulent Claims
The YouTube analyst continued, stating that documents posted by Wright as evidence supporting his claims that he himself invented Bitcoin more than 10 years ago have largely been debunked as fraudulent. Vays, therefore, contests that Wright has no place speaking at such a conference. In response, Wright states that Vays's "vacuous ideas" are irrelevant and that his company's patents will be generating profits from some of the largest technology companies on the planet. It will then be up to the individual to choose whether to use the cryptocurrency championed by Wright, Bitcoin SV.
👀Watch this explosive 💣💥panel where @ToneVays & others in the audience question Craig Wright & he fights back at #CCForum in #London!
.#cryptocurrency #crypto #blockchain #Bitcoin #Btc #Swiss #startup #fintech #cryptotrading #cryptoexchange #satoshi @ForumChallenge pic.twitter.com/PkD64fCmVb

— SwissBorg (@swissborg) October 16, 2019
It's at that point that an audience member interjects. Calling Wright a "mole" trying to bring down Bitcoin, she shouts with a pointed finger:
"Farmer Craig! Pumpkin man Craig! Go back to your farm, your pumpkins, and your tomatoes, and grow a super farm!"
The delivered outburst might have made some in the cryptocurrency industry smile. After all, the Australian entrepreneur and computer scientist has done a lot of damage to the perception of Bitcoin over the years. Such incidents occurring during public conferences are cringe-inducing and, frankly, embarrassing.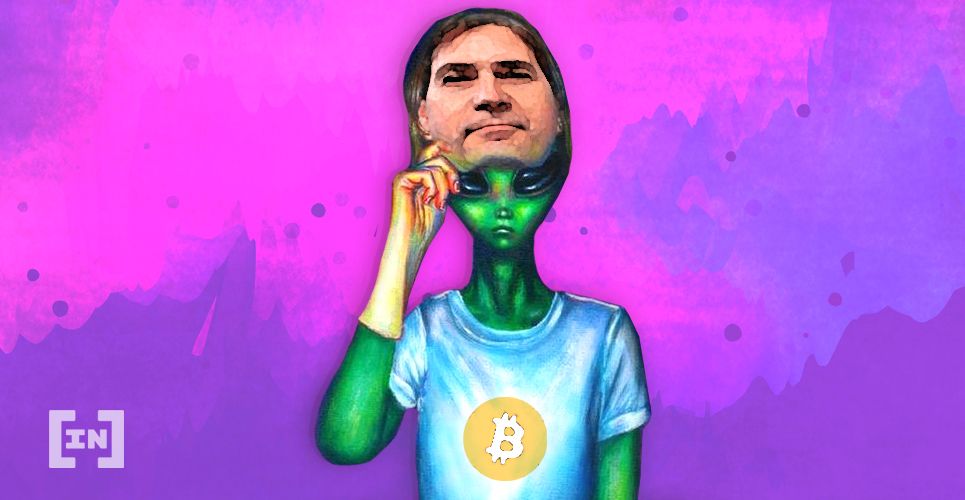 The Right to Criticize Wright
There are many grounds upon which enthusiasts attack Craig Wright's claims. These have been explored many times before, dating back to investigations by Wired and Gizmodo in 2015. With a thorough debunking of his story at a live conference, Wright may very well have embarrassed himself in front of the audience during whatever rebuttal he offered.
And that's not to mention the lawsuit
he was involved with, as BeInCrypto has previously reported on. As it stands, no one really came off as a winner and onlookers from outside of the cryptocurrency industry will likely have deemed the incident confusing at best and downright immature at worst. However, many have taken pleasure at the audience member's rage. This being the hyper-online cryptocurrency space, the memes have already started rolling in paying homage to the impassioned outburst.
Here's to the 'l don't give a shit lady' that called Craig a pumpkin farmer today at the @ForumChallenge shitcoiner conference in London 😂👏😂👏 #ccforum

💥https://t.co/O2TAYAIp8H 🤛 pic.twitter.com/qTfRumr0lx

— Bitcoin Meme Hub 🔞 (@BitcoinMemeHub) October 16, 2019
What do you think about this "pumpkin man" outburst? Do you think it's all fun and games, or should Bitcoiners be doing a better job of representing the protocol to the public? Comment below. 
---
Images are courtesy of Twitter, Shutterstock.
Disclaimer
All the information contained on our website is published in good faith and for general information purposes only. Any action the reader takes upon the information found on our website is strictly at their own risk.
A former professional gambler, Rick first found Bitcoin in 2013 whilst researching alternative payment methods to use at online casinos. After transitioning to writing full-time...
A former professional gambler, Rick first found Bitcoin in 2013 whilst researching alternative payment methods to use at online casinos. After transitioning to writing full-time...
READ FULL BIO
Sponsored Sponsored