You don't have to be around the cryptocurrency space long to know that
DeFi
is all the rage. And despite its reputation as the Wild West of crypto, bitcoin billionaire Cameron Winklevoss is coming to DeFi's defense.
Decentralized finance, or
DeFi
as it's known, is a burgeoning segment in the
cryptocurrency space
that gives investors the chance to earn yield in exchange for providing liquidity to the market, by lending crypto assets, for instance. It is a market that has been defined by its whipsaw movements that produce both lofty returns and sudden losses, the most recent of which have sent DeFi assets tumbling 40% in the last 30 days, including the likes of Airswap, Kava and Nectar, to name a few,
as pointed out by
Messari's Ryan Watkins. DeFi has been compared to the
ICO
craze of 2017-2018 for a couple of reasons, not the least of which is because builders from both segments flocked to the
Ethereum network
, not to mention the mania that ensued during both cycles. The ICO bubble, of course, has since popped, but it's not unusual for DeFi to get lumped into the same bucket. Even Messari's Watkins compared DeFi's recent market pullback to that of ICOs in 2017, saying "bull markets never go up in a straight line."
The last couple weeks in DeFi have been an absolute bloodbath.

But keep in mind bull markets never go up in a straight line.

In the 2017 ICO boom ETH pulled back 20%+ seven times before it peaked in January 2018.

So far in this bull market we've only experienced one.

1/ pic.twitter.com/EXqhmm2MkM

— Ryan Watkins (@RyanWatkins_) September 22, 2020
That Was Then, This Is DeFi
Gemini Co-Founder Cameron Winklevoss says not so fast. In a tweet, he points out the differences rather than the similarities between DeFi and ICOs. He notes that unlike many failed ICO projects, whose white papers were thrown together, DeFi has a real use case in which "billions of dollars are at work earning positive yield."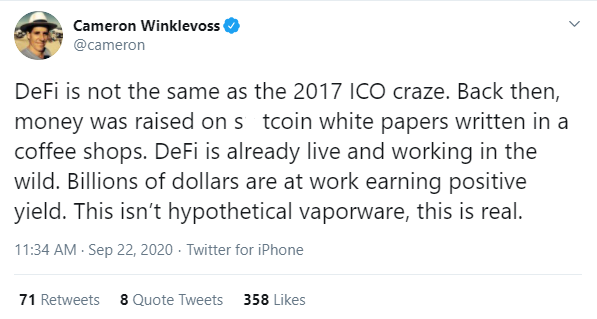 Nonetheless, it's hard enough for institutional investors to get bitcoin past the compliance department. DeFi is going to be a harder sell for them, so DeFi — much like ICOs — remains a market dominated by retail investors for the time being.
DeFi Hype
For all of its hype, you would think that the DeFi market segment is as big as bitcoin. But it's not. According to Messari, the total DeFi sector is worth $6 billion, which falls below the total value of No. 4 cryptocurrency XRP. For even more perspective, Messari compares to the DeFi market to the broader crypto market excluding bitcoin, which still results in only a sliver of the total pie at 4%.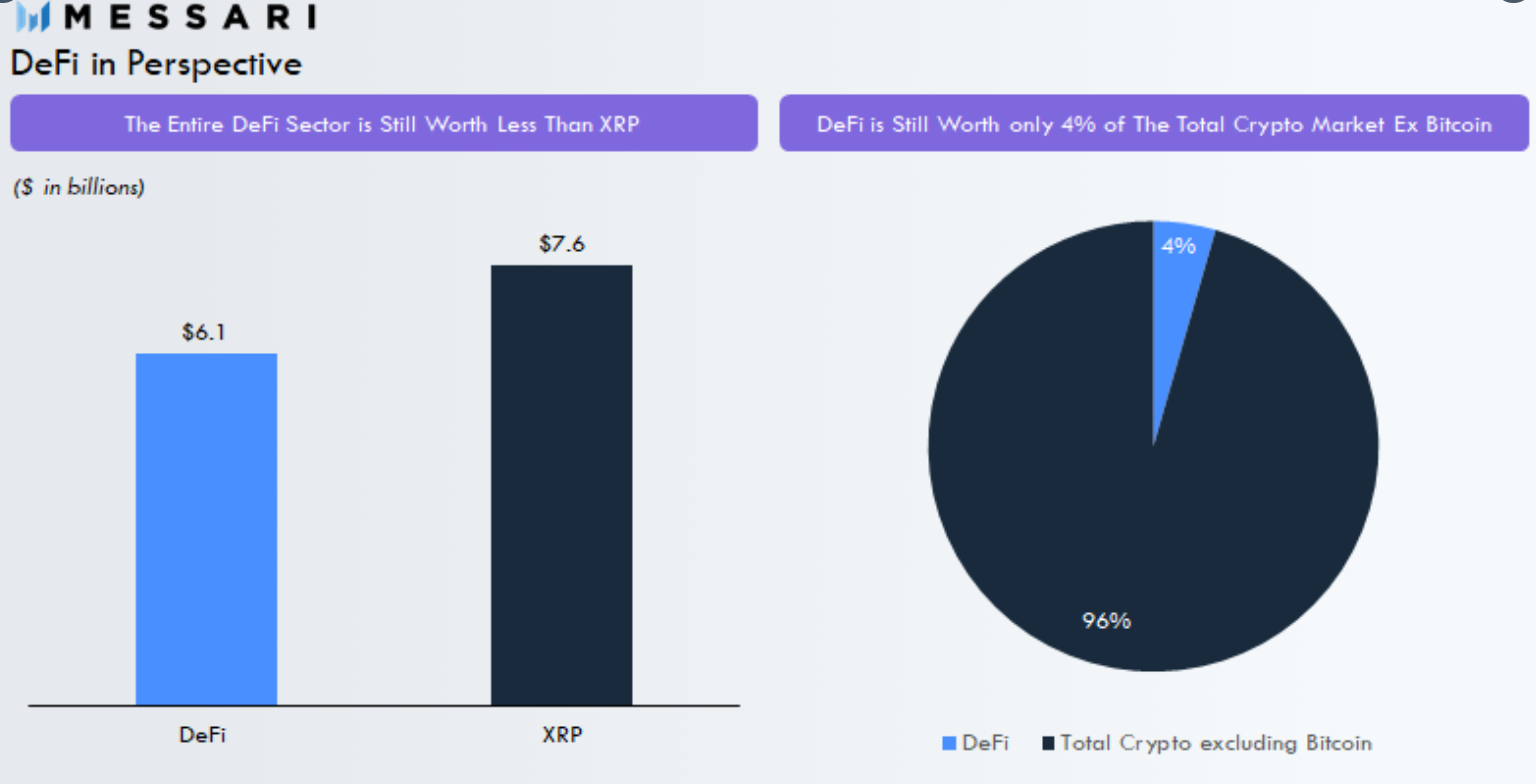 Messari states,
"In other words, DeFi hype is strong, but not strong enough to make a dent in broader crypto asset markets."
In the interim, however, there are plenty of investors still earning higher interest from yield farming than they could dream about in traditional finance.
Disclaimer
In line with the Trust Project guidelines, this price analysis article is for informational purposes only and should not be considered financial or investment advice. BeInCrypto is committed to accurate, unbiased reporting, but market conditions are subject to change without notice. Always conduct your own research and consult with a professional before making any financial decisions.