Despite indications that the market was showing improvement in early November, the 2018 downward spiral of Bitcoin continued, worsening throughout the month.  According to an article from Bloomberg, a trend is emerging, and it is not positive for cryptocurrency investors.
The article starts by pointing out that, in early November, Bitcoin numbers rose just a bit. However, this slight improvement was quickly followed by the worst monthly price drop of the year. This data was published Wednesday by market research and blockchain support firm Chainalysis.
Bitcoin fans were stockpiling anew as rout hit https://t.co/RePy4bkNAc

— Bloomberg Crypto (@crypto) December 19, 2018
Feel the flow
A quick look at Bitcoin price or market cap charts indicates the cryptocurrency has been doing the same thing every few months. Prices plummet, recover minimally, even out for a few weeks or even months, then plummet again. This pattern has repeated itself several times this year, and November was no different. Coming off a January high of $900 million moving average flows to personal wallers, Bitcoin saw a partial rebound within these numbers, hitting $400 million by November 1, 2018. In June, these numbers were below $300 million. These numbers were seen after Bitcoin's value by price dropped by more than 50 percent through the first two quarters of 2018, from over $17,000 USD in January, to below $6,000 USD by the end of June. The last week of November marked the worst weekly descent since January, according to numbers from the Bloomberg Galaxy Crypto Index. Sadly, this was not the end of the Bitcoin descent. Bitcoin's price currently stands around $3,800 USD.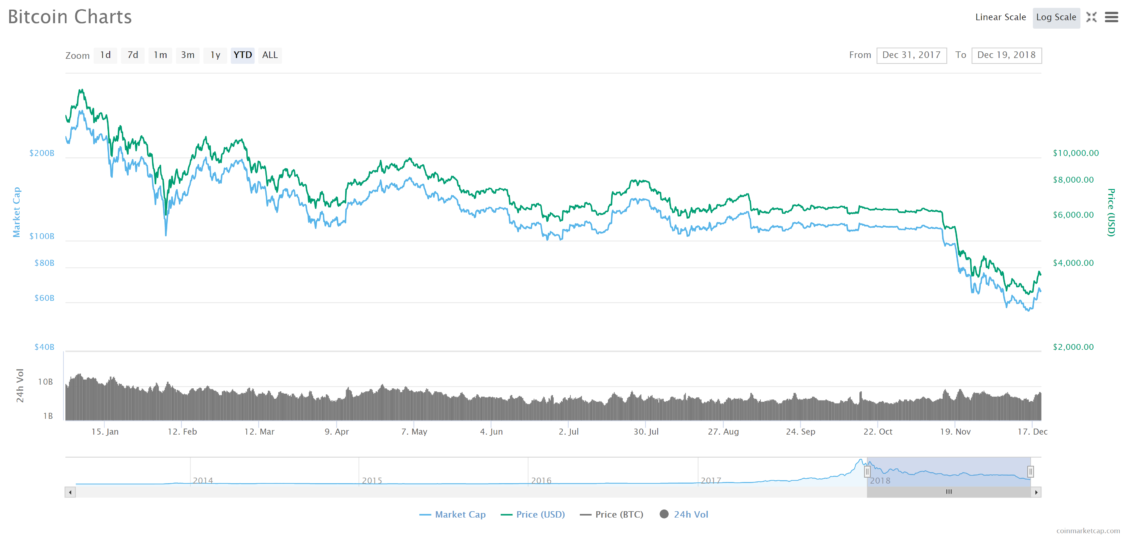 Buying the dips…or not?
What does this flow data suggest, according to Bloomberg? Basically, the numbers indicate that every time Bitcoin prices really slump, people try to pick up BTC at lower prices. Unfortunately, the minor surge in buying Bitcoin in early November did nothing to help Bitcoin's overall market performance, given that Bitcoin fell another 38 percent. As December wraps to a close, it has shown no signs of improvement. Also worth noting is the fact that only 20 percent of Bitcoin transactions involve two parties. Much of the time, that is not the case, and Bitcoin is simply being moved without economic value. In fact, of the $41 billion Bitcoin transactions that occurred between August 2018 and October 2018, a mere $9 billion were of economic value. Additionally, out of 460 million Bitcoin addresses, only 27 million currently own Bitcoin. In other words, it is important to keep in mind that data in and of itself doesn't tell the whole story. [bctt tweet="In order to truly understand what is taking place, markets must be analyzed from more than one standpoint." username="beincrypto"]
Many faces of Bitcoin
For Bitcoin, whose December 2017 highs and the ensuing carnage of 2018 will be marked in history as one of the worst bubble bursts ever, it is important for enthusiasts to have
a full picture
of the overall state of the market before making any decisions based on numbers. Poor price performance is nowhere close to the only challenge Bitcoin and the crypto industry, in general, have faced this year. Regulatory issues, rumors, drama with exchanges like
Coinbase
, and community discord have all contributed to a very difficult year for Bitcoin.
Think the Bitcoin correction is over? Or are there still more dips to come? Let us know in the comments below! 
Disclaimer
All the information contained on our website is published in good faith and for general information purposes only. Any action the reader takes upon the information found on our website is strictly at their own risk.