The funding rate has turned negative for the first time in more than a month. 
In addition, the Net Unrealized Profit & Loss (NUPL) indicator has crossed below 50 for the first time since October 2020. Both of these are signs of increased bearish sentiment.
Funding Rate
Funding rates show the additional payment that futures trades are required to pay in order to keep an open position. 
A positive funding rate specifies that traders with long positions are obliged to pay a premium to those with a short position. The opposite is true for negative funding rates.
The funding rate can act as a measure of the sentiment of traders towards the market. Positive funding rates suggest that the sentiment is positive, since traders are paying a premium to keep open long positions. 
However, excessively high values have also historically marked tops, signifying a state of euphoria. 
On May 19, the funding rate was a negative 0.108% and dwelled inside negative territory, until May 24, when it turned back positive. Previously, the funding rate had been positive for almost the entirety of the bull run. 
This swift change in funding rates indicates a turn of sentiment from greed to fear. In addition, the exceptionally high negative rate on May 19 could have been a potential sign of a bottom.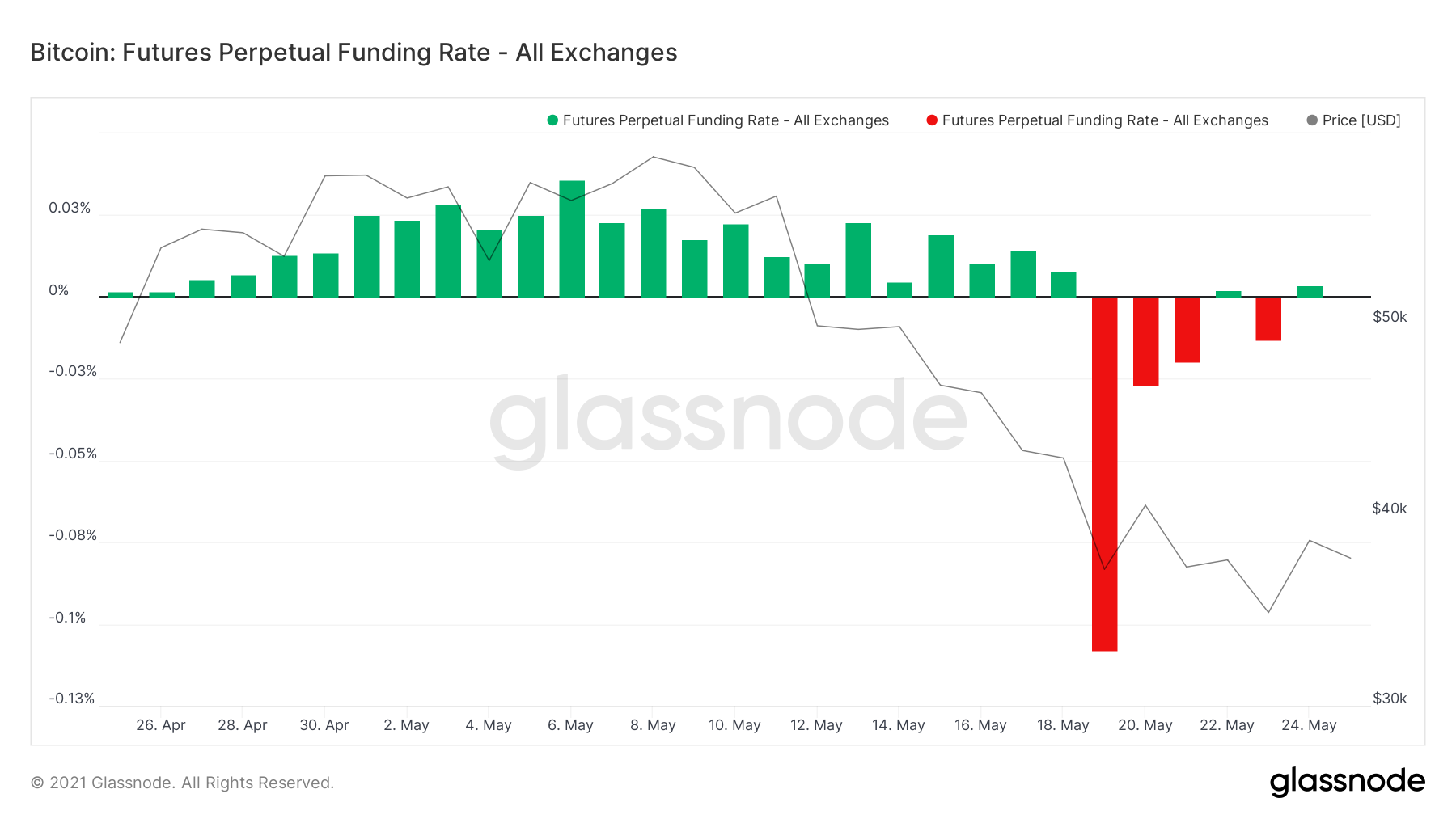 Open interest
Open interest shows the total amount of funds that are presently in open futures contract. However, it disregards the direction of these trades, meaning that it does not differentiate between long and short positions.
Open interest usually reaches a high near local tops, since traders show signs of euphoria.
It peaked very close to the April all-time high, being almost $27.5 billion. It has been decreasing since.
The current levels of open interest near $12.5 billion are similar to those in February. Interestingly, the BTC price was also around $38,000 during that time.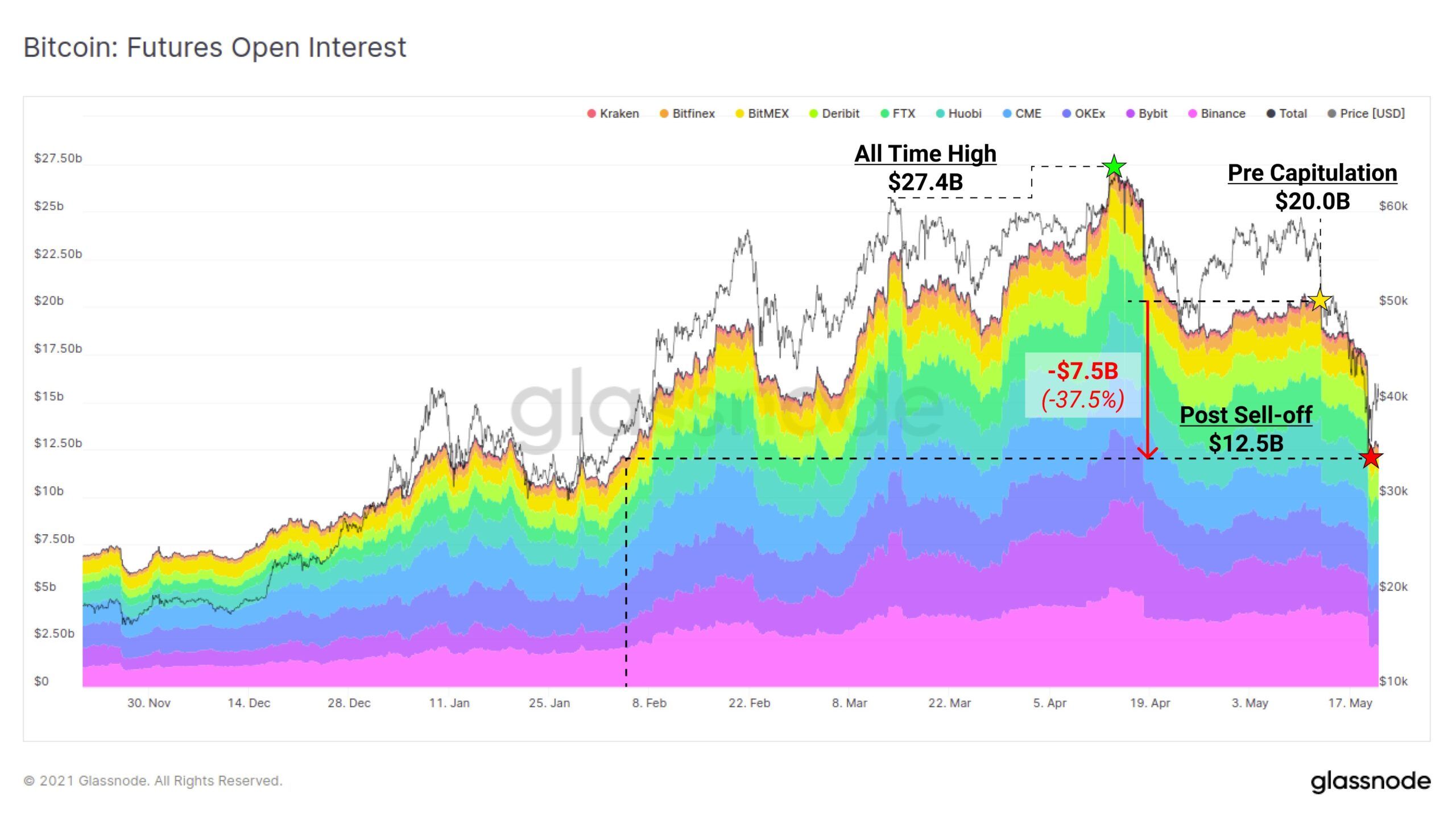 NUPL
NUPL is used in order to determine if the overall market is in a state of profit or loss. This is done by taking the difference of the current price and the price each coin last moved for every coin in circulation. 
More simply, the calculation can be done by subtracting unrealized losses from unrealized profits.
Values in the indicator are shown from -1 to 1. Values above 0 indicate that the market is in profit, since unrealized profits are larger than unrealized losses.
So far, NUPL has moved above 0.75 four times (circled). All of these marked local tops. In the current bull run, it has yet to move above 0.75.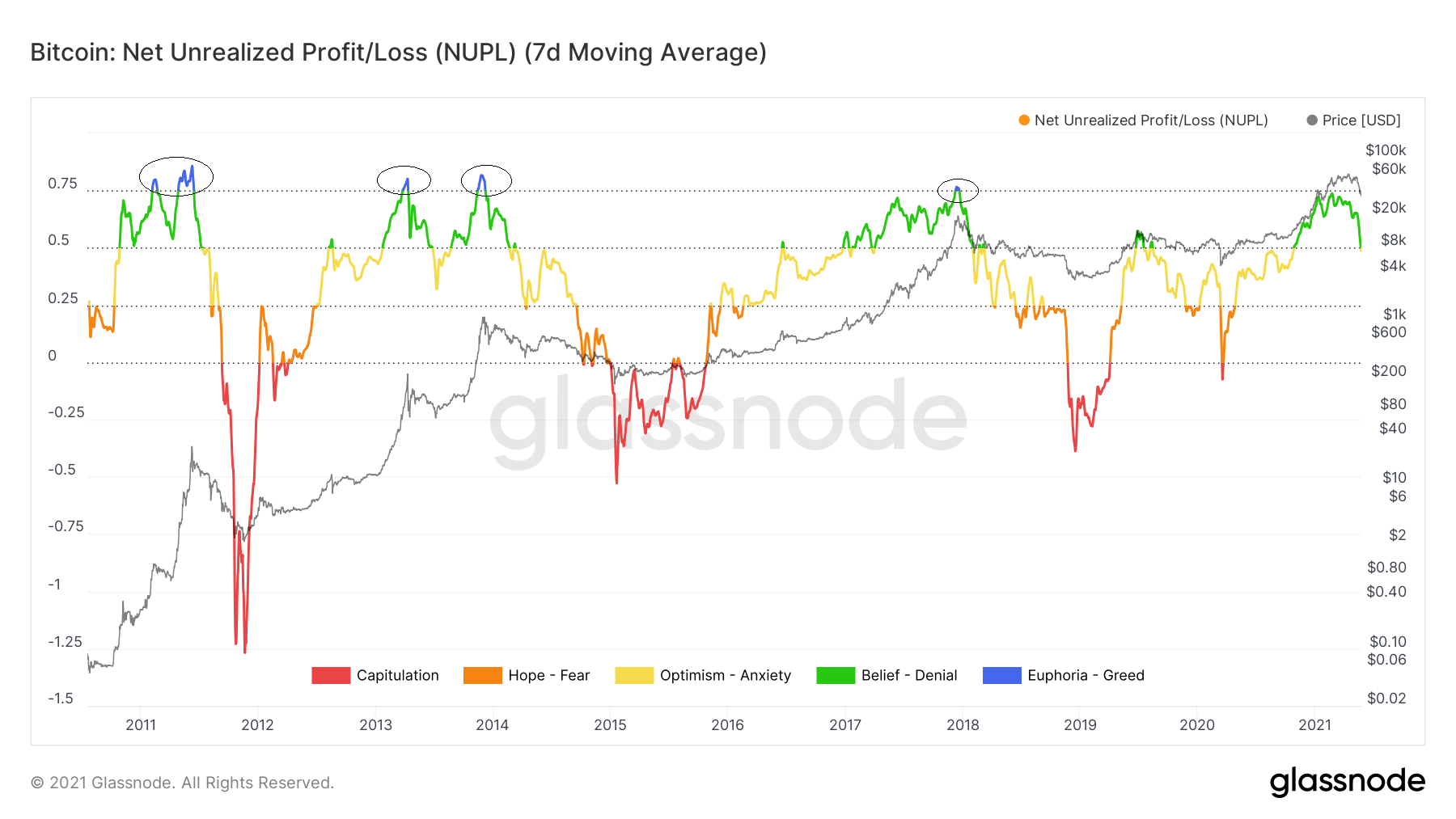 Another interesting observation comes from the 0.5 line. 
In the 2017 bull run, once NUPL moved above the 0.5 line, it returned below it twice in order to reset, before resuming its upward movement.
In October 2020, NUPL moved above 0.5 for the first time. Last week's drop has now taken it back below 0.5. It is possible that the same occurrence as 2017 will happen, in which NUPL has now reset and will move upwards.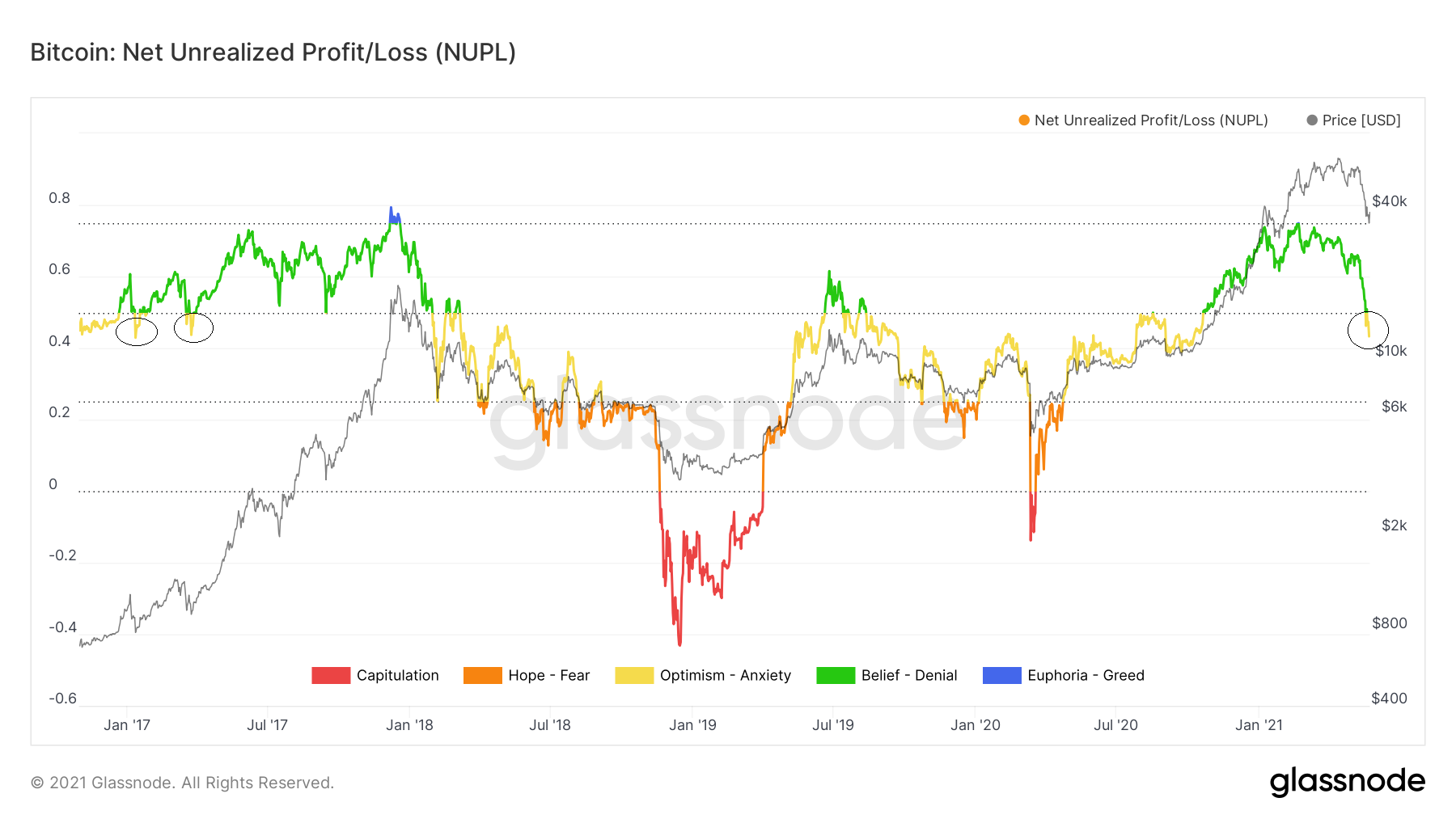 To conclude, the reset in funding rates, suggests that the overall sentiment in the market is ruled by fear. This is also visible in the fear and greed index, which has fallen to its lowest yearly levels.
In addition, the decrease in NUPL suggests that the euphoria in the market is now being replaced with anxiety.
For BeInCrypto's latest bitcoin (BTC) analysis, click here.
Disclaimer
BeinCrypto strives to provide accurate and up-to-date information, but it will not be responsible for any missing facts or inaccurate information. You comply and understand that you should use any of this information at your own risk. Cryptocurrencies are highly volatile financial assets, so research and make your own financial decisions.