The native cryptocurrency of the Brave Browser, Basic Attention Token (BAT), blazed to a new high after closing above $1 for the first time. Along with its market capitalization, BAT is up by over 24% in the past week.
Basic Attention Token (BAT) hit a new all-time high of $1.20 on March 17. It has retraced slightly since the milestone but is still hovering around $1.
In the past 24 hours, it surged by over 32%. Its previous all-time high was recorded on Jan. 9, 2018, when it closed a daily candle at $0.88.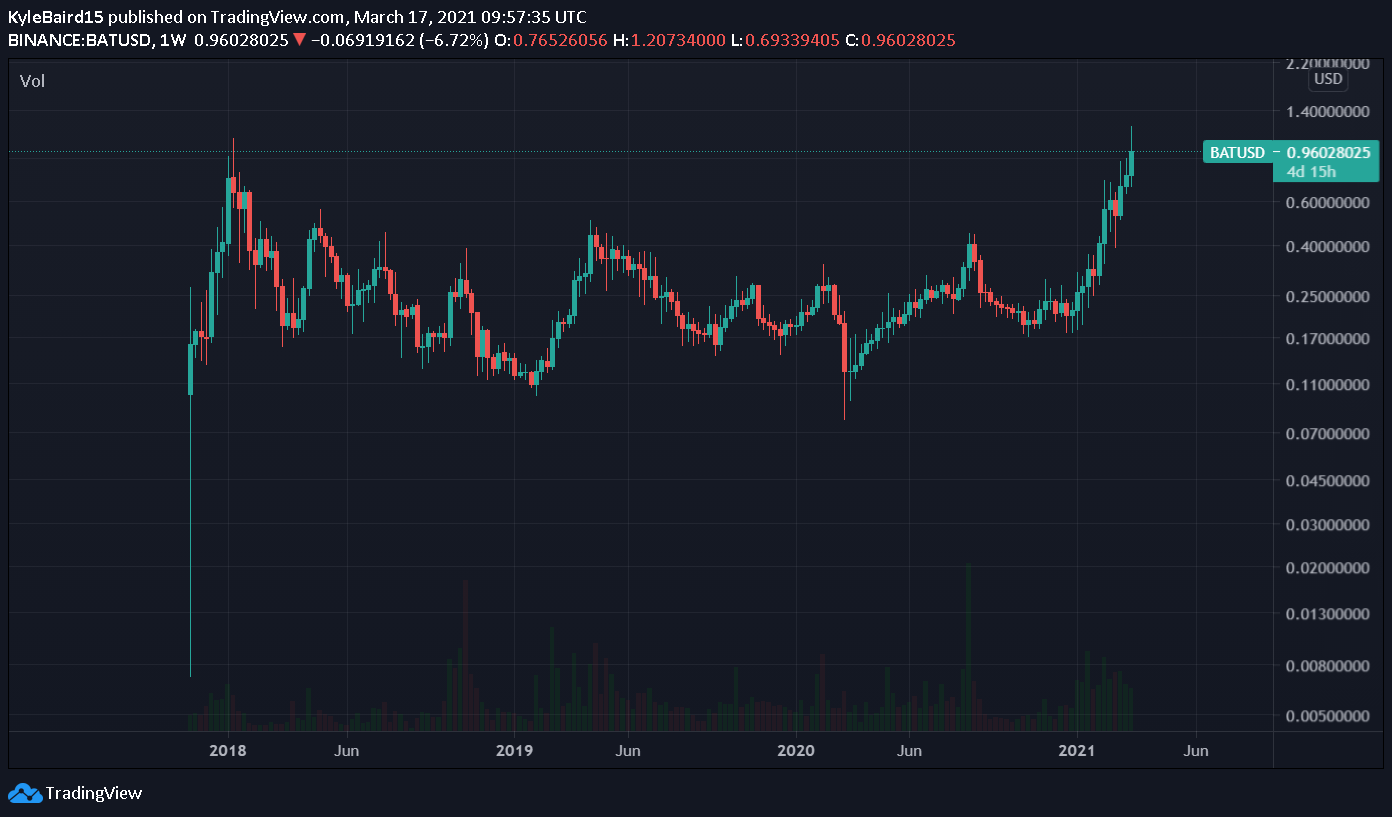 BAT Use Case Boost
The milestone comes off the back of Brave's plan to expand the token's utility. Brave said it will launch a new DeFi accessible wallet with a decentralized exchange.
BAT token fuels the ecosystem of Brave's services, including the Brave browser. Through the private ad browser, BAT's utility has grown significantly.
The Brave browser has an estimated 25.4 million monthly active users and close to 10 million daily users. According to brave, over 1 million verified users accept BAT. Brave plans to integrate BAT with search engines, virtual private networks, and e-commerce stores.
The upward price movement has consequently pushed BAT's market capitalization. It is currently north of $1.4 billion.
Rolling Out a Search Engine
Early this month, Brave announced that it will launch its own search engine. The search engine will be available on both mobile and desktop. This forms part of efforts to achieve a decentralized web.
The search engine called Tailcat will significantly enhance anonymity. According to Brave, Tailcat operates without collecting user IP address or personal information. In a press release, it said:
"Under the hood, nearly all of today's search engines are either built by, or rely on, results from Big Tech companies. In contrast, the Tailcat search engine is built on top of a completely independent index, capable of delivering the quality people expect but without compromising their privacy"
Disclaimer
BeInCrypto has reached out to company or individual involved in the story to get an official statement about the recent developments, but it has yet to hear back.