The Brave browser distinguishes itself by allowing users to use its built-in ad blocker or allow the viewing of ads in return for earning rewards in the Basic Attention Token (BAT) cryptocurrency.
Brave launched its ad block-based browser in 2016 but had trouble competing with more popular options such as Google Chrome, Mozilla Firefox, Apple's Safari, and Tor.
The team really shifted into overdrive near the end of 2017 when it was announced that Brave would release the first round of BAT rewards in the total of 300,000, and released a further $1 million in BAT in January of 2018.
This sparked interest with many new users, especially those invested and interested in cryptocurrency. Many users at this time were willing to give the browser a try in hopes of earning passive rewards just for surfing the web. It was at this time that the Brave browser entered the first phase of development, essentially an introduction to its online advertising and revenue sharing model.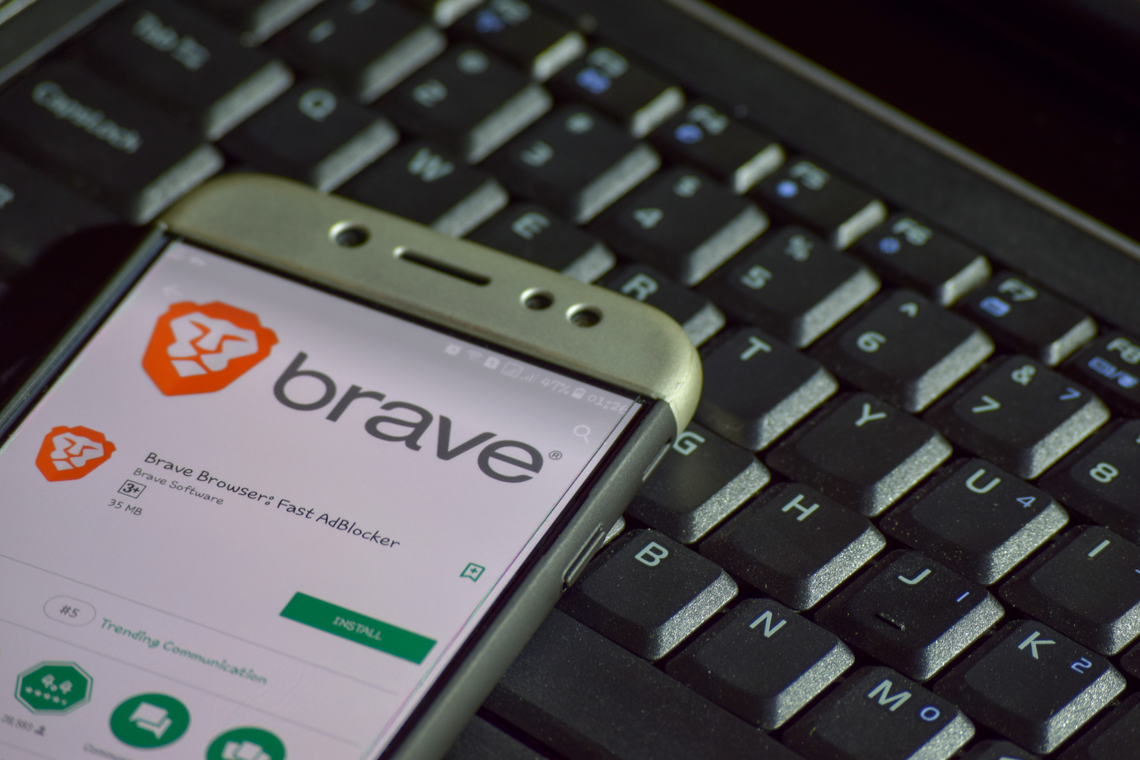 Initiate Phase 2
On March 8, 2019 Brave announced the shift into the second phase of the browser and BAT integration.
In the first phase, users received 'practice' BAT, which could not be personally redeemed for Bitcoin (BTC) or USD but instead donated to content creators and brand partners.
The second phase, as described by Brave, 'provides token rewards to users for their attention, and introduces Brave's anonymous-but-accountable campaign reporting for brands.' The Brave browser is currently available on OS X, Linux, and Windows.
Currently, watching ads to earn BAT has yet to be enabled, but the browser lists this feature as 'coming soon.'
Criticisms of the browser from a technical standpoint have been mostly positive, with the majority of users happy with browsing speeds and the efficiency of the ad blocker for those who exercise that option.
There have, however, been concerns over the ad reward model. The most prominent of these concerns arose at the end of 2018 when a popular YouTube user, Tom Scott, claimed that Brave was accepting BAT tokens in his name, without giving him a percentage.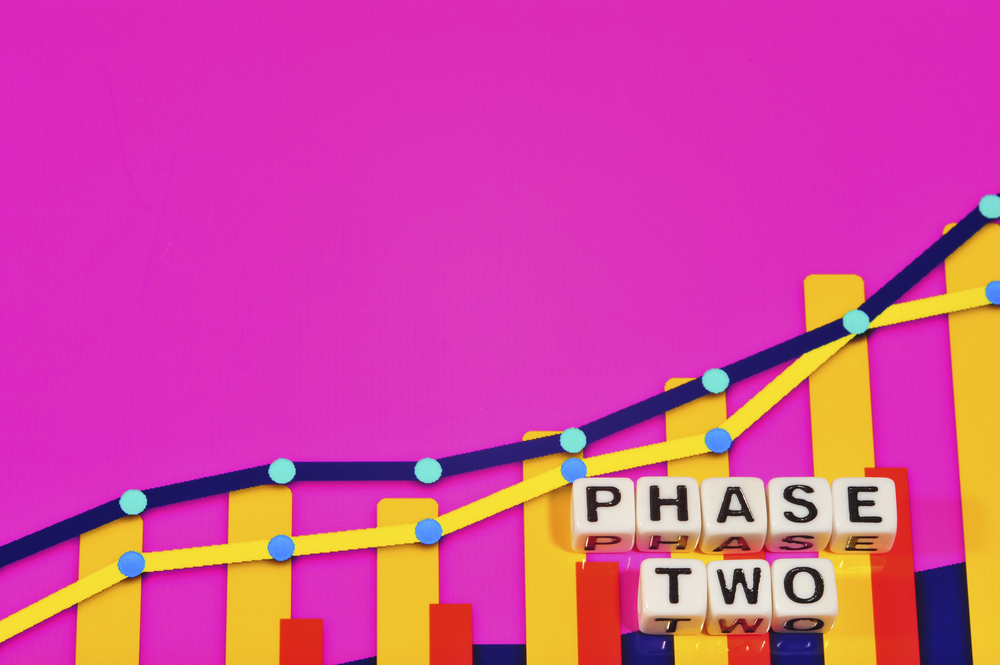 BAT Goes Big
The Basic Attention Token (BAT), which is the underlying currency within the Brave browser, hit the market in late 2017 when the entire cryptocurrency market was sprinting to new all-time highs. During that time BAT launched from about $0.13 per token up to $1 at the beginning of 2018.
Throughout the entire bear market year of 2018, BAT slumped back to the $0.11 level last month in waves of lower-highs and lower-lows.
At the time of writing, BAT is trading at roughly $0.20 and ranked 25th with a total market capitalization of $243 million. This makes for a 90 percent increase in the past 40 days. On the other hand, a heavy descending resistance is on the horizon and could force a fifth completion of the lower-high pattern.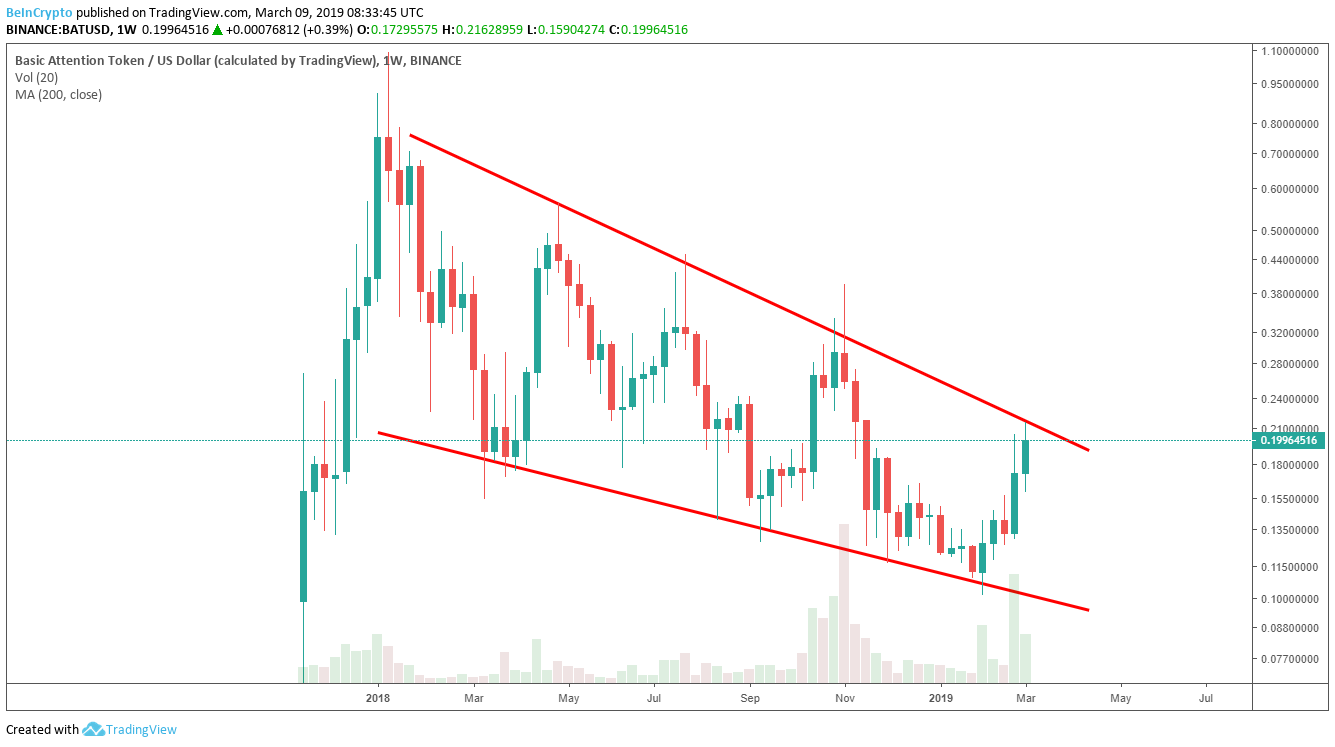 Do you use the Brave browser? Would you view advertisements in order to earn BAT? Let us know your thoughts in the comments below!
---
Do you want to BeInCrypto? Join our Telegram Trading Community for exclusive trading signals, educational content, discussions and project reviews! Images courtesy of Shutterstock, Trading View and Twitter.