The Bondly Finance decentralized finance (DeFi) platform has become the latest to suffer an exploit at the hands of malicious actors.
Details are thin on the ground at the time of press as Bondly Finance notified its users on Twitter today:
"Unfortunately we have been compromised by an unknown party. We would like to take this time to advise you to STOP TRADING BONDLY. Rest assure we have already taken action and will be operating as usual ASAP,"
Around an hour or so before the warning, DeFi Prime posted details of the address involved in the reported exploit.
Blockchain security and data analytics company Peckshield also posted vague details of the exploit stating that there had been 373 million BONDLY mints on Ethereum, which has caused the price to collapse. If these tokens were converted into stablecoins and removed from the protocol, they would have been worth around $22 million before the token collapse.
BONDLY dumps 60%
Bondly touts itself as an interoperable, transparent, and portable swap protocol designed to revolutionize traditional escrow methods. Its BProtect product is a DeFi enabled e-commerce gateway specializing in integrating into popular online marketplaces via token staking.
The Polkadot-based protocol aims to improve DeFi by providing a peer-to-peer exchange called BondSwap, a payment rail platform called BondDex, and the aforementioned decentralized escrow service, BondProtect.
There is also a non-fungible token marketplace and a raft of staking options for its native token of the same name.
That token has collapsed 60% in the wake of the exploit according to CoinGecko. Before the attack, BONDLY hit an intraday high of $0.063 and over the past couple of hours has tanked to $0.023.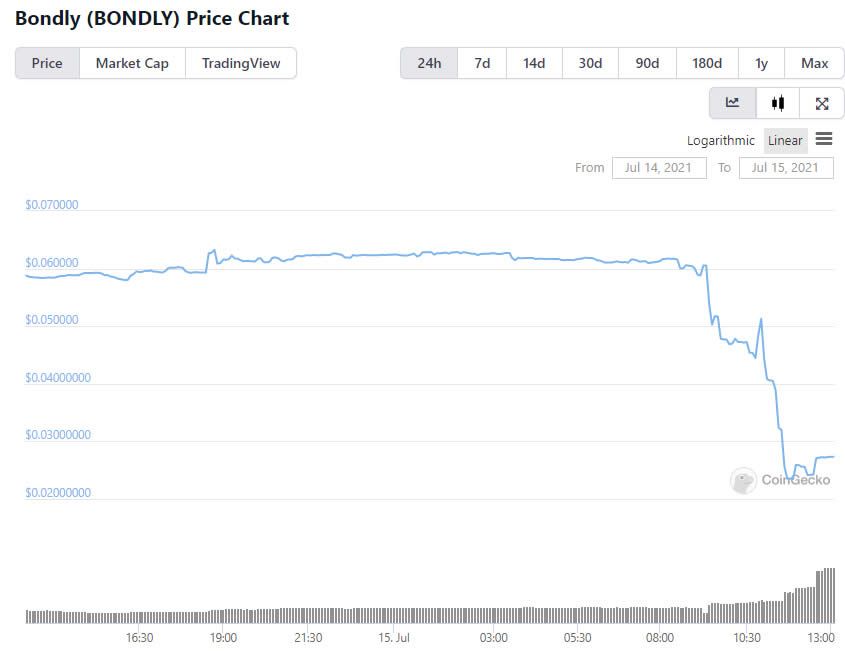 There were no further details on Bondly's Telegram channel at the time of press aside from repeated postings of the aforementioned message that it posted on Twitter.
The extent of the losses has yet to be revealed, but there will likely be a post mortem published and possibly a compensation plan for those affected.
A Year of DeFi Exploits
This year has seen a growing list of DeFi platforms exploited, the majority through flash loans, though some have been inside jobs.
In late June, the Binance Smart Chain-based Impossible Finance protocol lost $500,000 in a DeFi flash loan attack. An even bigger loss was suffered by BSC's leading DEX protocol PancakeBunny in May when as much as $200 million was pilfered by attackers.
Disclaimer
BeInCrypto has reached out to company or individual involved in the story to get an official statement about the recent developments, but it has yet to hear back.