The debate over blockchain's real-life utility is far from over, but many protocols continue to show promise through growth. Stellar and Mina are two such examples that show optimism in their 2023 quarterly reports.  
Blockchain technology has gained momentum in recent years, and its adoption has increased significantly across various industries. The technology's potential to improve transparency, security, and efficiency has caught the attention of many businesses and governments, leading to increased investment in blockchain-based solutions.
Stellar and Mina are two blockchain projects making waves in the industry. Stellar is a decentralized platform that enables fast and secure cross-border payments. At the same time, Mina is a lightweight blockchain that uses a unique consensus algorithm to ensure scalability and decentralization.
Both projects have recently released their quarterly reports, indicating a significant leap in blockchain adoption. Stellar's report showed an increase in the number of accounts on the network in Q1 2023. Mina's report highlighted its growing community, with over 150,000 unique wallet addresses created on the network in the period.
Stellar Q1 2023 Insights
The Stellar Development Foundation (SDF) released its Q1 2023 report on April 24, highlighting key metrics showcasing growth. 
Firstly, Stellar (XLM) surpassed 1 billion in total operations processed on the network, registering a growth of 21.7%. It also saw a surge in total accounts, reaching more than 7.3 million. The increase represented a 15.8% increase from Q1 2022. 
Total payments decreased by 62.59% YoY, with 56.9 million payments made in Q1 2023 compared to 152 million in Q1 2022. However, despite the decline in payments, the on-network transaction volume of relevant assets grew by 10.5% in the same period.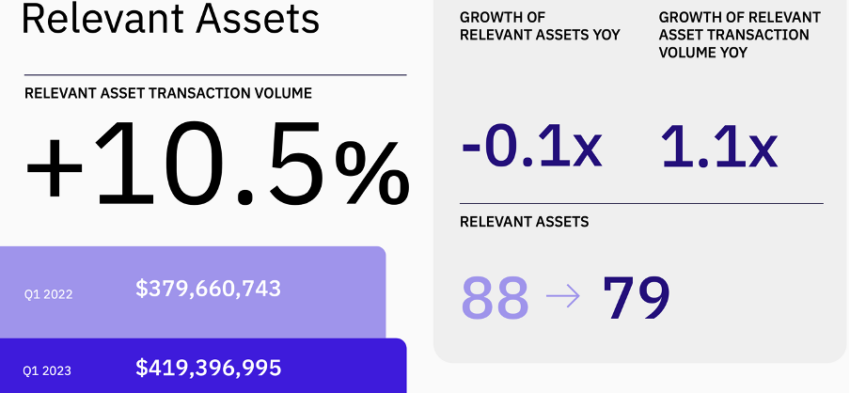 The concept of relevant assets on the Stellar network refers to tokens or digital assets with a specific use case or utility in the Stellar ecosystem. These relevant assets are used as indicators to measure the network's usage and its ability to connect global financial systems.
For instance, a relevant asset on the Stellar network could be a stablecoin pegged to the U.S. dollar, allowing users to send and receive payments without worrying about the volatility of cryptocurrencies. The usage of this relevant asset would indicate how well the Stellar network is facilitating cross-border payments and connecting different financial systems.
Innovation Continues in 2023
One of the key developments on the network is Soroban following two crucial preview releases. It 'continues to be a top priority, and each quarter brings SDF closer to mainnet launch.'
Soroban is a blockchain-based platform that aims to provide financial infrastructure for the underserved and unbanked population. The platform utilizes the Stellar blockchain to facilitate fast, secure, low-cost cross-border payments and other financial services.
Soroban's development on the Stellar network is significant as it highlights its ability to support innovative projects that address financial inclusion and social impact. Soroban's platform leverages Stellar's capabilities to enable instant settlement and interoperability with other financial networks, making it easier for users to access and use financial services.
The development of Soroban on the Stellar network is an excellent example of how blockchain technology can be leveraged to solve real-world problems and bring financial services to underserved populations.
Additionally, the recent collaboration with American investment giant Franklin Templeton further boosted Stellar's credibility. The New York-based investment firm's OnChain U.S. Government Money Fund (FOBXX) went public on the Stellar network. The fund boasts over $270 million in assets under management. 
Another Protocol Shows Promise
The Mina Protocol released a transparency report for Q1 2023, indicating significant growth and adoption of the blockchain project. The platform behind the Mina protocol showed growth across many metrics. 
Unique accounts in the first quarter of 2023 showed a 7.57% increase from January to March. As of March 31, 2023, there were 153,279 individual accounts on the Mina ledger. Also, monthly block producers on Mina increased to 370 in March from 355 in the preceding month. Meanwhile, there were 911 commits to the Mina Github repositories in the first three months of 2023, with 80 unique contributors.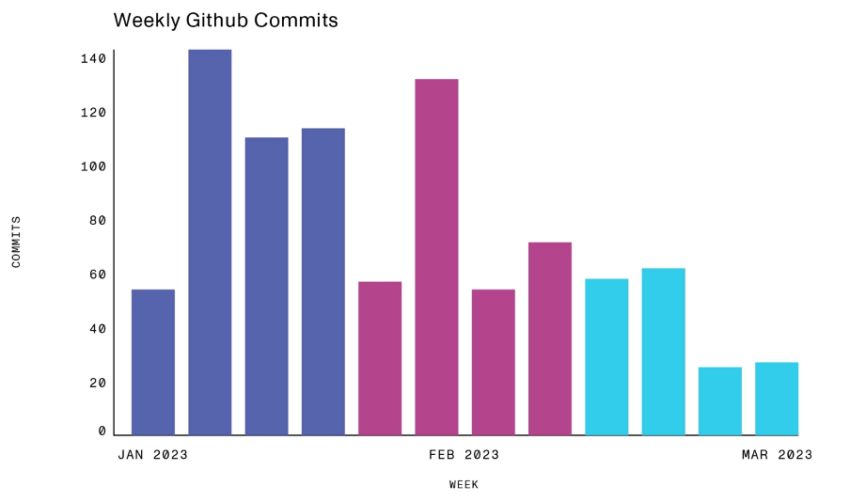 On the development front, the protocol redeployed the 'Berkeley' Testnet in January 2023. There's ongoing work 'in fixing bugs and vulnerabilities via the testnet, such as addressing potential DDOs attack vectors, with this latest testnet release in Q1.' 
The Berkeley Testnet is a public test network that allows developers and users to test the functionality of the MINA protocol in a simulated environment. The test network is designed to mimic the leading Mina network but with a few key differences. For example, transactions on the Berkeley Testnet do not have any real-world value, so developers can test their applications without risking any actual funds.
Developers and users can interact with the Berkeley Testnet through the MINA command-line interface (CLI) or a web-based wallet explicitly designed for the test network. The web wallet allows users to create and manage testnet accounts, send and receive transactions, and explore the testnet blockchain.
Understanding the Protocol
The Mina Protocol is a lightweight, decentralized blockchain designed to address traditional blockchains' scalability and decentralization challenges. It is built on a unique consensus algorithm called 'SNARKs' that allows the network to maintain its small size by compressing data and verifying transactions using mathematical proofs rather than relying on large nodes.
By maintaining a small size, the Mina Protocol enables faster transaction processing times, reducing the risk of centralization and increasing the network's decentralization. It also allows for greater accessibility as it can be run on low-power devices, making it more accessible to a broader range of users.
The Mina Protocol also emphasizes privacy and security, using zero-knowledge proofs and its commitment to user data protection. It enables privacy-preserving smart contracts and allows users to control their data and maintain anonymity.
Mina has a growing community of developers and supporters. They believe in the project's potential to transform the blockchain industry. Its lightweight design and focus on privacy and decentralization make it an attractive option for various applications, from financial services to healthcare.
Blockchain Growth
These numbers indicate the growing interest and adoption of blockchain technology. Also, the potential for the technology to disrupt traditional industries.
As more businesses and individuals become familiar with the benefits of blockchain, the sector will likely continue to grow and develop.
Disclaimer
Following the Trust Project guidelines, this feature article presents opinions and perspectives from industry experts or individuals. BeInCrypto is dedicated to transparent reporting, but the views expressed in this article do not necessarily reflect those of BeInCrypto or its staff. Readers should verify information independently and consult with a professional before making decisions based on this content.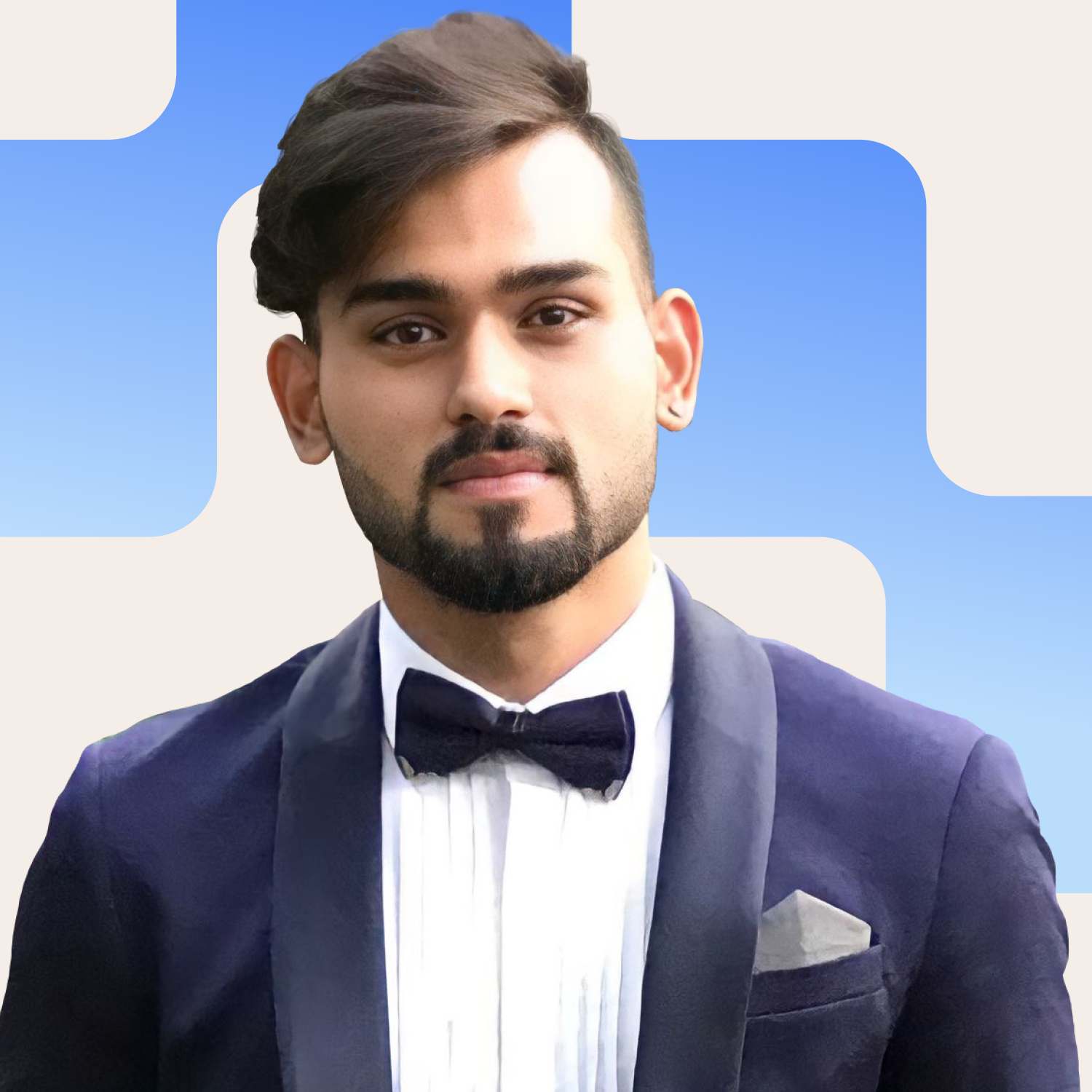 An engineer and an accountant by degree, Shubham ventured into the crypto world to pursue his passion. He believes digital currencies will redefine our economies in the decades to...
An engineer and an accountant by degree, Shubham ventured into the crypto world to pursue his passion. He believes digital currencies will redefine our economies in the decades to...
READ FULL BIO
Sponsored Sponsored