BitMEX, currently one of the world's leading cryptocurrency exchanges and trading platforms, has published a scathing report about how dozens of ICO-funded projects have managed their treasury tokens since finalizing their token sale.
According to the previous report in the series,
Initial Coin Offering
(
ICO
) projects managed to raise a total of 15,183,779 ETH, of which almost half was raised by
EOS
alone. This only accounts for projects which have a known treasury address, meaning certain projects such as
TRON
are omitted, despite raising $70 million in its ICO. Out of the ETH raised, the vast majority was sold at or above the dollar rate when it was received, meaning most projects profited not only in terms of funds raised but also included the appreciation of those same funds. EOS alone netted approximately $3.9 billion after selling out, while in total, ICOs earned an additional $93 million due to ETH price improvements. Not content with simply profiting from the funds raised during the ICOs, BitMEX's latest intelligence report indicates that numerous projects may have begun cashing out their team allocation, potentially netting the projects significant sums.
Tracking US$24 billion Of Tokens ICO Teams Gave Themselves

In collaboration with @thetokenanalyst, this report focuses on the treasury balances of the ICO tokens. Teams issued themselves US$24.2 billion of their own tokens, now worth around US$5 billionhttps://t.co/M7vSJjJwv5 pic.twitter.com/mHoDaYFvrX

— BitMEX Research (@BitMEXResearch) January 16, 2019
Much of the data presented in the report was produced in collaboration with TokenAnalyst, a London-based team that actively researches and analyses digital assets and blockchains to provide intelligence about the decentralized economy.
The Finer Things
According to the report, ICO teams were issued almost $25 billion in ICO tokens, however, for the vast majority of projects, there was insufficient liquidity to realize the projected value of the tokens. Out of this total, approximately $1.5 billion worth of tokens were identified as leaving address clusters known to be controlled by the project teams, though it is unknown whether these represent sales. Currently, ICO teams are in possession of somewhere around $5 billion in ICO tokens — drastically lower than the $80 billion sum if you consider the individual price peaks of each coin.
When you create poo poo out of thin air, gravity is a bitch. Check out the latest report from BitMEX Research on ICOs. https://t.co/SdlZ7hreTD

— Arthur Hayes (@CryptoHayes) January 16, 2019
When considering this maximum value, the teams behind Veritaseum (VERI) and Noah Coin (NOAH) were in control of more than $4 billion in tokens each. Comparing these values to their market capitalization of $7.6 million and $27.9 million respectively, with daily trade volumes just a fraction of these, it is clear that the theoretical value of the team allocation is largely overestimated.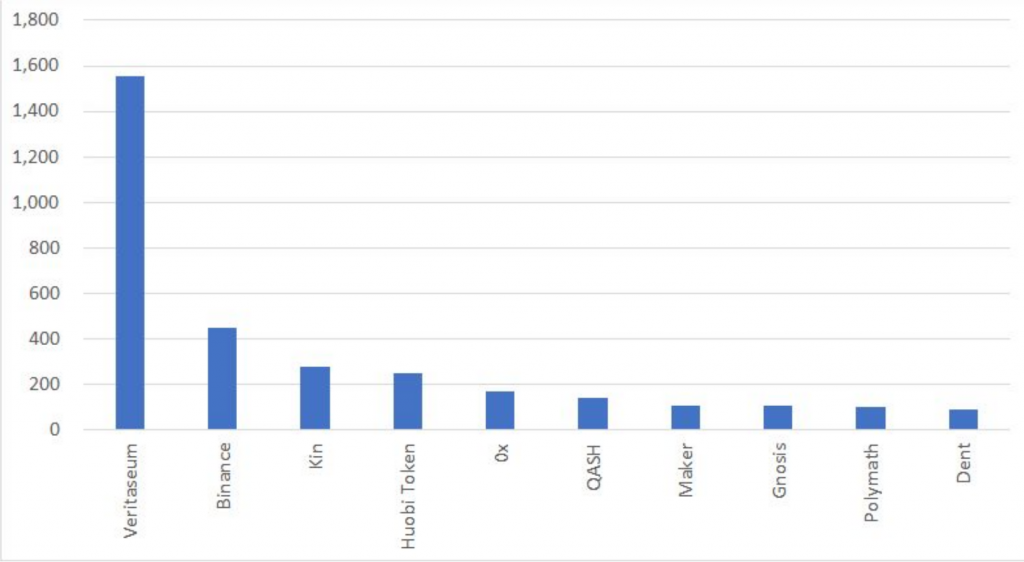 At the current value, Veritaseum,
Binance
, and Kin are still in possession of the highest value token stash, sitting on approximately $1.55 billion, $430 million and $260 million in tokens respectively, though only
Binance Coin (BNB)
has the trade volume necessary to actualize this value. To obtain this data, TokenAnalyst used machine learning algorithms to identify team-controlled addresses by analyzing the project smart contract. While this technique is not perfect and is likely inaccurate at the individual project level, it does produce a good estimation at the macro level, allowing meaningful observations to be made.
The Biggest Movers
Among the projects that experienced the biggest value losses, Veritaseum, SingularityNET, and Polymath took the top 3 slots, with the value of the Veritseum team allocation losing approximately $3.2 billion alone. In total, there were just five projects that saw their team tokens lose more than half a billion dollars in value, whereas at least ten projects saw their tokens crash in value by more than 90%, including SingularityNET.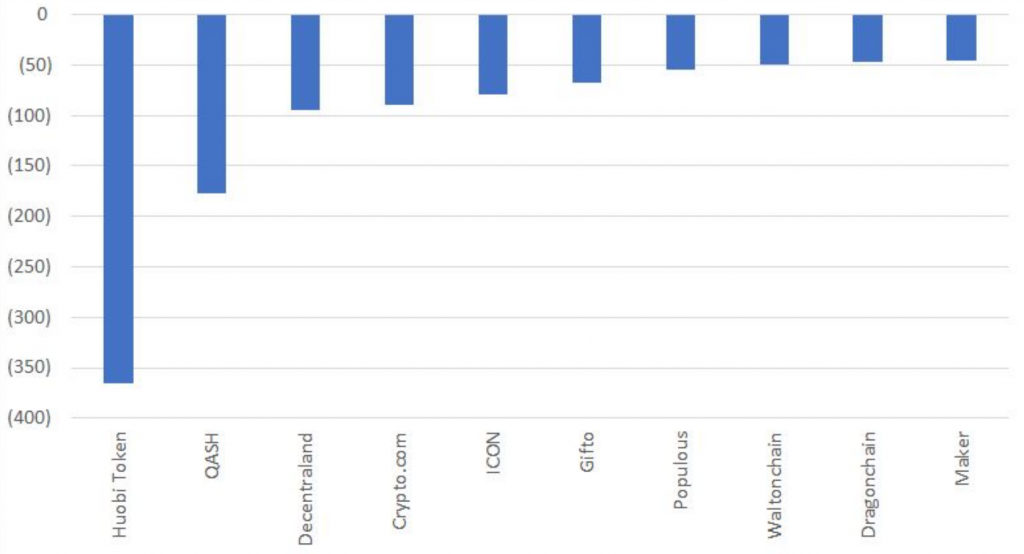 Of the projects analyzed in the report, very few of them managed to actualize the value of their tokens, with only eight teams transferring more than $50 million in tokens out of controlled addresses. However, it is uncertain whether this represents cashing out since there are several reasons why tokens might be moved out of team addresses. Of the 105 projects analyzed in the report, BitMEX claims that 36, equivalent to roughly 34 percent, also issued themselves further tokens after the ICO concluded. In terms of value, DENT issued itself by far the highest value, sending itself some $635 million tokens, more than 3x higher than IOST — its closest competitor.
All Aboard The Money Train
In total, combining the results of BitMEX's last two research pieces, it appears that ICOs have profited by almost $13 billion. The majority of this comes from cashing out the Ether (ETH) raised during the ICO, while a smaller fraction is thought to be attributed to post-ICO token sales from the team allocation. BitMEX concludes by reasoning that while ICOs were able to reap huge rewards for essentially very little effort, indicating that the trend will likely continue for the foreseeable future as new projects look to leverage this funding route. Investors, on the other hand, appear to have gotten the short end of the stick after token prices crashed throughout 2018, leaving many considerably worse off than they started. [bctt tweet="ICOs profit by almost $13 billion, while leaving investors high and dry. Will investors continue supporting ICOs into 2019?" username="beincrypto"]
In other news, the Hong-Kong based exchange recently closed its doors to residents of the U.S. and Québec (Canada) after it emerged that the exchange was not registered with either the US Securities and Exchange Commission (SEC) or Autorité des marchés financiers (AMF) in Québec. 
Since the move, BitMEX has closed all known accounts relating to US and Québec, though BitMEX admits it may find it challenging to identify and restrict those using a VPN to access its trading services.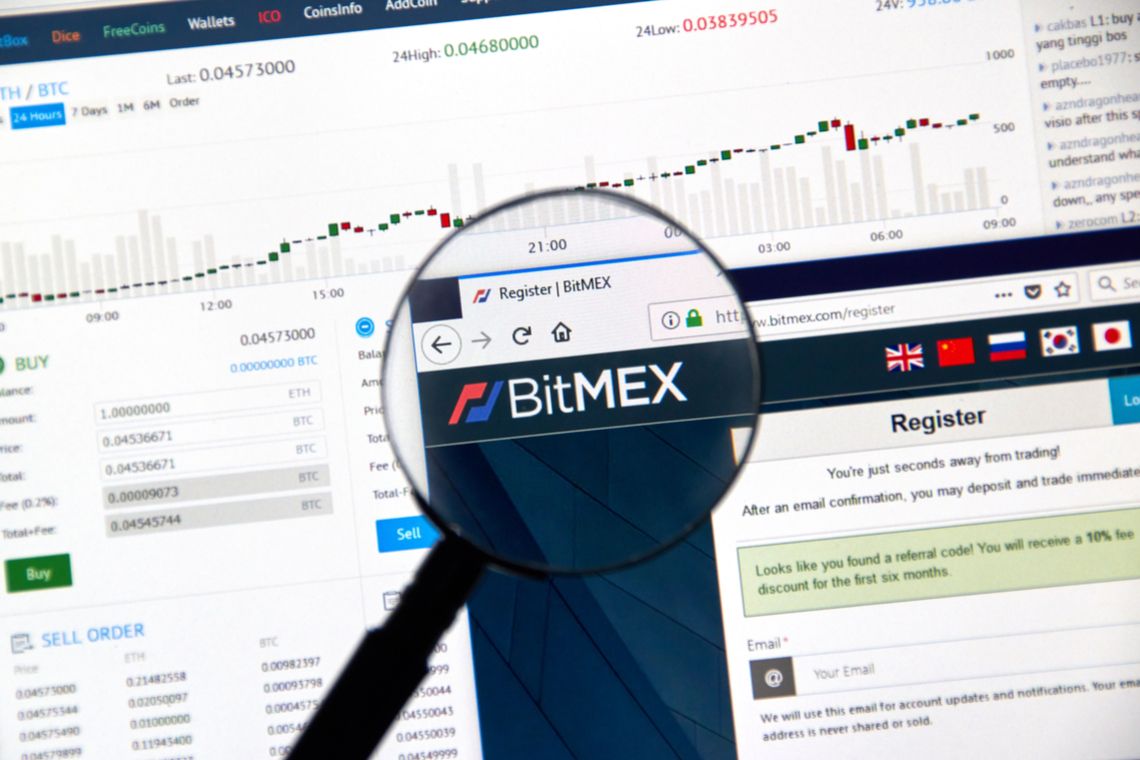 Do you find these results surprising? Have you been stung by crashing token prices since 2018? Let us know your thoughts in the comments below!
Disclaimer
All the information contained on our website is published in good faith and for general information purposes only. Any action the reader takes upon the information found on our website is strictly at their own risk.