It's been a tough few weeks for Bitcoin ($BTC) holders – but there's a growing belief that the ongoing bearish momentum could be nearing its end.
Speculation is mounting that Bitcoin could be about to stage a remarkable comeback and reverse from the nearby support level at $26,000 – even amidst the US debt ceiling crisis.
Meanwhile, the new crypto project Wall Street Memes ($WSM) has made a spectacular debut, raking in an incredible $100,000 through its presale in a matter of hours – sparking immense investor excitement about what's to come.
Bitcoin Touches Support at $26,000 – Is BTC Primed for a Reversal?
At the time of writing, the Bitcoin price has just tapped the strong support level at $26,000 – a level where price reversed aggressively on May 12.
The early signs are that a similar situation could be playing out here, with May 25's daily candle ending with a long wick – indicating a large volume of buy orders around the region.
Of more significance, Bitcoin is trading well above the 200-day EMA, a widely-used gauge for a coin's long-term trend.
Zooming out, Bitcoin is still creating clear higher-highs and lower-highs on the weekly timeframe, indicating that market sentiment remains bullish.
Moreover, CoinGlass data reveals that the Long/Short ratio now leans toward bulls across most exchanges, while the 24H short volume has decreased by over 43%.
These factors bolster the theory that Bitcoin could be set for a rebound, with the likely port of call being the resistance zone located around $29,500.
Should this scenario play out, it would represent an 11.50% increase from the price seen today.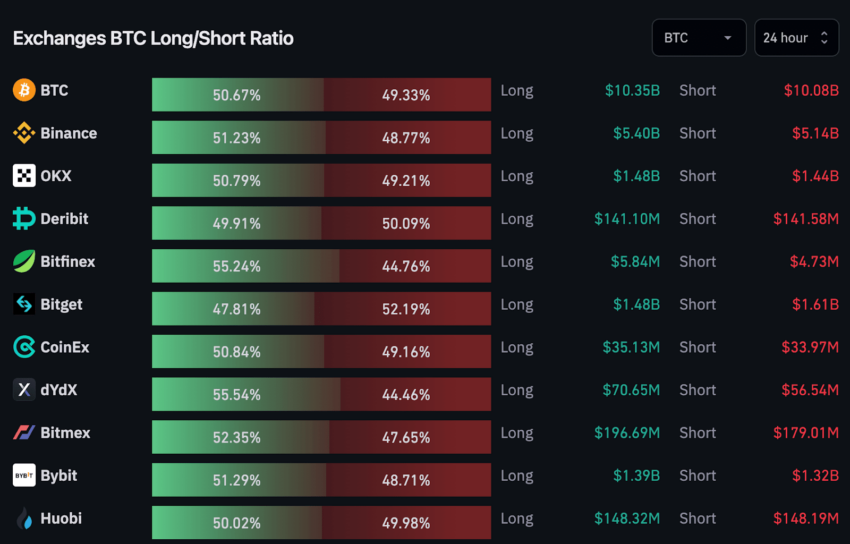 Many in the investment community now believe this is possible, even amidst the ongoing US debt crisis.
Although a US default would be catastrophic for legacy financial markets, many crypto pundits argue that the impact on cryptocurrencies like Bitcoin might be less severe.
This is because investors may flock to assets that aren't directly linked to the US economy in the event of a default, leading to an uptick in demand for cryptocurrencies.
Ultimately, with the current technical analysis and broader macroeconomic factors aligning in its favor, Bitcoin's potential for a rebound seems increasingly likely – setting the stage for what could be a solid rally in the coming weeks.
Viral Sensation Wall Street Memes Makes Dramatic Market Entrance & Raises $100k
While Bitcoin teeters on the brink of a bullish rally, the crypto world continues to provide exciting opportunities for investors.
One standout project right now is the presale crypto Wall Street Memes ($WSM) – which has managed to raise over $100,000 within its first 24 hours.
The impressive start to life for Wall Street Memes speaks volumes about the project's immense potential, which stems from its viral appeal.
As its name implies, Wall Street Memes leverages the exceptional reputation of the WallStreetBets subreddit, known for the 2021 GameStop short squeeze.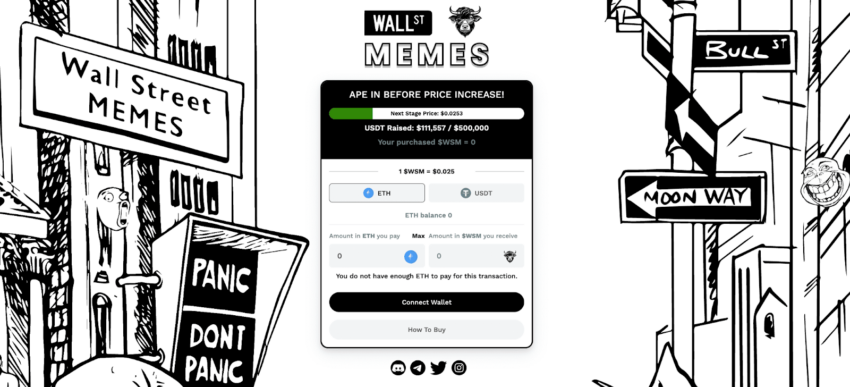 However, the Wall Street Memes crypto project itself, which has a combined 500,000 social media followers, is a natural evolution of the incredibly popular Wall St Bulls NFT collection – which sold out in 32 minutes when launched two years ago.
According to OpenSea, 1,861 ETH worth of these NFTs have been traded since launch – approximately $3,378,478 based on today's price.
The success of this NFT collection prompted a colossal community to form, with the Wall Street Memes Twitter page now boasting over 214,000 followers.
Building on this impressive list of achievements, the Wall Street Memes project is now set to launch its latest venture – a community token named $WSM.
This token aims to empower the community that has rallied behind Wall Street Memes over the past 24 months, allowing holders to benefit from the project's future growth.
The $WSM token reveal has piqued the interest of meme coin investors worldwide, leading to massive growth of the project's official Discord server.
Early investors can now purchase $WSM tokens through the project's presale for just $0.025 – with the token price rising to $0.0337 by the presale's final stage.
Visit Wall Street Memes Presale
Disclaimer
This article is sponsored content and does not represent the views or opinions of BeInCrypto. While we adhere to the Trust Project guidelines for unbiased and transparent reporting, this content is created by a third party and is intended for promotional purposes. Readers are advised to verify information independently and consult with a professional before making decisions based on this sponsored content.