Bitcoin prices have reached their highest-ever levels during the morning trading session of Nov 9. This high is only around 2% off shy of reaching $70,000 per BTC.
BTC prices traded just above $68,500 in a new all-time high on Nov 9 after gaining 4.6% on the day.
At the time of press, the world's premier cryptocurrency asset was changing hands for $68,240 according to TradingView tracking prices on Binance. Bitcoin has made an impressive 12% since the same time last week and is now up 24% over the past 30 days.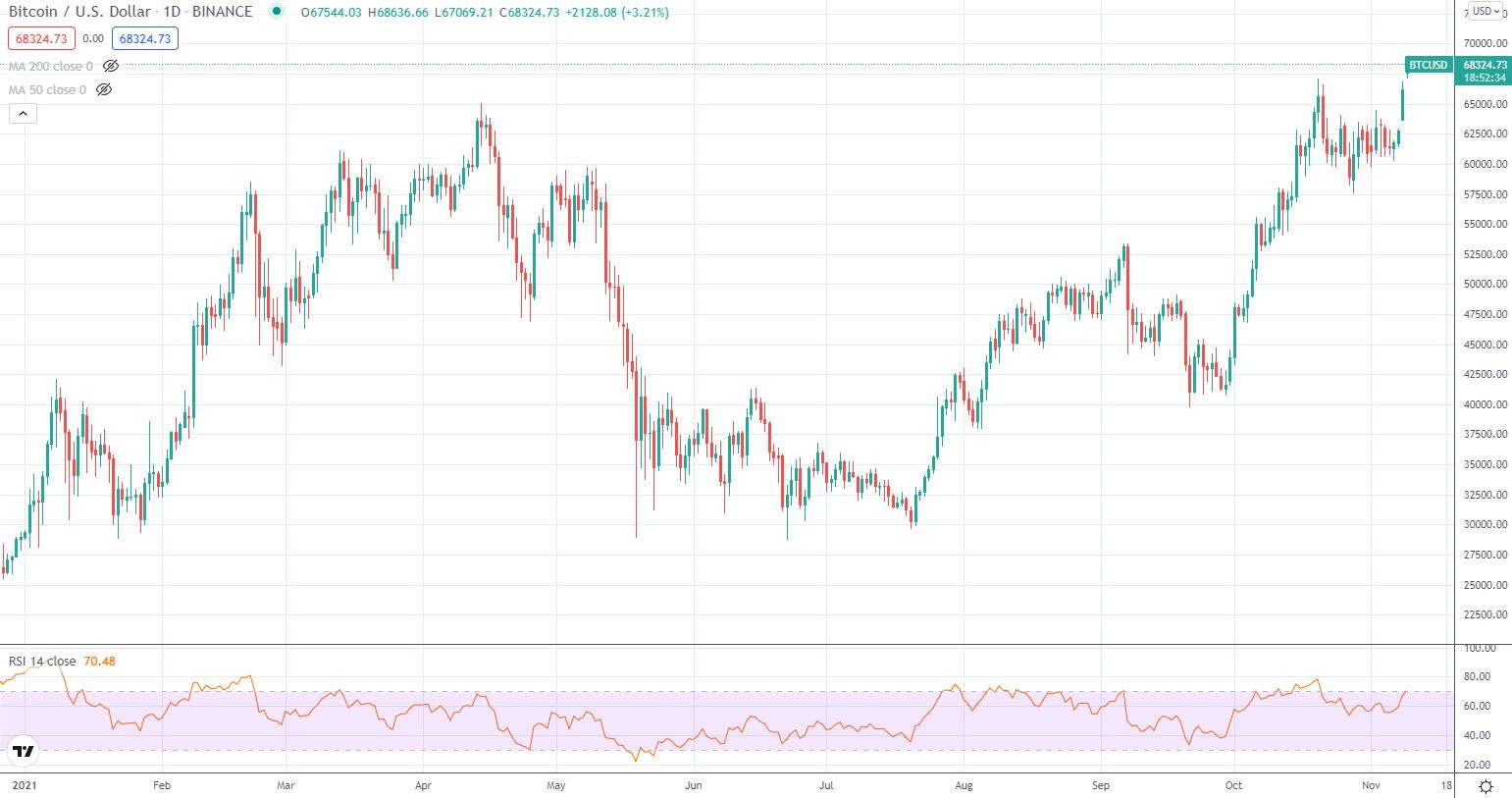 Prices have more than doubled since the July 21 dip that took them just below $30,000. Since the beginning of the year, BTC has made a gain of 136%. Compared to other store-of-value assets such as gold, which has actually lost 3.7% since Jan 1, BTC is way ahead.
Mammoth Bitcoin market cap
The market capitalization of Bitcoin is currently $1.29 trillion, which puts it ahead of Tesla's $1.16 trillion according to CompaniesMarketCap. BTC is the eighth largest asset on the planet with silver, gold, and the top five companies by market cap above it.
Bitcoin currently has a market share of 41.8% but its market cap is the same as it was for the entire crypto asset market just four months ago in July.
That total market capitalization has now topped $3 trillion having gained almost 300% since the beginning of the year. This means that altcoins have largely outperformed Bitcoin in 2021.
On Nov 9, on-chain analytics provider Glassnode noted that exchange outflows are still going on and BTC balances are falling despite the ATH.
"As Bitcoin hits new All-Time-Highs, exchange balances continue to be depleted. Exchange reserves we track account for just over 12.9% of the circulating supply and are still seeing outflows, even at ATH prices."
The firm concluded that Bitcoin's "investor conviction" also appeared to be at all-time highs as long-term holders remain reluctant to sell. In its weekly on-chain report published on Nov 8, Glassnode stated "over 85% of the coin supply has remained dormant since August 2021. Investors are just not spending their coins."
Ethereum at ATH
Ethereum has also notched up an all-time high tapping $4,857 during the Asian trading session today. At the time of writing, ETH was changing hands for $4,815 after gaining 1.7% on the day and 11% over the past week.
Other crypto assets cranking up today include Cardano up 6.4%, Shiba Inu gaining 5.5%, and Litecoin which has skyrocketed 18% to $244 at the time of writing.
Disclaimer
BeInCrypto has reached out to company or individual involved in the story to get an official statement about the recent developments, but it has yet to hear back.