Bitcoin (BTC) has already shown strong signs of recovery in the first two months of 2019 but is still stuck in a long-term downward trend. Will this year be a time for steady growth, or will the bear market losses persist?
Since hitting a late 2018 low of $3,120 in December, BTC has so far been on a slight incline, bouncing around in the range of $3,200 to $4,200. At the time of writing, BTC is trading for $3,990 with a total market cap of $70.1 billion. This correlates to a 52 percent dominance over the total market cap which is holding strong at $135 billion.
Bitcoin's weekly chart shows that BTC still remains underneath the heavy descending resistance line (diagonal red) that it has been under since the beginning of 2018. Until Bitcoin starts consistently closing above this line, investors and enthusiasts should assume a continued bearish trend.
Q1 of 2019 thus far has shown a glimmer of recovery, however, that the next few months could create a positive trajectory for Bitcoin in the latter half of the year.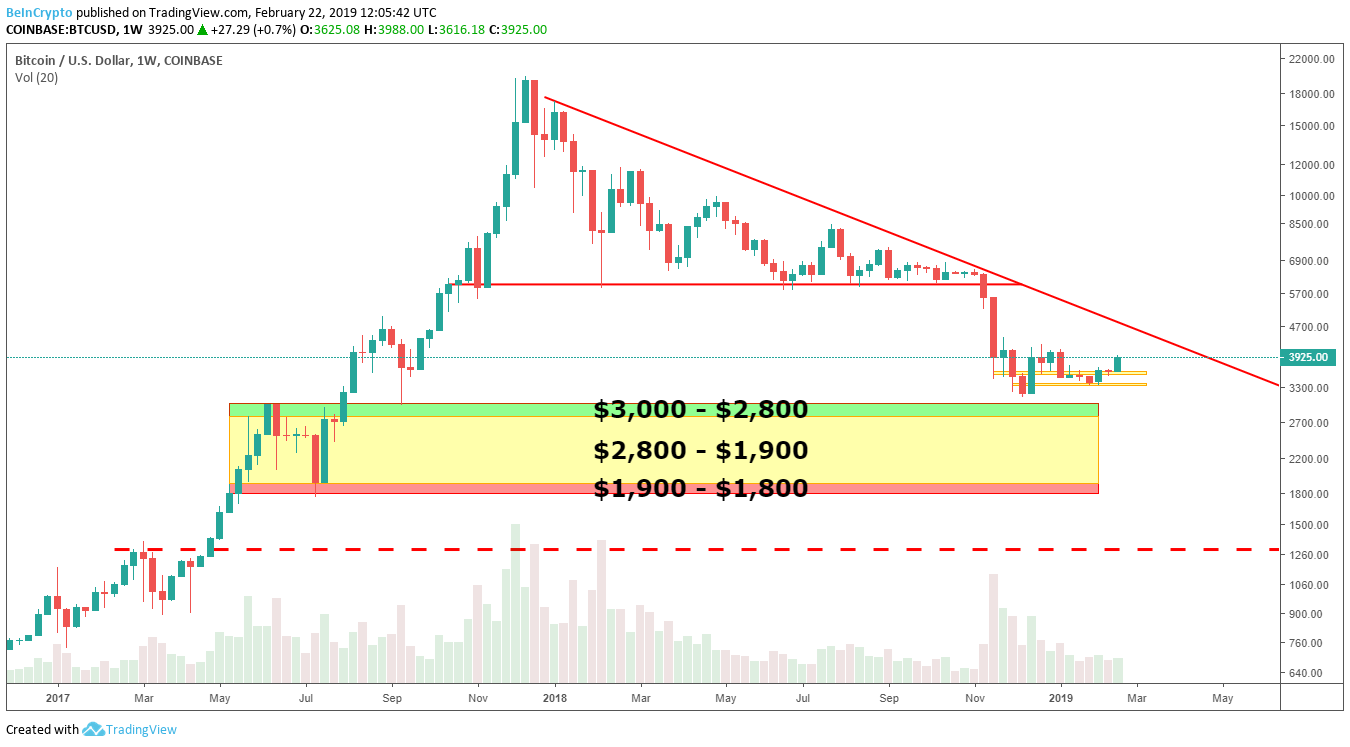 Stochastic RSI
Taking a look a the stochastic relative strength index (RSI), BTC looks to be quickly approaching the threshold to the overbought territory, currently sitting slightly below the 80 value.
Historically, a stochastic RSI of 80 has not acted as much of a resistance for BTC. Considering the position of the stochastic RSI, it is likely that BTC could still see a push to the upside—perhaps targeting the descending line in the neighborhood of $4,500.
Recovery
Bitcoin's daily chart can help to better paint a picture of what may come in the short-term. Since plummeting from $6,400 to $3,120 in November, BTC has fallen into a wedge and is quickly approaching the point where the resistance and support meet.
During the past two weeks, Bitcoin has seen a strong upwards movement, bouncing off the ascending support at $3,350 and currently resting slightly below $4,000.
If BTC fails to break and maintain over $4,000 in the next few days, this latest spike would make another lower high and would likely force the price back down to the range of $3,500 to $3,600. This consolidation could make for a break out of the wedge to the upside to target the bear market descending line.

Relapse
If Bitcoin continues its cycles within the wedge, the next move down would be targeting the first yellow support around $3,575. After some consolidation at the end of the wedge, if BTC is unable to break out to the upside, a sharp fall could occur to test below the 2018 low of $3,120.
In this case, traders and accumulators may want to look in the range of $2,800 to $3,000 in order to add to their positions or pick up some of the top-ranked cryptocurrency at a price not seen since Q3 of 2017. Those looking to make a swing trade should be aware, however, that a dip below $3,000 might have the possibility to bring about a panic sell.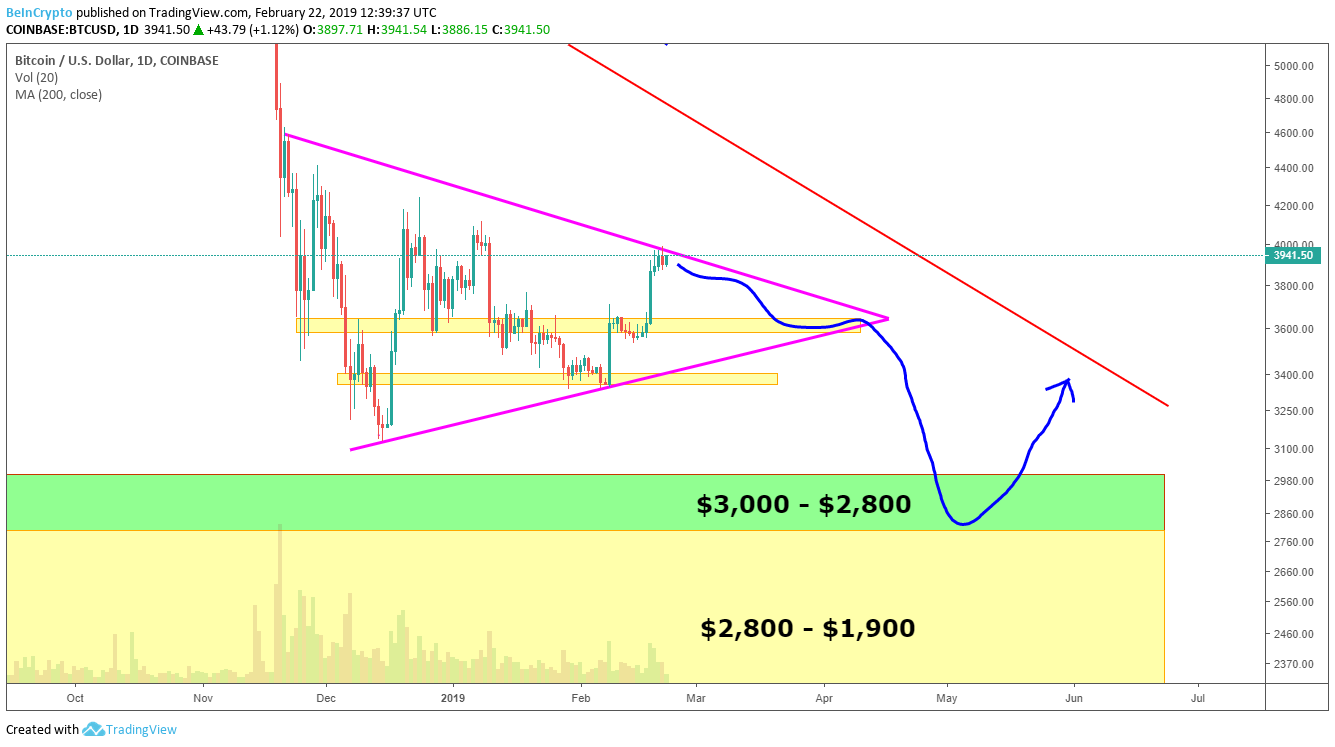 Do you think Bitcoin will still test new lows in 2019? What are your predictions for BTC's 2019 high? Let us know your thoughts in the comments below!
[Disclaimer: The contents of this article are not intended as financial advice, and should not be taken as such. BeInCrypto and the author are not responsible for any financial gains or losses made after reading this article. Readers are always encouraged to do their own research before investing in cryptocurrency, as the market is particularly volatile. The author of this article does hold some BTC.]
---
Do you want to BeInCrypto? Join our Telegram Trading Community for exclusive trading signals, educational content, discussions and project reviews! Images courtesy of Shutterstock, Trading View and Twitter.