On June 27, 2019, the Bitcoin price reached a high of $13,764. A decrease ensued. On July 2, the BTC price reached a low of $9728. It has been increasing since.
How long will the increase continue? Are we still in a correction or has a new uptrend begun? In order to find the answer to these questions, keep reading below.
If you want to trade Bitcoin (BTC) safely and securely on our partner exchange, follow this link to get set up on XCOEX.
For our previous analysis,
click here.
Bitcoin Price: Trends and Highlights for July 5
BTC/USD broke down from an ascending wedge.
There is support above $10,600.
The price is trading below the 10-day MA and above the 20-day one.
It is likely in the X wave of a W-X-Y correction
Previous Bitcoin Price Movement
Since reaching the aforementioned low on July 2, the Bitcoin price has been gradually increasing. It did so until July 4, creating the ascending wedge outlined below:
On July 5, a breakdown ensued. It transpired with significant volume. The most likely support area that can provide a reversal is found slightly above $10,600.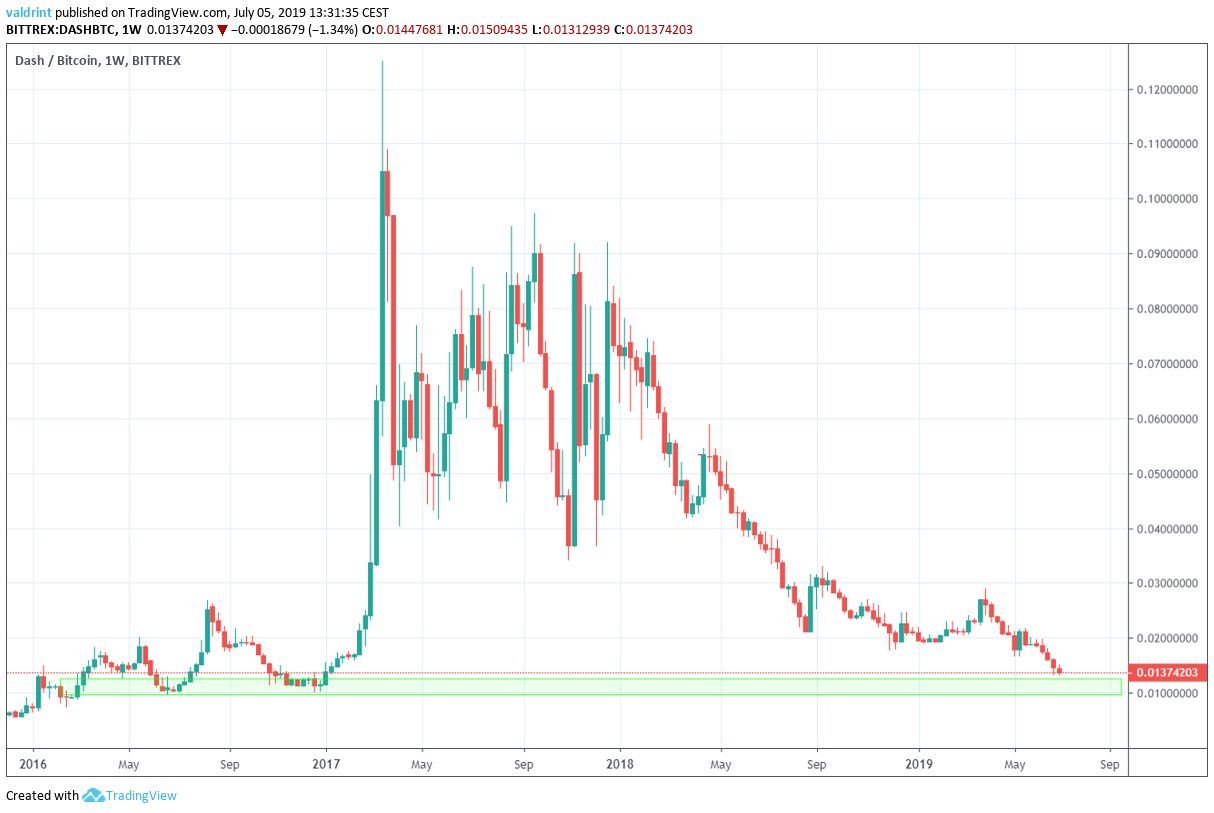 The area is created by the 0.618 fib level of the upward move beginning on July 2. Additionally, it coincides with the lows on June 28 and July 1. The next support area can be found near $10,222. It is, however, a more minor support area. A drop to $10,000 would likely create a double bottom scenario.
Bitcoin Price Correction
In our
correction analysis
yesterday, we stated that we believe that we are in a W-X-Y correction, which is formed by three waves, each consisting of three subwaves.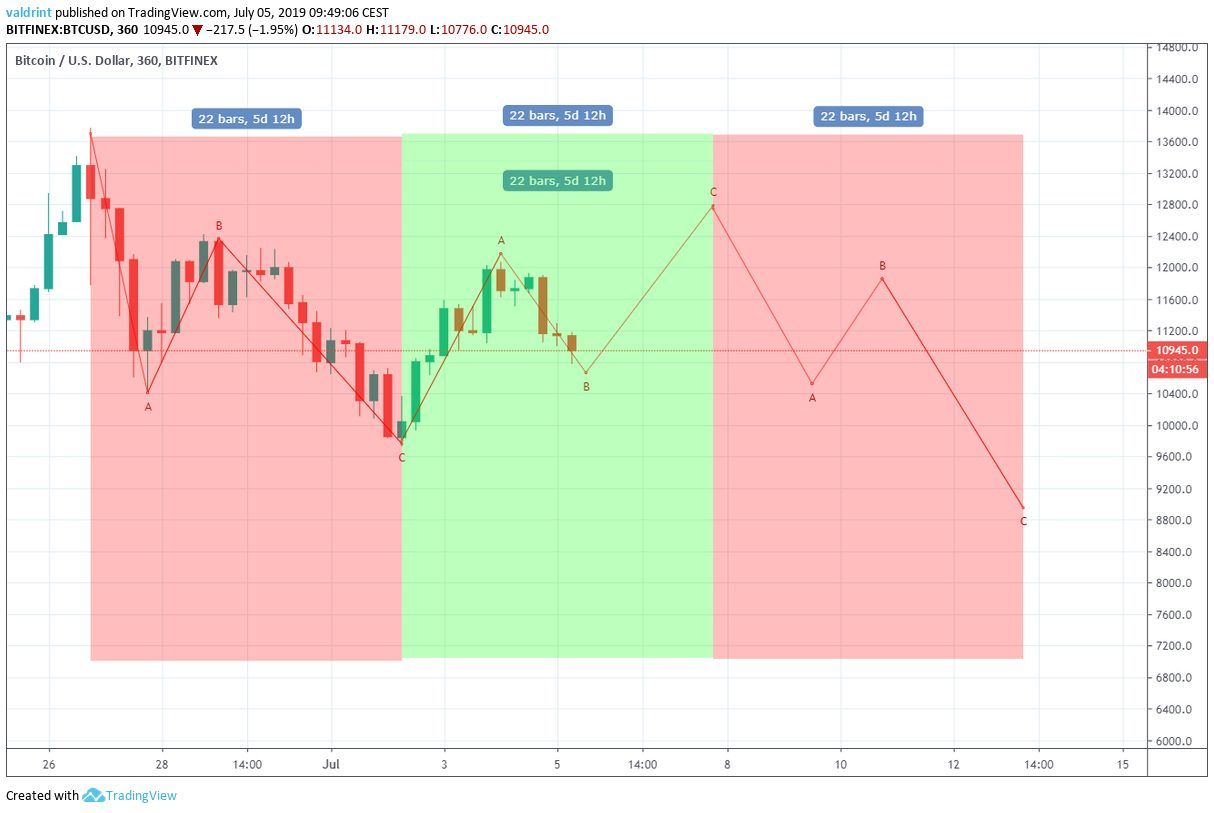 The first wave took five and a half days to complete. If we make the assumption that the other two waves will have a similar length (customary in W-X-Y corrections) then we should soon make a final short wave upwards towards $13,000 before continuing the downtrend. However, this is a rough outline of how things might play out. It is possible that the X wave was shorter and has already been completed and now we will resume the downtrend without more upside. The takeaway here is that we likely have not finished the correction yet. Any gains are likely to be short-term increases within a longer downtrend.
Candlestick Analysis
The daily candle for July 2 was a bullish hammer. It was followed by a bullish engulfing candle, which indicated that a new uptrend may begin.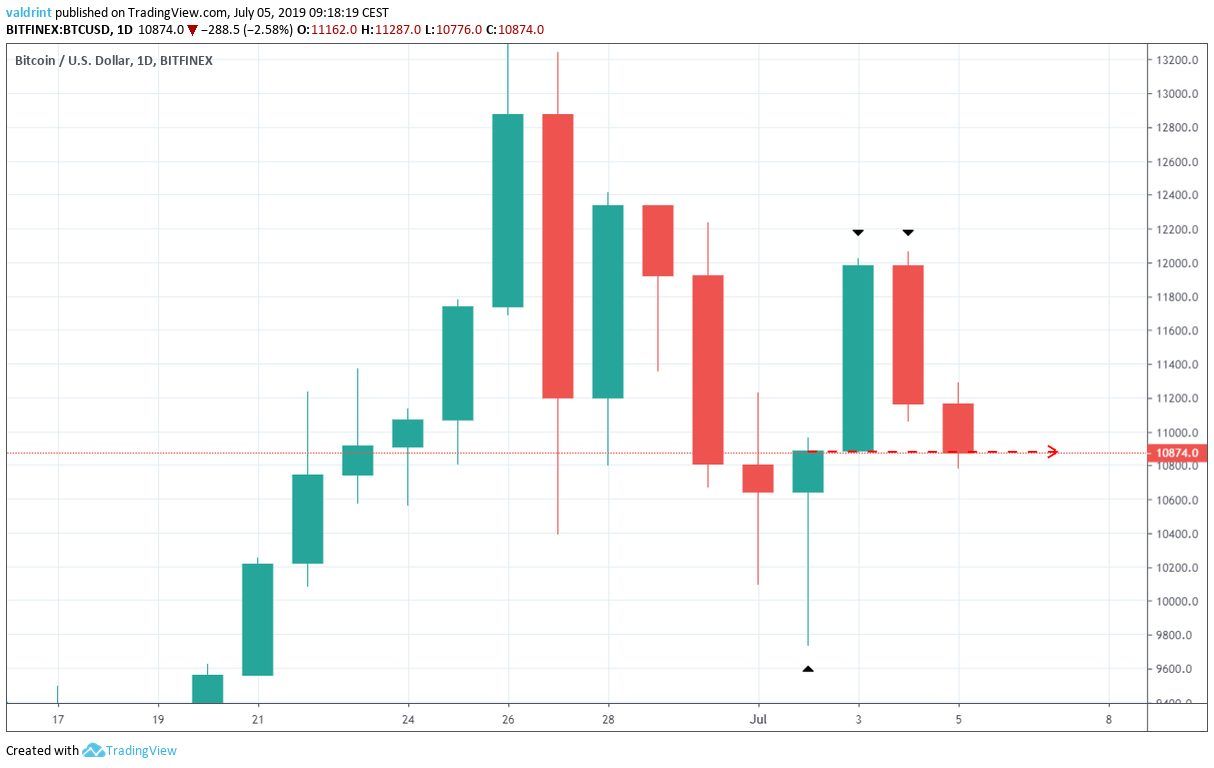 However, we have been decreasing since. The candle for July 4 was bearish, yet it was contained within the body of the previous bullish candle. We have been continuing the decrease on July 5. A close below $10,800 would likely act as confirmation that the correction will continue. Additionally, we can see that the BTC price is trading below the 10-day MA, facing very close resistance from it.
However, it has found support above the 20-day MA. It is worth noting that even during the decrease on July 2, the Bitcoin price did not close below the 20-day MA. Rather, when it reached values below it, it immediately began an upward move. A close below it would further act as confirmation that the X wave has ended and we will continue the downward Y wave.
Summary
The price of BTC recently broke down from an ascending wedge. It is likely in the process of completing a W-X-Y downtrend. The relationship between price and moving averages should be a viable predictor of whether the recent gains will continue and the wave in which we are currently in.
Do you think the Bitcoin price has finished its correction? Let us know in the comments below.
---
Disclaimer: This article is not trading advice and should not be construed as such. Always consult a trained financial professional before investing in cryptocurrencies, as the market is particularly volatile. 
Images are courtesy of Shutterstock, TradingView.
Disclaimer
In line with the Trust Project guidelines, this price analysis article is for informational purposes only and should not be considered financial or investment advice. BeInCrypto is committed to accurate, unbiased reporting, but market conditions are subject to change without notice. Always conduct your own research and consult with a professional before making any financial decisions.