PayPal has announced that its customers will soon be able to carry out crypto transactions with its 26 million merchants.
In a statement released on Oct 21, the payments giant revealed that it will enable crypto payments on its network in early 2021.
The service, which will enable PayPal users to buy, hold, and sell cryptocurrency directly from their PayPal accounts is the result of a partnership with the Paxos Trust Company. PayPal has also received a first-in-category conditional Bitlicense from the New York Department of Financial Services (NYDFS).
Interestingly, PayPal also cites the inevitability of a shift to digital forms of currency such as Central Bank Digital Currencies (CBDCs) as a reason behind the new service.
BREAKING: PayPal is announcing today that you will be able to buy, sell, and shop with Bitcoin and crypto on their platform.

Game on! pic.twitter.com/m2Lais8oub

— Pomp 🌪 (@APompliano) October 21, 2020
How It Will Work
According to PayPal, U.S. account holders will initially be able to buy, sell, and hold Bitcoin, Litecoin, Ether, and Bitcoin Cash directly within their platform digital wallet. Payments made across the PayPal network using cryptos will however be settled in their fiat equivalent.
While this is by no means a disruptive technology within the crypto space, what does set it apart is PayPal's vast reach – at last count more than 346 million accounts globally, with over $222 billion worth of payments processed in Q2 2020 alone.
The company noted that taking advantage of its sheer scale to push cryptocurrency adoption would help provide a trusted entry point for new crypto users.
An excerpt from the statement reads:
"Our global reach, digital payments expertise, two-sided network, and rigorous security and compliance controls provide us with the opportunity, and the responsibility, to help facilitate the understanding, redemption and interoperability of these new instruments of exchange."
This PayPal news is the biggest news of the year in crypto. All banks will now be on a race to service crypto. We have crossed the rubicon people. Exciting day. 🔥🔥🔥🔥🔥🔥🔥🔥 https://t.co/hXpiJEDOb3

— Mike Novogratz (@novogratz) October 21, 2020
Bitcoin Flies on the PayPal News
Bitcoin broke a one-year high following the news, trading just short of the $12,800 handle. At press time, the alpha crypto was up some 7%: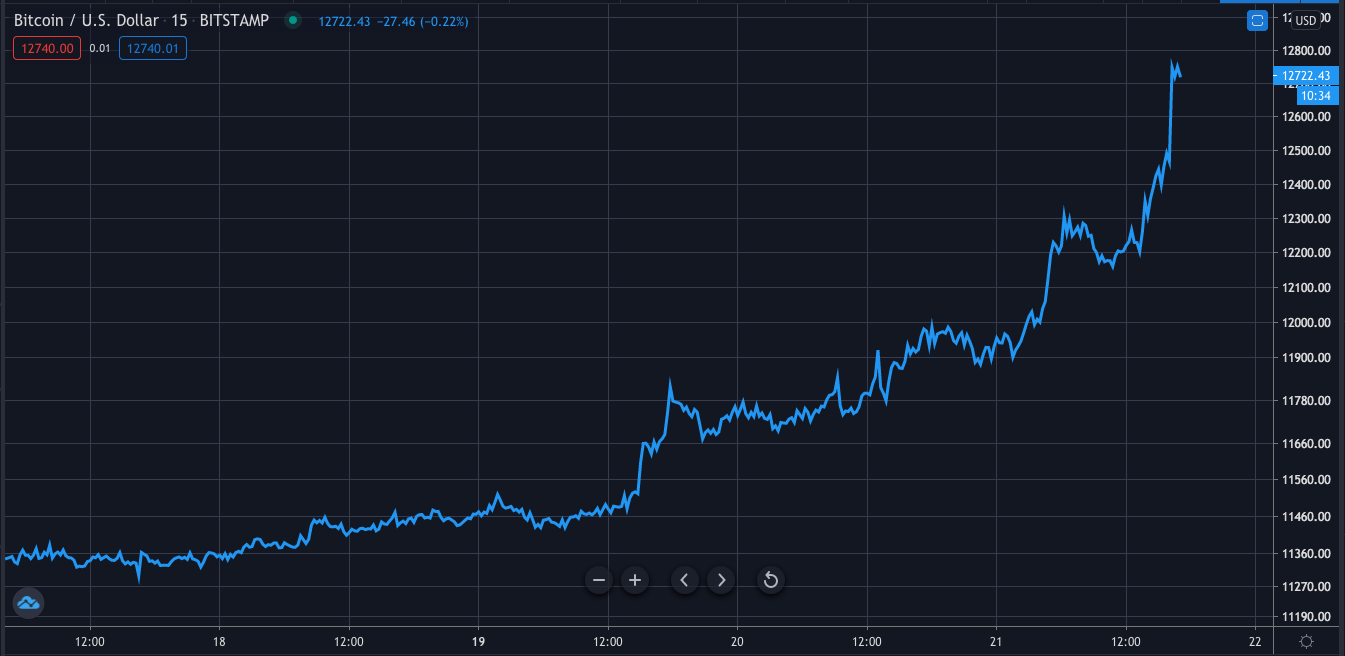 According to the statement, PayPal believes that digital currencies, especially CBDCs are the future. In 2019, PayPal became a founding member of Facebook's Libra crypto project before later pulling out.
The company may be pre-empting a collaboration with central banks on their CBDC efforts as a long-term strategy. In an interview with Reuters, President and Chief Executive Dan Schulman alluded:
"We are working with central banks and thinking of all forms of digital currencies and how PayPal can play a role."
Unlike its smaller competitors like Square and Robinhood which already offer crypto sale and purchase services, PayPal is likely betting its huge size will significantly push the needle of global cryptocurrency adoption forward.
Disclaimer
The information provided in independent research represents the author's view and does not constitute investment, trading, or financial advice. BeinCrypto doesn't recommend buying, selling, trading, holding, or investing in any cryptocurrencies