Bitcoin miners saw a further decline in mining profitability in February as Ethereum miners saw a 17% increase in revenue over miners of the digital gold. 
February proved to be a difficult month for Bitcoin miners. According to BeInCrypto Research, miners were able to generate around $1.06 billion in revenue during the second month of 2022.
Although this may be seen as impressive when compared to the mining revenue of other cryptocurrencies, the total mining revenue of Bitcoin and Ethereum for February took a massive hit. The total revenue for February was down $380 million compared to January 2022, a staggering 14% decrease in mining revenue.
Mining Revenue Decreasing from 2021
The total profitability of Bitcoin mining over the past year was down 21% since February 2021, which saw $1.36 billion in revenue recorded.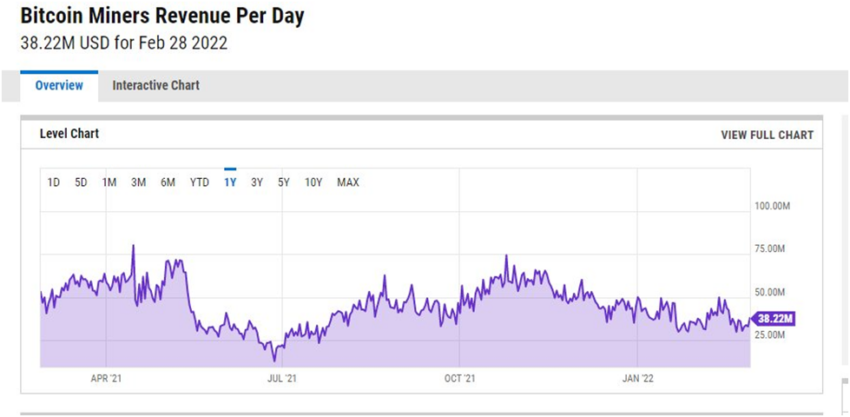 Bitcoin Miners Single Day High Plunged by More than $10 million
In January 2022, the single-day high on revenue for Bitcoin Miners was $60.16 million. The single-day high on revenue for Bitcoin Miners in February 2022 was 16% lower than the best day high in the first month of the year. The single-day high for February 2022 was $50.02 million, according to BeInCrypto Research.
Ethereum Continues to Surpass Bitcoin Mining
Although Bitcoin miners managed to generate $1.06 billion in February revenue, Ethereum miners managed to generate $1.25 billion. Following in the footsteps of Bitcoin, mining revenue decreased by 14% from January 2022.
January 2022 saw Ethereum mining brings forth total revenue of $1.47 billion. Ethereum mining also saw a year-on-year monthly decrease for February. February 2021 saw $1.39 billion in revenue recorded, with 2022's figure decreasing by 10%.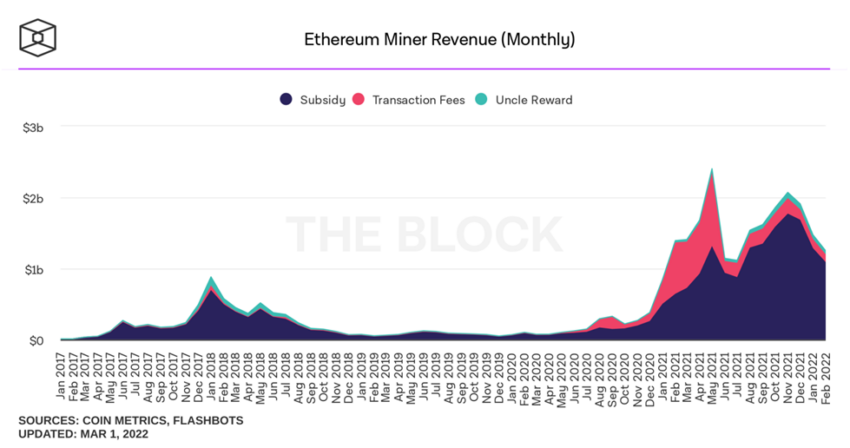 Miners Still Prefer Ethereum
As of March 2022, Bitcoin is still the most popular and largest cryptocurrency by market capitalization. However, based on the mining statistics provided by BeInCrypto Research, Ethereum remains the clear favorite for several miners. Before the mining revenue decline of February, January 2022 saw Ethereum mining revenue outpace Bitcoin by 20%. In addition to this, Ethereum mining revenue surpassed Bitcoin's by 32% in December 2021, with Ethereum a clear favorite in February 2022, with 17% more revenue than Bitcoin.
What Caused the Tumble in Mining Revenue?
To understand the tumble in mining revenue, we should discuss how mining revenue is calculated. Miner revenue is calculated by taking the price of a coin (in this case BTC and ETH) at its trading price in a given period multiplied by the number of coins earned in the same period. 
Decreasing cryptocurrency prices caused by tensions in the developing conflict between Ukraine and Russia can be credited as the primary attribute for the drop in mining revenues for February.
Bitcoin opened in February at $38,841.77. The crypto trading asset reached a monthly high of $45,661.17 on Feb. 10. BTC finally felt the effects of Russia's invasion of Ukraine on Feb. 24 and reached a one-month low of $34,459.22. On the day, there was huge selling pressure which was evident in the trading volume of $46 billion.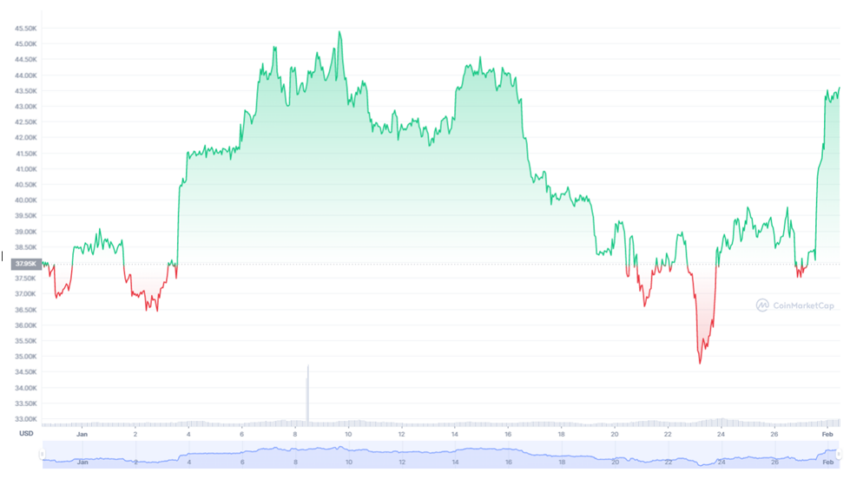 Overall, the number of days BTC traded below $40,000 was relatively higher than the number of days that it traded above $40,000.
According to BeInCrypto Research, Ethereum opened in February with a trading price of $2,687.90. The second-largest digital asset by market capitalization reached a monthly high of $3,271.32 on Feb. 10. Like Bitcoin and other digital currencies, ETH plunged to a month low of $2,308.91 on Feb. 24 (the day Russia invaded Ukraine). On the day, there is a bearish engulfment of the market which saw ETH record a month high trading volume of $29 billion.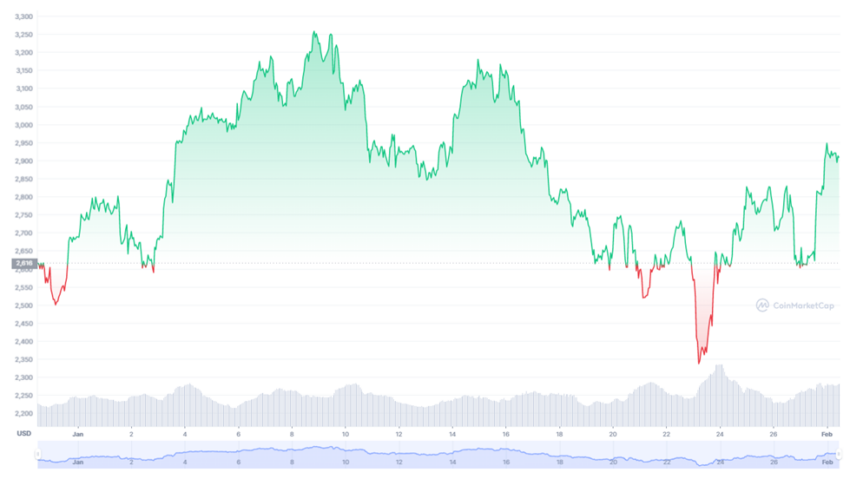 Overall, the number of days Ethereum traded above $3,000 was relatively less than the number of times it traded below $3,000.
Drawing inferences from how to calculate mining revenue, there was a tumble in mining revenue for BTC and ETH because the number of coins earned could only be multiplied by falling digital asset prices.
Disclaimer
All the information contained on our website is published in good faith and for general information purposes only. Any action the reader takes upon the information found on our website is strictly at their own risk.