The full tweet comparing both movements is presented below:
This current structure reminds me of 2015/2016 when Bitcoin did a 2.5x from the bottom followed by 6 months of sideways

Then out of nowhere an almost 2x in price as Bitcoin slowly trended up to new highs

One thing is for sure, I don't want to see that $9k support break pic.twitter.com/4JnYFAtLvT

— Josh Rager 📈 (@Josh_Rager) September 6, 2019
According to Josh, this move is conditional on the price not breaking $9000 any time soon. A break below this level would likely invalidate this fractal and signify further price decreases ahead.
The comparison is described in three stages:
Initial upward move
Consolidation
Second upward move
Initial Upward Move
The original upward move began on August 19, 2015. While the price did reach a low of $168, this analysis is considering the price close of $195 as the actual low.
The move lasted 78 days and the price increased by 112%, reaching a closing price of $409 on November 4.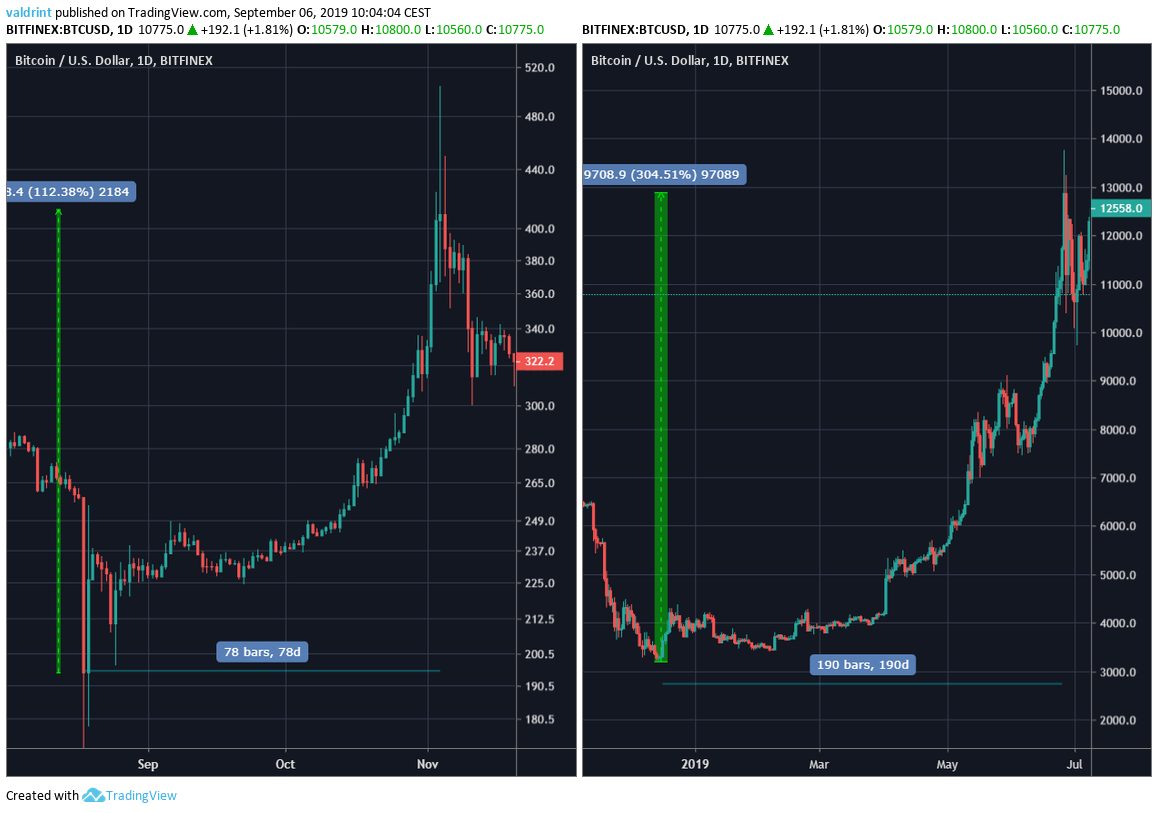 The 2019 move lasted 190 days — 2.43 times longer.
Additionally, measuring from a low of $3276, the price increased by 304%.
Analyzing the first part of these moves shows us that while the actual movement has been almost identical, the more recent action was stronger and took longer to materialize.
Consolidation
The second phase displayed clear consolidation.
In the 2015 movement, the price consolidated for about 200 days before finally breaking out.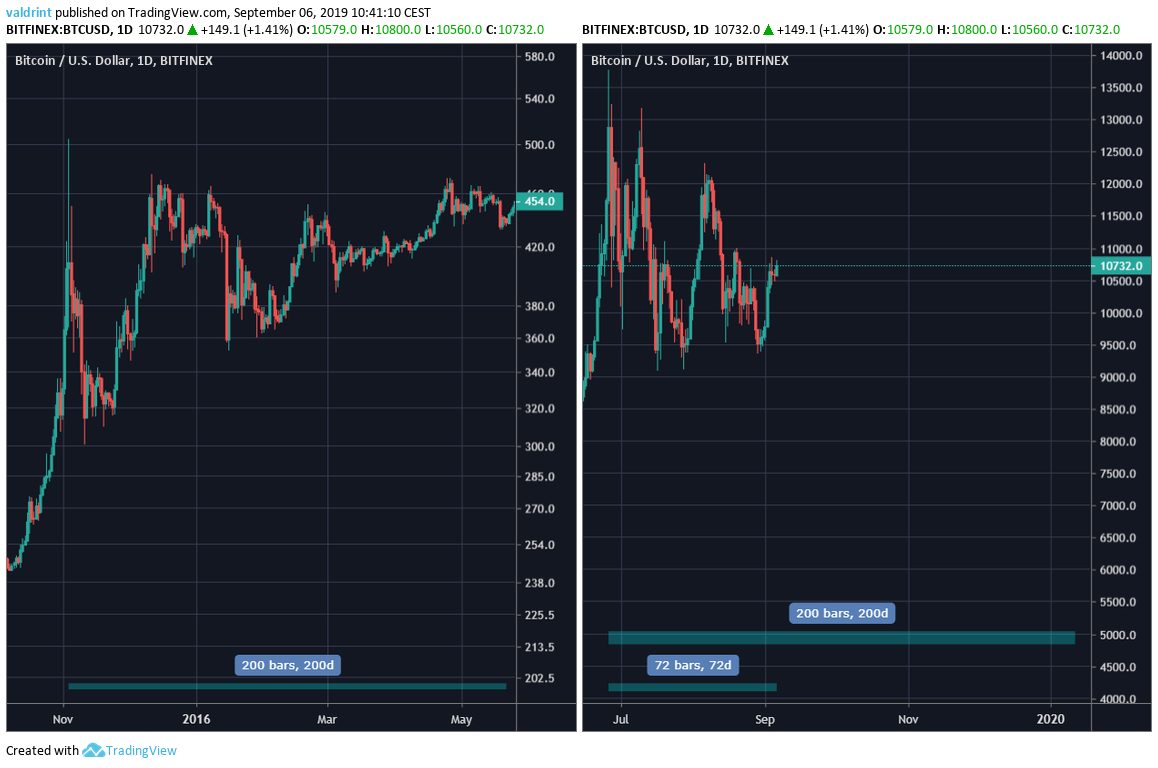 At the time of writing, Bitcoin is in day 72 of consolidating.
If we follow the previous pattern, we will continue to consolidate until January of 2020 before breaking out.
However, the movements are not identical.
In 2015 the price created a resistance area near $450, where the first upward move ended and tried to break out above throughout the consolidation period.
On the contrary, in the current movement, the price has created a support area between $9000 and $9400 — a level that it has tested three times in the past two months.
Second Upward Move
Once the price broke out in the previous fractal, it initiated a very rapid upward move.
Afterward, BTC increased by roughly 80% in a span of only 25 days.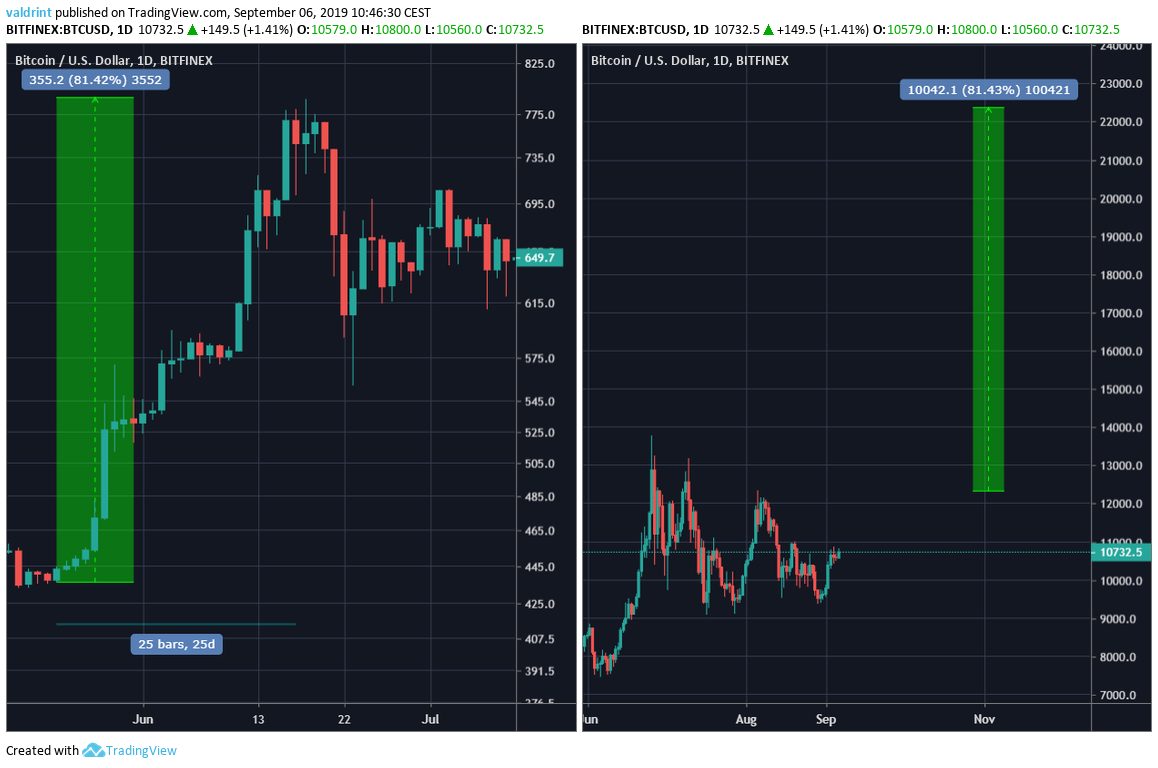 If the same percentage increase happens for the current action, BTC could reach a new all-time high, depending on when the price breaks out.
Summary
Since reaching a low of $3324 in December of 2018, the BTC price movement has shared similarities with patterns in 2015.
If the price continues following this pattern, it may reach a new all-time high in early 2020.
When do you think the BTC price will reach a new all-time high? Let us know your thoughts in the comments below.
Buy and trade cryptocurrencies with a 100x multiplier on our partner exchange, StormGain.
Disclaimer: This article is not trading advice and should not be construed as such. It is for educational purposes only and represents the typical trades the author would make himself. Always consult a trained financial professional before investing in cryptocurrencies, as the market is particularly volatile.
---
Do you want to BeInCrypto? Join our Telegram Trading Community for exclusive trading signals, educational content, discussions and project reviews! Images courtesy of Shutterstock, Trading View and Twitter.