CME Group is a global market company that is the owner of options,
futures
and derivatives exchanges in both New York and Chicago. In December 2017, it launched the futures market for BTC and has announced options trading for launch in
Q1 of 2020.
In the CME futures chart, the
Bitcoin
price has a gap at $11,700 which has yet to be filled. We do not believe that it is likely to be filled in the short-term. In the long-term, it is possible that the gap acts as the reversal point after the price eventually breaks out from the current wedge.
Cryptocurrency trader and analyst
@JacobCanfield
stated that there is a gap left unfilled.
We still have a gap on the #bitcoin CME chart at $11,700.

— Jacob Canfield (@JacobCanfield) October 18, 2019
However, he did not specify any ramifications this might have for future price action. We are going to discuss that below.
Types Of Gaps
Common Bitcoin Price Gaps
A common gap is a relatively frequent occurrence that does not have significant implications for the ensuing price movement. These types of gapes are very common when the Bitcoin price is trading inside a defined structure. Additionally, they are not big in size and often are filled in a short period of time. The gap outlined by Jacob Canfield is shown by the white arrow. As we can see below, it is yet to be filled.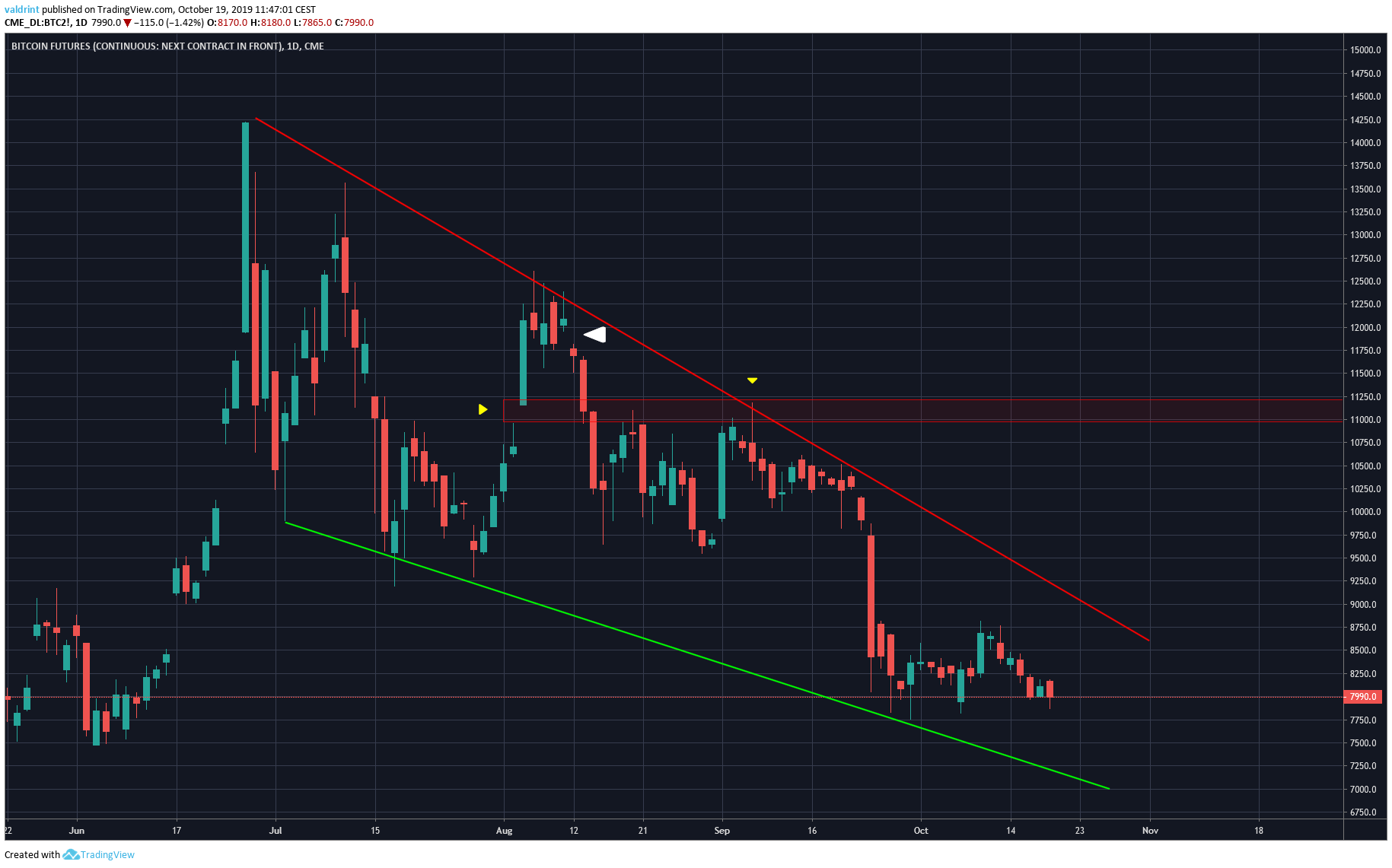 An example of a common gap that was filled is shown by the yellow arrow on August 7. After a gap is created, often the price returns to this level and fills the gap. On September 4, the Bitcoin price filled this gap and confirmed this area as resistance.
Continuation Gaps
Continuation gaps occur in the middle of an existing trend. They often indicate a continuation of said trend. An example of one such gap is on May 15. The Bitcoin price was moving upwards before the gap appeared and the price enjoyed a rapid increase afterward. This gap was filled by the long lower wick on May 20, a very bullish sign.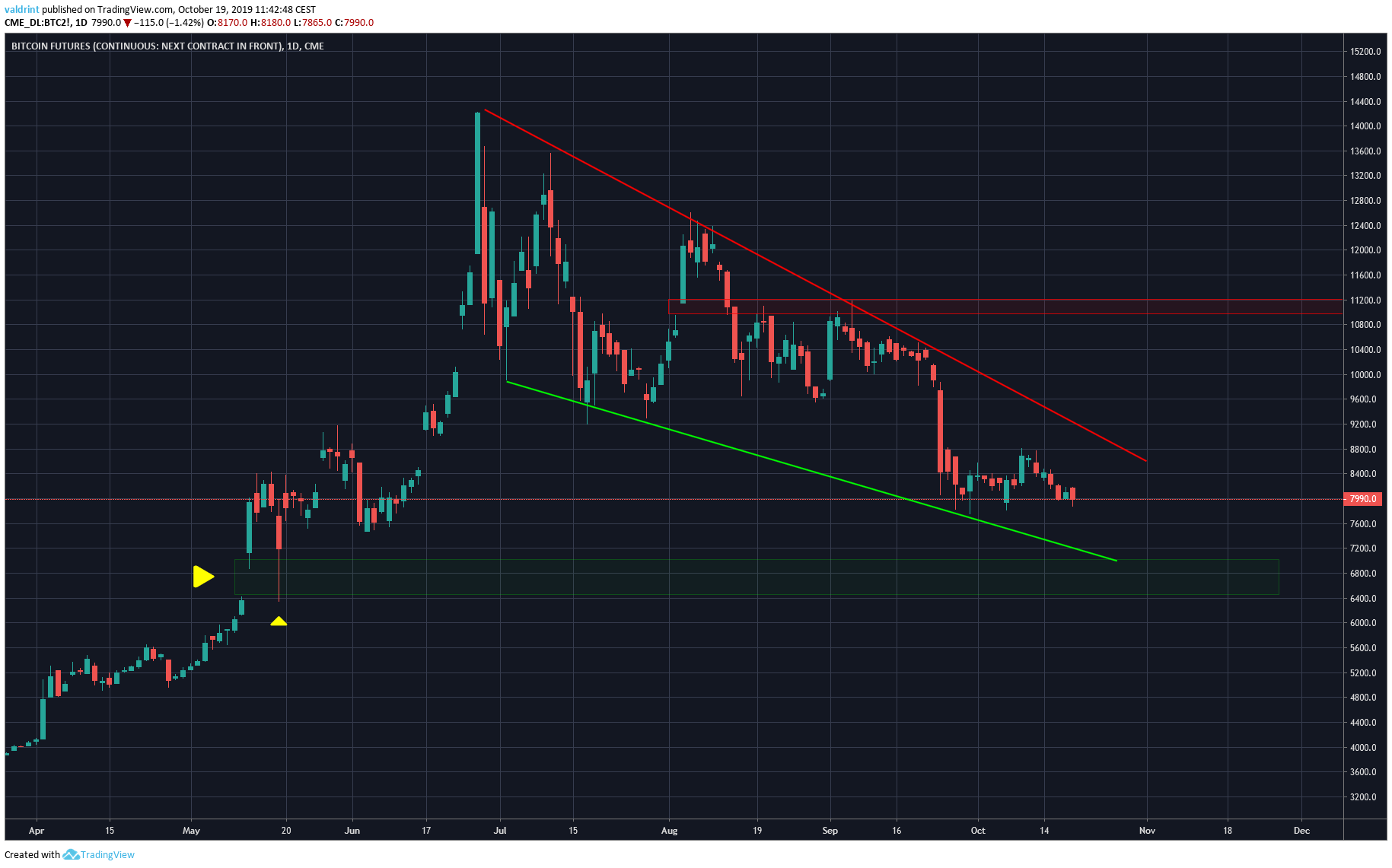 This is likely to reiterate the strong support slightly below $7000. Looking at volume during these respective gaps, we can see that it was significantly higher in the continuation one than rather than on common gaps.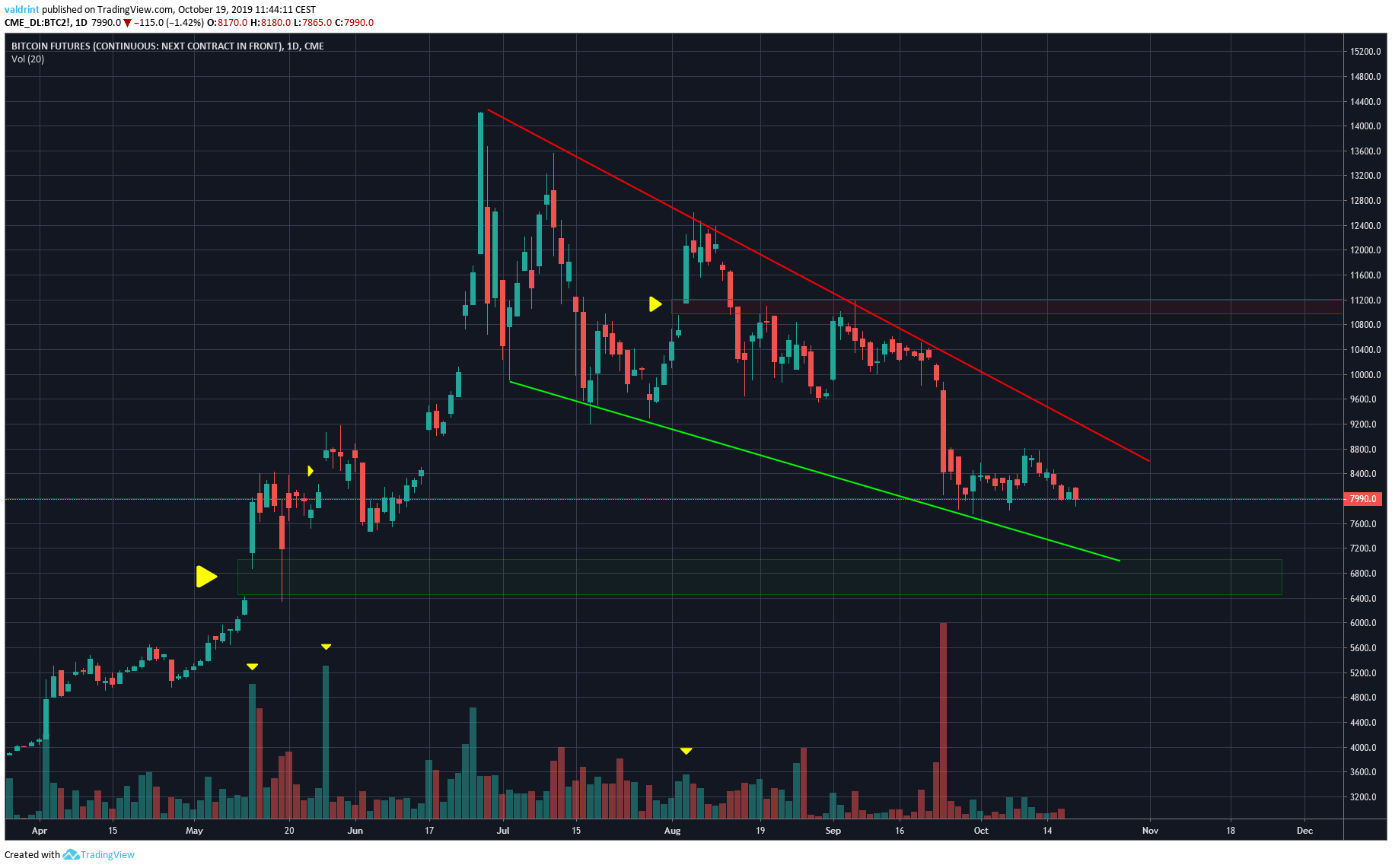 This is common since continuation gaps have more significance in price movement. Therefore, the $11,700 gap pointed out by Jacob Canfield is unfilled. We are not certain that it will get filled in the near-term future. However, it is possible that after the eventual breakout from the current wedge, the gap serves as resistance and reverses the price once it gets filled.
Do you think the $11,700 gap will get filled? Let us know in the comments below.
Disclaimer: This article is not trading advice and should not be construed as such. Always consult a trained financial professional before investing in cryptocurrencies, as the market is particularly volatile.
Disclaimer
BeInCrypto strives to provide accurate and up-to-date information, but it will not be responsible for any missing facts or inaccurate information. You comply and understand that you should use any of this information at your own risk. Cryptocurrencies are highly volatile financial assets, so research and make your own financial decisions.