BeInCrypto takes a look at on-chain indicators for Bitcoin (BTC), more specifically the Exchange Net Position Change and the portion of BTC held by large accounts.
The Exchange Net Position Change indicator measures whether there is an inflow or outflow of BTC in accounts linked to exchanges. During market cycle bottoms, there is usually a large outflow from such accounts, since holders purchase coins and transfer them to cold storage. On the other hand, there is usually an inflow during significant price rallies as long-term holders take profit. 
In the current bull market, which began in 2020, there are three main periods of inflows that are worth discussing.
The first (black circle) occurred in August 2020, right as BTC broke out above the $11,000 resistance area. At first, there were significant inflows, but the indicator fell to outflows shortly afterward (red circle). This likely transpired due to renewed conviction in the market after the rally became stronger. 
The second instance (yellow) was much smaller and transpired after BTC just reached a new all-time high above $20,000. There was a small amount of profit-taking before net positions returned to outflows once again.
The third time (blue) was the largest, and investors took considerable profit after what seemed like a market cycle top. Unlike the previous two, this occurred when the price was falling.
So far, the current change looks to be mirroring the second period (yellow), since BTC just broke above an all-time high, and the indicator has seemingly turned to outflows again.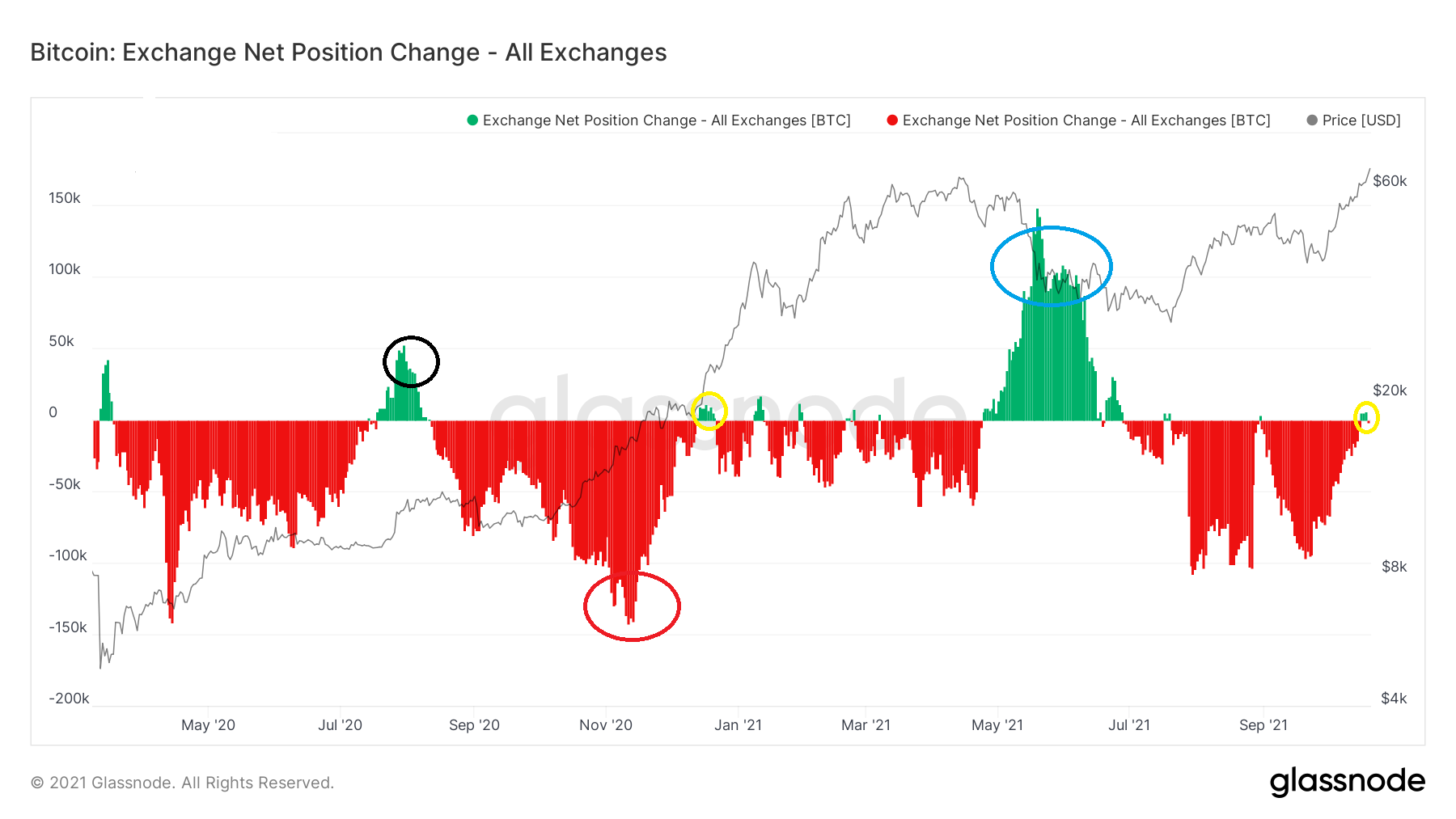 BTC accounts
The CIO of Moskovski Capital, Lex Moskovski tweeted a chart that shows the supply held by balances between 100 and 1000 BTC.
The number has been steadily increasing since February 2021 and reached a new all-time high in October.
Interestingly, the supply held by such accounts did not fall at all during the May/June crash. On the contrary, it stayed steady, showing strong conviction in the market by large accounts.
This means that large accounts are still accumulating, and the inflows are likely a result of small accounts.
For BeInCrypto's latest Bitcoin (BTC) analysis, click here.
Disclaimer
BeInCrypto strives to provide accurate and up-to-date information, but it will not be responsible for any missing facts or inaccurate information. You comply and understand that you should use any of this information at your own risk. Cryptocurrencies are highly volatile financial assets, so research and make your own financial decisions.