Major cryptocurrency exchange Binance appears to have U-turned on its previous refusal to support DigiByte (DGB) trading.
It's quite a surprise to see Binance suddenly list DigiByte, given the considerable animosity that exists between DGB's founder and Binance CEO
Changpeng Zhao
.
DigiByte
founder, Jared Tate, has been a vocal critic of the way the exchange does business since its inception in 2017. Binance's sudden reversal to list follows an announcement that Tate would be stepping down from the DGB project. The entire episode suggests that Binance's refusal to offer DigiByte trading was based entirely on personal reasons.
Binance to Finally Support DigiByte Trading
Binance
announced that it would
offer DGB trading
via a post to its blog earlier today. The update explained that trading would go live at 14:00 UTC. However, deposits were accepted before launch.
#Binance Lists @DigiByteCoin $DGBhttps://t.co/0jbSOw9Izn pic.twitter.com/CFJHMSJSxy

— Binance (@binance) June 22, 2020
According to the post, the project paid no fees for the listing despite the previous sticking points. On launch, DigiByte will trade against Binance Coin (BNB), Bitcoin (BTC), and the exchange's own stable coin, BUSD.
The Beginnings of Bad Blood
Binance's sudden listing comes as a massive surprise for those following the saga. Over the years, Tate has been a vocal critic of most centralized exchanges and the way they do business. He claims that platforms like Binance favor short-term profits over the longevity of the industry. The relationship between Zhao and Tate has been a frosty one, to say the least. The DGB founder attacked Binance in October 2018 following the announcement that the exchange would be donating all listing fees to its own charity organization:
Binance is donating 100% of the new bribes <cough> "listing fees" it receives to its newly created internal "charity" – which I assume is down the hall from the Pump & Dump Division, seated next to the Wash Trading team."
Irked by suggestions of corruption and manipulation, Zhao shot back by claiming that it was Tate who had stood in the way of the DigiByte listing. Stating that "it's not [Binance] that's to blame," he expressed sympathy for those who had tried honestly to get DGB listed.
The Twitter Sparring Continues
This prompted Tate to take to Twitter the same evening to "set the record straight." In a series of tweets, the DGB founder presented his side of the DigiByte listing debacle. Tate claimed that DigiByte won "several Twitter polls" run by the exchange in 2017. He also claimed that Binance had "promised" the team a listing on numerous occasions. Tate followed that up by explaining that DigiByte was unable to come up with the demanded listing fees since DigiByte did not launch with a pre-mine or initial coin offering-style fundraiser. In the time between Binance's fee donation announcement and Tate's Twitter thread, it appears that an exchange took place between Zhao and an unnamed DGB team member. According to a private screenshot message, Zhao demanded a public apology from "the core members who made those comments." Tate was unable to personally respond since he claimed that Zhao had already blocked him on Twitter by that point.
The Beef Intensifies
Fast forward another 12 months, and the DigiByte listing drama reared its ugly head once again. On September 20, 2019, Tate claims to have had an exchange with the Binance team a few weeks earlier. He tweeted:
"They wanted $300,000 and 3% of all DGB for "insurance for their customers against blockchain hacks & defects" to list DGB. Told them that is not possible with a truly decentralized blockchain like DigiByte."
Later that day, Changpeng Zhao hit back again. Responding to long-time cryptocurrency industry observer Tommy Mustache (@MustacheTommy). Zhao
tweeted
:
"I think he specifically does NOT want DGB listed on Binance. Not gonna waste any time on these types of guys. There are more interesting things to do in life. Moving on…"
The following day, Tate still felt it prudent to explain his opinion on centralized exchanges like Binance. In a video message posted to Twitter, the DGB founder claimed to have no problem with regulated exchanges that provided fiat-crypto on-ramps for newcomers. He added:
"I am, however, opposed to centralised exchanges continuing to operate in an unethical and shady manner, while continuing to disrespect the DigiByte community and everything decentralised blockchain stands for."
He went on to criticize the cryptocurrency industry for putting short-term financial gains over the development of the wider industry. He added that he finds such behavior as "disgusting" and believes it encourages actors to continue creating questionable investment vehicles, rather than advancing the technologies themselves. As BeInCrypto reported in December 2019, Tate took his criticism of Zhao to the next level. Posting the Bitcoin Whitepaper on Twitter, he again
attacked centralized exchanges
like Binance, stating that this wasn't what Bitcoin founder, the still anonymous Satoshi Nakamoto, would have wanted for the industry.
Tate Steps Away From DigiByte
The incidents of the last few months haven't changed Tate's opinions on the direction of the cryptocurrency industry. In fact, last month, he announced that he would step down from duties at DigiByte. In a lengthy Twitter thread, he outlined the
most important lesson
he had learned over his eight-year tenure in the industry. According to Tate, "greed is the fundamental driving force in crypto". He claims that
this greed hinders the broader adoption
of digital currencies and that he'll be taking a break from the "emerging crypto status quo" to focus on other projects. He wrote:
"But for [cryptocurrency] to last well into the future those who profit the most from it should help contribute back to the development & growth of a sustainable long term decentralized blockchain. As of today unfortunately that's not the case."
Changpeng's Sudden Change of Heart
Just over a month since Tate announced his departure, Zhao appears to have had a sudden change of heart. With Tate seemingly out of the picture, the CEO apparently no longer has the same reservations about the project, as evidenced by today's news.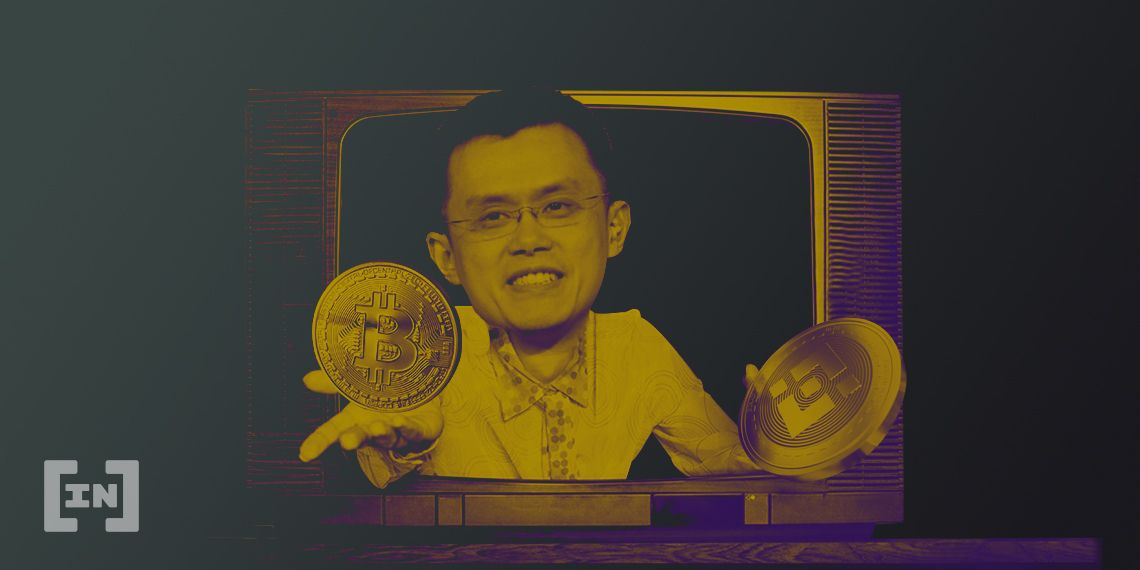 Lending additional support to this ego grudge-match is the fact that DogeCoin
was quietly listed at Binance
without a fee. Doge also had no pre-mine or hefty
ICO
funding but was nevertheless given the greenlight. Interestingly, some have alleged that Binance, as a controller of considerable
cryptocurrency mining
hash power, may be looking to mine DigiByte. According to an official blog post, the exchange
launched its own mining pool
at the end of April. However, despite
an increase in the DigiByte's hash rate
of late, there's been no official announcement that Binance Pool miners will be able to mine it. At least for now.
Disclaimer
All the information contained on our website is published in good faith and for general information purposes only. Any action the reader takes upon the information found on our website is strictly at their own risk.
A former professional gambler, Rick first found Bitcoin in 2013 whilst researching alternative payment methods to use at online casinos. After transitioning to writing full-time...
A former professional gambler, Rick first found Bitcoin in 2013 whilst researching alternative payment methods to use at online casinos. After transitioning to writing full-time...
READ FULL BIO
Sponsored Sponsored