Binance Pool will grant $500 million in loans to support the bitcoin mining industry. It also plans to launch cloud mining products and is looking for cloud mining vendors.
Crypto giant Binance has announced $500 million in funds for a miner lending project, with the goal of supporting bitcoin mining. The announcement, made on Oct. 14, says that Binance Pool would be supporting the mining industry and that it was also looking for cloud mining vendors.
Binance Pool believes that the funds would help keep the ecosystem healthy. The announcement reads,
"As one of the world's leading crypto mining pools, Binance Pool has a responsibility to help maintain a healthy digital asset ecosystem. In light of current market conditions, Binance Pool is launching a $500million lending project to support crypto miners and digital infrastructure providers."
The project focuses on providing secure debt financing services to both public and private blue-chip bitcoin (BTC) mining and digital asset infrastructure companies globally. Eligible borrowers would receive funds for an 18 to 24-month term, with interest rates ranging from 5% to 10%.
With respect to cloud mining vendors, Binance is looking to launch products related to cloud mining. Binance wishes for cloud mining vendors to work with it, as the cloud mining hash power will be directly purchased from BTC mining and digital infrastructure providers.
More firms entering the bitcoin mining industry
Bitcoin mining is becoming popular among prominent companies and even state-owned entities. Metaplanet, which Skype co-founder Jaan Tallinn is associated with, invested in crypto hardware tech firm Fabric Systems. The latter aims to build energy-efficient bitcoin mining hardware.
Crypto software and services company Luxor now also allows traders to bet on future mining revenue. The commodity being traded is called hashprice, and it is derived from hashrate revenue. Grayscale has also launched a new mining-related investment opportunity.
Meanwhile, Argentina's state-owned energy company YPF is offering power to an international crypto mining company. It is a pilot with the goal of sustainability.
Mining hashrate and difficulty spike
The bitcoin mining industry has not had the worst year, considering the crypto winter the market has experienced. Mining difficulty reached an all-time high this year, with the difficulty increasing by 13.5% in recent weeks. The network difficulty is 35.61T, compared to 19.8T a year ago.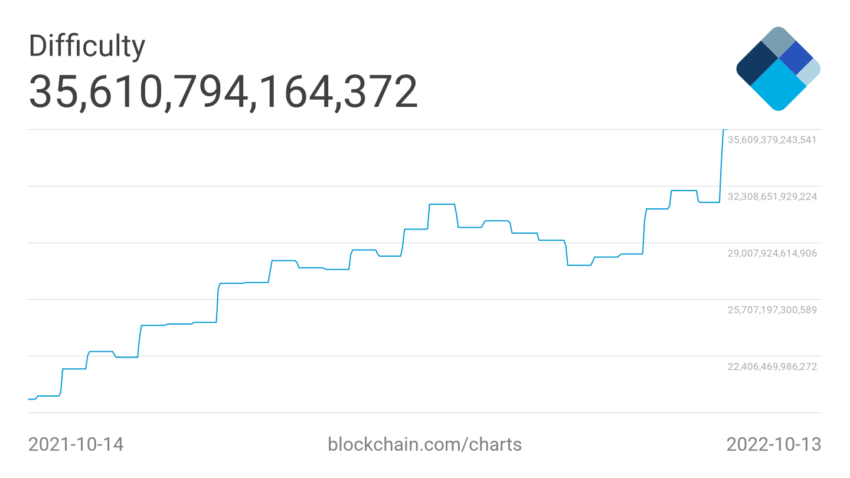 Higher difficulty values mean more miners are getting on board. This indicates optimism for the network and offers better network security. However, the amount of bitcoin held in reserve by mining companies has fallen to its lowest since February 2010, according to IntoTheBlock.
Disclaimer
BeInCrypto has reached out to company or individual involved in the story to get an official statement about the recent developments, but it has yet to hear back.