The purchaser of the infamous Beeple NFT-art collection, hosted by world-famous auction house Christie's, is revealed as two India-based crypto-millionaires.
"We Weren't Sure We Won" Beeple
Metakovan, the pseudonymous digital-art buyer who spent $69.3 million purchasing the Beeple non-fungible token collection, revealed itself as two cryptocurrency traders from India.
The two traders, named Vignesh Sundaresan and Anand Venkateswaran, described the final moments of the auction, hosted by Christie's, as "nerve-racking", the Daily Mail reported. He told the Daily Mail that:
"We weren't sure we won. We kept refreshing the page."

Anand Venkateswaran
Revealingly, Venkateswaran admitted the pair were entirely clueless as to the outcome of the auction, having realized their bid for the Beeple collection might be the highest.
After realizing their success, the pair decided to remain anonymous as Metakovan for a while. They needed to come to terms with their victory.
In fact, the record figure unsurprisingly triggered a spate of conspiracy theories associated with the pair (then only known as Metakovan). This included being part of a global publicity stunt aimed at propelling the NFT hype to higher heights.
Auction Houses Embrace NFTs
Indeed, several players in the global mainstream art-world are contributing to this hype. It was Christie's, the world's most famous auction house that hosted the now-infamous Beeple sale.
This followed their revelation in February that they would start accepting cryptocurrencies as payment.
Furthermore, another famous auction house, Sotheby's, will host a series of NFT-art auctions later this year. The sales include works by the anonymous crypto-artist, Pak.
Speaking about the plans, Sotheby's Chief Executive Officer, Charles Stewart, said in an interview with CNBC:
"It's still very early with crypto art in general, but there's a lot here that's really exciting and we think has staying power."

Charles Stewart – Chief Executive Officer – Sotheby's
Steward also alluded to the future of the veteran auctioneer's involvement in the space, suggesting many "surprises" are on the way.
Cooling Off or Heating Up?
The Metakovan reveal comes amidst a surge in popularity for the NFT-art space. Indeed, all manner of organisations from Taco Bell to AP News, and even several celebrities, are tapping into this popularity.
General public interest surges as a result. Google searches for the term "NFT" recently overtook that of both "cryptocurrency" and "blockchain".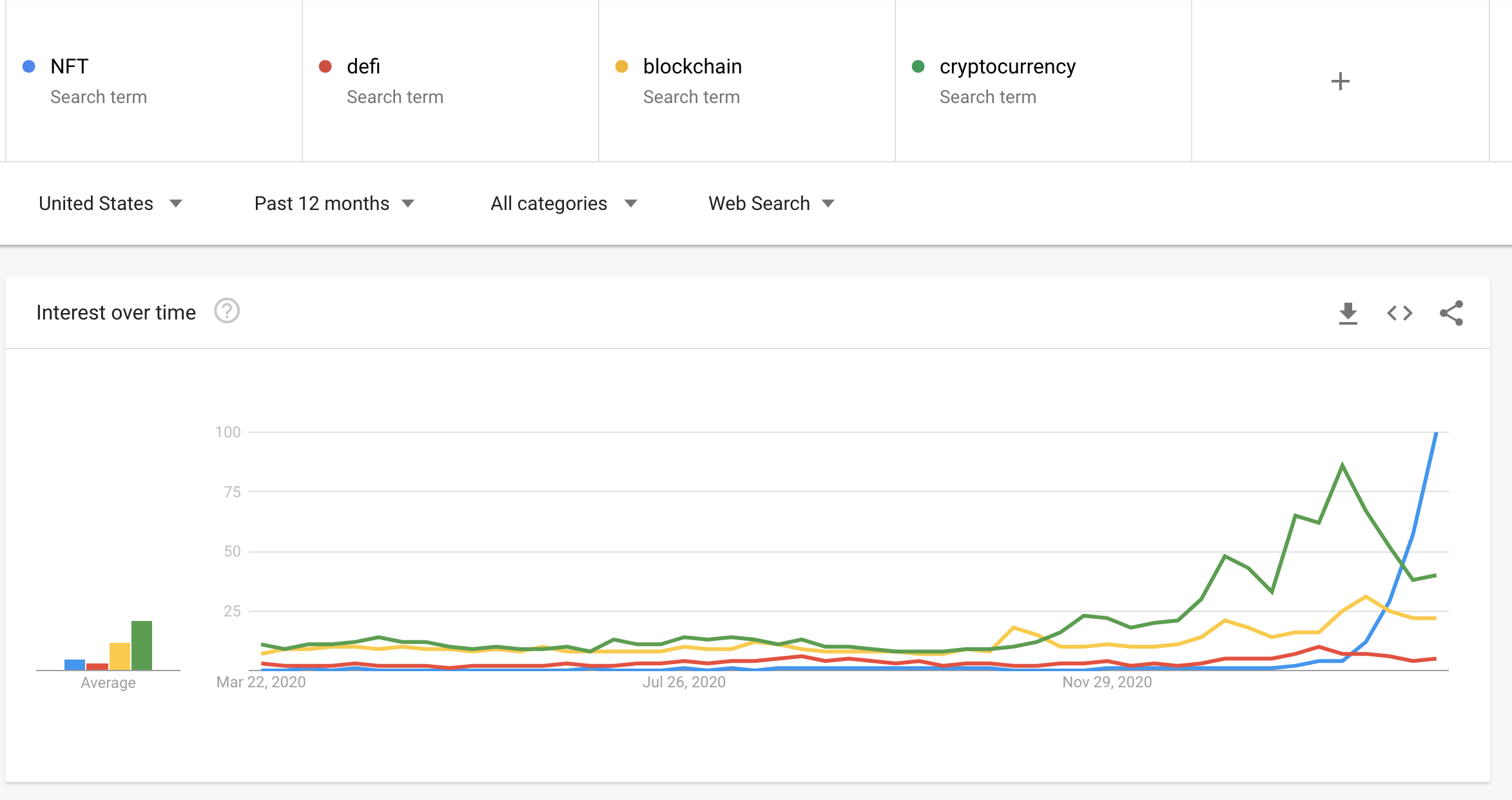 Moreover, the NFT-art marketplace recently breached the $400 million volume mark. Google searches enthusiastically translate into purchases.
As is common in a booming cryptocurrency market, wealth-creation solicits extravagant spending , often directed towards art. Whether this will continue in the future for the NFT-art space is an open question.
Disclaimer
BeInCrypto has reached out to company or individual involved in the story to get an official statement about the recent developments, but it has yet to hear back.