BAT Inside a Horizontal Channel
On May 10, the price of BAT reached a low of 4438 satoshis. A gradual increase was followed by a decrease.
The price reaches similar levels on May 14 and 21.
It has been trading inside the horizontal channel outlined below: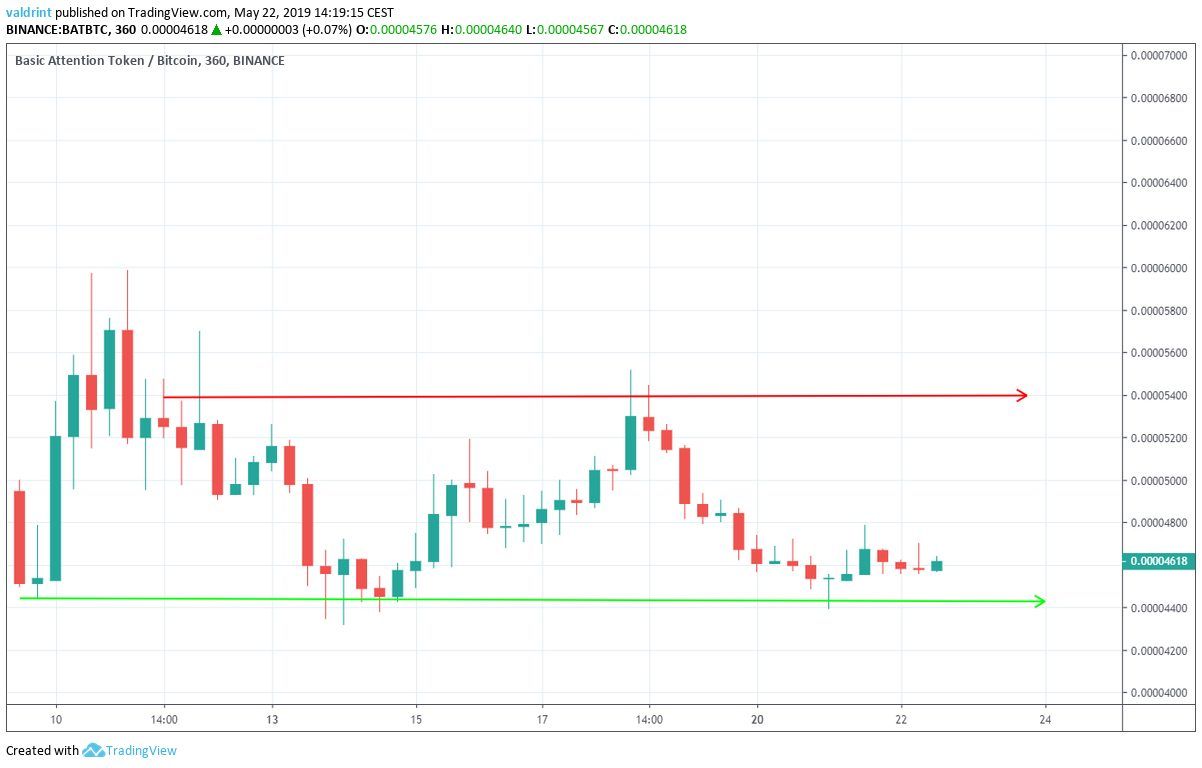 At the time of writing, the price was trading at 4618 satoshis, very close to the support line of the channel.
The resistance line is at 5400 satoshis.
In order to determine future price fluctuations, BAT is analyzed  alongside the RSI and the MACD below: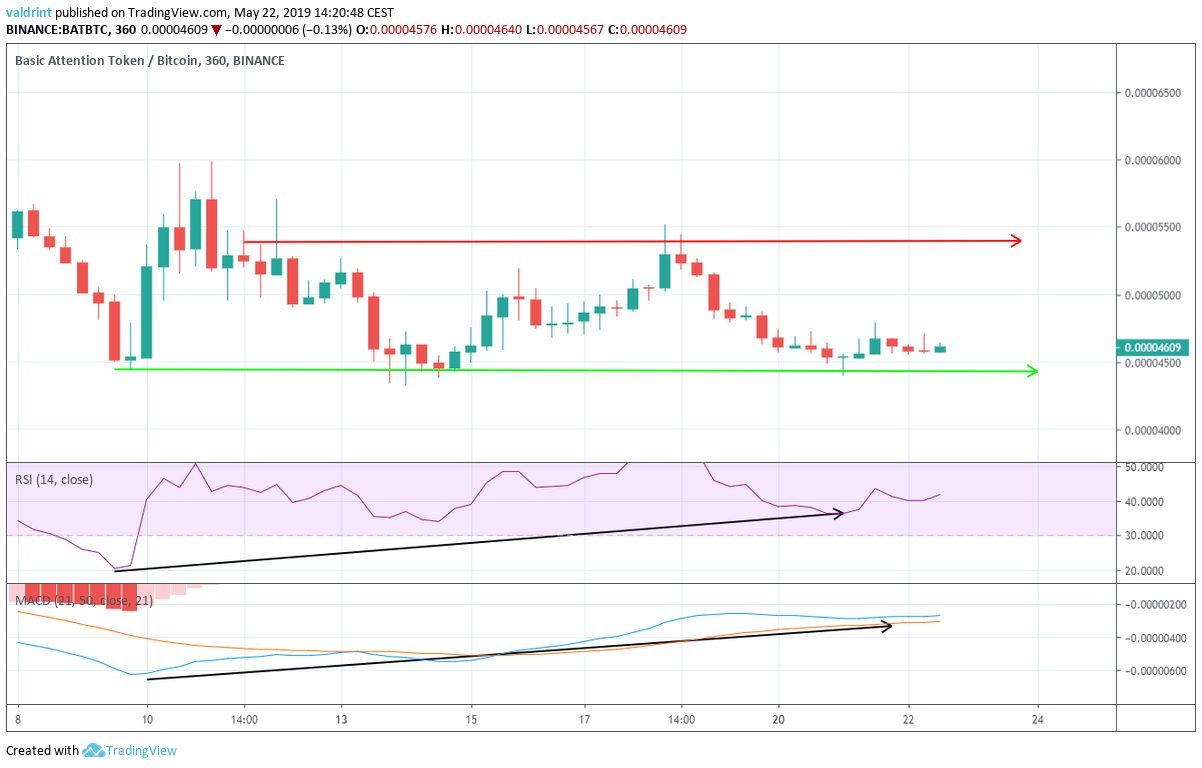 We stated that the price reached similar lows on May 10, 14 and 21. During this time, the RSI and the MACD have generated successively higher values.
This is known as bullish divergence and often precedes price increases.
The use of these indicators supports price increases towards the resistance line of the channel. Furthermore, due to the price movement outlined in our previous analysis, we believe a breakout is possible.
Assessment of BAT's Long Trade Setup
On May 20, we initiated a long trade setup and stated:
The average entry defined for both long setups is 4550 satoshis. In addition, but trade setups are placed with a stop-loss order at 4259 satoshis. This is less than the lows experienced on May 13.

Our first target is set at 5825 satoshis. The second is set at 7450.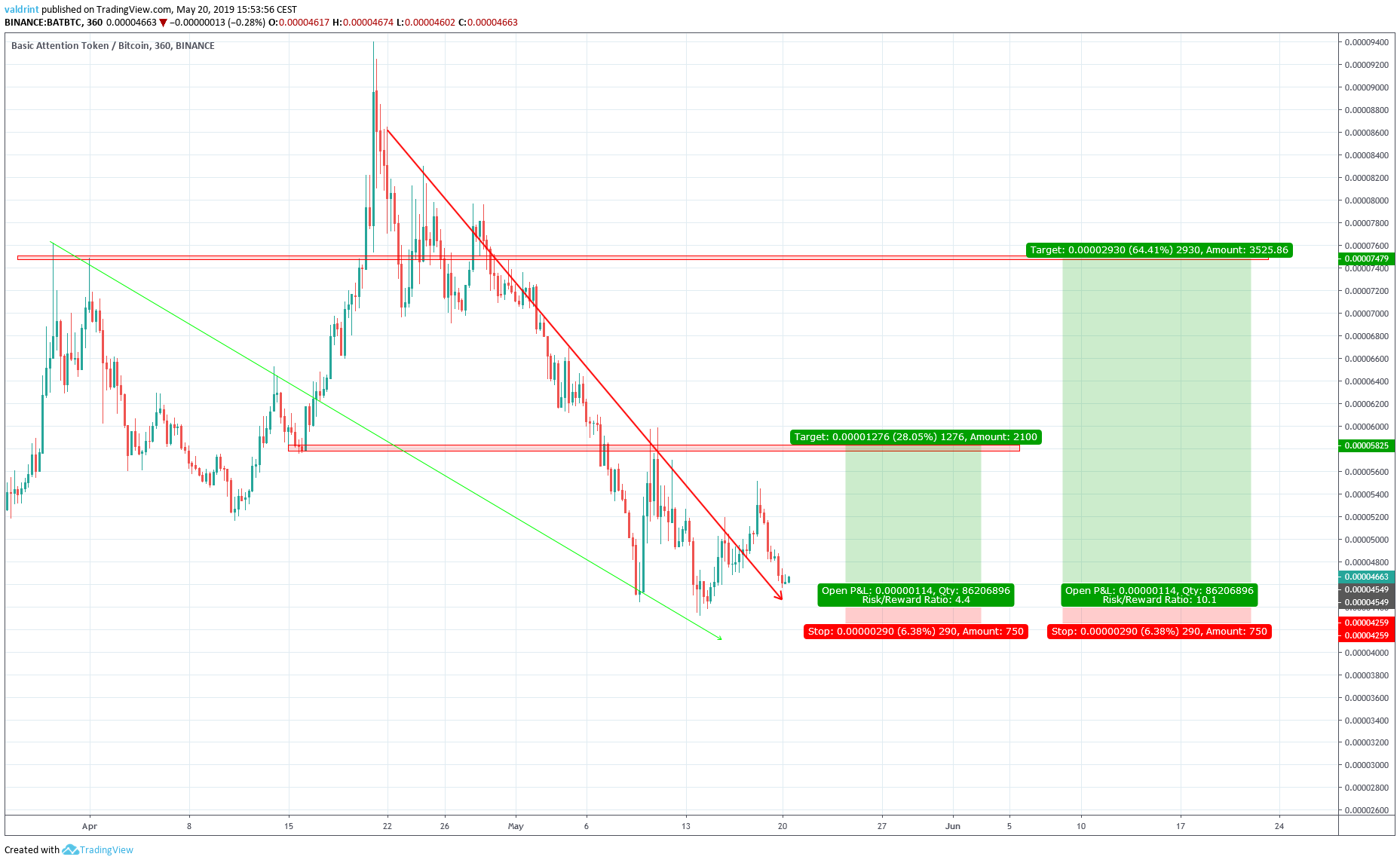 Since then, the price has increased incrementally, and our stop loss has yet to be triggered.
Nonetheles, as stated in our analysis, we believe that price increases are in store and the price will eventually reach our targets.
Conclusion
To conclude, both DOGE and BAT recently broke out from their respective patterns.
In the case of DOGE, the breakout was not strong and the price did not break out past the 100- or 200-period moving average.
BAT, on the other hand, has created a different trading pattern. It is trading inside a horizontal channel and has developed significant bullish divergence in the RSI and the MACD. This divergence is also present in DOGE, but only in short-term timeframes.
Thus, we believe that BAT will begin an upward move soon. The same is possible for DOGE in the short-term, but  we are still uncertain about its long-term prospects.
A summary of our findings is presented in the table below:
| | | | |
| --- | --- | --- | --- |
| | DOGE | BAT | Winner |
| Trading Pattern | Descending Wedge Breakout | Horizontal Channel | DOGE |
| Technical Indicators | Short-Term Bullish Divergence | Bullish Divergence in the RSI and the MACD | BAT |
Do you think the price of DOGE will continue to decrease? Will BAT begin an upward move? 
Disclaimer: This article is not trading advice and should not be construed as such. Always consult a trained financial professional before investing in cryptocurrencies, as the market is particularly volatile.