A fantastic opportunity is coming to crypto traders and investors. altFINS Black Friday Sale offer started today!
This is the chance to get access to altFINS annual plans – with advanced crypto screener analytics, indicators, on-chain data, a crypto trading course, and much more – with discounts of 50% off!

Black Friday Sale will last only a few days, so don't miss it! Claim your discount on the altFINS pricing page.
altFINS launched on-chain data
Crypto investors can now on altFINS scan and analyze hundreds of Web 3.0 projects based on their Revenues and Total Value Locked (TVL), as well as valuation ratios such as Market Cap / Revenue and Market Cap / TVL.
Crypto investors can answer questions such as:
Which projects have the fastest growing revenues in the last 7 days?
Which projects' valuations have become cheaper (declined) in the last 30 days?
How DeFi lending platforms have the highest TVL?
Which L1 protocols are generating the most revenue?
True to altFINS mission to create a "Bloomberg" for crypto markets, altFINS has added several fundamental analytics to its already extensive list of over 120 technical analytics.
1) Total Revenue
2) Protocol Revenue
3) Total Value Locked (TVL)
4) Market Cap / Total Revenue
5) Market Cap / Protocol Revenue
6) Market Cap / TVL
altFINS platform also tracks percentage changes in these fundamental values over various time periods, including 7D, 30D, 3 months, 6 months, and 1 year.
Crypto Market Screener integration. Fundamental analytics were also integrated into altFINS' leading crypto market screener to enable investors to scan for projects with specific revenue growth rates or valuation parameters.
With this latest addition, investors can easily find crypto projects with high revenue growth rates, growing TVL, and/or low valuations. They can also compare projects based on these key metrics.
"Thousands of blockchain projects have launched in the last four years, and many have already disappeared, unable to deliver any meaningful value to end users. Revenue and TVL metrics can help investors weed out projects that are just "hot air" scams or failures and instead focus on projects with real products and value propositions that gain widescale traction."

Richard Fetyko, CEO and Founder of altFINS
Mobile app with unique crypto trading ideas
altFINS, a crypto analytics platform, has released a new feature to its mobile app to help traders and investors make better decisions when it comes to their crypto portfolios. With so much noise in the market, it can be difficult to know which coins are worth investing in.
altFINS' analytics platform cuts through the noise and delivers actionable investment ideas. Now with its mobile app, altFINS makes it even easier for users to get real-time news and stay up-to-date on upcoming major coin-specific events.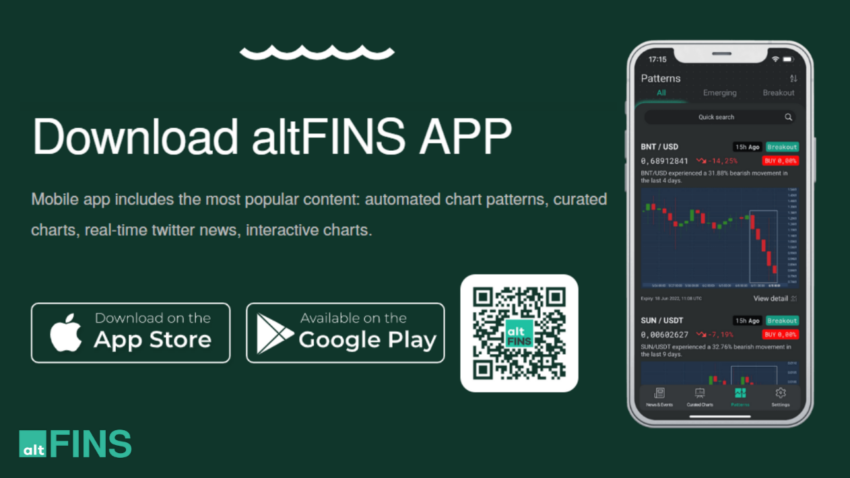 altFINS mobile app includes the most popular content:
Automated chart pattern recognition that identifies coins trading in a wedge, triangle, inverse head and shoulders, channel, and 20 other trading patterns
Curated charts: crypto technical analyses on top 55 altcoins
Real–time news feed and events for over 5 thousand crypto projects
Interactive TradingView charts, including a wide range of technical indicators
What's next for altFINS?
During 2023, the altFINS team intends to bring additional data, information, and research into the platform, including on-chain data, fundamental ratings, governance data, NFT analytics, staking APR data, airdrop information, and whale wallet data.
altFINS is already used by tens of thousands of active traders to discover trading ideas based on technical trading analytics and automated pattern detection. It also serves as a learning tool for many beginner traders who follow altFINS' Education Courses and Trading Videos.
Now "story investors" who focus on project fundamentals and in-depth research can also leverage altFINS to find timely investment ideas.
About altFINS
altFINS is a cloud-based platform for retail and institutional investors to conduct technical and fundamental investment analysis, trade, and track digital assets across exchanges and wallets. altFINS platform ingests over 500M price and volume data records per day and calculates 120 analytics (MACD, RSI, EMA, etc.) across 5-time intervals (15 min, 1 hour, 4 hrs, 12hrs, 1D) and over 3,000 coins.
The platform also automatically recognizes certain trading chart patterns (Wedges, Triangles, Channels, Head and Shoulders, etc.) and predicts future price trajectories, giving traders another useful trading tool.
It's the only platform that will capture the full trading workflow: pre-trade analysis, trade execution, post-trade performance analysis, and asset tracking. altFINS also offers fundamental research reports and crypto trading education.
Disclaimer
This article contains a press release provided by an external source and may not necessarily reflect the views or opinions of BeInCrypto. In compliance with the Trust Project guidelines, BeInCrypto remains committed to transparent and unbiased reporting. Readers are advised to verify information independently and consult with a professional before making decisions based on this press release content.