MyCrypto cybersecurity researcher Harry Denly has put out a report analyzing hundreds of Twitter users. What he found was that cryptocurrency
scams
have exploded this year, directly caused by the 2019 market rebound.
In a recent blogpost, MyCrypto cybersecurity researcher Harry Denly analyzed some 333 Twitter users, 327 tweets, and 425 tweeted images to look at how
scamming activity
has increased since last year. Unsurprisingly, it definitely has—by almost double.

Giveaway Scams Flood Twitter
You might have seen these kinds of scams all over Twitter if you were around in 2017: "We're doing a giveaway, send us 0.5 ETH and we'll send you 5 ETH back." It's a classic tactic which seemed to altogether disappear around 2018. However, if you've been on crypto-Twitter recently, you probably noticed that they seem to be everywhere again. Denly decided
to do some analysis
as to when these new scam accounts were created. Looking at 333 Twitter users, he found that most of them were created in 2019. Yet, a sizeable amount was also likely purchased from users stemming back from 2009 and 2010. This is likely because accounts with legacy are less likely to be kicked off Twitter.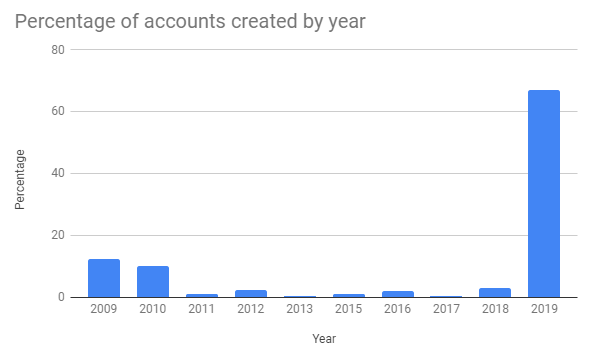 Denly decided to take this a step further and graph how these signups increased relative to
Bitcoin
's and
Ethereum
's price increases. What he found was a direct correlation. This summer, the number of scamming accounts on Twitter has exploded beyond anything seen in all of 2019 and much of 2018. These Twitter accounts often feign authority by having a blue checkmark. They also often brigade their own posts, making it seem as though many receive the supposed 'reward' for the giveaway. According to Denly, the scam accounts he has followed have thus far taken in around
11.789 BTC (approx. $138,000) and 42.310 ETH (approx. $9,500). 

What Can Be Done
There's really little that can be done other than reporting these accounts. However, for every account taken off, another seems to take its place. It is scary to consider how this might further explode if the cryptocurrency market makes higher highs. One tactic these scammers often use to go undetected is never posting links. Instead, they post a screenshot with the link in the image which prevents it from being recognized by Twitter's automated anti-spam measures. The end result is that every major Twitter handle associated with cryptocurrencies is flooded with scam responses to every tweet. Denly has worked to flag these addresses where the stolen funds are located, but it's unlikely we'll see a real solution to this problem anytime soon. For now, it is best just to report every scammer you see for the good of the community at large.
Do you believe the sudden influx of scammers will continue to grow as Bitcoin's price increases? Is there anything Twitter can do to stop this? Let us know your thoughts below in the comments.
Buy and trade cryptocurrencies with a 100x multiplier
on our partner exchange, StormGain
.
---
Images are courtesy of Shutterstock, Twitter.
Disclaimer
All the information contained on our website is published in good faith and for general information purposes only. Any action the reader takes upon the information found on our website is strictly at their own risk.