In a recent interview, Solana co-founder Anatoly Yakavenko said that Solana's new validator, due by the end of 2022, will improve the reliability of the network.
Yakavenko said that Solana's Firedancer validator, which is currently being written by Jump Crypto in the C++ programming language, will verify Solana's state in parallel with the current validator software by year-end.
Yakavenko: Solana will have same reliability as Ethereum
According to Yakavenko, the Firedancer validator will give Solana the same reliability as Ethereum.
"So, having two separate clients in the network will like, basically give us the same reliability as you see on Ethereum today," he said in the interview.
When questioned on when Solana would come out of Mainnet Beta into mainnet, Yakavenko seemed to sidestep the question.
"I think you know, once the second client is on, the reliability, it will be, you know, significantly higher. It's really just a lot of software, right, that's written by humans," he said.
As of July 2022, Solana was still in Mainnet Beta. At the time, Yakavenko said that the project would come out of beta when localized fee markets are able to support NFT mints while supporting DeFi transactions.
Notably, the Solana Foundation has not updated Solana's roadmap since 2020. Solana hasn't said when the project will come out of Beta, but the development teams' latest software releases are on GitHub. But one Reddit moderator suggests that the "Beta" is only a title and that all functions are 100% operational.
Solana's notorious downtime
Solana has been criticized by researchers and Ethereum co-founders for its frequent outages.
Critics point to the centralization of Solana's nodes since over 30% of nodes are on AWS. 
The most recent network outage occurred on Oct. 1, 2022, caused by a misconfigured node that caused an unrecoverable network partition. A validator propagated an invalid block, leading to a fork.
In Jan. 2022, the network suffered a transaction overload caused by its autonomous interest rate machine bot spamming the network with high volumes of transactions to win liquidations and trades. Validators were not able to filter out duplicate transactions
In Dec. 2021, Solana experienced network congestion after the launch of a new NFT collection. Before that, it went down in Spe. 2021 for 16 hours because of a transaction overload of 400,000 transactions per second. The increase in transactions gobbled up memory on certain nodes, causing them to go offline. Developers later restarted the network.
Solana's image after multiple outages
After its most recent outage, Paul Levy, a lecturer at the University of Brighton said, "SOL is in recovery mode…Despite some well-publicized technical failures and network outages, it has a high reputation in the scientific community…It has a positive longer-term future."
However, the outages have affected Solana's short-term image, since Canadian firm DeFiSafety gave the firm the second-worst technical risk score earlier this year. The company reviews quality control processes and software documentation.
Similarly, CyberCapital Founder and CIO Justin Bons vocally criticized Solana after its recent outage and alleged that the Solana team is making fraudulent claims about Total Value Locked and Solana in circulation.
Solana reached an all-time high of $259.96 in Nov. 2021.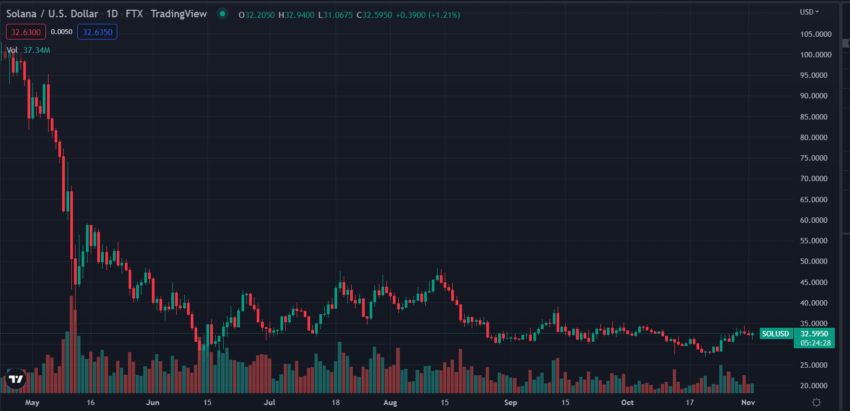 At press time, it is down almost 90% from the all-time high and is trading at $32.59.
Hetzner blocks access for 1,000 Solana validators
At press time, Hetzner, a cloud, and hosting company, blocked 1,000 Solana validators, causing more than 20% of Solana stakes to become delinquent. Delinquency happens when a validator that has been given a certain stake goes offline. Stakers delegate their staked crypto to validators to receive a portion of the rewards for verifying transactions.
Got something to say about this article or anything else? Write to us or join the discussion on our Telegram channel. You can also catch us on Tik Tok, Facebook, or Twitter.For BeInCrypto's latest Bitcoin (BTC) analysis, click here
Disclaimer
In adherence to the Trust Project guidelines, BeInCrypto is committed to unbiased, transparent reporting. This news article aims to provide accurate, timely information. However, readers are advised to verify facts independently and consult with a professional before making any decisions based on this content.