0x (ZRX) is a platform based on the use of Ethereum (ETH) smart contracts to create a
decentralized exchange (DEX)
allowing for peer-to-peer token trades.
The project made its market debut in August of 2017, before the enormous Bitcoin (BTC) and altcoin bull run happened at the end of 2017. Before the bull run, ZRX was trading in the $0.20 range but was able to climb to an all-time high of $2.40 by January of 2018. Since then, the price has fallen back within a familiar descending channel creating a pattern of setting lower highs followed by lower lows. ZRX hit a new 2018 low of $0.35 last week and has since attempted to regain its footing to find support and consolidate before its next move.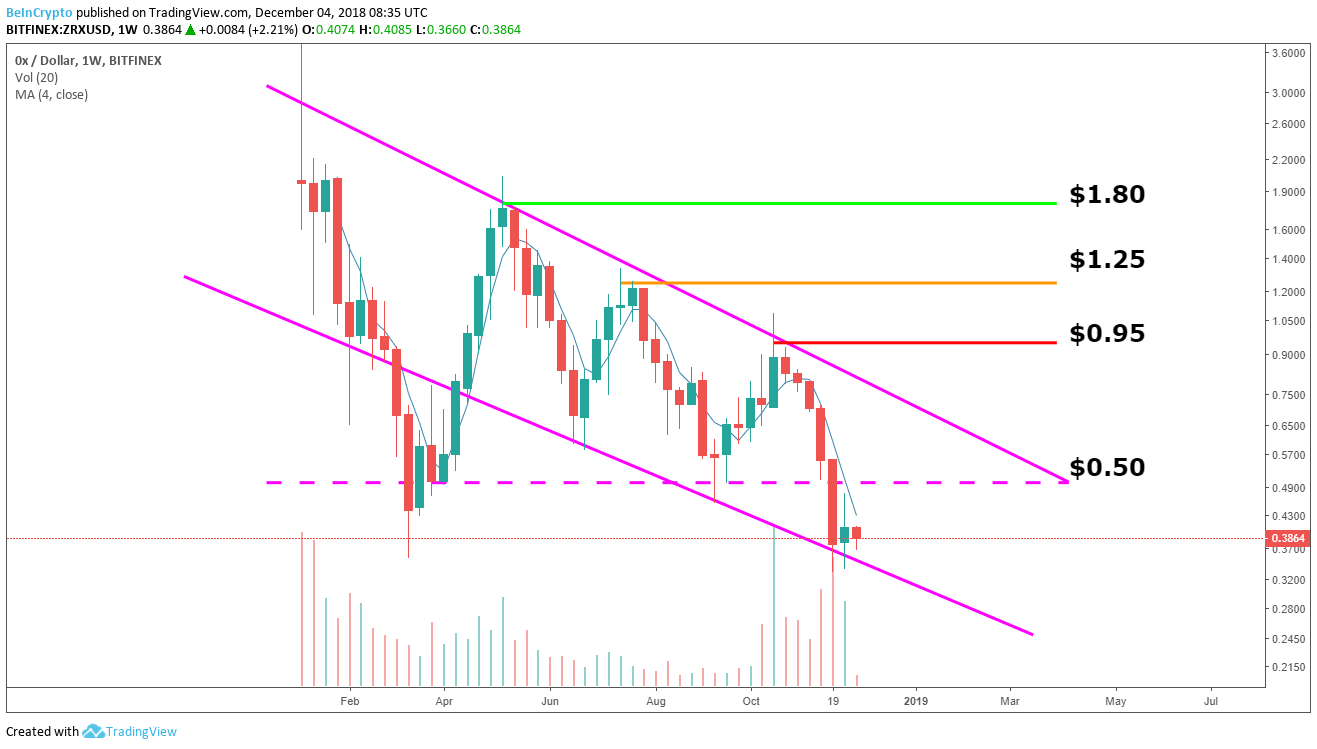 Stochastic RSI
Taking a look at the three-day and two-week stochastic
RSI
, we can see ZRX is in the overbought territory with a value of 85 and seems to be on its way back down. Historically, in every instance except one, after breaking the 80 RSI level and turning back around, a sell-off has occurred that has brought the value back down under 20.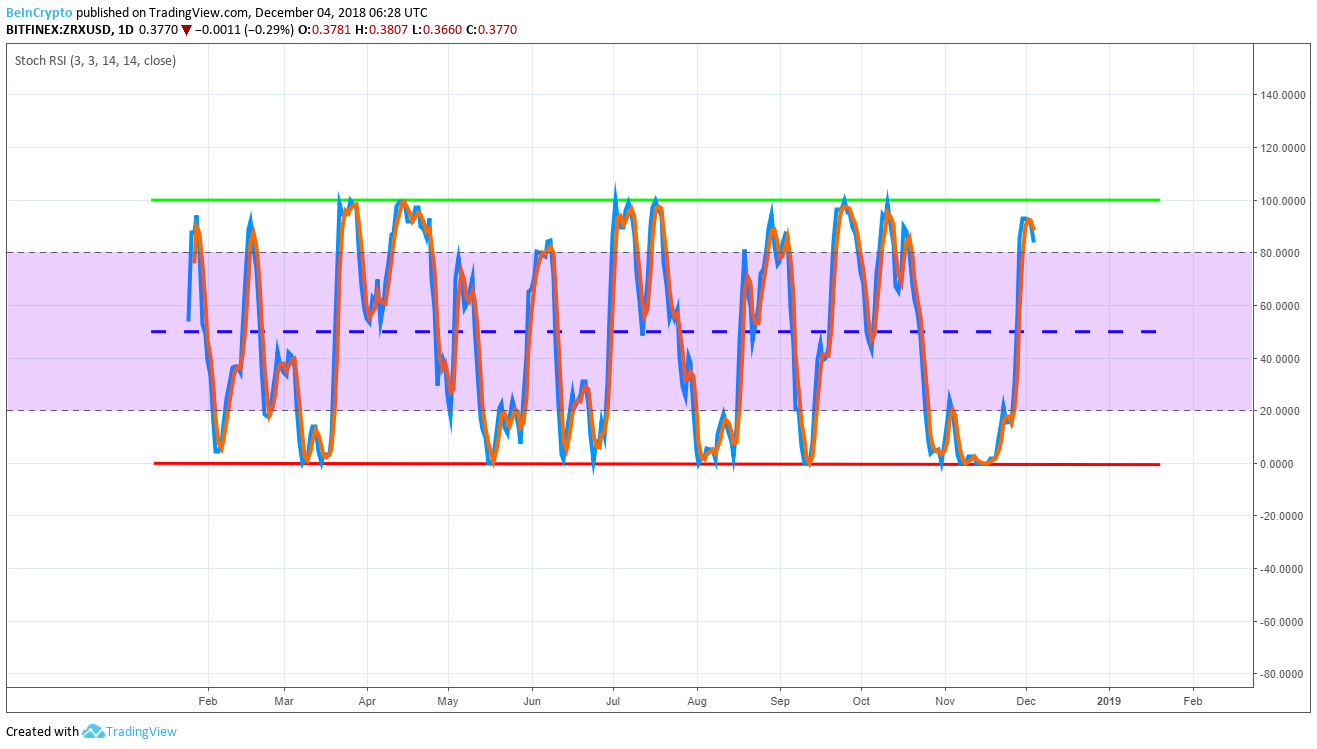 Zero To Hero
Considering ZRX's position on the daily chart and the overbought stochastic RSI value, it can be assumed that the price will return back down to test the bottom support of the descending channel in the neighborhood of $0.30 to $0.33. [bctt tweet="This 'W' shaped bottom has the potential to create a sharp move to the upside as was the case in April and September of this year." username="beincrypto"] In this scenario, if there is enough power to break through the $0.50 support, ZRX would likely return for another attack on the top resistance of the descending channel in the range of $0.60 to $0.70. Unless Bitcoin (BTC) is able to begin a significant reversal, ZRX will most likely fail to break out of its descending trend just yet and could be forced back down yet again to test for an even lower bottom at the $0.25 level.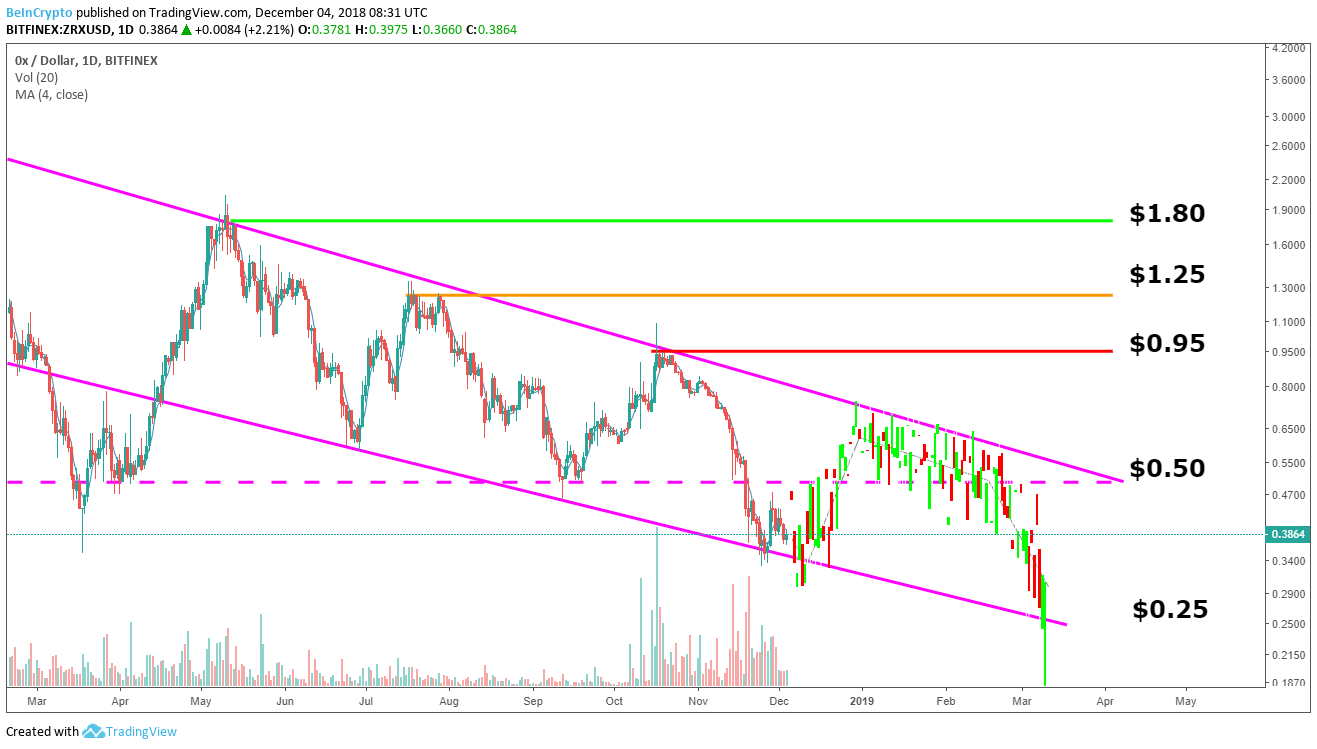 Do you think ZRX will be able to get back over the $0.50 mark before 2019? When will 0x be able to reach a new all-time high? Let us know your thoughts in the comments below!
Disclaimer: The contents of this article are not intended as financial advice, and should not be taken as such. BeInCrypto and the author are not responsible for any financial gains or losses made after reading this article. Readers are always encouraged to do their own research before investing in cryptocurrency, as the market is particularly volatile. The author of this article does not hold ZRX.
Disclaimer
All the information contained on our website is published in good faith and for general information purposes only. Any action the reader takes upon the information found on our website is strictly at their own risk.