Russia is apparently marching steadily towards full control over cryptocurrency transactions. The country's financial authorities are developing an artificial intelligence (AI) software that will partially remove anonymity from cryptocurrency transactions. They
claim
to be already testing a prototype in the drug trafficking area. If successful, the system will monitor the whole Internet searching for cryptocurrency transactions.
The announcement of the tool called "Transparent Blockchain" comes after Russia
passed
a new bill on July 22 updating the legal status of digital assets. Russian legislators had a hectic year, with long negotiations about the status of digital assets from May between industry leaders, regulators, and the Duma.
Bearing in mind
particular characteristics
of Russian politics like strong nationalism and conservatism and the global nature of crypto, this system might raise serious concerns.
And potentially not only for Russian crypto investors but for the whole world. How will this system impact the perception of cryptocurrency and could Russia's financial authorities become the crypto police of the world?
Linking Crypto Transactions to Users
Russian financial authorities are developing a tool that will track cryptocurrency transactions and identify crypto services providers. Transparent Blockchain will reportedly be able to partially remove anonymity from users sending Bitcoin (BTC), Ether (ETH), Dash (DASH), Omni (OMNI) and Monero (XMR).
Officially, it will be used to investigate illegal deals related to money laundering and terrorist financing. In a
letter
directed to the Ministry of Telecom and Mass Communications, the Russian financial authority Rosfinmonitoring, stated:
"Virtual assets, including various cryptocurrency systems, are used by criminals in a variety of illegal schemes such as drug trafficking, tax evasion, cybercrimes, contract killings, sale of information from closed databases, and financing of extremism."
Whereas this seems like a fair reason for developing the software,
many are skeptical
about the power Russian authorities might gain. According to the letter, the users of the Transparent Blockchain software will be local authorities, the Bank of Russia, and financial organizations, although it also says that there has been interest from "financial intelligence of a number of other countries."
Full development of the software would require 760 million rubles ($10.4 million) from the federal budget, with 440 million rubles ($6 million) to be spent in 2021.
The Potential to Attribute Accusations of Terrorist Financing Globally
As mentioned above, the initiative comes from the Federal Financial Monitoring Service (Rosfinmonitoring). Russian President Vladimir Putin established this agency back in 2001 as a federal executive body.  Rosfinmonitoring is responsible for combating money laundering and terrorist financing, and reports directly to Putin.
Once implemented, the Transparent Blockchain system will ostensibly enable Russian financial authorities to:
Track and analyze the transfer of digital financial assets and identify service providers.

Conduct investigations related to illegal circulation of cryptocurrencies.

Partially remove the anonymity of participants in transactions with cryptocurrencies, especially in the Bitcoin, Ethereum, Omni, Dash and Monero protocols. The tool will accomplish this by classifying users according to a set of the most common profiles of crypto transactions.

Scan the Internet globally to detect images with fundraising details if there are signs of terrorist financing. It will also identify messages related to both money laundering and terrorist financing.
Although they may seem innocent at first glance, there are a few caveats with these points. First of all, in Russia, it is prohibited to pay for goods with cryptocurrencies. Russian citizens can't get paid in crypto either, and they have to declare their ownership of crypto assets.
Second, the tool aims to remove anonymity by splitting users into profiles. This apparently opens the gates to future arbitrary prosecutions.
Last but not least, Russia could potentially start attributing accusations of terrorist financing globally. This could cause strong turbulence in the geopolitical arena, especially with the
ongoing tensions
between Russia and NATO.
In a world that
tends towards
a cashless society and traceable digital assets, a powerful software like Transparent Blockchain would potentially give Russian leadership a great deal of control.
What Do Experts Say?
Since early May, the Russian Association of Cryptoindustry and Blockchain (RACIB) has been criticizing the Kremlin's attempts to control cryptocurrency. In a
letter
sent to the Duma, the RACIB said:
"RACIB expresses deep concern about the immediate development prospects of Russia and calls on all government agencies involved in one way or another in the development and adoption of these amendments to do everything in their power so as not to repeat the mistakes of past years."
It follows:
"Unfortunately, our country has already gone through such periods in its history associated with the prohibition of entire industries such as genetics, cybernetics and others, with the consequences continuing to be felt. Now we are in exactly the same situation."
The letter dissects the proposed federal bills and comments almost every single point of them.
After much parliamentary debate, legislators amended the bill and finally passed on July 22. Dmitry Kirillov, a lecturer at Moscow Digital School,
explained
:
"In general, the new version of the bill no longer looks as draconian as the May one, but it still embodies the struggle of the Central Bank with money substitutes."
Disregarding industry concerns, the Russian establishment seems to have a conservative approach to digital assets. Viktor Smirnov, the head of digital processes at Russian software company Croc IT,
showed
the Kremlin's vision for international cooperation in the prosecution of crypto:
"It is necessary to take into account the requirements for effective information exchange with the international circuit, so as not to be limited to the national segment when investigating crypto transactions."
Despite the fear that regular cryptocurrency users could also be placed under surveillance under the guise of combating illegal deals, some industry stakeholders consider the building of Transparent Blockchain-like systems a logical step in the development of the industry on the whole. Andy Cheung, founder and executive chairman at crypto derivatives exchange ACDX and former chief operating officer at crypto exchange OKEx, told BeInCrypto:
"It is a dilemma between privacy and transparency. Cryptocurrency does provide a certain degree of anonymity, but the moment you reveal your wallet address and associate it with your identity, inevitably your transactions can be traced. It is not up to us to decide whether such tracking systems should exist, because the technology allows it to, and we cannot stop it from happening."
He further added:
"The idea of Bitcoin is always a utopia. We fight for transparency, eliminating the middleman to avoid manipulation. But at the same time, criminals leverage technology for money laundering, which is something we do not desire. But shall we give up all privacy for morality? That's a tough question, but I have faith in the development of technology. I am confident that in the near future, we will have a solution to balance human rights and security."
Privacy Coins as the Final Proof for Transparent Blockchain
Cryptocurrency is a global phenomenon. One of the original promises of crypto was to substitute the hierarchic nation-estate for a horizontal network of free citizens. This goes against the interest of ultra-conservative leaders like Putin.
What's happening today in Russia could potentially happen in other countries. If Russian financial authorities gain control over international crypto transactions, this apparently could change the landscape for the whole planet.
Curiously enough, one of the targets of the Transparent Blockchain software is Monero. Monero's value proposition is precisely to give full privacy to its users. It's a fungible, untraceable, and censorship-resistant coin.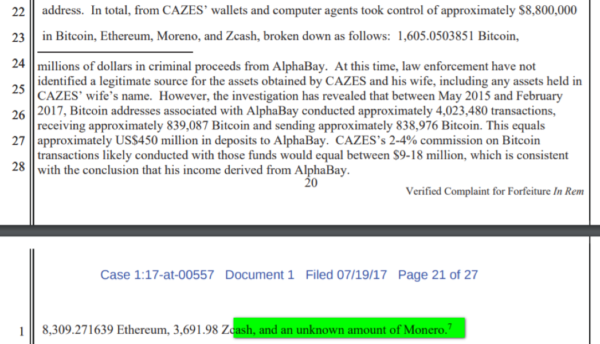 A few years ago, American intelligence
failed
when trying to dig in Monero's anonymity.
"In total, from CAZES' [AlphaBay's owner] wallets and computer agents took control of approximately $8,800,000 in Bitcoin, Ethereum, Monero and Zcash, broken down as follows: 1,605.0503851 Bitcoin, 8,309.271639 Ethereum, 3,691.98 Zcash, and an unknown amount of Monero."
During the prosecution of the darknet market websites Silk Road and AlphaBay, the Federal Bureau of Investigation (FBI) couldn't identify how much Monero Alphabay's founder, Alexandre Cazes, held in his wallets.
Monero will apparently be the final proof for Transparent Blockchain. If Russia can somehow crack Monero's anonymity, the whole of crypto could get into trouble. Or better said, if there are any troubles, the Russians will know.
Russia's Damaged Image of a Progressive Power
Russia is cracking down heavily on cryptocurrencies. Besides a strong and prohibitive regulation at home, it's developing tools which could help it extend its reach beyond its borders.
Prohibition and banning new technology seems like the natural move from a conservative leadership. The issue at hand is that crypto's nature is against government controls and censorship.
On another note, Russia's image as a high-tech and progressive power has been damaged. Especially, in the eyes of countries developing blockchain technologies and cryptocurrency businesses.
According to the RACIB, due to the adoption of the amendments set forth in the bill, the Russian Federation will likely lose $1.5 billion from the turnover of digital Russian-language projects, which will subsequently have an impact on potential tax revenues. We're yet to see what will happen with young Russian engineers and developers. Many of them might decide to seek residence in more crypto-friendly jurisdictions.
Entrepreneurs and businesses that can't accept crypto as salaries or payments may also flee the country, taking with them their skills and ideas. But if Russia gains access to their crypto wallets, there might not be a safe place for their digital assets.
Disclaimer
All the information contained on our website is published in good faith and for general information purposes only. Any action the reader takes upon the information found on our website is strictly at their own risk.