Crypto investors who have warned about a bubble forming in DeFi are having their 'I told you so' moment. Food-themed coin SushiSwap is the one on the chopping block.
In what has been accused of being an exit scam, Chef Nomi, the anonymous founder of SushiSwap, has sold $8 million worth of SUSHI, causing the bottom to fall out and sending the price down more than 50% in the interim.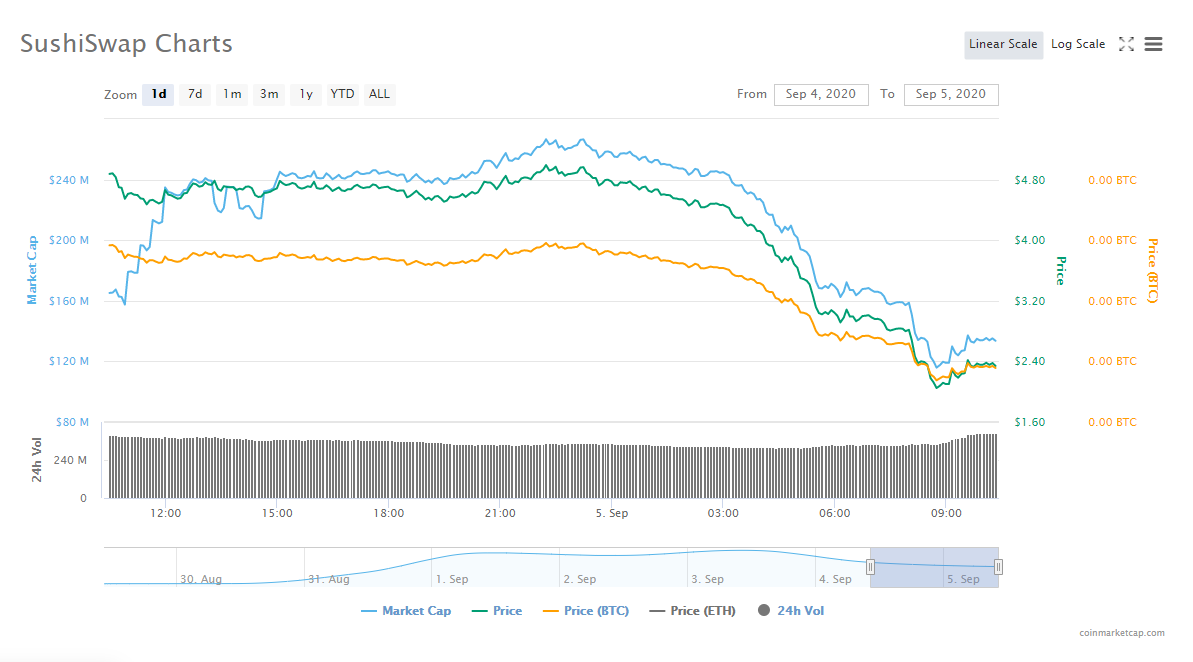 Economist and trader Alex Kruger pointed out —
Founder made $14M in two weeks, speculators lost $14M. Sad.
What Happened?
According to a Medium post by Sillytuna, who describes themselves as an NFT enthusiast, here is what went down —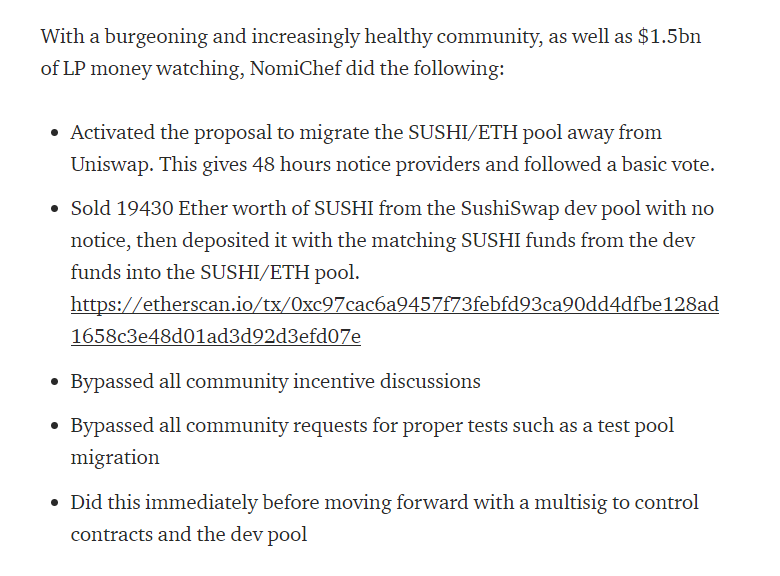 The SushiSwap team confirmed the token sale, saying on Twitter,
Since many in #SushiSwap community have asked, this is indeed, true. There's no denying that we've sold the existing dev shares and put future $SUSHI dev shares into MultiSig community owns.
SushiSwap, which is a Uniswap fork that is billed as an non-audited version of Uniswap, only came on the scene in late August and managed to find itself a listing on Binance in early September. FTX also listed SUSHI. Twitter user @Crypto_Ed_NL called the big exchanges out for rushing to get "s**tcoins" listed and questioning the due diligence process for doing so at the expense of "legit projects."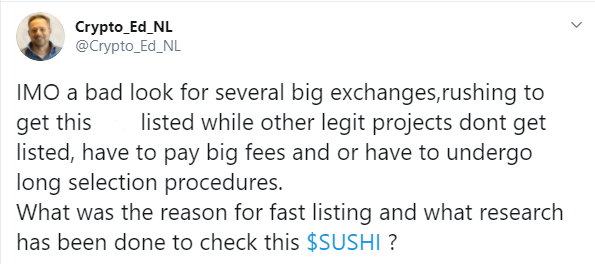 The transaction was posted on Twitter by user @SpencerNoon, the head of DTC Capital.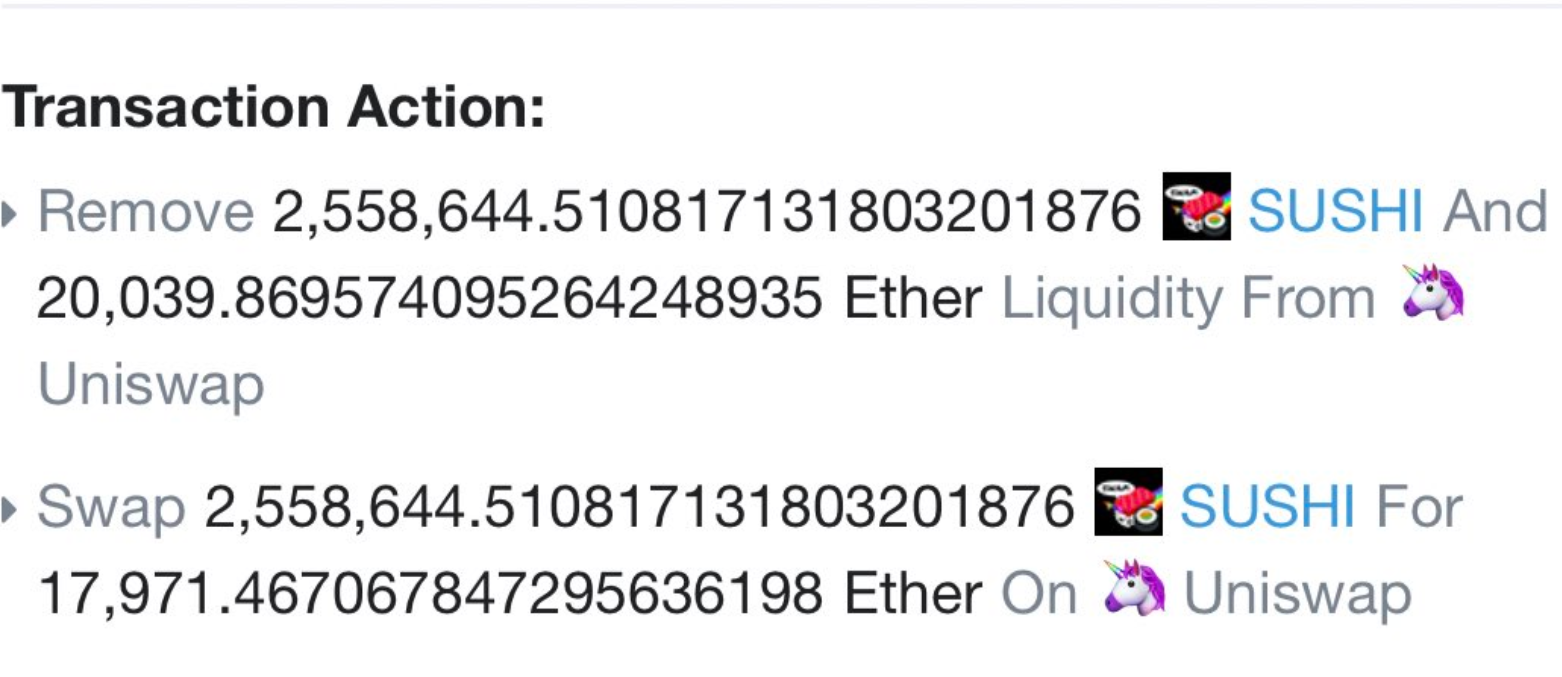 SushiSwap Founder Chef Nomi came to their own defense on Twitter, insisting that it was not an exit scam because they are still here.
People asked if I exited scam. I did not. I am still here. I will continue to participate in the discussion. I will help with the technical part. I will help ensure we have a successful migration.@SatoshiLite did that and Litecoin had no problem surviving.

— Chef Nomi #SushiSwap (@NomiChef) September 5, 2020
Litecoin Comparison
SushiSwap Founder Chef Nomi went so far to compare the move with that of Charlie Lee, the founder of No. 8 cryptocurrency Litecoin, which launched nearly a decade ago. Lee during the height of the 2017 crypto bull run infamously sold all of his LTC holdings, a decision that he is still having to defend today.
— Mike Novogratz (@novogratz) September 5, 2020
Crypto Twitter was quick to call out Chef Nomi out for  what many are alleging is an exit scam, with some defending Litecoin's Lee, who modeled the code after Bitcoin.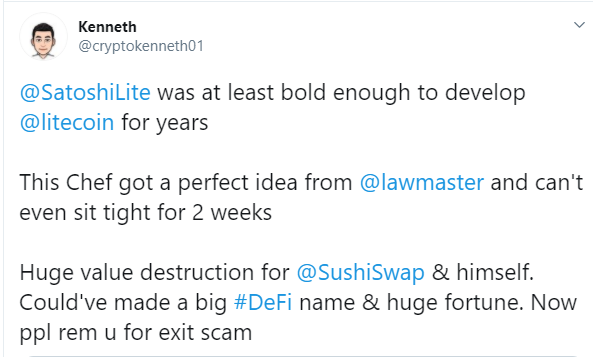 SUSHI investors are already calling for their money back on Twitter, including one who apparently poured $5,000 into the project.
Disclaimer
All the information contained on our website is published in good faith and for general information purposes only. Any action the reader takes upon the information found on our website is strictly at their own risk.