Layer 2 solutions like Polygon have created a significant stir in the crypto sector in 2022. Partnerships, integrations, and even development activity have helped the network remain afloat. But there are some concerns as well. 
2021 was mostly about meme coins, non-fungible tokens (NFTs), and layer 1 (L1) projects. But in 2022, layer-2 scaling solutions have created a buzz across the crypto ecosystem. Some even consider L2s as the next step in the evolution of blockchains—a better approach to scaling, primarily on Ethereum. 
Analysts and crypto Twitter gurus alike have noted major boosts in L2 adoption throughout the year. In a Reddit discussion thread from this past May, one user even referred to these solutions as 'a turning point' in the industry. 
Different solutions have come to the forefront in this category over the past few months. So, here's a deep dive into one such project that made headlines across the domain.
Layer-2 Solutions: Scaling Blockchain Growth
Layer 2 is the moniker given to all blockchain scaling solutions constructed on a layer behind a mainnet. The goal is to offload some transactional burdens from the primary chain. The primary focus of this concept has been on Ethereum L2s.
Within the Ethereum L2 niche, several smaller subsections focus on improving different aspects of the blockchain.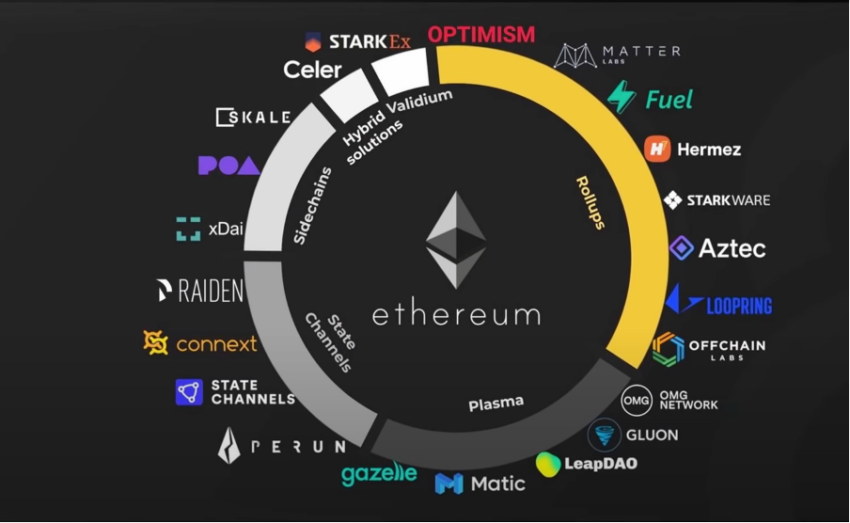 Plasma is a suggested method that builds a network of side chains beneath the leading Ethereum chain, forming a tree-like structure. One of the top and trending names within this sector has been Polygon and its native MATIC, given its proven scaling capacity. 
Polygon is often considered the 'internet of blockchains' for Ethereum and incorporates various blockchains that people can choose from. These solutions are as follows: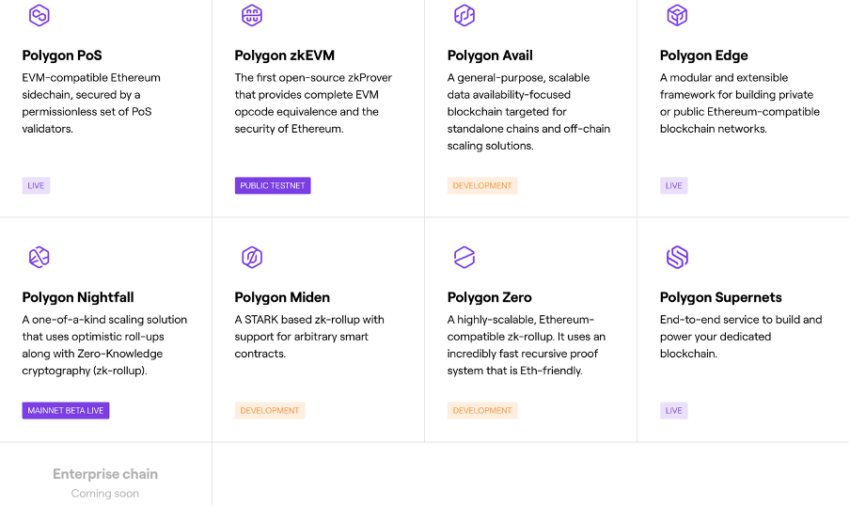 Polygon is a layer-2 solution that seeks to facilitate mass blockchain adoption through sidechains that offer 65,000 transactions per second with less than two-second block confirmation times.
Polygon's technology moves Ethereum decentralized apps (dApps) onto a system of connected blockchains that retain the Ethereum network's security and advantages.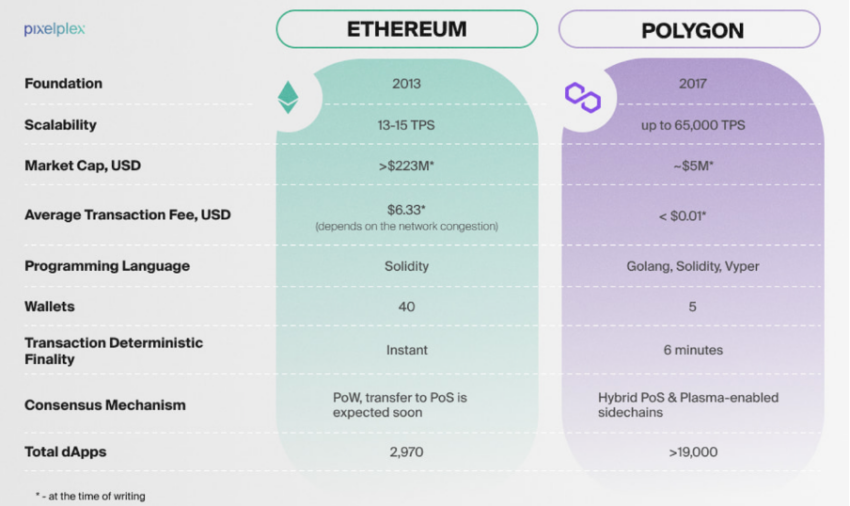 In addition to scalability, Polygon aims to improve developer experience with a permissionless design, full tech sovereignty, and modular security solutions. Regular users also benefit from low-gas fees, instant transactions, and full compatibility with Ethereum tools such as MetaMask.
Integrations and Partnerships
Polygon blockchains boast high levels of interoperability and can communicate amongst themselves and with the Ethereum network. The Polygon ecosystem has attracted significant interest from developers that have suffered under Ethereum's periodically high gas fees. 
In particular, Polygon has been adopted by several high-profile decentralized exchanges and crypto-gaming applications. One example is Polygon and Aave.
Polygon entered into a partnership with Aave, a leading DeFi protocol for lending and borrowing on the Ethereum blockchain, to offset the traffic issues due to spikes in adoption. 
NFT adoption and markets on Polygon have especially skyrocketed over the past few months.
At the time of press, Polygon had secured partnerships with Starbucks, Reddit, and Meta.
Starbucks is building an NFT-driven loyalty rewards program called 'Starbucks Odyssey.' The program will give away NFT stamps to customers and employees and also sell limited edition NFTs.  
Reddit is using the Polygon network to mint unique NFT avatars on the platform. Following this, Reddit NFTs saw a 1,000% hike in sales volume. Even Meta is partnering with Polygon to bring NFTs to Instagram. Soon users will even be able to mint their own NFTs on the platform.
Overall, Polygon-based NFT sales saw a similar rising trend. 
Moreover, the blockchain's native MATIC coin witnessed some price growth. As BeInCrypto reported on Nov. 4, MATIC traded around $1.10 after a surge of about 30% in just two days. However, the token did suffer the wrath of the ongoing crypto bear market and is back to trading slightly below $0.90.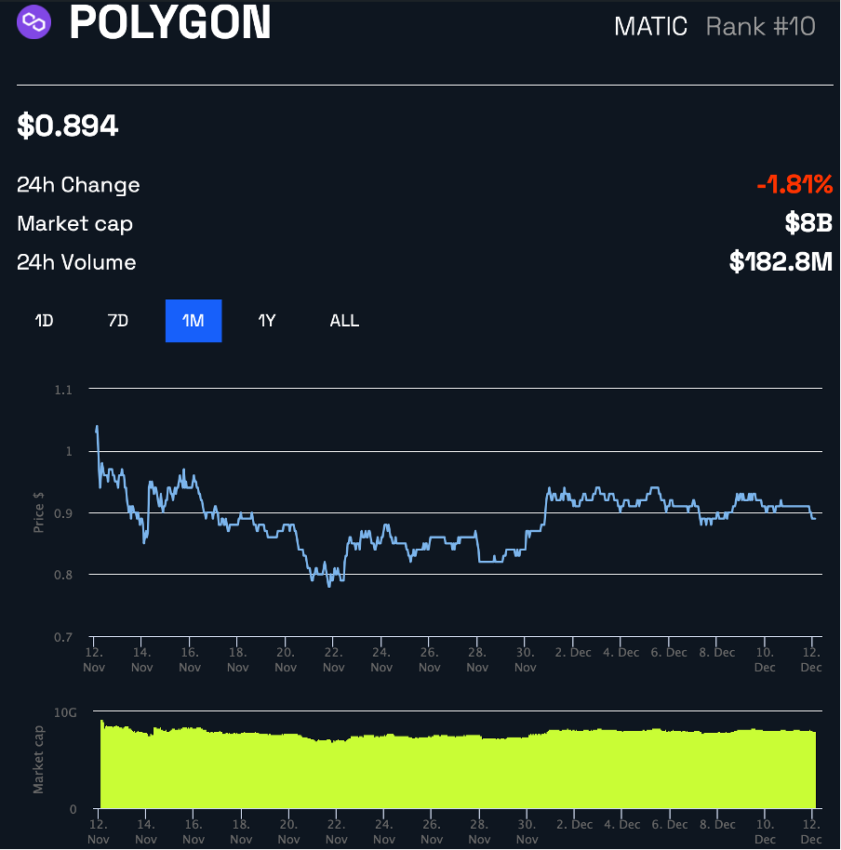 Rising above the dark clouds
The latest selloff period within crypto was triggered mainly by the collapse of FTX. This caused the crypto market capitalization to fall below the trillion-dollar mark, and it currently sits at $845.66 billion. Big names in crypto, such as Ethereum, Bitcoin, and Solana, all witnessed increased bloodshed.
On Nov. 30, however, Delphi Digital highlighted that MATIC and Binance Coin (BNB) were outperforming the rest of the pack.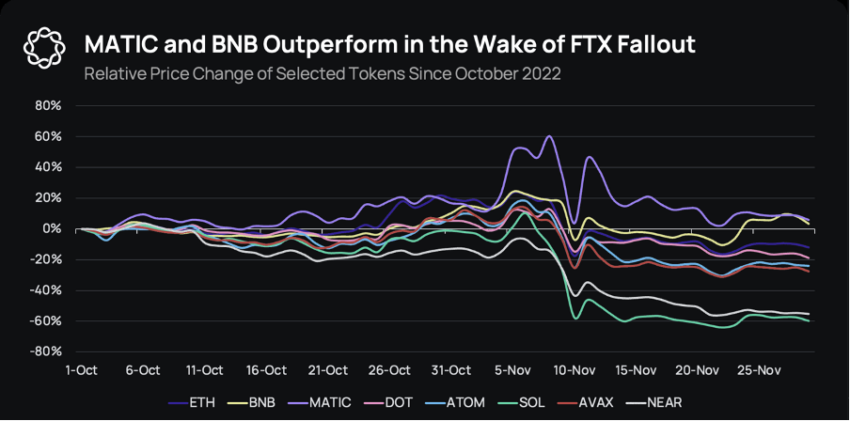 This likely bodes well for Polygon and its plans to build best-in-class technology as an innovative contract platform. Its tech has the potential to make transactions fast, cheap, and secure. That's precisely what it's aiming for with its zero-knowledge (ZK) solutions. 
Polygon is working on multiple different ZK solutions, such as Miden and Nightfall, but the top priority in this area is their zk EVM solution. The team launched a public testnet and plans on launching a mainnet in 2023. In terms of features, it'll have 90% lower gas fees than Ethereum. 
The underlying tech is essential, but even the fanciest platform means nothing without builders. Polygon's strategy is to create the best and most welcoming ecosystem for developers. Polygon Academy and Polygon University teach devs how to build apps.
There's also Polygon Village, which provides developer support in seeking grants, hiring audits, product listings, and more. These initiatives show that Polygon is serious about creating a positive experience for developers. 
Looking at the stats, its efforts are already paying dividends. For instance, in September 2022, development activity on Polygon hit a new all-time high.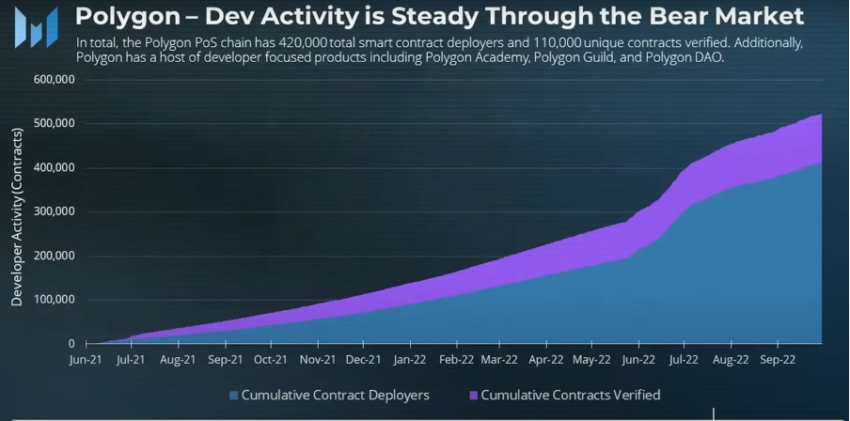 BeInCrypto reached out to Polygon executives for comments, including co-founder Sandeep Nailwal, Ryan Wyatt (CEO of Polygon Studios), and Jayanti Kanani (founder of Polygon Technology). However, we have not received a response at the time of publishing.
Is There Any Competition?
Despite Polygon's performance, rivals have started to take steps to close the gap in the L2 sector. One such rival is Polkadot, another big name that aims to be a foundation of the decentralized internet often referred to as web3.
BeInCrypto reached out to Bill Laboon, Head of Education and Grants at the Web3 Foundation, with questions on Polygon and Polkadot during an AMA on Reddit on Dec. 9. 
Firstly talking about the FTX collapse, Laboon told BIC that it 'made people realize the difference between centralized entities like FTX, which require trusting the people in charge with all of the control and information, and decentralized entities like Polkadot which are trustless, transparent and controlled by the community.' 
Moving on to specifics, we asked if Polkadot would be able to compete with other L2 solutions (such as Polygon). To which, Laboon asserted: 
"Yeah, with sub-consensus on parachains, you can have a subordinate consensus system on parachains with arbitrarily fast block times. These just wouldn't be considered finalized until approved by the "standard" relay chain consensus system.
There are some Substrate-based chains, such as Aleph Zero, already using alternative consensus systems to have block times of around a second. There's also an RFP that I worked on last year looking for people to work on it for a W3F grant."
Laboon noted that with 'asynchronous backing, parachain times will be reduced from around 12 seconds now to 6 seconds, similar to the relay chain.'
The flagship network has implemented crucial initiatives to remain competitive within the space. Some of these include decentralized governance with forkless upgrades and hybrid consensus with finalization divorced from block production (live for over three years on Kusama and over two-and-a-half years on Polkadot). There's also advanced cross-chain communication, DOT morphing from security to software, and so on. 
Laboon further recommended looking at Rob Habermeier's blog post on Polkadot's roadmap to get a better idea of where it aims to be and how it will get there.
If successful, Polkadot's native DOT could appreciate in value. At the time of press, DOT was trading slightly above $5, down nearly 4% on the day.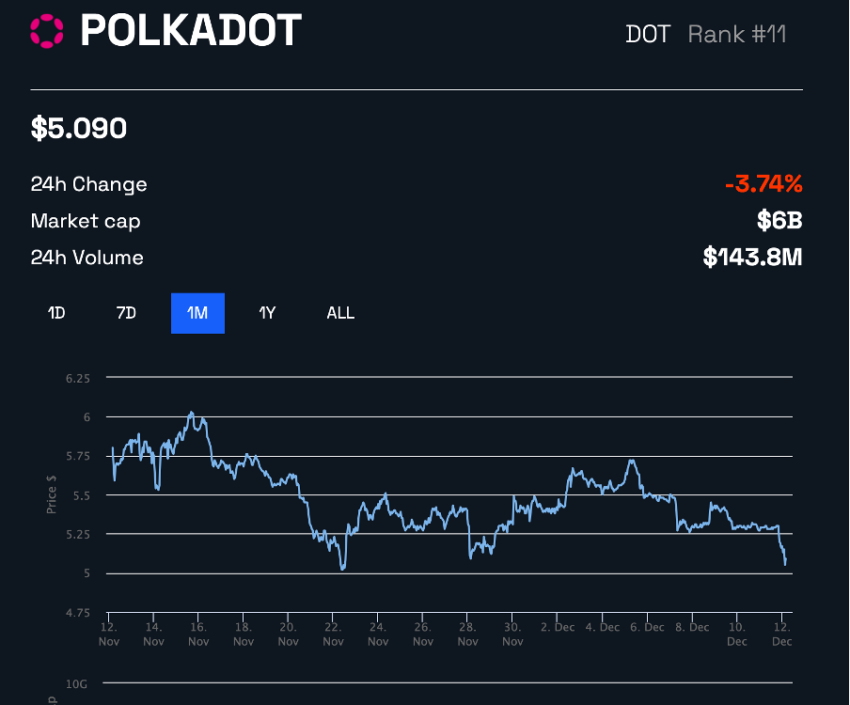 Closing Thoughts
Due to harsh macroeconomic conditions and internal struggles, cryptocurrencies continue to suffer and trade at a massive discount. Risks are always there, even with the growing bullish narratives around layer two solutions. 
In the case of Polygon, there's the lingering question of what happens to it after MATIC reaches its maximum supply in 2025. It's unlikely that Polygon validators will be sufficiently compensated by transaction fees alone. 
Likely solutions would be changing the MATIC supply or subsidizing rewards. Apart from that, these scaling solutions also pose some risks to the growth of Ethereum. 
Disclaimer
Following the Trust Project guidelines, this feature article presents opinions and perspectives from industry experts or individuals. BeInCrypto is dedicated to transparent reporting, but the views expressed in this article do not necessarily reflect those of BeInCrypto or its staff. Readers should verify information independently and consult with a professional before making decisions based on this content.