More than 94,000 Bitcoin (BTC) addresses are holding at least $1 million worth of BTC, according to an analysis by Glassnode. They are likely institutional investors, although they remain coy.
The steep increase in mid-December marks the point when BTC crossed $20,000, making all addresses with at least 50 BTC millionaire addresses, the on-chain market analysis firm said.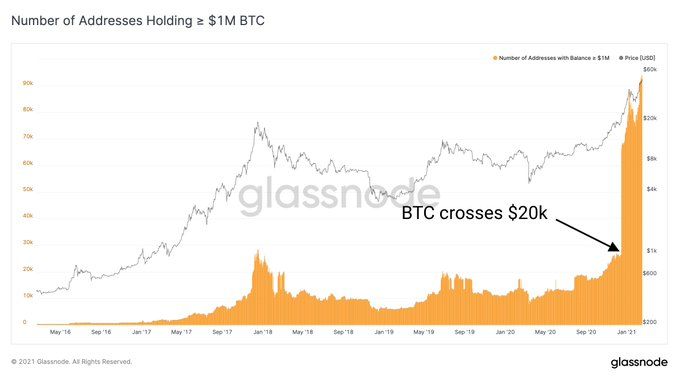 This likely shows that once BTC had crossed the threshold, investors grew excited again, and whales started pouring in. This information is corroborated by similar data from BitInfo Charts, which tracks wealth distribution among different tiers of addresses.
According to its most recent data, there are 99,515 addresses with over $1 million worth of BTC and 9,024 with over $10 million. The top 100 richest holders own 2,552,947 BTC, which is 13.7% of the total. Today (Feb 17) that amounts to $131,479,580,788.
Increasing Bitcoin Institutional Interest
It would seem likely that these recent acquisitions were made by institutional investors who can afford to deposit such enormous sums.
Some obviously large positions from firms like MicroStrategy Inc have made headlines. This has caused others to follow suit and invest large sums themselves. On February 16, MicroStrategy announced a $600 million convertible bond offering with which it intends to buy more bitcoin.
Nicholas Pelecanos, head of trading at NEM told Bloomberg:
"There are a number of reasons why Bitcoin is soaring, but what stands out most is the trend that MicroStrategy started and Tesla popularized: moving institutional balance sheets into Bitcoin to hedge against inflation"
Do What We Say, Not What We Do
Despite the likelihood of those new BTC addresses being institutional investors, 84% of finance executives said they do not plan on ever purchasing the coin as an asset, according to a Feb 2020 survey from Gartner.
According to the survey, which consisted of 77 finance executives, including 50 Chief Financial Officers (CFO), only 5% plan to hold BTC on their company books this year.
A similar 84% of respondents said the token's infamous volatility was their biggest concern and cited potential regulatory issues and cyber risks. Although BTC's 60-day realized volatility is around the highest since May last year, it's still far below the levels seen around the peak of its last boom in 2017.
Due to their resources, major institutional investors are in the best position to make large purchases in digital currencies. Despite saying BTC's volatility needs to ease, JPMorgan is working on its own proprietary blockchain project, dubbed the JPM Coin.
Disclaimer
All the information contained on our website is published in good faith and for general information purposes only. Any action the reader takes upon the information found on our website is strictly at their own risk.