NMX offers a unique experience for users willing to promote DeFi projects. Before NMX, traders, bloggers, and other people with large loyal communities received nothing from promotion.
What's the Deal?
The team of the Nominex crypto exchange has created a unique system for team farming of NMX utilitarian DeFi tokens based on the referral program. 193 million unique NMX tokens are intended for distribution over 72 years of personal and team farming (staking) using smart contracts.
Nominex Affiliate Program
Nominex affiliate program aka team yield farming. The first affiliate program on smart contracts and first affiliate program on DeFi. Nominex Affiliate Program is a binary based referral program for users of Nominex exchange platform.
The program features an unlimited number of referral levels that are structured as a binary tree. Its main purpose is incentivizing people to promote Nominex exchange among their friends, followers, and communities.
Why is it Important to Enter Right Now?
The reward system consists of team staking bonuses and bonuses from your partners' expenses. The benefit of the bonus depends on the level, and the level on the number of staked NMX. The higher the partner level, the higher the bonus.
It is important to enter right now, because the maximum number of tokens will be distributed in the very beginning. This is done to reward early adopters and early stakers. In the future the number of distributed tokens will slowly decrease. NMX tokens are distributed daily from:
1. Personal Staking Pool – NMX pool on personal staking (profit only depends on personal staking). Staking is based on the BSC blockchain. All the rules are written in a smart contract.
Extra bonus pool – staking on the Nominex platform. All rules are declared and implemented in the Nominex business logic, centrally. Comprises:
2. Bonus pool for staking period – Additional bonus of up to 20% depending on the time of continuous staking.
3. Bonus pool for direct referrals – From 5 to 20% of excess income from daily farming of your direct referrals.
4. Bonus pool for team staking – at 00 UTC, the exchange determines the weak team and credits up to 20% bonus from the aggregate tokens farmed by your weak team, as well as + 100% to your team staking income by increasing the partner level to the maximum.
The project is organized into different levels of bonuses. The partner packages are very intriguing, and they become better and better with more funds introduced to the liquidity pool.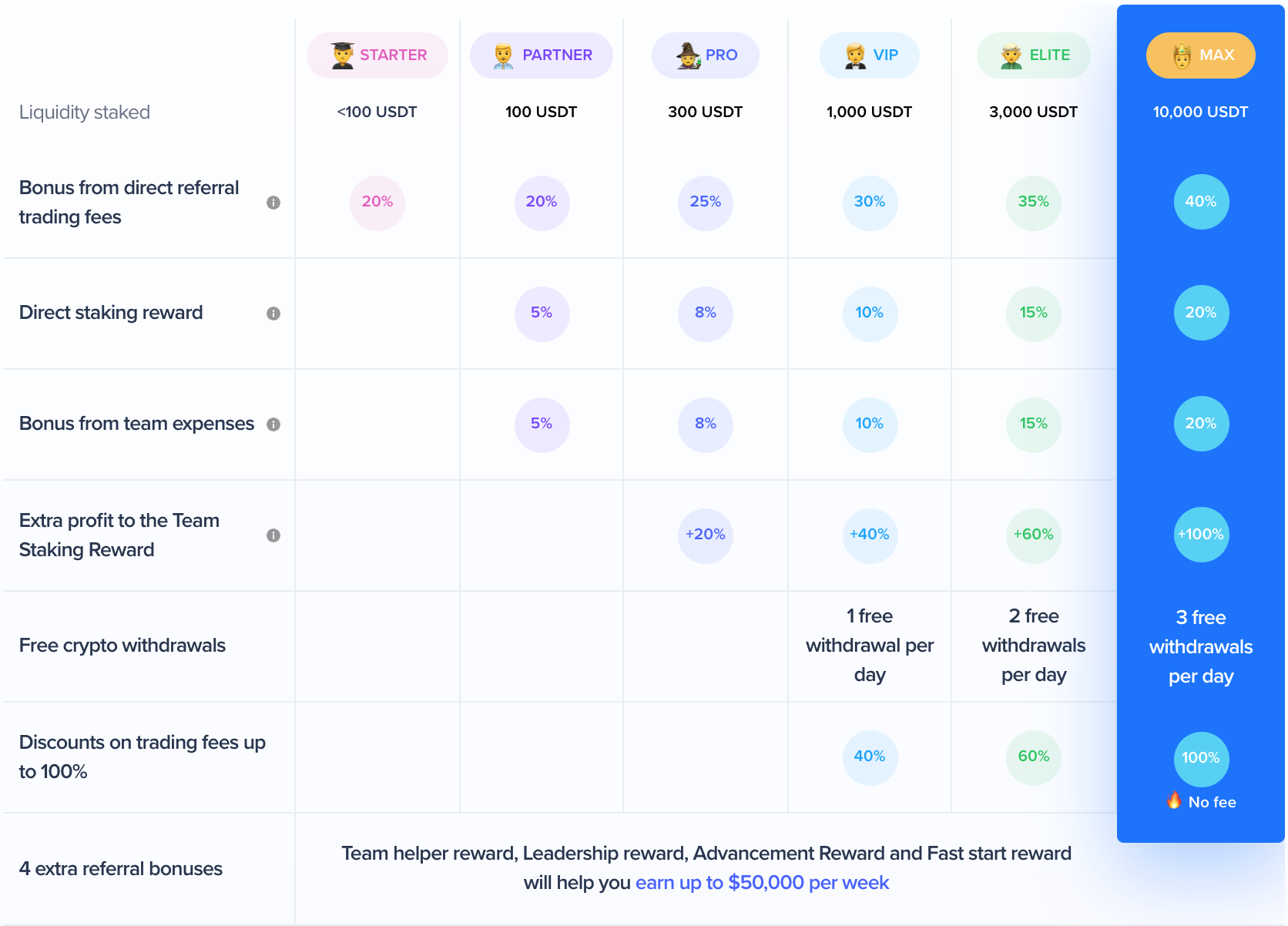 The initial price of NMX token was 0.1$, it went up to around 2.5$ and currently is trading at around 1.35$. Current farming APR equals 750%.
Structure
Team Points and Team Cycles
Team Points are virtual points that an affiliate program user acquires from both of his teams independently. Team points are formed from an overall volume of expenses of each separate team. The volume of expenses is calculated by combining the USDT equivalent of the following actions made by team members:
1. The sum of trading fees paid;
2. The discount trading packages purchase sum;
3. The sum of other purchases made on Nominex

When the sum of the said volume equals an equivalent of 25 USDT, a user receives 5, 8, 10, 15 or 20 Team points. Each time a user accumulates 100 Team points in both of his teams, He\She receives 25 USDT or any chosen currency and a Team Cycle is considered completed. Team cycles are used for a reward system in order to calculate affiliate program payouts.
The Binary Tree
Nominex affiliate binary tree is an organizational structure, where new members are placed into a system with a tree-like structure where each new member of the organization has left and right sub-trees (teams).
Each member has 2 places at their first level, 4 places at their second level, 8 places on their third level and so on. Every participant of Nominex Affiliate Program has a Sponsor – the affiliate participant, whose referral link was used to sign up.
If the participant did not sign up using someone's referral link, Nominex exchange automatically becomes their Sponsor itself. As each first referral level consists of only 2 people, new members are placed on referral levels that are below the first referral level causing the spillover effect
How to Participate?
Onboarding is simple and quick, as it can be done within 30 seconds.
All you need to do is register on the exchange and verify your email address. After that, go to the affiliate panel and get your referral link. Copy it and share it to everyone you know. As soon as someone registers via your link, they will appear in your affiliate panel.
About Company
Nominex is a centralized cryptocurrency exchange that was launched on August 28, 2019, and has its corporate headquarters in Seychelles (Suite 1, Second Floor, Sound & Vision House, Francis Rachel Str., Victoria, Mahe, Seychelles.). In terms of regulation, the exchange is licensed by the Estonian Financial Intelligence Unit (FIU).
At the beginning of 2021, Nominex launched its DeFi token NMX. The audit of the smart contract was done by Alexey Makeev
Nominex (TOP 100 CMC) is a launching pad for crypto trading, learning, passive income and building a business. Ideal for beginners. No KYC. On the market for 3 years.
Nominex also offers:
10 free educational lessons.
Combo: Training + risk-free tournaments with real prizes in USDT.
Trusted funds are the best replacement for leverage for newbies.
No interest, no collateral
Contacts:
Twitter: @pshkitin
Disclaimer
All the information contained on our website is published in good faith and for general information purposes only. Any action the reader takes upon the information found on our website is strictly at their own risk.