Litecoin has had quite a positive start to the new year, making back some ground after horrible losses in 2018 which shook the market.
After Litecoin hit an all-time high of $370 in December of 2017, it sank bank nearly 94 percent, reaching a yearly low of $23 at the end of 2018. Since bouncing off support, LTC has recovered relatively well when compared to the broader market. LTC is currently up more than 80 percent in the past two months and is trading for $42.30 at the time of writing. It is still too early to say that LTC has definitively broken out of the downward trend, but the outlook, for now, is sunny. Litecoin is ranked fourth overall with a market cap of $2.5 billion.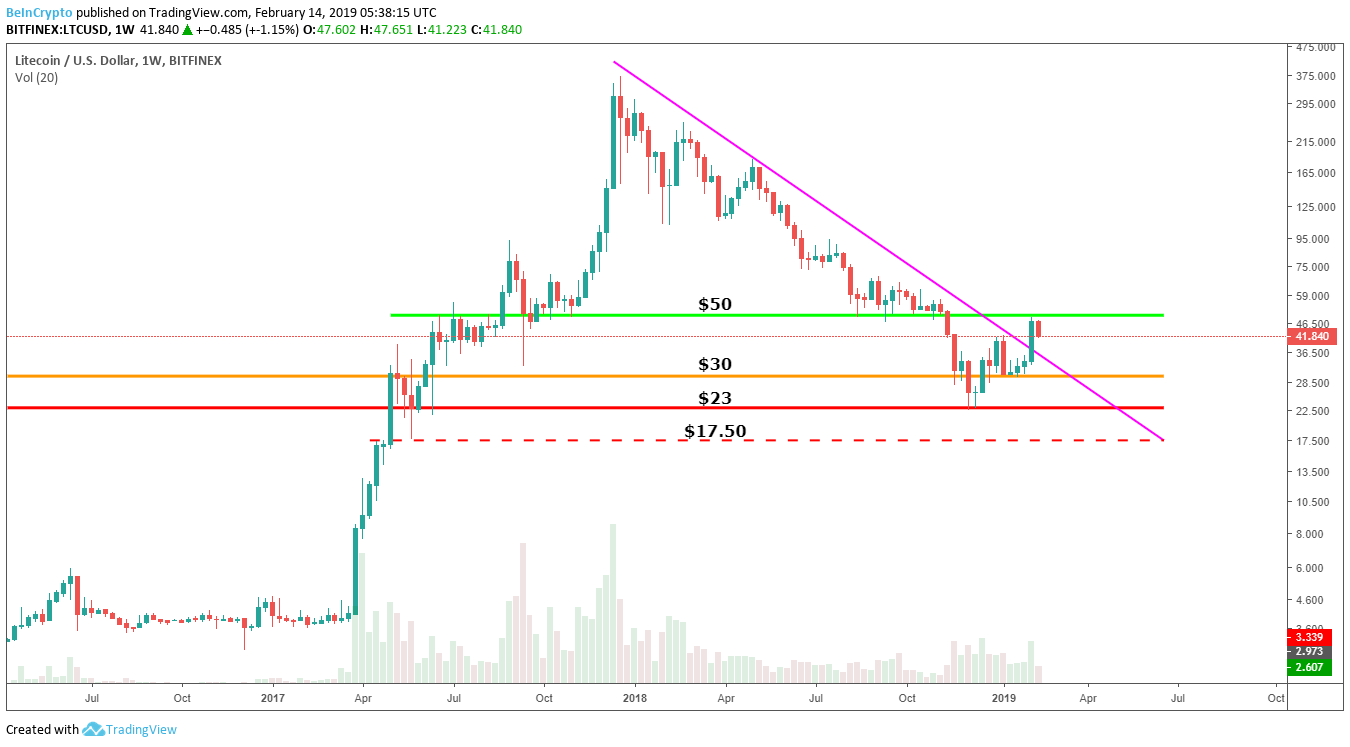 Stochastic RSI
A look at the stochastic relative strength index (
RSI
) shows that LTC is well into the overbought territory between the values of 85 and 90. Historically, LTC has not been over this value since the frenzy-filled bull run at the end of 2017. Considering LTC hit heavy resistance at $50 and rocketed through the descending trend line, it is likely that it will need to continue to cool off a bit before making any further moves to the upside.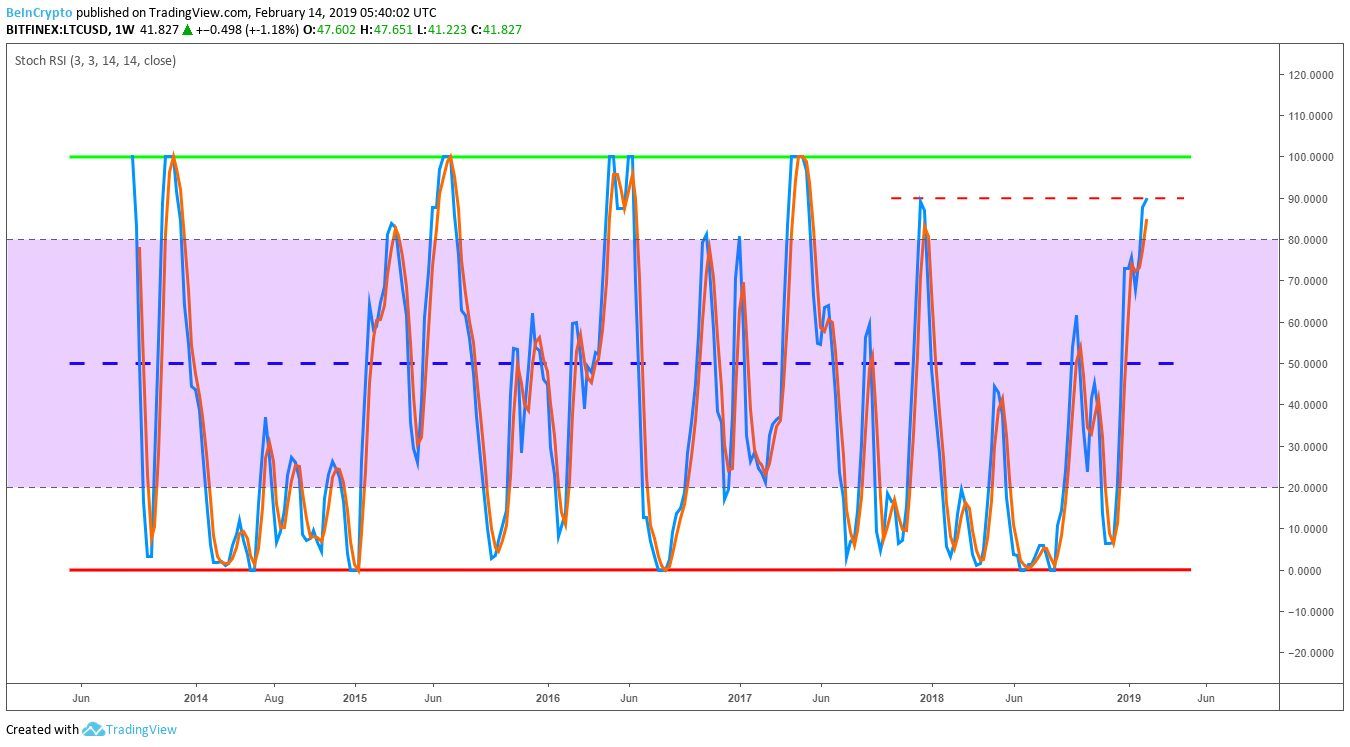 Short-Term Projection
In terms of BTC/LTC, Litecoin has been on a steady climb since hitting a 2018 bottom at 0.0069 BTC/LTC on Dec 11, 2018. A large 33 percent spike last week carried Litecoin over the 0.013 BTC/LTC mark — a level not seen since July of 2018. Considering the stochastic RSI and the $50 resistance, all signs are pointing to a sell-off in the short term. At the time of writing Litecoin is trading at 0.0115 BTC/LTC. LTC has a good deal of support in the area of 0.01 BTC/LTC created by the ascending support and previous peaks made in early January and February. Traders may want to look to these levels before entering any new positions. If LTC falls below 0.01 BTC/LTC, the next targets to the downside would first be 0.0085 BTC/LTC, and a retest of the 2018 low at 0.007 BTC/LTC below that. Litecoin will undergo
a second iteration of 'halving,'
estimated to happen in August of this year. At that point, the reward for discovering a Litecoin block will be cut in half from its current 25 coins per block down to 12.5 coins per block. In the past with Litecoin and other cryptocurrencies which have experienced halving, the months prior to the event saw huge spikes in volume and price. [bctt tweet="This could perhaps be a prime time for accumulation for
hodlers
and traders looking to profit from the next halving, approximately just six months away." username="beincrypto"]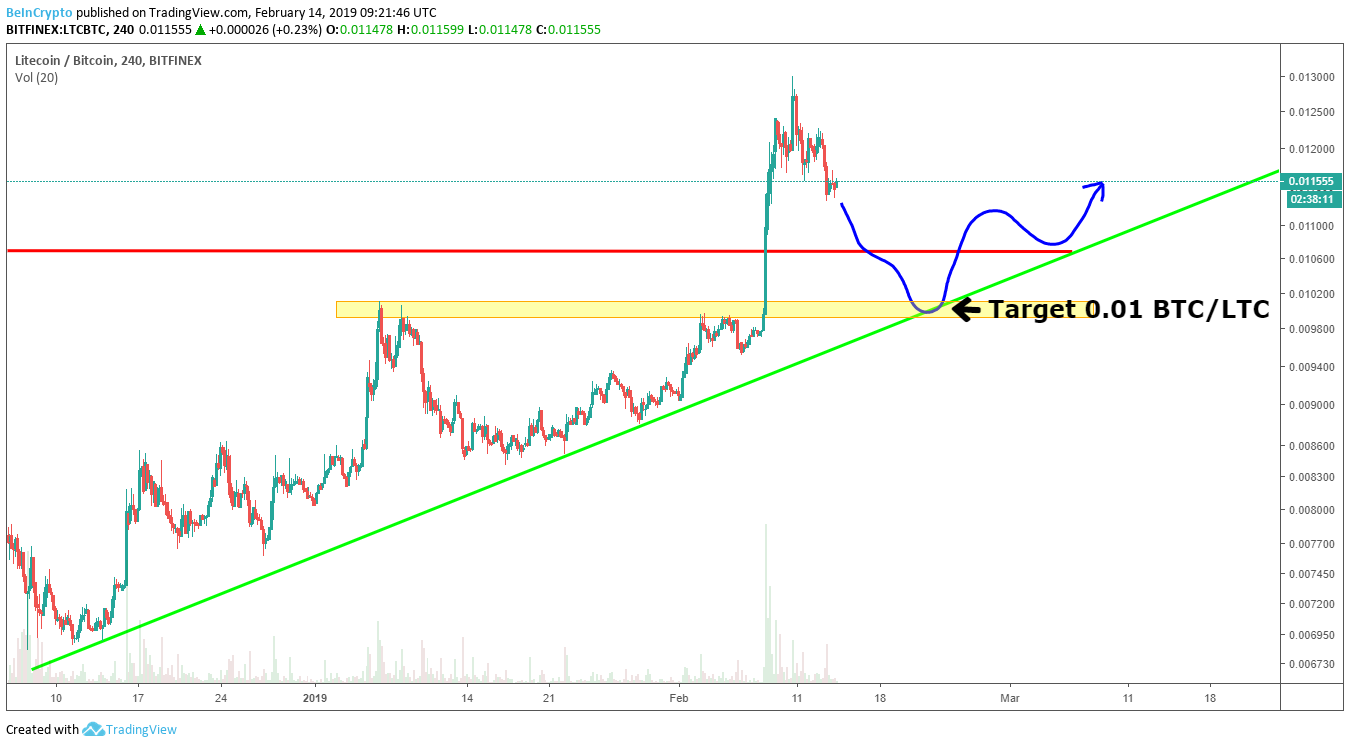 Do you think Litecoin will still test new lows in 2019? Do you think the upcoming LTC halving will have a positive effect on the price? Let us know your thoughts in the comments below!
[Disclaimer: The contents of this article are not intended as financial advice, and should not be taken as such. BeInCrypto and the author are not responsible for any financial gains or losses made after reading this article. Readers are always encouraged to do their own research before investing in cryptocurrency, as the market is particularly volatile. The author of this article does hold some LTC.]
Disclaimer
All the information contained on our website is published in good faith and for general information purposes only. Any action the reader takes upon the information found on our website is strictly at their own risk.