Bitcoin prices have slumped hard since surging to a new all-time high on Nov 10, and the usual culprits appear to be the catalyst for the fall yet again.
Bitcoin prices shed more than $5,000 in a matter of hours in late trading on Nov 10. After tapping an all-time high of $69,000, the world's premier digital asset slumped 8.4% to bottom out near $63,200 according to data from Binance.
BTC has recovered slightly in the last few hours to trade above $64,800 as analysts piece together what caused the flash crash.
Margin traders get burned again 
Not for the first time, over-leveraged positions on derivatives markets were liquidated causing a cascade of further liquidations and the resultant price slump.
Analyst Dylan LeClair identified a surge in margined Bitcoin futures open interest before the price tanked.
There was a massive increase in BTC margined futures open interest this afternoon (traders going long BTC with BTC as collateral). No free lunch – these traders are in the process of being shaken out.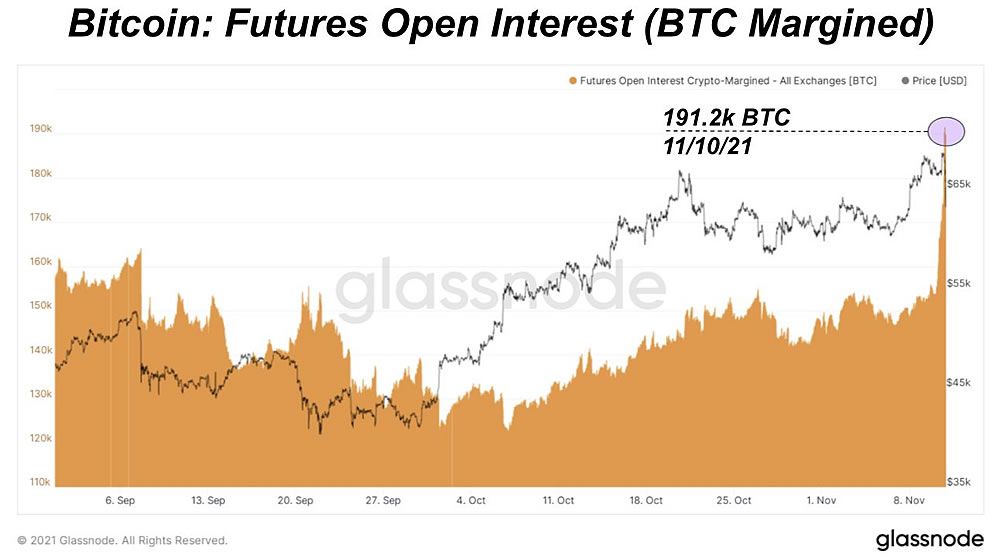 Open interest is a measurement of the total number of outstanding derivative contracts that have not been settled.
On-chain analyst David Puell also followed the events as they unfolded noting that the OI spike was on Binance, not the CME (Chicago Mercantile Exchange).
He added that the demand for contracts outpaced the demand for spot and they were trading at a premium, explaining:
OI acts as fuel to the fire to the above as predictor of a liquidation event. Liquidity can be grabbed on the downside by smarter players.
Puell added that Binance holding the OI was even more of a signal as there is a greater margin than the CME. After the crash, the contracts premium was wiped out, this was viewed as healthy by the analyst who added "good shift from premium into discount at post-crash consolidation. If consistent, very healthy."
Liquidation of leveraged positions has happened several times during this year's bull market. In early September, Bitcoin saw a $10,000 daily red candle due to the mass liquidation of leveraged longs.  
Bitcoin price outlook
At the time of press, BTC was trading down 3% on the day at $64,800 according to CoinGecko. It has lost 6% since yesterday's all-time high but appears to have started consolidating around this level over the past few hours.
On the downside, support lies around $64,300 but a sustained move higher would need to top $66,700 before potentially moving towards a new all-time high.  
Disclaimer
All the information contained on our website is published in good faith and for general information purposes only. Any action the reader takes upon the information found on our website is strictly at their own risk.