Cryptocurrencies are not a forbidden asset class for traditional investors. More and more trading platforms include the asset class in their offering. Eightcap is one of these platforms, and it offers over 300 crypto derivatives to its customers. Here is our Eightcap review and a detailed guide on how to open an account with Eightcap and start trading.
What is Eightcap?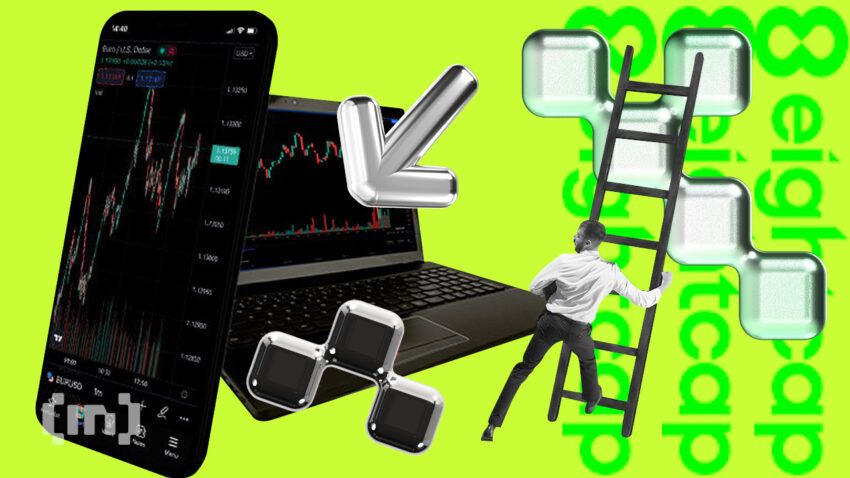 Founded in 2009, Eightcap is an Australian-incorporated brokerage company with its main office in Melbourne. Today, the company has offices in five locations across the globe, including the U.K., Bulgaria, Cyprus, and the Bahamas. Eightcap offers users the ability to trade a variety of market assets, including FX, indices, commodities, shares, and crypto derivatives.
The platform promises to offer competitive spreads compared to other trading platforms. Traders can use the familiar MetaTrader 4 (MT4), MetaTrader 5 (MT5), and TradingView trading platforms. Thanks to MetaTrader platforms, users can use some of the most popular financial instruments with fast execution and low spreads and enjoy a customized trading experience.
Eightcap offers a large range of crypto derivates (over 300), which includes altcoins, crypto-crosses, and crypto indices. The extensive product range of crypto and traditional instruments may represent an advantage for retail investors looking to hold their entire portfolio within one single account.
You can learn more about it on Twitter and Instagram.
Eightcap is licensed and regulated in the following jurisdictions:
The U.K. — Financial Conduct Authority (FCA), FRN 921296
Cyprus — Cyprus Securities and Exchange Commission (CySEC), license number 246/14 in Cyprus
Australia — Australian Securities and Investments Commission (ASIC), Australian Financial Services License 391441.
The Bahamas — The Securities Commission of The Bahamas (SCB), Financial Dealers License 40377.
How does Eightcap work?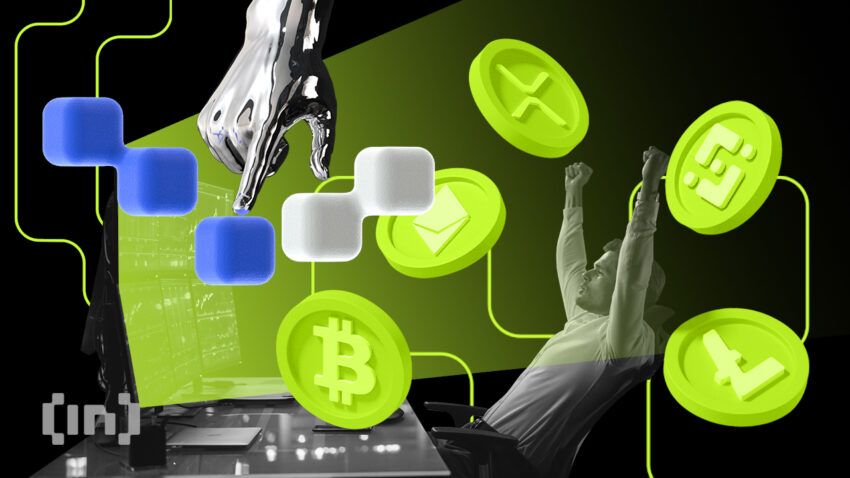 Eightcap is an award-winning CFD brokerage platform. CFDs, or contracts for difference, allows traders to speculate on the price movements of the underlying assets without actually owning the asset. Eightcap Crypto CFDs are not the same as cryptocurrency, and these derivatives might not be available in all countries.
Unlike a crypto exchange, Eightcap is a trading platform that offers trading accounts. Users have to register for an account by providing their personal details before they can make a fiat deposit and start trading. Therefore, Eightcap allows you to trade any of the offered assets using fiat money, such as U.S. dollars or Euros. There is no blockchain activity and, therefore, no blockchain transaction fees. However, just like any other trading broker, users will deal with spreads and/or other fees based on their chosen trading account. It is worth mentioning that Eightcap doesn't charge deposits or withdrawal fees.
Deposits can be made through multiple methods, including PayPal, credit or debit cards, or direct bank transfers. Note that deposits and withdrawals will be made using the same payment methods. For instance, if you deposit funds using your credit card, you will receive your funds on the same card. Furthermore, cryptocurrency deposits may only be withdrawn as crypto in the same wallet used for depositing. This rule is meant to discourage money laundry attempts.
Eightcap is a CFD broker
To trade crypto or any other asset on Eightcap, you will have to learn how CFD trading works. CFDs allow you to speculate on any price movements on the underlying asset, profiting from them. On your account, you will have the option to open "Buy" or "Sell" positions. But you should remember, trading on margin is high risk.
For instance, if you believe that the price of crypto will go up in the future, you may choose to open a "Buy" position. When the asset reaches a higher price, and you make a profit, you can choose to close the position, and your account will be credited with the profit. If you believe that the price of an asset will drop, then you may want to open a "Sell" position. However, you may also lose your initial investment if the price moves against you.
Another important aspect to consider is that CFD trading allows you to leverage your trading position. This means that you may open a position to gain exposure to a larger market while only depositing a small initial margin. It is strongly recommended that you understand how CFD trading works and all the implied costs before trading real money.
The platform offers forex trading, commodities, indices, shares, and cryptocurrencies. Eightcap is suitable for all investors. To support beginner users, Eightcap offers a demo account.
Features of Eightcap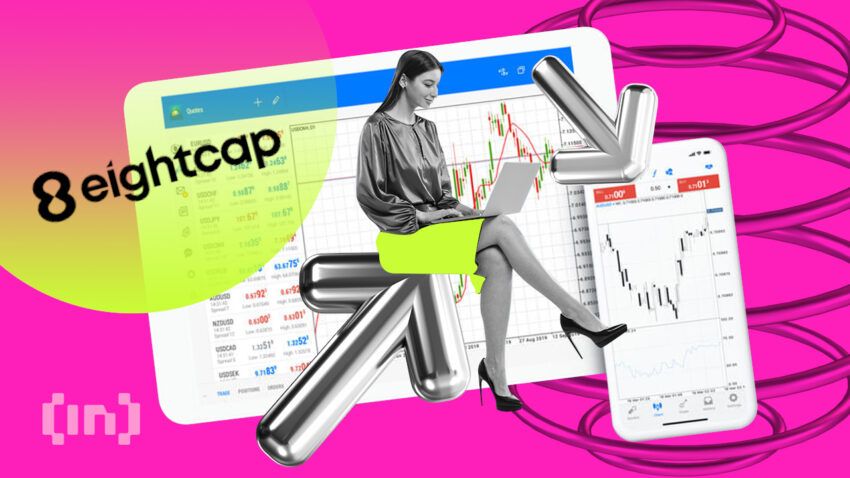 Eightcap offers three types of accounts — Raw, Standard, and TradingView. The main difference between these accounts is the commission charge.
All accounts on Eightcap benefit from the popular trading platforms MetaTrader 4 and 5.
MetaTrader offers many advanced tools and features. MT4 offers all the tools and resources necessary for successful trading. There are a variety of indicators and strategies.
TradingView is also available to traders, both on desktop and mobile. The TradingView app allows traders to view real-time prices, monitor and access accounts, enable chat and push notifications, and also create and manage chats.
One undervalued feature of Eightcap represents the Capitalise.ai tool, which allows traders with no coding knowledge to create automated trades.
Eightcap users can also benefit from the CryptoCrusher, a proprietary crypto trading tool offered in partnership with BKForex. This tool will allow traders to filter the most liquid crypto instruments and help them find the best trade ideas. This way, you can see at a glance when the trade has been opened, the target and stop limits, and when you've reached your target.
Eightcap also offers personal customer service, available in English, Chinese, Thai, Korean, French, Spanish, Italian, German, and Vietnamese.
After confirming your account, Eightcap will assign you a direct contact person which will reach you by phone and then assist you in any way you may need — from depositing issues to any other questions you may have. You may contact your personal contact via email or phone at any time to discuss any issues and concerns regarding opening positions, withdrawals, markets, and even talk about your trading ideas. They are experienced brokers that are open to any type of discussion, but they can't offer direct trading advice.
Benefits of using Eightcap
Eightcap is a regulated brokerage platform. It is regulated and supervised by financial authorities. Users that experience any issue with the platform can address the regulator.
Brokerage firms must comply with the rules and criteria set by regulatory authorities in each jurisdiction in order to be licensed to continue operating in that jurisdiction. Regulation is designed to protect Eightcap traders and create a safer trading environment. It is vital to approve licenses and financial regulations. The regulators protect traders by offering reimbursement schemes to recoup the client's investment if the broker goes under.
Eightcap is regulated under the Australian Securities and Investments Commission (ASIC), which meets the highest standards of corporate governance, financial reporting, and disclosure. All funds from retail clients are kept separate from business funds in segregated bank accounts with an AA-rated bank institution. Eightcap also offers professional indemnity insurance, which provides additional protection and trustworthy cooperation.
Eightcap offers free resources to help you trade using the popular MT4 and 5. They also offer a premium program called "HowToTrade" for traders who keep their accounts funded with a minimum of $1,000 each month. Instead of having to seek independent advice, being part of a like-minded community is always an advantage. The premium program features Andrew Lockwood, a trader with over 30 years of forex trading experience. The "HowToTrade" membership includes mentorship, video lessons to help you improve your strategies, and access to a live trading community.
Here are the main benefits of using Eightcap:
Eightcap is regulated by the Australian Securities and Investments Commission (ASIC).
There are no deposit or withdrawal fees.
You may start trading by depositing into your account just $100.
You can choose from over 300 crypto derivatives, which is much more than what other trading platforms are offering. Find a complete list of crypto derivatives here.
Besides crypto CFDs, Eightcap also offers a variety of asset classes, including FX, stocks, commodities, and indices.
It offers international support for customers, and versions of the website are translated into nine languages.
Investors can set up automated trading strategies using the capitilize.ai tool (no coding knowledge required).
Fees and commission structures
Eightcap offers two types of accounts for retail investors.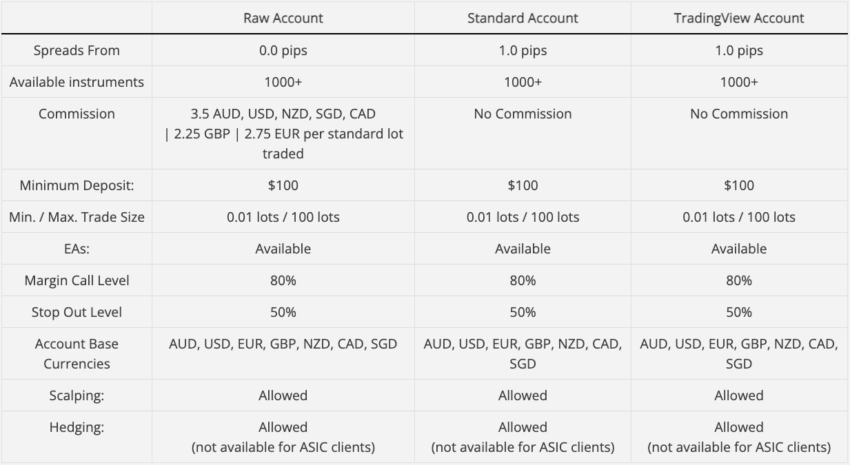 The standard account is the most convenient for most retail investors. It doesn't imply any commissions for traders, so you don't have to worry about extra fees. However, there is a slightly higher spread. The spread is the difference between the buying and selling price of an asset.
The Eightcap Standard account offers a typical EUR/USD spread of 0.5-1.8 pips and $0 commission.
The Eightcap Raw account offers a typical EUR/USD spread of 0.0-1.0 pips and a set commission for standard lot traded of 3.5 USD/2.25 GBP/2.75 EUR.
TradingView
Eightcap charges no deposit or withdrawal fee. Note that most brokerage accounts, including Eightcap, charge a rollover rate, which is an overnight fee for maintaining your open positions. This rate is different for long or short positions and may differ for each asset.
How to use Eightcap?
Anyone can use Eightcap to start trading cryptocurrencies and any of the other trading instruments. The first thing you need to do is to open an account on Eightcap and fund it.
Opening an account on Eightcap
You can open an account with Eightcap in a few easy steps.
Click on the "Create Account" button on the homepage
To register for an account, click on the "Create account" button located on the homepage.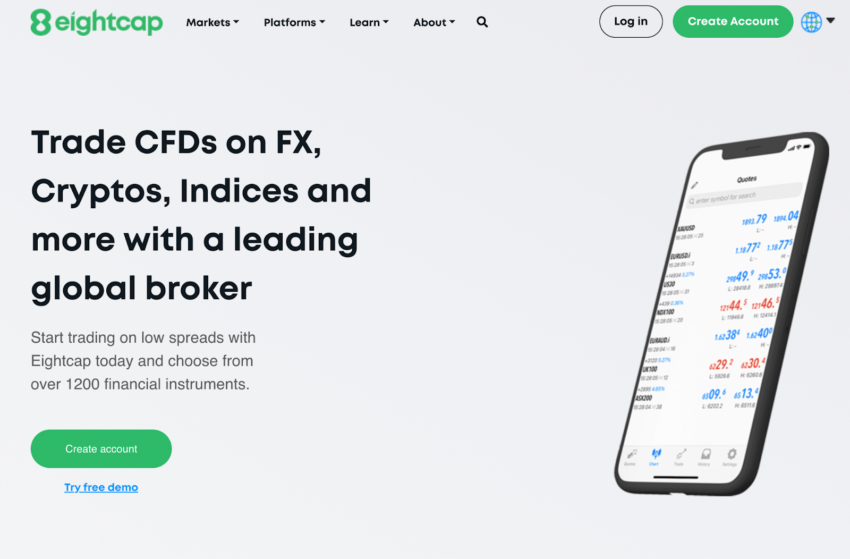 Fill out the form with personal details
You will then have to fill out the form with some personal information. All platforms that handle financial transactions are required by regulators to collect personal information about their customers.
For this step, you will need to provide your country of residence, full name, phone number, and email and set a password for your account.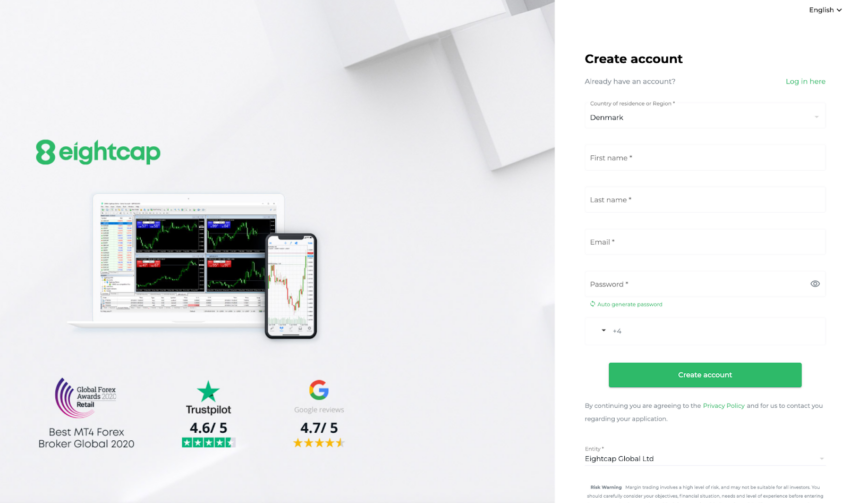 Verify your email address
Once you have registered, you will get an email in your inbox. Open that link to verify your Eightcap account. From here, it's time to make a deposit!
Provide financial information
All clients need to provide personal details such as name, date of birth, address, and country of tax residence.
Select account type
You may choose the preferred trading platform here — MetaTrader4, MetaTrader 5, or TradingView. Furthermore, for each account, you may also choose the preferred currency (AUD, CAD, EUR, GBP, NZD, SGD, or USD). You may open additional trading accounts later (up to five) on any of these platforms and currencies. Demo accounts may also be opened later after your account has been confirmed.
And you can choose your leverage, which ranges between 100:1 to 500:1, and 1:20 for cryptos. Note that choosing a high-leveraged account may offer great exposure and potentially more gains, but the losses are also greater.
Read and understand legal documents
To be able to start trading, you will need to complete the application for a trading account by reading and understanding that there is a risk of losing money associated with derivative products. Make sure you read them before you start trading!
Confirm your identity
To comply with the local regulations, Eightcap will ask you to provide documents that can confirm your identity. To prove your identity, you may provide a copy of your national ID or passport. For your proof of address, you will need an official document that clearly states your name and home address (the same as the one provided in the application). This can be a recent utility bill or a bank statement.
Click on "Submit docs" when you're ready to upload your documents. Your application will now be reviewed by Eightcap's compliance team. Once they have confirmed all the details, you will receive a confirmation email.
Make a deposit
Finally, after your identity has been confirmed, you may make your first deposit on Eightcap and start trading crypto CFDs. You may choose any of the available options to deposit money. Note that these may differ based on your location.
Luckily, Eightcap offers plenty of alternatives for depositing funds, including bank transfers, credit/debit cards, PayPal, or crypto. Here's the entire list of funding options offered by Eightcap.
How to trade on Eightcap?
Here's how you can use Eightcap to start trading over 300 crypto CFDs.
Eightcap dashboard
Eightcap offers the popular MetaTrader 4 and 5, the TradingView app. Depending on the chosen platform during your application, you will find it now under "Dashboard." We've chosen the newly integrated TradingView platform, which lets you trade directly from TradingView, which is connected to your Eightcap account.
If you want to use MT4 or MT5 platforms, you may open an additional account (click on "+Request Additional Account"), and you may choose the platform and currency. Depending on your trading strategy and assets, you may want to open different accounts in different currencies. For instance, accounts in USD are most popular for FX traders, and most cryptos are also paired with USD.
If you want to open a Demo account, you can choose it from here. Note that Demo accounts are only available for MT4 and MT5 trading platforms.
If you have multiple accounts that have the same currency, you will be able to transfer funds between them and the accounts are correlated.
Trading with Eightcap and TradingView
Note that you will need a separate TradingView subscription to use this option.
To use TradingView, you will first need to connect your TradingView account to Eightcap account before you can start trading. To do so, login into your TradingView account and search for "Eightcap." Go to the broker's page.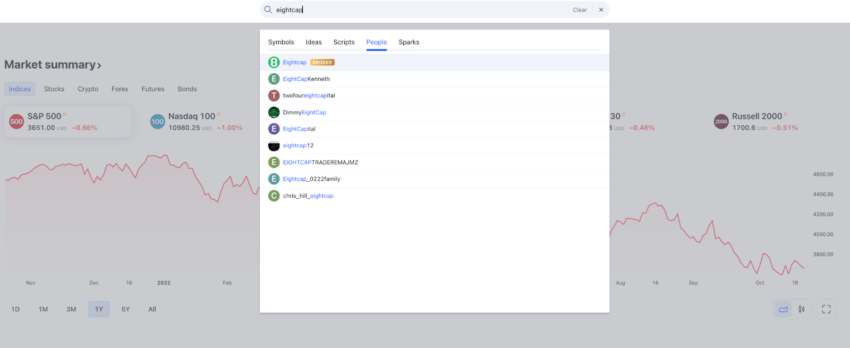 Click on "Trade," and you will have to enter the details of your Eightcap account. You can find these details in the confirmation mail from Eightcap.
After you've connected the two accounts, search for any asset in TradingView that you want to trade and start placing orders.
MT4 and MT5 trading accounts on Eightcap
As we've already mentioned, you may open up to five trading accounts by requesting additional accounts from your dashboard. You may choose a different platform, currency, leverage, and type of account for each of these trading accounts. They all share the same login credentials, which can be found in your confirmation email.
For MT4, you will have to download the software to your device. If you choose MT5, you may also use it on the browser. You will first have to connect your Eightcap account to the trading platform.
Here's what the WebTrader interface looks like. Demo accounts will only feature FX, but once you fund your account, you will be able to trade any of the assets offered by the Eightcap broker (commodities, indices, stocks, FX, and crypto).
The "SELL" and "BUY" buttons
Eightcap is a CFD trading platform. When you trade CFDs, it means that you are not buying the underlying asset.
Instead, you are placing a bet on the price movement of the asset. You can see the main buttons for each asset, which are "Sell" and "Buy." To see more details about a specific asset, simply click on the name. You will see a chart of the asset's price movements.
For instance, on TradingView, you will have to search for the crypto pair you want to trade and open the "Trade" window.
For instance, in this chart, you can see Bitcoin's price trading upwards. If an asset price is trending up, traders will often click "Buy" because they believe that the price of the asset will go up. By clicking on "Buy," the traders are opening a "Buy" position, hoping the price will go up. If the price does go up, they close the trade and will earn the difference between the "Buy" price and the price at the moment when they close the position.
If the chart were trending down, they might click "Sell" if the trader believes that the price will go down. This means that the trader will open a "sell position" and sell the asset at the current price. If the price of the asset drops, the trader can close the successful trade and receive the profit, which is the difference between the selling price (the moment the trader opened the position) and the moment he closed the trade.
As you can see, the profit comes from the difference between the two moments — the moment when the trader opens the position and when the position is closed, hence the name CFD (contract for difference). This is what a trader actually does when he trades CFDs.
Close your position
Wait for the asset price to move enough to bring a profit, open your portfolio, and then click "X" to close the trade.
In TradingView, you will see your orders and open positions under the chart. Here's an example of what your portfolio will look like when you have opened multiple positions on MT5.
If you're new to CFDs, it is recommended that you start experiencing CFD trading with a demo account.
Trading with a demo account
If you are new to CFD trading and don't want to waste real money to learn how it works, then you may choose to open a demo account. This way, you may test the Eightcap platform and implement your trading strategies without any commitment. However, demo accounts on MT will only offer FX trades, which are fairly different from crypto trading. Even so, it's a good start to get used to the platform's features and options before you use real money for trading.
Trading cryptocurrency on Eightcap is easy
Eightcap has many things going for it as a trading platform, including simple, understandable features and a user-friendly environment. Do note that derivatives such as the Eightcap crypto CFDs involve different risks than normal cryptocurrency trading. That's why it's important to create a risk management strategy that may keep you in the market even when prices move against you.
The platform also offers forex trading, ETFs, and individual stocks, which are meant to suit most traders and investors. These features together make it quite a robust platform and one worth checking out if you want a one size fits all solution.
Frequently asked questions
What assets can I trade with Eightcap?
What tools will I have access to if I open an account with Eightcap?
What is the minimum deposit for Eightcap?
Is Eightcap a market maker?
Is Eightcap available in the U.S.?
Disclaimer
In line with the Trust Project guidelines, the educational content on this website is offered in good faith and for general information purposes only. BeInCrypto prioritizes providing high-quality information, taking the time to research and create informative content for readers. While partners may reward the company with commissions for placements in articles, these commissions do not influence the unbiased, honest, and helpful content creation process. Any action taken by the reader based on this information is strictly at their own risk.