(KNC) Kyber Network Price Prediction & Forecast [Updated 4 March 2019]
Thinking of investing in Kyber Network in March 2019? Here is our honest price prediction and forecast.
Overview
Update (Mar 4, 2019):
 The Kyber Network, with its native token KNC, is hoping to be the future of
decentralized exchanges
. With the current mood of the crypto community being against the centralization of Coinbase and others, the network shows genuine potential to gain market traction. The coin has also shown relative stability since the end of 2018 and has even increased in value at small levels. The price is currently above $0.15 and appears stable.
Kyber Network is a decentralized liquidity platform for digital currencies — a decentralized exchange. The Kyber Network Crystal (KNC) token is its native digital coin and is primarily used to pay exchange fees. Users can also earn passive income via the KNC token through pooling and storing their assets on the Kyber Network.
The Ethereum-based protocol enables "instant exchange and conversion of digital assets such as digital assets (e.g. crypto tokens) and cryptocurrencies (e.g. Ether, Bitcoin, ZCash) with high liquidity." Kyber Network launched an
initial coin offering
(
ICO
) in September 2017 that raised approximately $60 million USD. It was one of the top performing ICOs of the 2017 ICO boom. The KNC token was then listed on
Binance
and other prominent exchanges. During the peak crypto boom of early 2018, the coin reached a high of $5.32, with a market cap of over $700 million. However, as with all other cryptocurrencies, the
Crypto Winter
has not been kind to KNC. The coin dropped drastically through the course of the year — ultimately reaching a low point at $0.12 near the end of Nov 2018. KNC currently ranks at 130th by market cap, with a market cap of $24.57 million and a volume of $4.92 million. At the time of this writing, the token is trading at $0.156. The relative stability of the coin through the end of 2018 and into 2019 is a sign of hope. However, like most other altcoins, KNC will likely find little ground for support until the overall crypto market has drastically improved. For that reason, we at BeInCrypto expect the price of KNC to remain stable at current levels around $0.15 while gaining overall fundamental market support throughout 2019.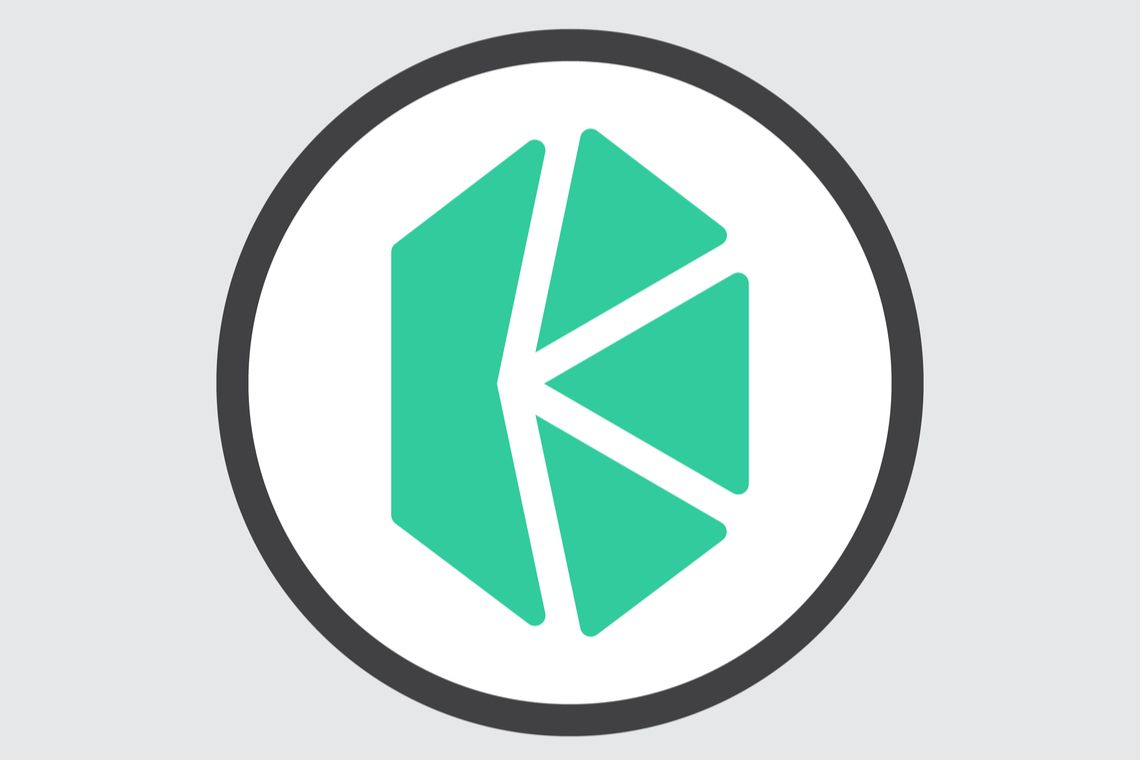 Fundamental Analysis
KNC, an ERC-20 token, is the native token of the Kyber Network. It facilitates the operational capacity of token liquidity throughout the Kyber Network. In order to take advantage of the system-agnostic Kyber Network, third party token holders must purchase KNC. KNC is used to pay for operational costs including transaction fees.
Additionally, DApps and other connected business ventures can register and utilize the Kyber liquidity network in order to take advantage of the Kyber blockchain exchange system. In doing this, DApps have the opportunity to passively earn income in the form of KNC. This income is the result of directing users toward the Kyber Network and increasing adoption rates for the protocol— effectively an internal referral program. The value of KNC lies in the ambitious Kyber concept. Designed to remove the centralization that continues to plague the top exchanges, KNC operates under the core premises of liquidity and bookless trading. In this way, the Kyber team has created a seamless peer-to-peer (P2P) digital asset exchange network. With concerns in the cryptocurrency community growing and centralized exchanges like Coinbase losing support, the need for P2P exchanges will increase.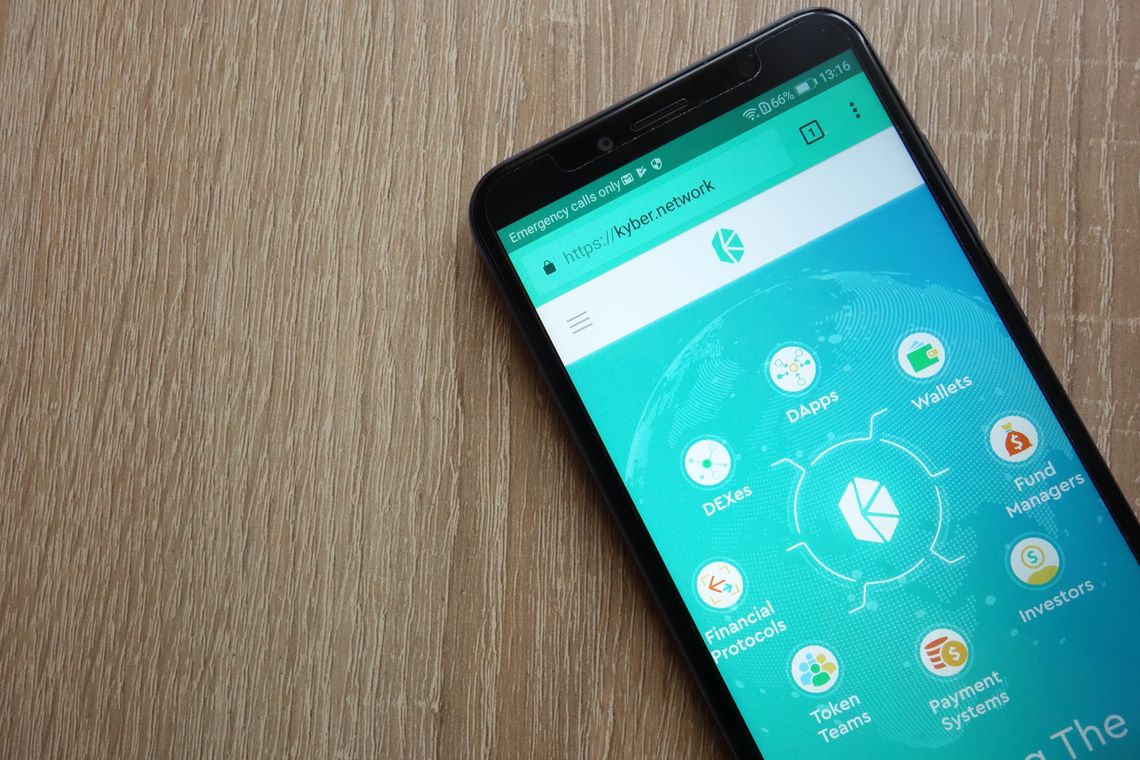 Technical Analysis
Kyber Network (KNC)
leaped into the cryptocurrency world just months before top performers Bitcoin (BTC) and Ethereum (ETH) led the entire market to all-time high prices in January 2018. KNC began trading around $1.00 USD. The token then followed industry price trends, reaching highs above $5.30 USD during the peak of the bull market.
These price changes were fueled by significant press coverage of the Kyber Network concept. Weary of questionable exchange practices, high transaction fees, and continued concerns about hacking and other
security
issues, the idea of a decentralized, blockchain-based exchange protocol was appealing.
In alignment with other publicly trading altcoins, KNC dropped in value through most of 2018. April 2018 brought a large boost of over 200 percent in KNC prices. This jump coincided with rumors of Bitcoin moving onto the Ethereum blockchain and was short-lived. For the rest of the year, KNC continued to drop in price. KNC currently trades at about $0.15 USD, up from lows in December 2018 and February 2019 of under $0.12 USD. However, the coin has remained relatively stable at this price and has even seen small improvements through the beginning of 2019. These signs indicate that the decentralized exchange is likely growing its user base, albeit slowly.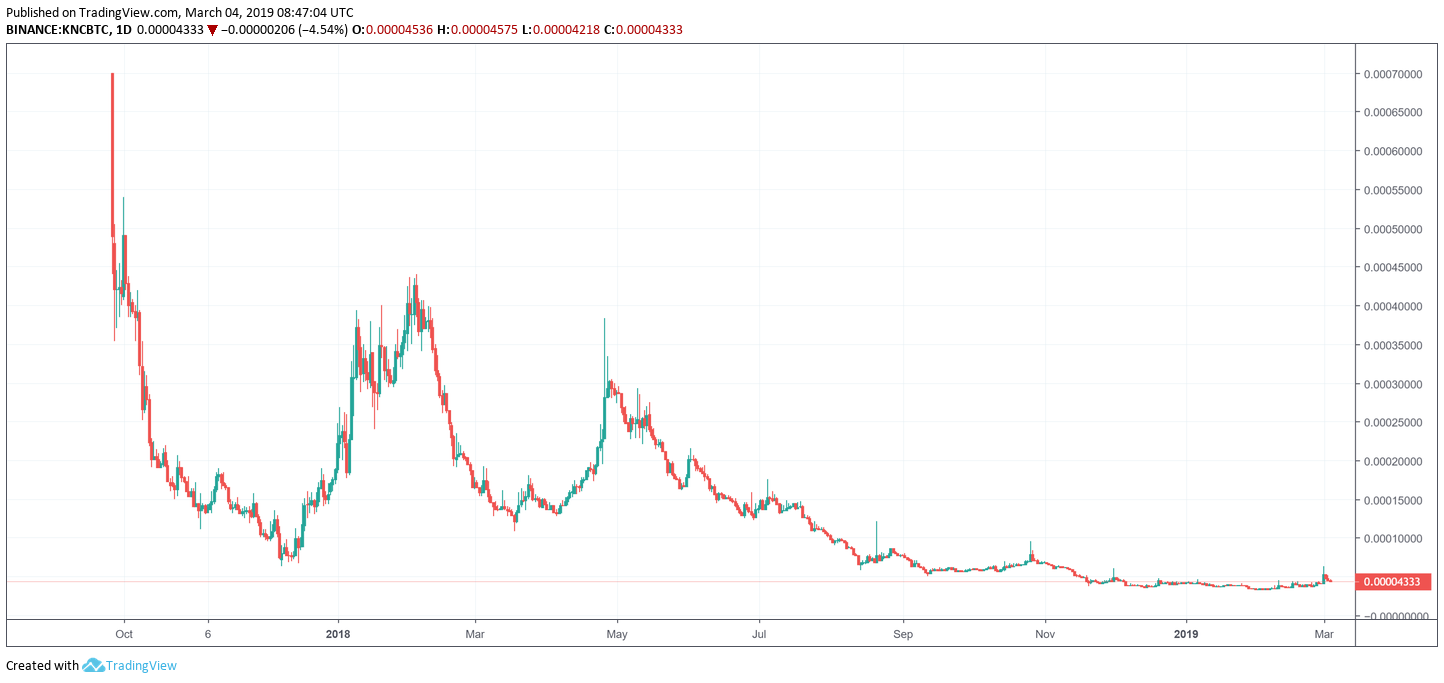 Specialists' Perspective
The Kyber Network theory of a decentralized exchange is very popular among blockchain experts and digital currency analysts. However, the more popular decentralized exchanges, such as IDEX and OasisDex, continue to experience issues with network liquidity. Kyber provides solutions to these liquidity issues by allowing decentralized exchanges to fully realize their true capacity. Through token exchanges, payment services, and proxy payments, Kyber offers very low transaction fees and guaranteed liquidity by way of KNC. Its closest competitor, 0x, provides practically the same services. However, Kyber differs from 0x in that it provides an on-chain record of transactions and order books. Kyber also boasts a solid panel of advisors, investors, and partnerships. These include Wanchain (WAN), ICON (ICX), MyEtherWallet, and other notable blockchain companies.
By far the strongest asset to its advisory board is Ethereum's Vitalik Buterin. However, the entire development team consists of well-respected crypto and
distributed ledger technology
leaders — including Yaron Velner and Victor Tran from SmartPool, and Loi Luu, who previously founded several key digital currency support companies. According to CryptoBriefing, Kyber Network offers a few key features that set it apart from other decentralized exchange platforms currently on the market. It appreciates the smart contract functionality that on-chain transactions provide. Closely coupled with that is the KNC token that is used for fees for on-chain exchanges.
 Overall, their outlook for the coin is positive. CryptoBriefing also mentioned the KyberSwap DApp as a potential point of strength for Kyber.
A portion of KNC is also burned with every transaction, to avoid
inflation
. CoinCentral notes this feature as a key factor in keeping the KNC token continuously deflationary — leading to inevitable price increases. For that reason, they are bullish on the token as well.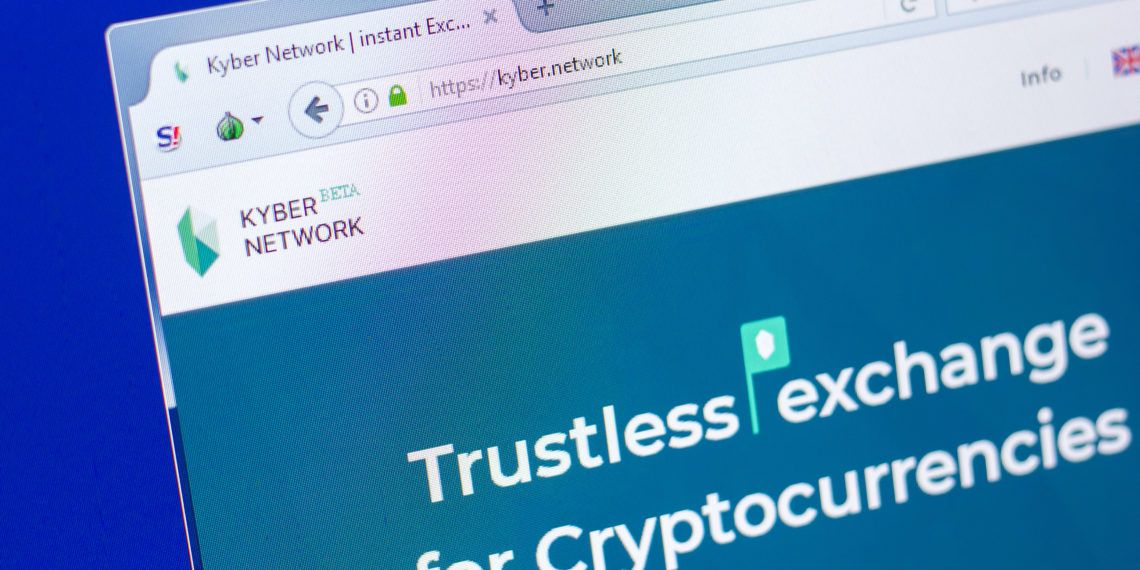 Kyber Network Price Prediction 2019
With the entire industry moving toward functionality and widespread adoption, Kyber is poised to see gains in both use and value in 2019. Nevertheless, these improvements will not result in dramatic price gains for the token but rather recovery-like patterns throughout the year. Given proper visibility and favorable market conditions, the coin could jump in price — but not dramatically. However, cryptocurrency has been plagued by an extended and brutal bear market for over a year now. While prices may not drop to zero, as the Bitcoin maximalist-leaning analysts at WalletInvestor predict, it could see continued drops of as low as $0.03 within the year 2019. Other predictions offer more neutral price predictions, expecting KNC to remain steady for the next year, trading around $0.15 — especially if the market begins to move out of the bear market and toward correction in the next 12 months. Coupling the positive outlook and strong fundamental market proposition with the current bear market and need for stability, the coin will likely remain at or around its current value throughout 2019.
Kyber Network Price Prediction 2020
2020 is set to bring significant change to the ever-volatile cryptocurrency market. KNC prices could reach highs of up to $1.90 in 2020, as predicted by analysts at CoinSwitch. Again, these positive predictions assume both market correction and market growth. They also assume continued exponential widespread adoption of cryptocurrency trading. However, in keeping with the volatility potential of the overall market, KNC could also see continued drops in price for the year 2020. DigitalCoinPrice offers a prediction of zero change in the price of KNC through the year 2020. Its long-term predictions are very positive. Kyber offers a solid concept and meets a growing market need. However, in keeping with the cautious optimism that has enveloped the entire market as a result of the past 12 months, we do not expect any short-term price explosions as seen in previous years. With its strong advisory board and solid blockchain connections, KNC is likely to stay relevant through 2020 and beyond. However, this relevance will be muted as the industry moves toward more decentralized trading. With this in mind, KNC will likely move upward but not reach above $1.00 in 2020.
Kyber Network Price Prediction 5 years
A five-year investment in KNC could result in very positive growth. CoinSwitch predicts that prices could hit $3.80 within five years, a gain of over 2334 percent. This prediction is based on growth in Kyber's backend technology, which should help improve investor confidence over the next five years.
CoinSwitch specifically cites Kyber's firmware upgrades, resulting in tighter security and a renewed focus on smart contract projects, as reasons to support a positive long-term price forecast for KNC. Obviously, market conditions such as continued volatility, an extended bear market, and the failure of the market as a whole to continue to push toward widespread cryptocurrency adoption could elicit a very different outcome for KNC. The more conservative analysts at DigitalCoinPrice expect that five-year prices in the $0.65 range are a safer bet for KNC. With the fundamentals firmly in place, the Kyber Network looks to be a frontrunner in decentralization. As the market matures, this will provide growth in the user base. Since the KNC coin is directly linked to trades on the exchange, and since a portion is burned with each transaction, the coin will likely increase in price. Our conservative five-year prediction would suggest moderate growth, with the coin reaching $2.00. However, should the market remain bearish or another more viable solution for decentralization emerge, the Kyber Network could shutter entirely.
Our Prediction
At
BeInCrypto
, our price forecast for the KNC token is partially based on current market conditions and the rate of technology development industry-wide. We predict that KNC will remain stable at or around $0.15 in 2019.
Our prediction does take into account KNC's extended period of low prices ranging between $0.12 and $0.16 over the past three months, possibly indicative of a market bottom. Unfortunately, while altcoins like KNC have shown signs of balancing out, market leaders BTC and ETH have not demonstrated similar price reliability.
Therefore, our prediction is primarily based on the strength of the Kyber platform, its unique on-chain smart-contract-based transaction concept, and its very respectable team of advisors — most notably, Vitalik Buterin. We believe that the Kyber network is ready to take on the rapidly expanding needs of cryptocurrency investors. The development team's creative and proactive approach evinces confidence and trust in the platform's long-term viability.
Period
Kyber Network Price Forecast
Best Case Scenario
Worst Case Scenario
2019
$0.15
$0
2020
$1.00
$0.15
5 years
$2.00
$0
Nevertheless, investors should always do their own research and tread lightly before investing in any cryptocurrency.
All cryptocurrencies, including 
Bitcoin (BTC)
, are extremely volatile. Never invest more than you can afford to lose and be prepared to lose everything. 
What do you think of our price prediction for Kyber Network in 2019? Will it become the go-to choice for decentralized exchanges? Let us know your thoughts in the comments below! 
Disclaimer: The contents of this article are not intended as financial advice, and should not be taken as such. BeInCrypto and the author are not responsible for any financial gains or losses made after reading this article. Readers are always encouraged to do their own research before investing in cryptocurrency, as the market is particularly volatile.
Disclaimer
All the information contained on our website is published in good faith and for general information purposes only. Any action the reader takes upon the information found on our website is strictly at their own risk.