Going by recent trends, there is no doubt that NFT trading games are gaining traction globally. Their reach is now well beyond the intersection where the gaming and crypto communities overlap. In fact, the play-to-earn model at the heart of these games has emerged as a breakthrough concept that could (potentially) forever change how video games are played.
PTE Game, an emerging Hong Kong-based GameFi company, aspires to be at the forefront of this new phenomenon.
PTE Game launches the world's first play-to-earn, 3D NFT game
Just in case you're out of the loop, PTE Game is a fairly new company, having been officially launched on July 27, 2021.
The company describes itself as:
"We build blockchain games that combine DeFi and NFTs to create a truly unique and everlasting ECOSYSTEM."
Barely three months into existence, PTE Games has already built itself a formidable team of 30. The team consists of well-known venture capitalists, professional blockchain researchers, and a development team with over 10 years of experience in traditional games.
The company released its first game, Idle Mystic, on Aug. 26, 2021. The game was off to a good start right from the word go, which was evident from the fact that the presale was sold out in just six days.

Idle Mystic happens to be the world's first 3D NFT game. By the end of the presale, it had scored 20,000 registered users, and as of Oct. 2021, it claims to have added a further 30,000 registered users to the tally.
Idle Mystic: An overview of the fast-growing NFT trading game
Idle Mystic is basically a play-to-earn, multiplayer strategic incremental role-playing game (RPG) that combines idle and clicking. Players in the game start by selecting their favorite characters (heroes) and formations, which is then followed by intense battles. The core combat in the battles combines classical turn-based game modes.
But, before we get into the Idle Mystic gameplay and its features, note that the game operates on Polygon and you need to add the Matic Mainnet to your wallet (e.g. MetaMask wallet). The detailed procedure for adding Matic Mainnet to your wallet, as well as the subsequent steps can be found here.
(If you're not familiar with the MetaMask wallet, here's BeInCrypto's detailed guide to using MetaMask)
Gameplay and in-game dynamics
One cool thing about the game is that when it comes to battle strategy and formations, there are thousands of different combinations to choose from.
You can defeat your enemies in the game and earn hefty rewards. The better you get at building winning formations and utilizing your heros' skills, the higher the rewards.
Each player needs a minimum of three heroes to start a battle. There are two ways you can acquire heroes in this fast-paced NFT trading game:
Buy heroes from the Idle Mystic official store.
Alternatively, you can also purchase heroes directly from other players on third-party marketplaces.
All heroes come with four types of properties including Health, Speed, Skill, and Morale. These properties are created by smart contract algorithms and the algorithms ensure that all heroes' property qualifications are equal.
There is a PvP (player vs. player) game mode that lets you compete against other players. You need to choose different battle formations depending on the strength and properties of your heroes. The winners in these strategic battles are incentivized with attractive rewards.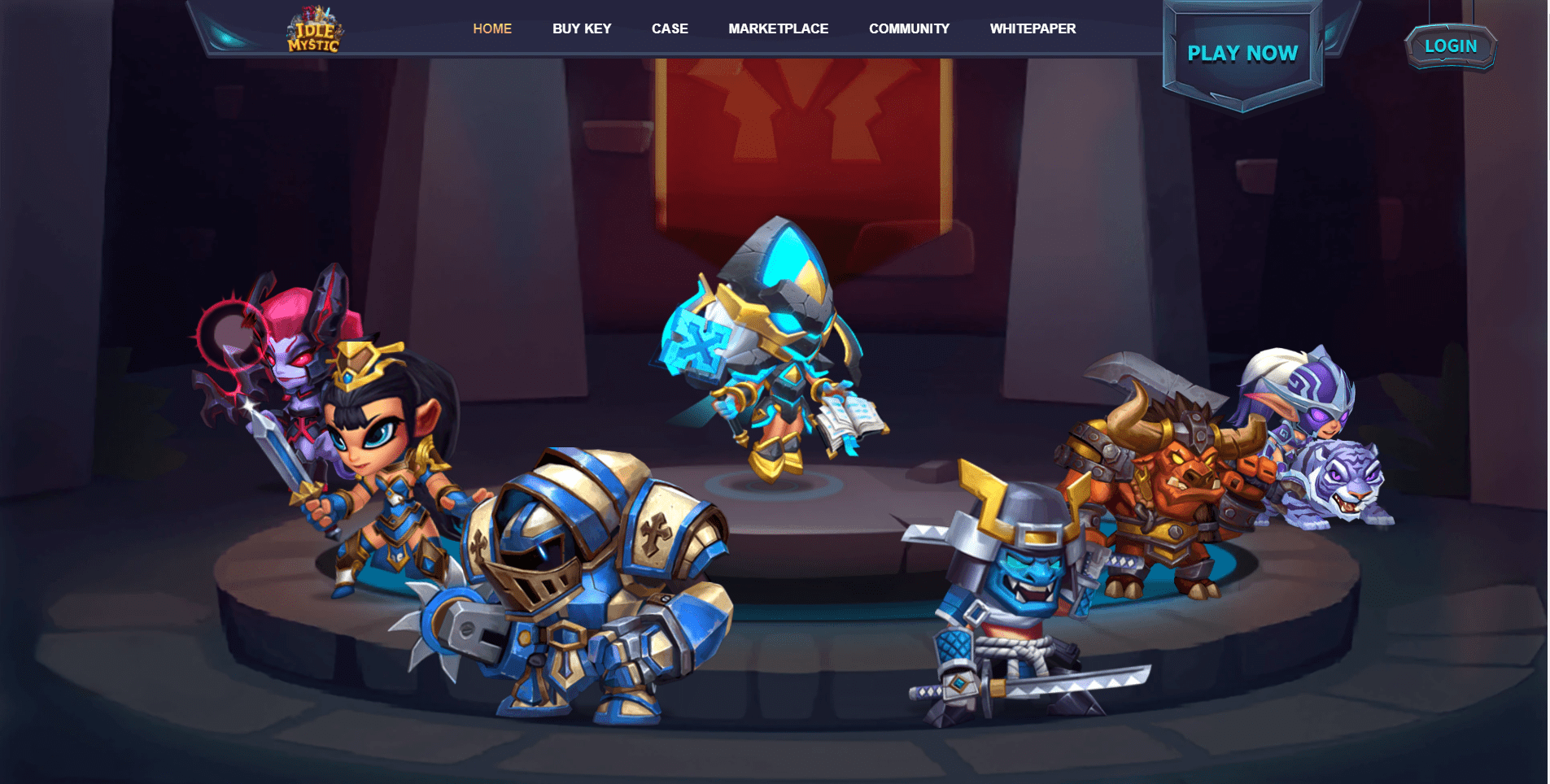 There is also a ranking system that selects the top players and rewards them depending on their in-game activities at the end of each session.
Players get full control over their assets and accounts
Another interesting thing about this play-to-earn game is that, unlike traditional video games, the company doesn't own players' accounts. Rather, the players themselves are in full control of their accounts. The decentralized wallets through which transactions take place also belong to the players, not the company.
Furthermore, in traditional games, in-game assets do not usually amount to anything outside the game. That's not the case with Idle Mystic.
As an NFT trading game, Idle Mystic offers a marketplace where players can build and trade their dream team of heroes. They can buy and sell NFTs while simultaneously searching for heroes and skills to gain more power in the game. The trading system used by Idle Mystic is fully powered by smart contracts on Polygon.
Refer to this detailed guide here for more information on how to buy, sell, and transfer heroes.
Idle Mystic token (IMT)
The Idle Mystic token (IMT) is the homegrown asset in the Idle Mystic universe. It is basically a governance token that also helps connect players together. By holding IMT in your wallet, you earn the right to participate in the community governance process. IMT holders, together with players, have voting rights to make decisions for the game and the Idle Mystic community.
PTE Game plans on listing IMT on leading decentralized exchanges (DEXs) by the end of Oct. 2021. The company promises that the token will be listed on multiple top centralized exchanges by the end of this year.
Final thoughts about Idle Mystic and its play-to-earn model
The dev. team over at PTE Game is working on several new features and functionality to make Idle Mystic one of the best play-to-earn games around. This includes the release of the much-anticipated Idle Mystic Arena, a player vs. player Tournament Arena that is expected to add more meat to the gameplay.
The underlying tokenomics of the game seems quite promising and financially rewarding for the players. And it's not just the financial component, the gameplay itself seems exciting enough to draw a sizable pool from the core gaming community.
Overall, if you are an NFT trading game fan (or a fan of strategic multiplayer online RPGs), Idle Mystic is a title worth checking out. Refer to the project's whitepaper for further details. Alternatively, you can also register for free to get a firsthand account of the game
Disclaimer
All the information contained on our website is published in good faith and for general information purposes only. Any action the reader takes upon the information found on our website is strictly at their own risk.