Meet Poloniex, the cryptocurrency platform that lets you trade like a legend. With over 500 spot trading pairs on the cryptocurrency exchange, the next question is how do you survive in this crypto bear market once you've picked your assets of choice?
Bull vs. bear market
Bull markets
So what exactly is a bull market? A bull market also referred to as a bull run, is a longer period of price growth. (Price growth in the value of a stock, or in this case, the cryptocurrency market.)
However, you've probably heard the commotion by now. Debates about whether we're in a bull or bear market. There's quite a bit of chatter around Bitcoin, Ethereum, and other crypto assets. But the question is, what market do we find ourselves in? Are we in a crypto bear market?
Well, considering how Bitcoin and other major cryptocurrencies have been shedding value over the past few months, it is kind of established by now that we're indeed in a crypto bear market.
What is a bear market?
For those out of the loop, let's start this section with the definition of a bear market. A bear or bearish market is when the value of a stock or crypto is decreasing for a long period of time. Therefore, you could say that a bear market is the exact opposite of a bull market.
If you're wondering how long bear markets last, the answer is it could be anywhere between a few weeks to several months or even more than a year. That said, on a longer time scale, bear markets tend to last considerably less than bull markets.
The difference
A bull market is an upward-trending market. Essentially it is on the rise. Whereas a bear market is a market in a downtrend and exists in an economy that is receding. Although you may come across some investors that are bearish, the majority of investors you may come across are mainly bullish.
How to trade in a crypto bear market
Let's start this section with this fundamental question As a cryptocurrency trader on the crypto exchange Poloniex, you need to have a strategy in place in order to make the most of the markets. One such strategy is dollar-cost averaging, also referred to as DCA.
What is dollar-cost averaging?
Dollar-cost averaging also referred to as DCA, is a strategy where you invest a total sum of your money in small increments over a period of time instead of investing it all at once. Poloniex allows you to do this.
Ideally, the goal is to take advantage of market downturns without risking too much capital at any given time.
Why choose Poloniex
Poloniex is a cryptocurrency exchange founded in 2014 that allows you to buy, sell and trade crypto assets, such as Bitcoin, Ethereum, and other trending altcoins. Poloniex is a secure exchange that guarantees safety and security to you as the user while conducting your transactions.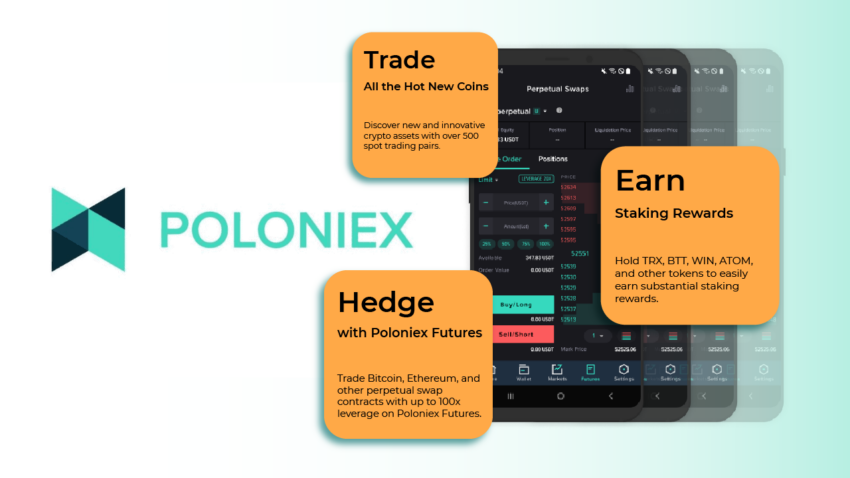 Combating the bear market with Poloniex
In an effort to help traders and users, Poloniex introduced quite a number of services to help you make the most of the bear market.
USDD 30% APY Staking
Poloniex offers a way for you to earn rewards through staking. Here's how:
You need to deposit USDD into your Poloniex account
Hold a minimum of 10 USDD in order to be eligible for the rewards
Four snapshots of your USDD balance will be taken at 00:00, 06:00, 12:00, and 18:00 UTC every day
Your rewards will be sent and allocated to your Poloniex account every other week.
You'll have no lock-up period when staking with Poloniex, meaning you can deposit, withdraw and trade at any time and enjoy your bi-weekly rewards.
TRX Staking
Enjoy TRX staking with Poloniex with zero fees! The exchange gives all staking rewards back to all its traders and users. The exchange is also responsible for paying all staking fees for users who are holding TRX.
The annual yield of TRX staking rewards will differ with each distribution. The exchange, however, is committed to offering the most competitive rate to all its traders.
Other APY staking initiatives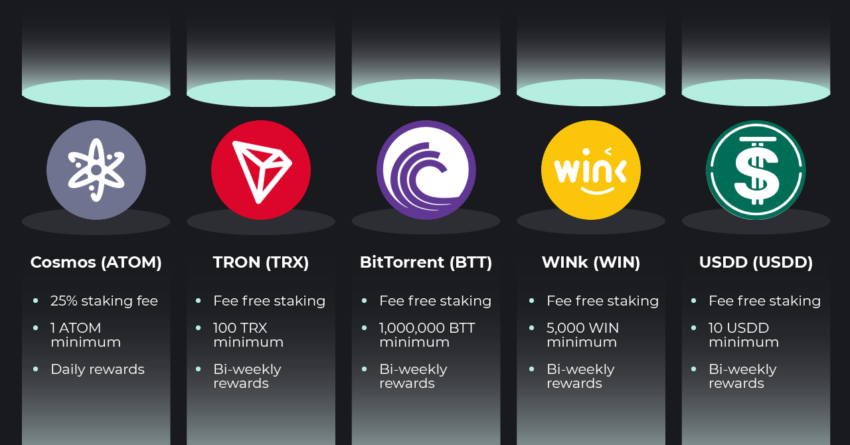 Poloniex Space Traveller program
Poloniex recently announced a new referral program called Poloniex Space Travellers which enables users to earn up to a 60% referral bonus. The exchange pitches the program as an ideal way to earn recurring passive income by doing little more than sharing a link.
The procedure is simple – you just have to share your referral code with your friends, family, and others in your social network. All Poloniex customers are given a unique referral code that can be retrieved from their account settings.
Every time someone joins Poloniex using your referral code, they get a 10% rebate on their trading fee and you will receive up to 60% of their trading fees – a win-win situation for all.
Airdrops & NFTs
Poloniex is constantly looking for ways to put you as the trader first and allow you to earn an income. One such way is by constantly holding airdrops.
Mint and sell NFTs on the APENFT marketplace, available directly on Poloniex with zero initial transaction and minimal gas fees!
Find the latest campaigns and airdrops in the Poloniex announcement center. Follow Poloniex on Twitter to be up-to-date regarding social campaigns.
Still have questions?
Poloniex cares about your education and making sure you're well-informed and kept in the loop. Meet our crypto learning platform Polopedia.
Polopedia is a crypto knowledge-base by Poloniex that keeps you informed and updated on what happens in the industry. The page also informs you on how to deal with and approach bear markets!
Sign up to Poloniex and enjoy over 500 cryptos at your disposal! Follow the exchange on Twitter, Telegram, and Medium, and continue expanding your knowledge!
Disclaimer
All the information contained on our website is published in good faith and for general information purposes only. Any action the reader takes upon the information found on our website is strictly at their own risk.