The fear around custodial wallets reached a fever pitch late last year. With FTX's dramatic collapse, the entire ecosystem rediscovered the value of the old adage "not your keys, not your crypto."
Custodial wallets are wallets that the user does not have complete control over. A third party, like an exchange, will hold the private keys. This is crucial if the organization controlling your custodial wallet becomes defunct or gets hacked. Non-custodial wallets add an added layer of protection, as you retain ultimate sovereignty over your crypto.
It is not just illegal activity and poor management that puts your custodial crypto wallet at risk. If anything, hacks should be your biggest concern. Black hat hackers looking for a payday are tempted by the billions of dollars locked up in the most popular exchanges.
The Binance exchange was hacked for $570 million in October 2022, one of the most high-profile attacks in cryptocurrency history. BSC Token Hub, a cross-chain bridge, was exploited by hackers, resulting in the creation of extra Binance Coins (BNB) and the withdrawal of 2 million BNB.
FTX suffered an attack that took hundreds of millions shortly after it declared bankruptcy. Although, that particular exploit remains shrouded in mystery and suspicion. Many members of the community still remain unconvinced that it was a genuine exploit.
Late 2022 Was A Boom Time For Hardware Wallets
The crisis of confidence in custodial wallets has not been bad for everyone. It is no surprise that the hardware wallet industry has grown as more traders and holders seek to secure their funds.
Trezor, one of the two industry leaders, saw traffic jump to more than 350% in the days after the FTX bankruptcy. In the days before, the company's sales had more than tripled. According to a source at Ledger, the other market titan, last November was their best month ever, and they have seen a sustained sales uptick since.
Hito, a hardware wallet that offers users wireless charging and NFC, is another that has seen significant growth. "There's been an industry-wide uptick. Ledger has announced a partnership with Binance just before the collapse of FTX," said Mikhail Kirillov, CEO of Hito.
"Although Hito announced its presale less than six months ago, we can report a trend of sales doubling month over month since the FTX collapse."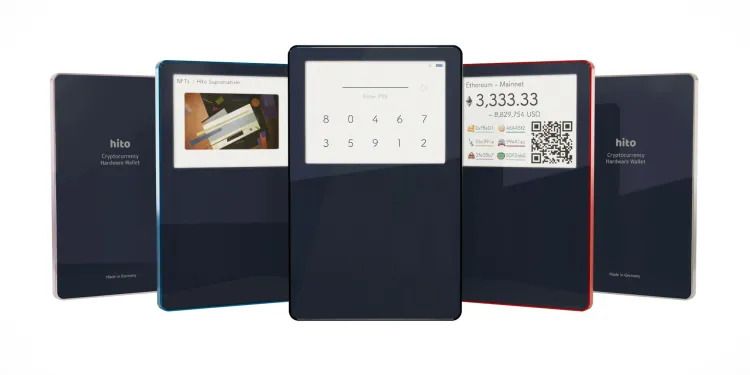 Hardware wallets are also closer to how Bitcoin was intended to be used. Satoshi Nakamoto, the mysterious inventor of Bitcoin, intended it to remove third-party middlemen. "With e-currency based on cryptographic proof… money can be secure and transactions effortless."
The devices themselves come in a variety of shapes and sizes. The smallest of them, like the Ledger Nano series, resembles a USB Drive and can hang on your keychain. Some of the largest, like the NGRAVE ZERO or the ELLIPAL Titan, are closer in size to a small phone. They all come with different features, such as dust protection or easy-to-use UIs.
Hardware wallets are a subsection of what is known as "cold storage." A way of keeping your crypto somewhere unconnected to the internet. Not all cold storage requires a device separate from your phone or computer. Software custodial wallets like MetaMask offer a cold storage version for extra security.
Hardware Wallets Aren't The Only Solution
Not everyone is a fan of hardware solutions. Last month, CZ, the CEO of Binance — the largest centralized exchange — said, "for most people, for 99% of people today, asking them to hold crypto on their own, they will end up losing it." Since most hardware wallet manufacturers attribute their existence to the failures of centralized exchanges, this is not surprising. But is he correct?
"Time will tell," continues Kirillov. "But with $70 billion in losses just from the collapse of Celsius, Terra, and FTX alone, it seems asking people to hold their crypto in custodial exchanges is far more risky than losing a device (which doesn't matter anyway). When it comes to custodial exchanges, "not your keys, not your crypto" is the inevitable lesson [that] users are tired of learning the hard way.
"Lose your device, no problem; as long as you keep your seed phrase backed up, a user can safely restore access to their funds. Yes, we think it's time users had the tools to trust themselves over custodial exchanges. Hito is one of the easiest tools they can choose to use."
There are software wallet alternatives that also give you control over your crypto. Projects like Atomic Wallet allow your crypto to sit safely on your desktop. In recent months, Zerion and Frontier have announced easy-to-use browser extensions that are designed to work across multiple chains and with different kinds of digital assets (including NFTs.)
Many software solutions are designed to work with hardware wallets, so it's not always an either/or situation.
Use a DEX!
If all else fails, decentralized exchanges (DEXs) allow you to swap your crypto while remaining in charge of your keys. If you're more of a trader than a holder, this is often the best solution. "DEXs (decentralized exchanges) are not the same as Centralised exchanges like Coinbase and Binance," says Ravindra Kuma, founder & CEO of Frontier.
"Centralized exchanges hold your assets for you, and you have to verify your identity with them before trading. Decentralized exchanges don't ask for KYC (know your customer), they don't require an account, and they let you connect to other people's wallets directly in order to trade.
Disclaimer
Following the Trust Project guidelines, this feature article presents opinions and perspectives from industry experts or individuals. BeInCrypto is dedicated to transparent reporting, but the views expressed in this article do not necessarily reflect those of BeInCrypto or its staff. Readers should verify information independently and consult with a professional before making decisions based on this content.