Fan Tokens are on a path towards the $100 billion milestone after seeing renewed interest in August, despite the downturn of the entire non-fungible token (NFT) market.   
Fan Tokens have joined total value locked (TVL) in decentralized finance (DeFi) as the areas in the current crypto climate that continues to soar.
As of Aug. 24, Fan Token sales for the month were roughly $6.9 billion. The latest metric has made a massive contribution to the total global fan token sales volume of around $92.7 billion, per Be[In]Crypto Research, based on data from NFT industry data aggregator CryptoSlam. 
Compared to global NFT sales from mainstream collections such as Axie Infinity, Bored Ape Yacht Club (BAYC), CryptoPunks, Mutant Ape Yacht Club (MAYC), NBA Top Shots, Otherdeeds, and Azuki among others, Global Fan Tokens have generated $50 billion more in sales volume.

Months that made significant contributions to the latest statistic are May and August 2021 and March of this year.
In May 2021, sales were in the region of $9.4 billion and coincided with the climax of the European season.
After going through a period of decline during the offseason (June and July), sales were up again to about $8.43 billion as global soccer icon Lionel Messi joined Paris Saint Germain (PSG) in France from FC Barcelona in Spain. This move boosted PSG's token sales from $646 million in July to $4.2 billion in August.

This resulted positively in the overall global fan token sales of $8.43 billion during the eighth month of 2021. In the middle of the European season where continental competitions reached the knockout stages, fan tokens crossed the $9 billion milestone again in March of this year, reaching $9.43 billion.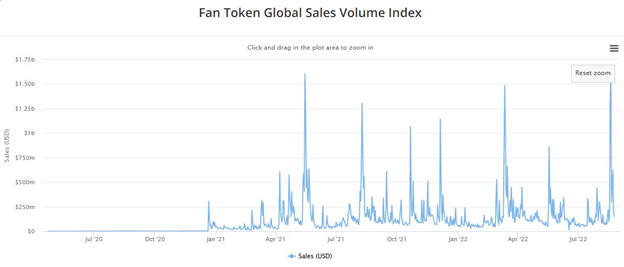 Apart from PSG, other global football clubs that played a major role in the new landmark were Lazio, Santos FC, Arsenal, Atletico Madrid, Juventus, FC Barcelona, Manchester City, AC Milan, and Inter Milan.
For Be[In]Crypto's latest Bitcoin (BTC) analysis, click here.
Disclaimer
BeInCrypto has reached out to company or individual involved in the story to get an official statement about the recent developments, but it has yet to hear back.