Ethereum (ETH) has increased considerably since March 2020, but unlike Bitcoin (BTC), it has yet to break its all-time high price of $1594, which it reached in Dec. 2017.
In this article, we will compare the previous market cycles for ETH and see how the current ongoing upward movement measures up to them.
Ethereum's First Rally
The first significant rally for ETH ran from Aug. 2015 to Jun. 2016. During that time, ETH rose from a low of $0.50 to a high of $21.49, which amounted to an increase of 4200%. This movement transpired over a 308 day period (highlighted in green below).
The movement was followed by a 72% decrease over 175 days (highlighted in red), which led to a low of $5.92 on Dec. 2016.  Nevertheless, the new low still measured a roughly 1200% increase from the Aug. 2015 prices and amounted to a higher low relative to the Aug. 2015 prices.
This period marked the first major market cycle for ETH, also providing the first all-time high, which interestingly has not been re-tested since then.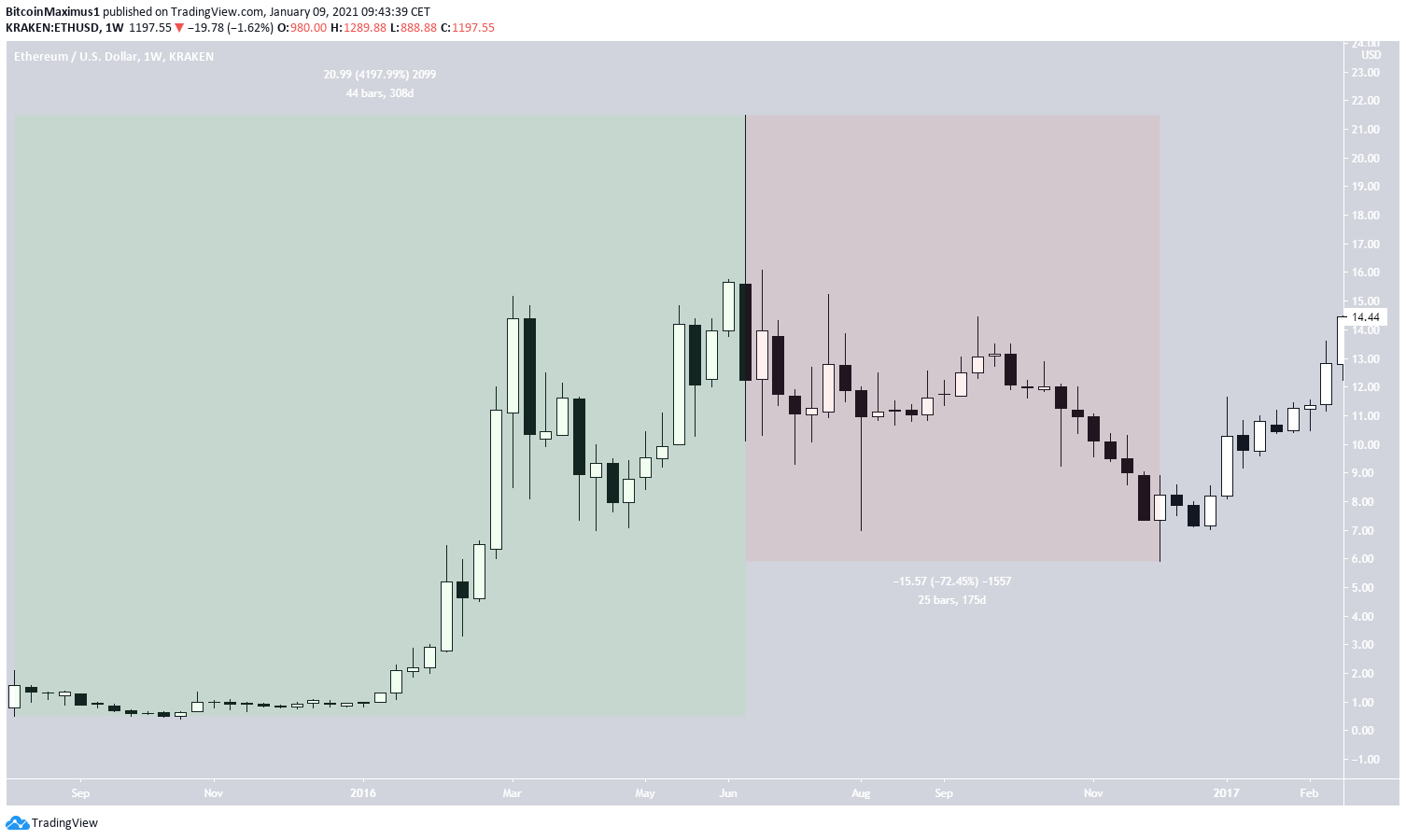 Correction And New All-Time High
The next significant ETH rally began after the previously outlined Dec. 2016 low.  The rally was slightly longer, but had an even higher rate of increase.
In a period of 399 days (green), ETH increased by a massive 26,840%, reaching a price $1594 on Jan. 2018. This is the all-time high price which still stands to this day.
The rally also differed from the previous one since there was a 140 day period in which ETH consolidated before moving towards the $1594 high. Therefore, it is possible to divide this into two rallies, one which led to the Jun 2017 high of $405 and the subsequent rally which led to $1594.
In any case, what followed was a massive corrective period (red). ETH decreased by 95% in 336 days, settling  on a low $80.56 on Dec 2018.
Therefore, the 2nd rally amounted to an even higher rate of increase, but also a sharper, more significant correction afterwards.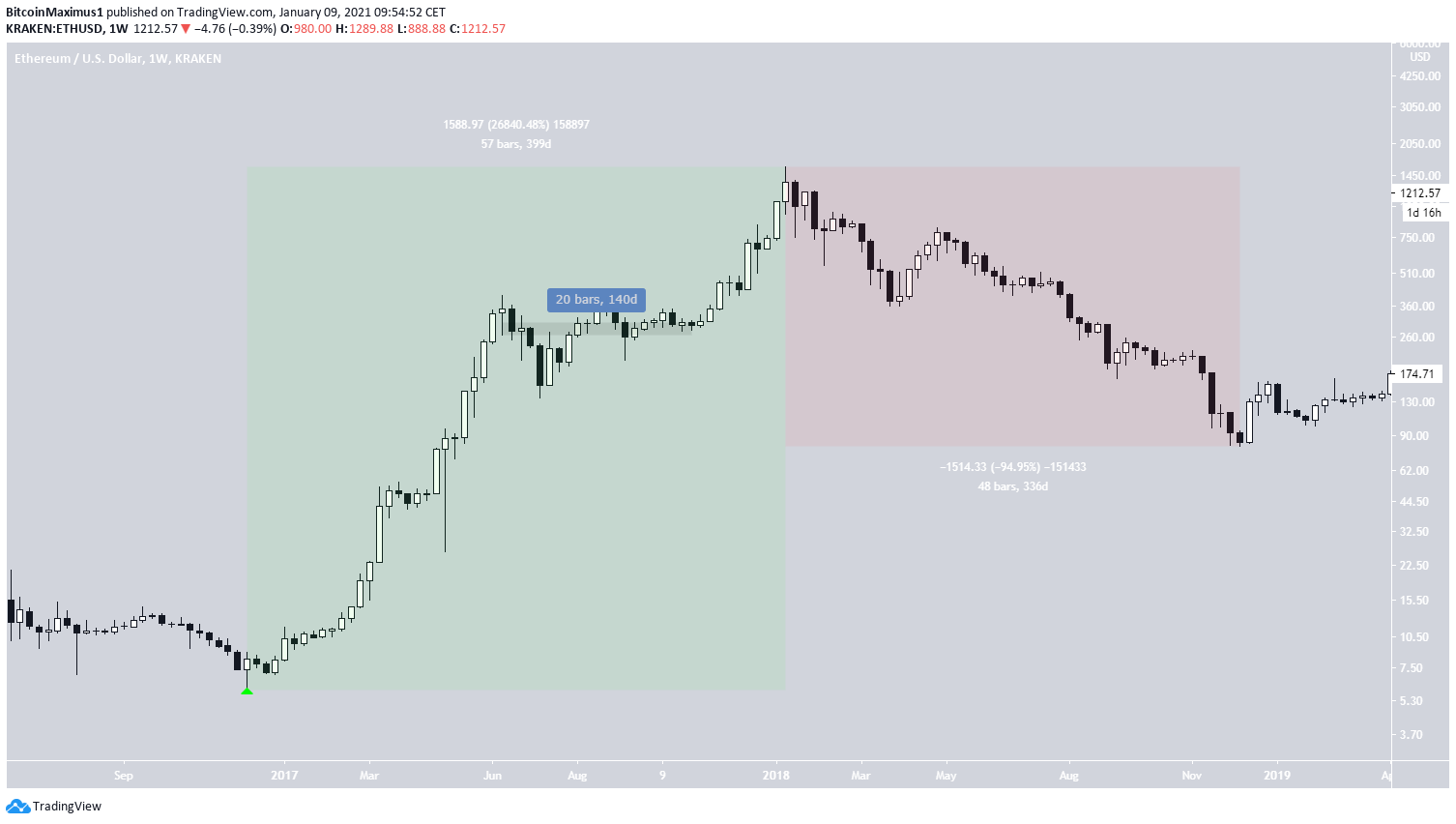 Movement Since Then – Another All-Time High?
The third and current rally began in Dec. 2018 and is still ongoing. So far, ETH has increased by nearly 1500%, in a period of 763 days. Therefore, the current upward movement so far has been the longest, but has had by far the lowest rate of increase.
Nevertheless, ETH is very close to its all-time high price, at the time of writing trading at $1216.
If the current upward move has the same rate of increase as the one in 2015, ETH would reach a high of $3200. If it has the same rate of increase as the 2016 movement, ETH would reach a high of nearly $23,000.
While its too early to attempt and determine the top of the current upward movement, it is expected that the rate of increase will further accelerate once ETH manages to reach a new all-time high, similar to how it occurred in 2016.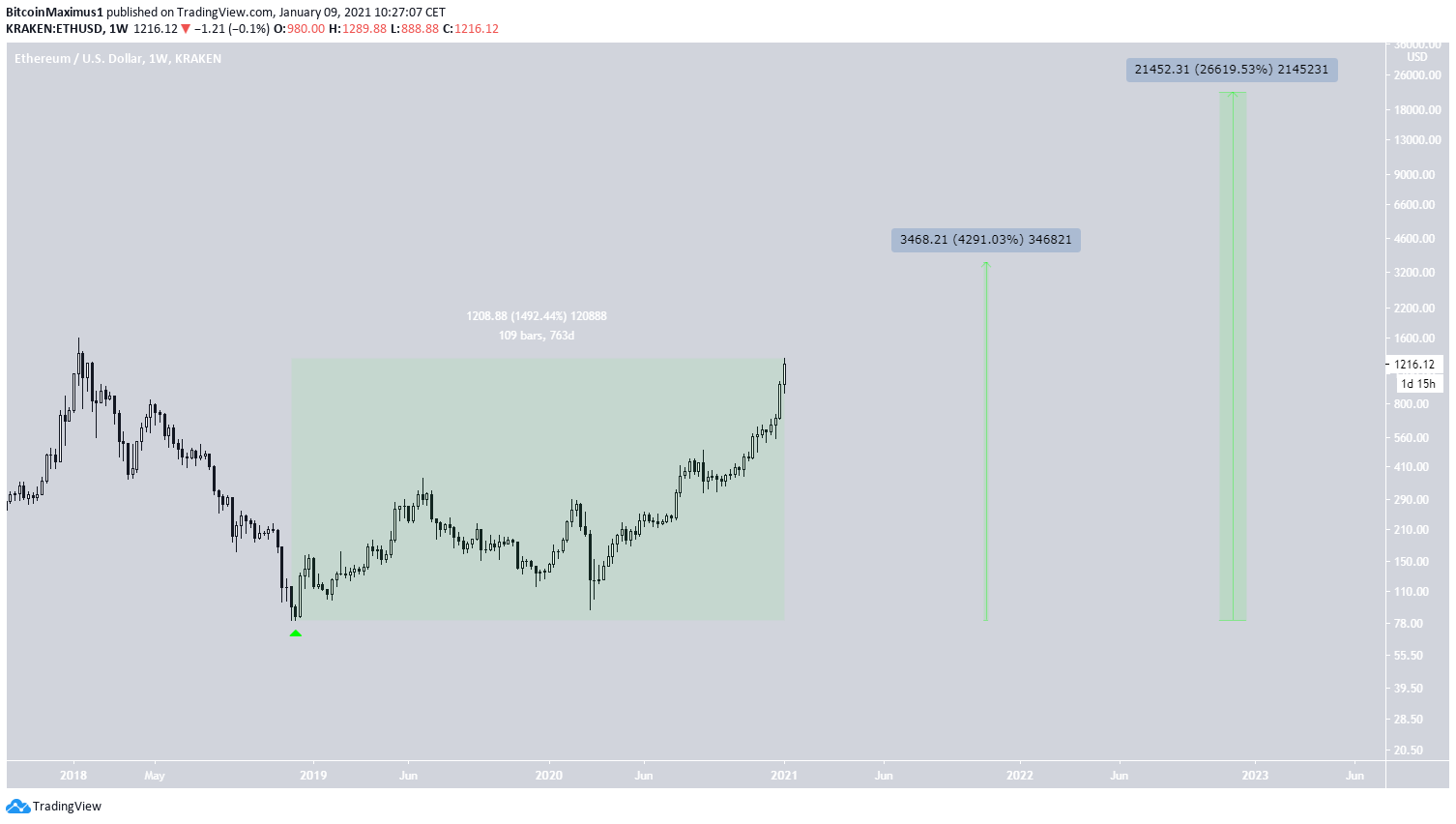 For BeInCrypto's previous Bitcoin (BTC) analysis, click here!
Disclaimer: Cryptocurrency trading carries a high level of risk and may not be suitable for all investors. The views expressed in this article do not reflect those of BeInCrypto. 
Disclaimer
BeInCrypto has reached out to company or individual involved in the story to get an official statement about the recent developments, but it has yet to hear back.