Ethereum Classic is the native blockchain of the original Ethereum platform which hard forked into Ethereum (ETH) in July of 2016. This hard fork stemmed from a vulnerability that caused 3.6 million ether to be stolen from The DAO — a firm which was building smart contracts on the platform.
After The DAO hack, the price slipped to an all-time low of $0.76 before reversing to an all-time high of $42 in January of this year.
Eleven months later, a clear head-and-shoulders pattern has emerged and the price last month has slipped under the neck-line (dashed blue) at $10.
Today ETC is trading at $5.25, hovering slightly above its 2018 low levels of $4.80.
[bctt tweet="The head-and-shoulders pattern most often plays out as a reversal, and ETC looks to be doing just that — but how much further could it drop?" username="beincrypto"]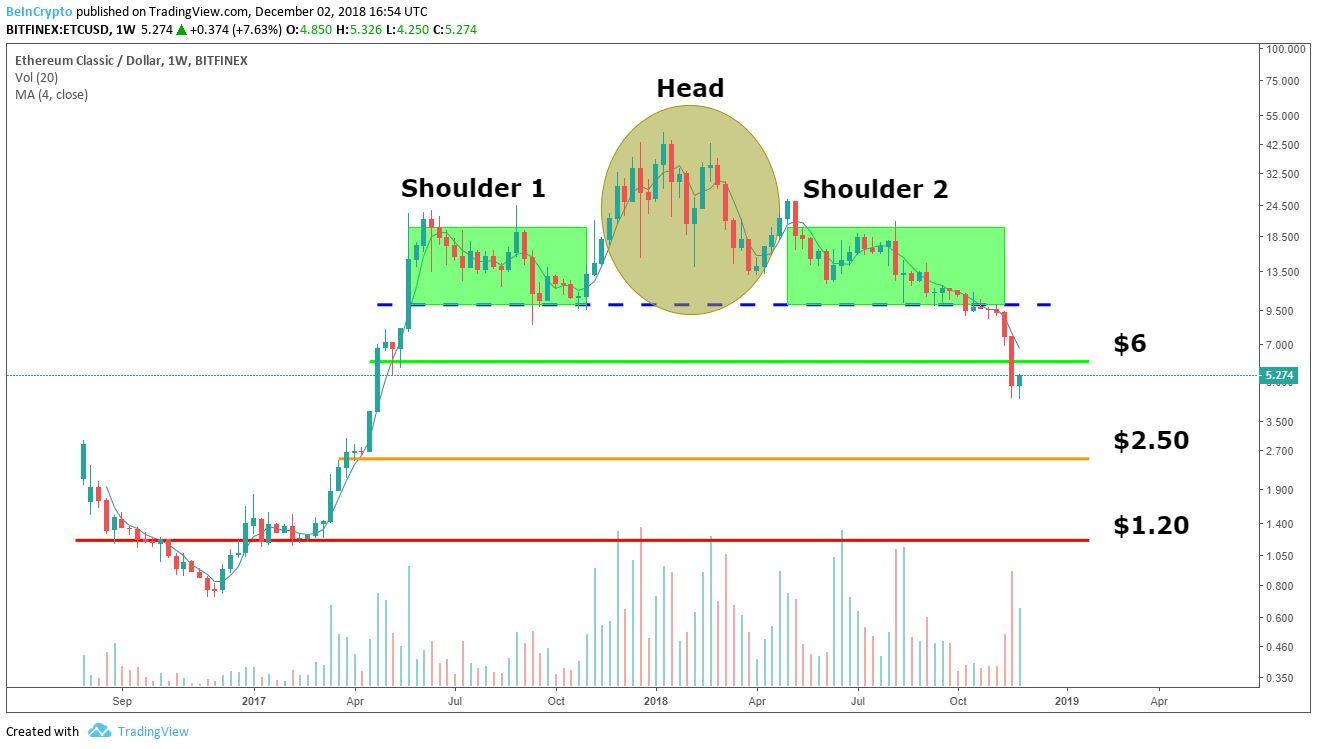 Stochastic RSI
Taking a look at the 3-day and two-week stochastic RSI, both are in the overbought territory in the range of 90 suggesting its recent run-up in price will soon reverse.
ETC has recently dipped below the $5 mark and is fighting to claw its way back, but will most likely have trouble getting back over $6.
Shaky Knees
In the event of a head-and-shoulders scenario in technical analysis, we can predict how far the asset is likely to fall below the neck-line — the phase that ETC is currently experiencing.
First, we need to measure the height of the all-time high from the neck, in ETC's case $10 to $44, a 77 percent gain.
If we apply the same percentage as a loss below the neck, we can estimate a possible low range where the price could end up. In the chart below this value was rounded to a 75 percent loss from $10 to the $2.50 level.
Considering the overbought nature of the stochastic RSI and recent fall through the $6 support, it is likely that ETC will continue to sink to the $2 and $3 range.
Traders looking to make a short-term play should be aware that ETC appears to be in a reversal trend and should wait for the coin to test for lower supports before entering any positions.
If the entire cryptocurrency market continues to decline, $2.50 may not be the bottom for ETC, as it could return to the $1 level in the event of an even longer bear market.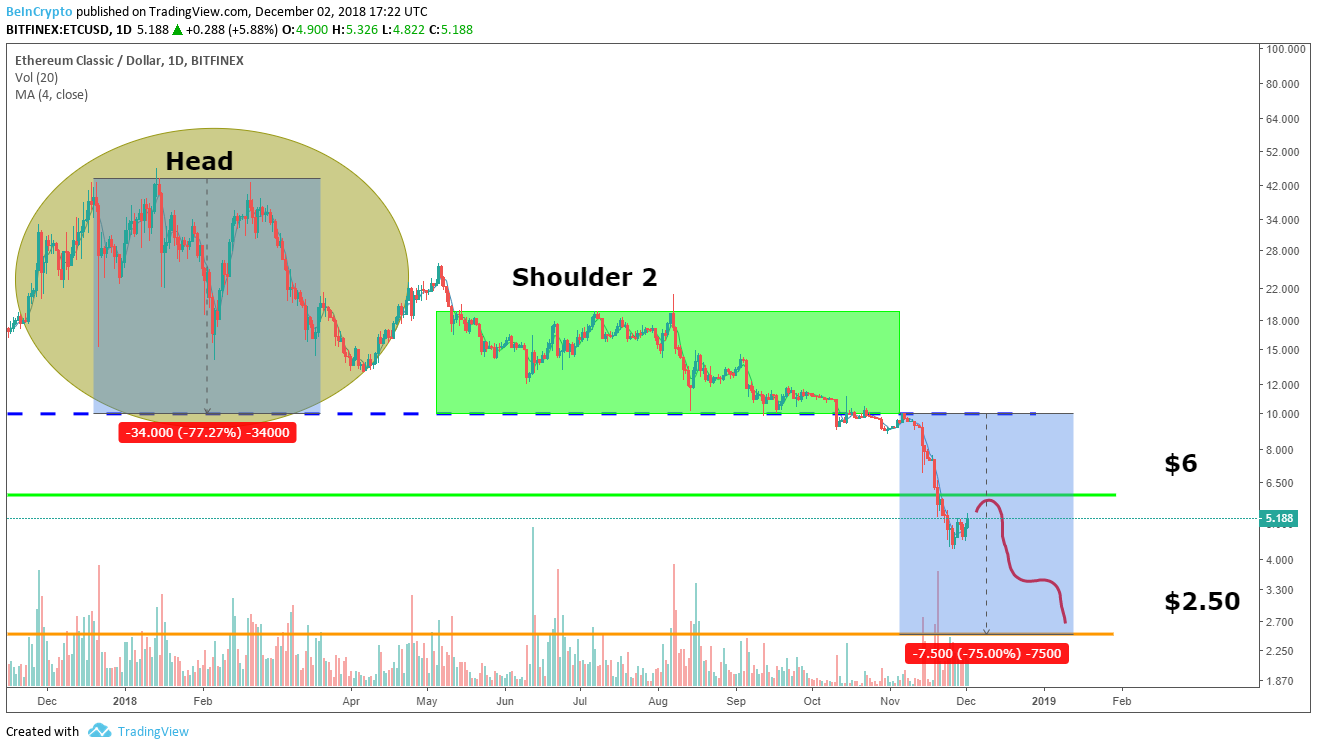 Do you have an opinion on Ethereum (ETH) or Ethereum Classic (ETC)? Will ETC ever be able to reach its previous all-time high levels? Let us know in the comments below! 
Disclaimer: The contents of this article are not intended as financial advice, and should not be taken as such. BeInCrypto and the author are not responsible for any financial gains or losses made after reading this article. Readers are always encouraged to do their own research before investing in cryptocurrency, as the market is particularly volatile. The author of this article does not hold ETC.
---
Do you want to BeInCrypto? Join our Telegram Trading Community for exclusive trading signals, educational content, discussions and project reviews! Images courtesy of Shutterstock, Trading View and Twitter.