For some time, the Dharma wallet was mostly known for integrating into the dY/dX lending platform. But now Dharma's smartphone wallet boasts quite a few supposed advantages. And its touted benefits don't stop with free Uniswap trades.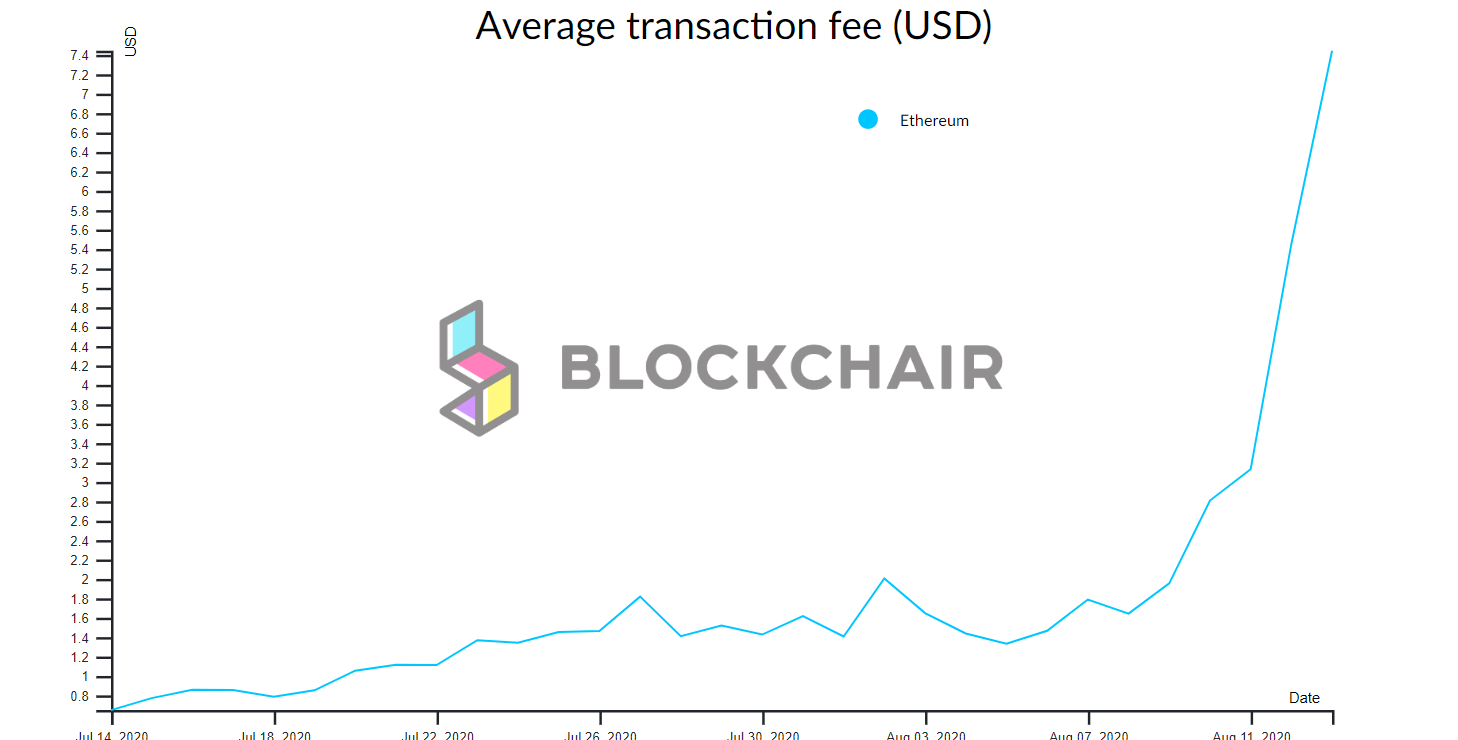 Harder, Better, Faster, Cheaper
It's now so much easier (and cheaper) to list an ERC-20 token on Uniswap than on centralized exchanges. All you need is a smart contract and some liquidity, and you're good to go. As a result of the hottest new exchange on the crypto block,
ETH fees
have skyrocketed.
Centralized exchanges are basically just fiat on ramps now.

— Eric Conner (@econoar) July 31, 2020
In contrast, Centralized Exchanges like Binance have been rumored to charge up to
$2.6 million for a listing
. Clearly, a Binance listing could make or break an emerging crypto. Many are now saying that CEXs are mostly used to convert fiat to crypto. Dharma allows U.S. customers to do both with debit cards. That money can also be put into a
DeFi
lending protocol right away to earn decent Annual Percentage Yields (APYs). What's more, they do not charge transaction fees to move the cash around. While some users currently pay above $20 to transfer ERC-20 tokens between addresses, Dharma's service does it for free, BeInCrypto tests concluded.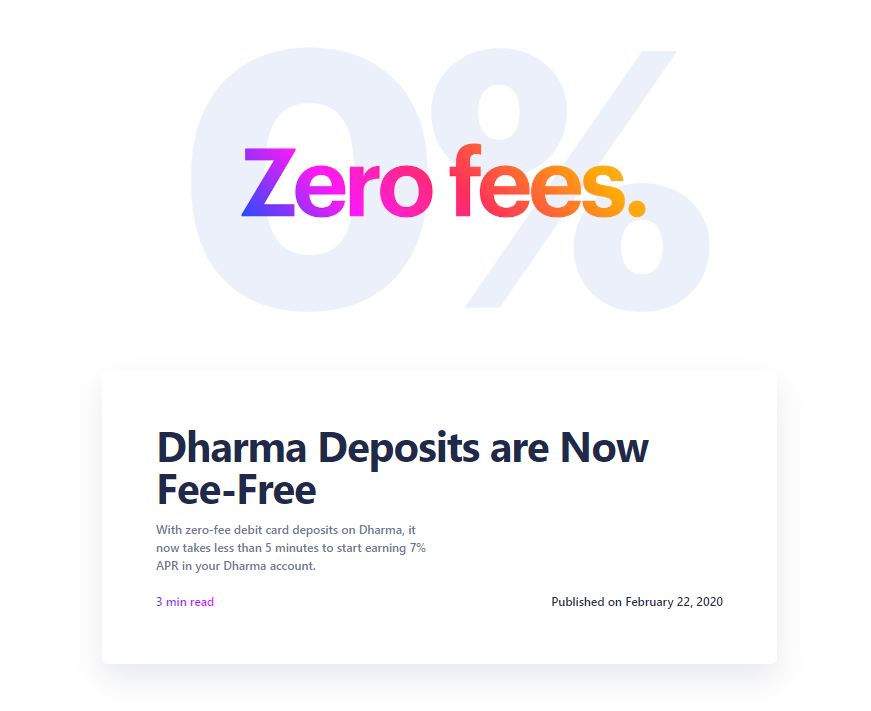 So, what's the catch? The ETH trader's woes are spread across the cryptosphere these days. Zack Sinclair, an entrepreneur, and engineer, asked Dharma how this was possible via Twitter.
How much will your trading fee be normally and how does that compare to gas costs transacting directly? Once including fees, will the average txn end up cheaper through Dharma or more expensive?

— Zack Sinclair (@zacksinclair) July 30, 2020
This was the reply from Nadav Hollander, CEO of Dharma:
…the gist is, through a combination of some L2 optimizations and cleverly thought out pricing models, our goal is that the average txn [will] end up cheaper through Dharma
A Free Lunch?
The kicker to all this is the
zero gas, zero trading fees on Uniswap.
The integration of Uniswap into the wallet claims to do what Uniswap does for free. But not all traders claim to have that experience. For speculating day-traders, fees have become a major expense. Some users on Discord have expressed their frustration with the high costs. They accused Dharma of robbery.

When users saw they were being charged 8% in
slippage
rather than 0.5%, Dharma offered another explanation:
3/
…In order to quote users a clear, WYSIWYG rate, we factor a 0.5% slippage buffer directly into the price we quote. Users get the quoted rate, and the Dharma trade reserve keeps the remainder, which we were thought would usually just be dust.

— Dharma (@Dharma_HQ) July 31, 2020
After more pressure, they admitted their slippage fee was actually higher, close to 2.0%:
6/
We made a snap decision yesterday that users would prefer to have their trades go through at the expense of higher slippage. So we raised our buffer from 0.5% to 2%. This increased tx reliability, but also resulted in excess value being generated on liquid pairs (eg. ETHDAI).

— Dharma (@Dharma_HQ) July 31, 2020
But Dharma traders found that the math did not add up. One to one comparisons with the Uniswap app showed that some users were being stiffed around 8%.  Dharma, at first, denied this was intentional. Nevertheless, frustrated users accused Dharma of pocketing 8% of their transactions after luring them in with offers of free Uniswapping.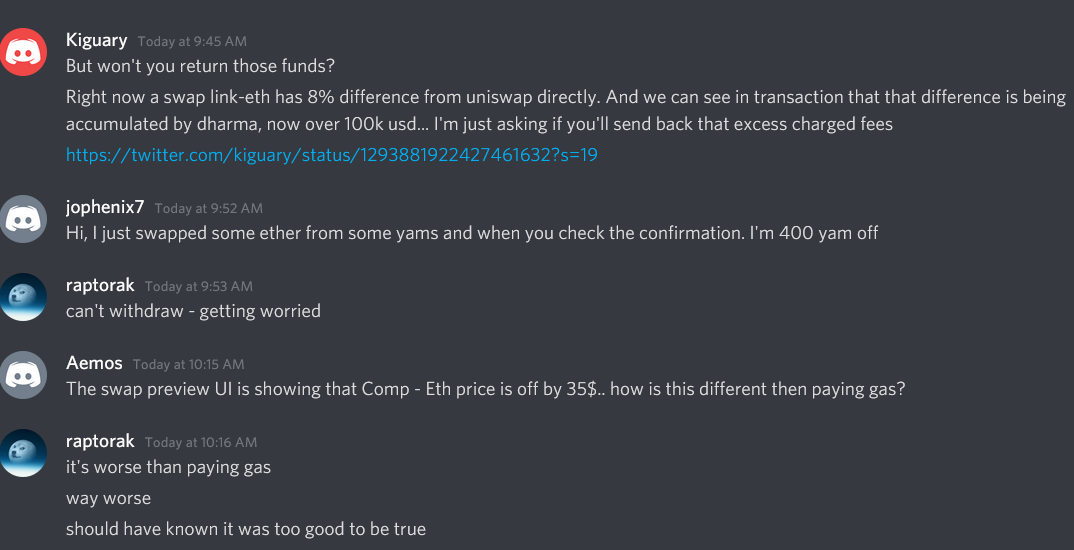 Only after accusations were made did Dharma suggest that these large slippage margins were implemented to accommodate YAM traders. They said they were working on a fix.
Putting Dharma to the Test
BeInCrypto tested the Dharma wallet simultaneously with Uniswap to judge the differences first hand.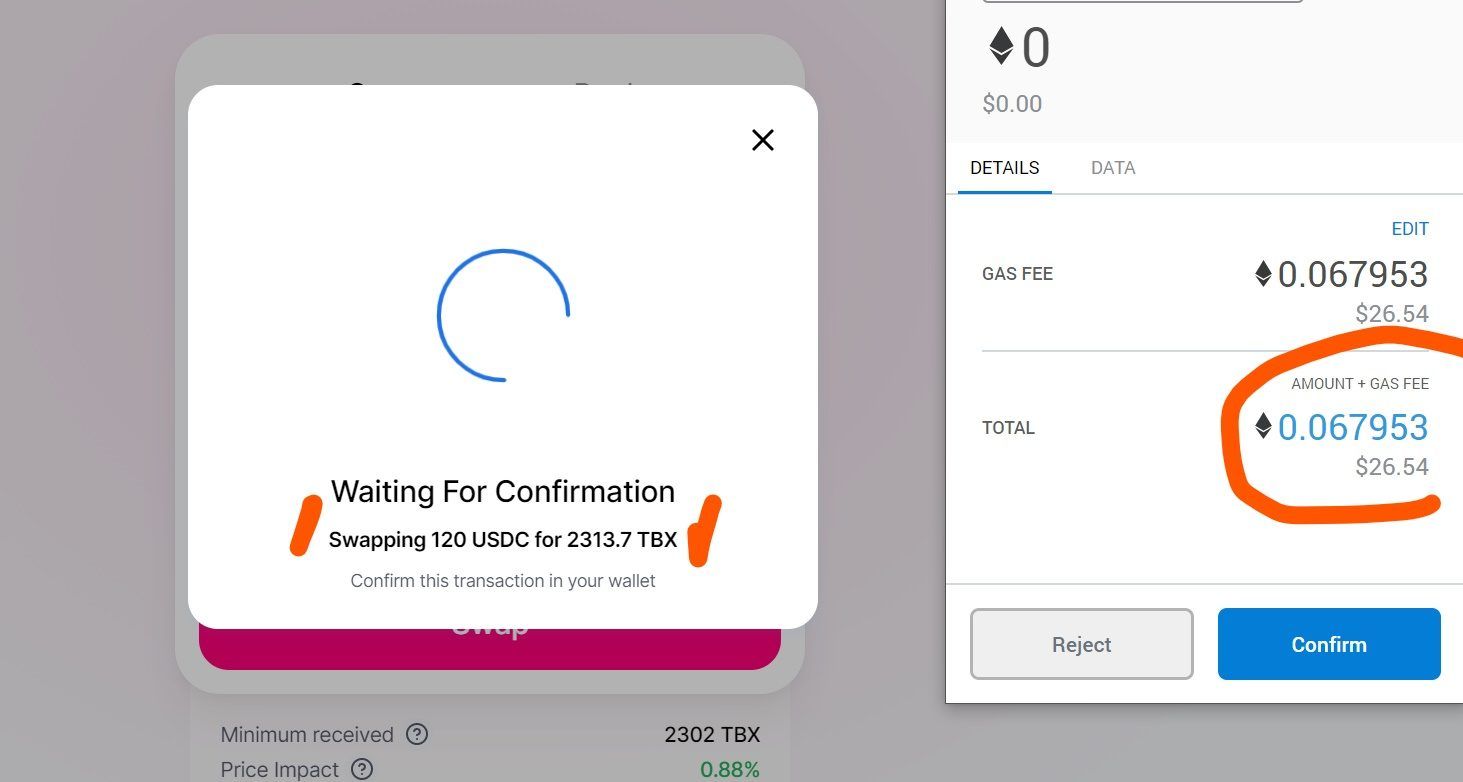 When swapping USDC to a small-cap coin, the gas fee cost $26.54. When swapping USDC to that same coin on Dharma, the app explained that there would be no fees. Since it only offers direct ETH swaps, the author had to do two swaps.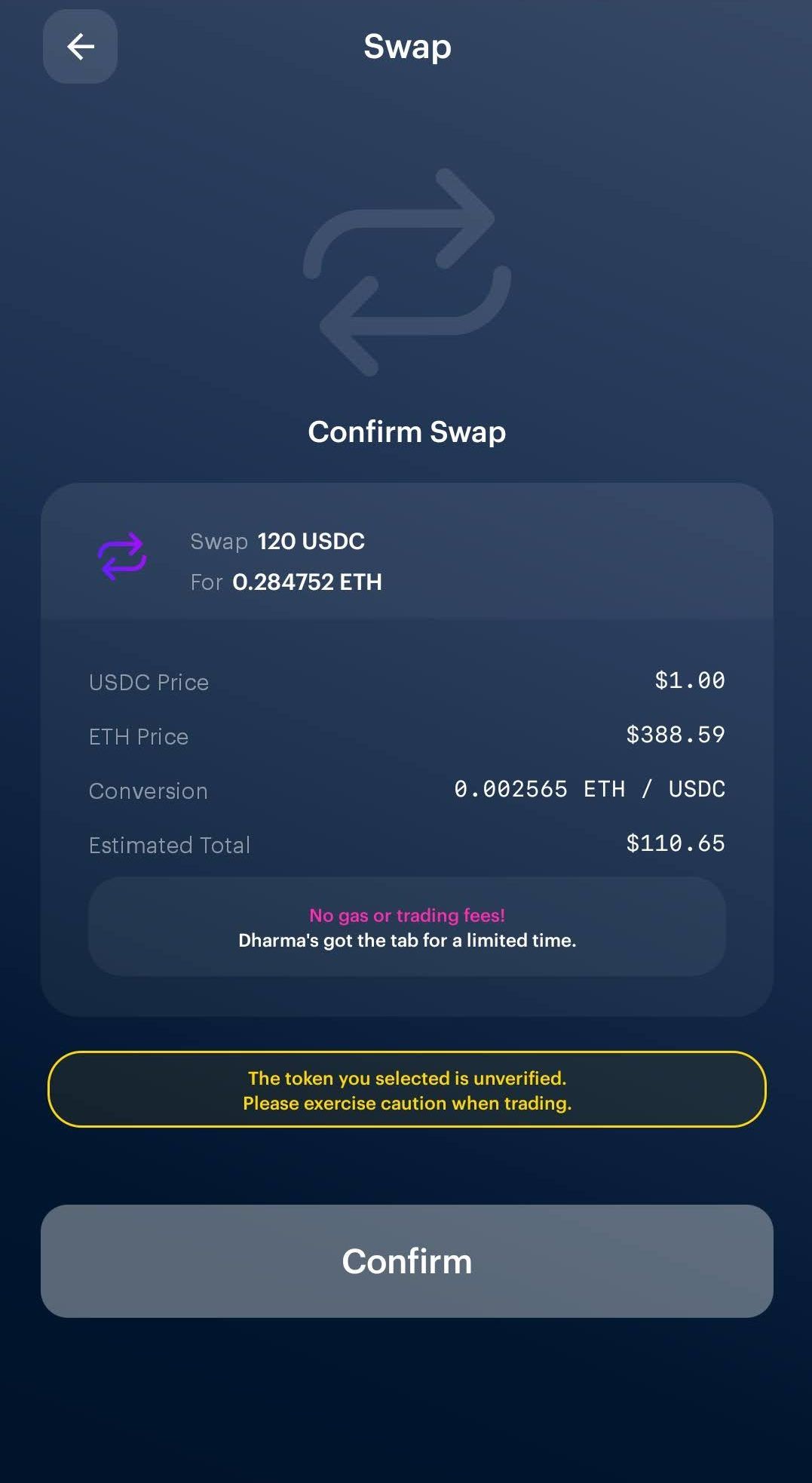 For the first swap, according to the exchange rate quoted, the author should have received 0.3078 ETH, but only received 0.2848 ETH, a difference of about $10. The ETH to TBX transaction saw a similar slippage, for a total of $20 in hidden fees. What's more, the price differential does not appear to be slippage on the app. Multiplying the exchange rate by the tokens worked out to be a different price than the tokens actually received.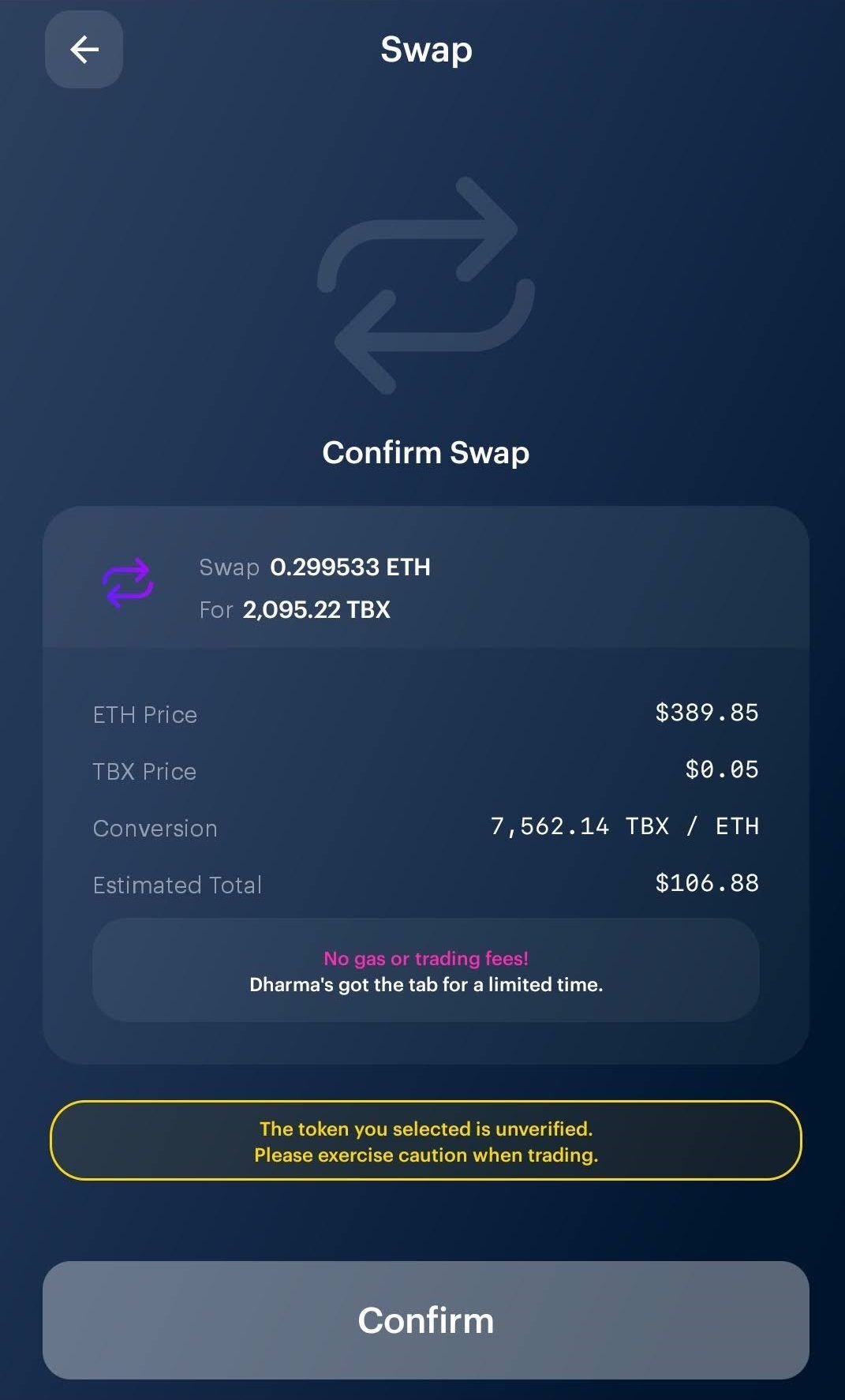 Right now, the Dharma wallet only supports ETH swaps. Users may have to pay fees more than once to do an uncommon swap. The minimum to swap is $75 worth of crypto. In the end, the author received about 200 fewer tokens on Dharma for the same cost basis. To be fair, even with these hidden fees, Dharma was cheaper and faster than using
Metamask
on Uniswap. What's more, there was no fee paid to transfer ETH into the wallet. When asked if the high fees would be fixed, Brendan Foster, Dharma's co-founder, said,
"We're working on it. Hoping to have something in place ASAP."
Is Dharma Worth the Headache?
Though Nadav Hollander promised to fix these fees, "within a few hours," some are not convinced. To figure out actual expenses, it seems as if traders will need to break out the calculators. Is all this confusion worth the headache? One disgruntled Discord user noted, "It's worse than paying gas… way worse".
Disclaimer
All the information contained on our website is published in good faith and for general information purposes only. Any action the reader takes upon the information found on our website is strictly at their own risk.
Harry Leeds is a writer, editor, and journalist who spent much time in the former USSR covering food, cryptocurrencies, and healthcare. He also translates poetry and edits the...
Harry Leeds is a writer, editor, and journalist who spent much time in the former USSR covering food, cryptocurrencies, and healthcare. He also translates poetry and edits the...
READ FULL BIO
Sponsored Sponsored